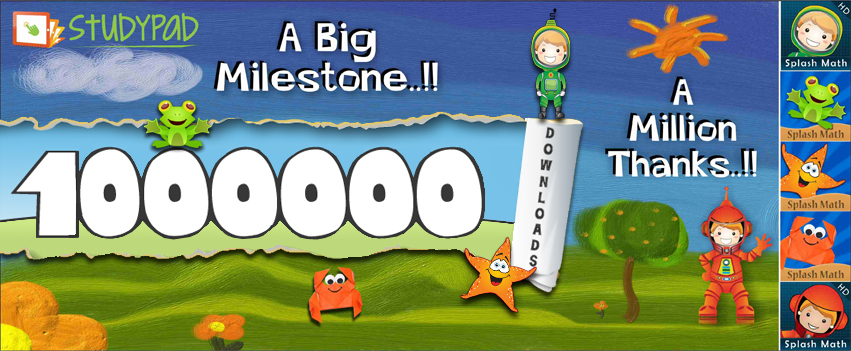 StudyPad Reaches 1 Million Downloads And Counting
A little more than a year back, StudyPad debuted with Splash Math Workbook for Grade 3 – the first common-core aligned, comprehensive math workbook app on the app store. 1 Million Downloads and 5 grades later, Splash Math apps are a testament to the fact that serious educational apps are here to stay.
Over 6,000 schools have included Splash Math in their pilot programs and 15,000 teachers use it daily. Over 3 million user accounts registered on Splash Math suggest that each of the apps benefit at least 3 kids. This is just the beginning; StudyPad has big plans to disrupt education in classrooms.
$100 iTunes Gift Card Giveaway
StudyPad is celebrating 1 million downloads with a $20 iTunes Gift Card giveaway to 5 lucky followers. Complete all the Rafflecopter activities to maximise your chances to win.
Thank you for awesome response to our iTunes Gift Card Giveaway. Because of lot of requests, we have extended it by 2 more days and added an extra $20 iTunes Gift Card, to increase the giveaway to total of $120.