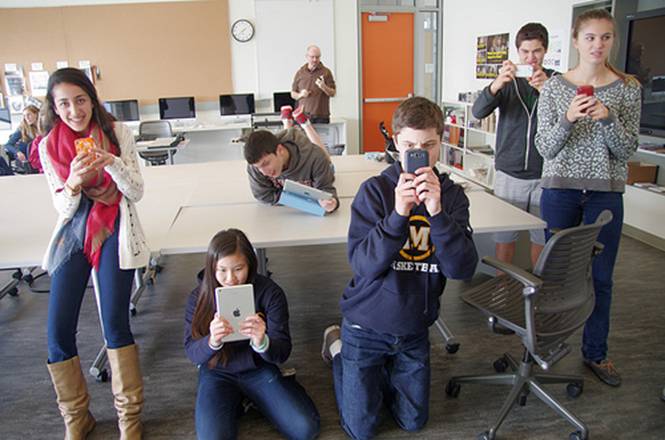 All rights reserved by Menlo Photo Bank
The existence of smartphones is considered to be one of the defining aspects of the 21st century classroom. There has been a tremendous change on how school and classroom policies are implemented to modernize the learning process for kids as well as teachers. Meanwhile, adding to that is the advent of mobile devices which are good teaching tools to have an effective classroom communication. According to a survey done on 500 teachers and administrators, 34% employ the use of handheld gadgets. In this post, we want to provide you with great approach on how to full utilize smartphones and tablets in the classroom.
To complement the Four C's of highly effective classrooms, here are 10 tips to create a conducive learning environment with the use of mobility. These can also be used while dealing with the latest tools, topics, and trends offered by Thinkfinity, a joint initiative of Verizon and some of the top educational institutions in the country.
SplashLearn: Most Comprehensive Learning Program for PreK-5

SplashLearn inspires lifelong curiosity with its game-based PreK-5 learning program loved by over 40 million children. With over 4,000 fun games and activities, it's the perfect balance of learning and play for your little one.
Try for free
1. Smartphones as a research tool
The use of smartphones makes it easier for students and teachers to research quickly before or during class. Instead of bringing those cumbersome laptop computers, wide screen phablets or iPad can be an innovative tool to accomplish research tasks.
Related Reading: 

Things That Can Happen When You Give Your iPad to Your Kid
2. Snap a photo
Some fail to take down notes especially when the bell rings. With the use of the most advanced phone cameras, students can take pictures of the recent assignments written on the white board. Moreover, they can also take photos of other learning materials such as textbooks and encyclopedias. Teachers can also record short sketches which are shared with the entire class through Bluetooth connection.
3. E-reader as an alternative
To ease the burden of bringing bulky and heavy books, we now have the option to download a PDF version of books online. In fact, many schools are now using ebooks instead of the traditional paper textbooks. Our friends from Teachers.net said that using ebooks has its fare share of advantages. According to them, it can develop a positive attitude and behavior towards learning.
4. SMS chat room
The beauty of using phones is that learning and class discussions are not limited in the classroom. Educators can use apps such as TextPlus, HurricaneParty, PingChat, GrouepMe, and Yobongo to create a private chat room. Aside from discussing topics, this method can create a strong bond between teachers and students encouraging them to excel in class.
5. Share through PostHaven
When on a field trip, its regular to see them taking out their devices to snap pictures. By having a PostHaven class blog, they can share these photos with everyone. This is done by sending the file to the website through email.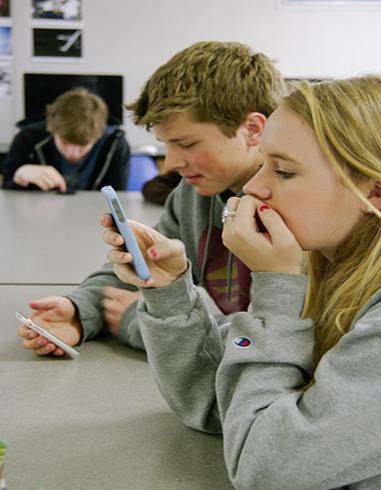 All rights reserved by Menlo Photo Bank
6. Google SMS on the rescue
While in school, researching can also be done without the help of an Internet access or when there's no available computer unit in the library. Through texting questions to 466453, Google's number, students can prompt the search giant to search claptrap on the web.
7. Using smartphones as mobile diaries
Gone are the days when students use scented notebooks as their daily journal. In the modern era, mobile phones serve as our digital diary. Students can set reminders, to-do list and organize their schedules directly from their handy device.
8. Track students' behavior
At times, classroom management is easier said than done. What makes it more difficult is controlling the behavior of the students. Apps like Teacher's Class BEHAVIOR PRO helps teachers organize students belonging to different classes through making categories for recurring behavior.
9. Call a friend
Meanwhile, teachers can invite guest speakers in their class through video calling on Skype. Instead of asking them to come over, if their schedules can't permit, you can arrange a virtual meet and greet instead. Students clustered in groups can have an opportunity to talk to the expert to have an efficient classroom collaborative activity.
10. Scanning codes
Since most devices can support QR Code-scanning apps, ways of presenting information have broadened. Educators can give out new lessons and assignments by generating QR scan codes. This will then lead them to a specific page online where your files can be accessed.
The 21st century students are learning so much about the world of digital convenience. With that, these are a few tips aimed to not only help them but you as well in incorporating digital gadgets in your classes. Do you have other tips to share?