When kids think about having fun, household chores are probably not the first thing that comes to their minds. If anything, the idea of doing chores may invite reluctance, a frown, and some groaning! Chore charts for kids are the perfect instruments to allow kids to rethink their relationship with chores while ensuring the development of essential skills and personal attributes! 
Daily Chore Charts for Kids
There's no single chore chart template for kids that would work for every child! But here are some of our favorites! You can have a look at these with your kids and discuss which one they'd prefer to start with. You can always switch them up now and then to keep this exercise interesting!
SplashLearn: Most Comprehensive Learning Program for PreK-5

SplashLearn inspires lifelong curiosity with its game-based PreK-5 learning program loved by over 40 million children. With over 4,000 fun games and activities, it's the perfect balance of learning and play for your little one.
Try for free
1. Sincerely, Sara D's Black and White Chore Chart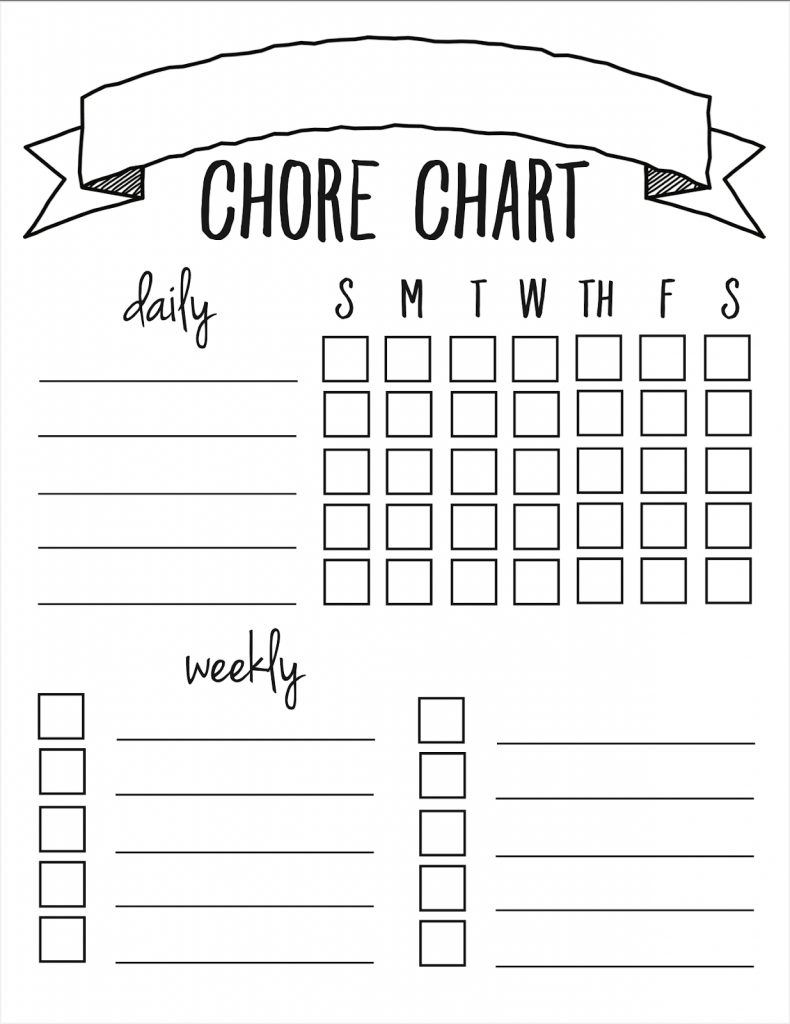 This printable chore chart for kids features a monochrome palette, with almost few design elements! This makes the chore chart very accessible and easy to use! While it's been designed to work as a daily chore chart, it also features a weekly checklist making it more versatile should your child prefer to track their chores on a daily and weekly basis!
Sincerely, Sara D is the brain behind this minimalist chore chart, and is a great alternative to chore charts that make excessive use of colors, design elements, and text! If you think your child might prefer a cleaner template for their chore chart, you can't go wrong with Sincerely, Sarah D's black and white chore chart!
What We Like: It has a clean, monochrome layout which some kids will love!
Where to Access the Chore Chart: Sincerely, Sarah D
2. Work-for-Hire Board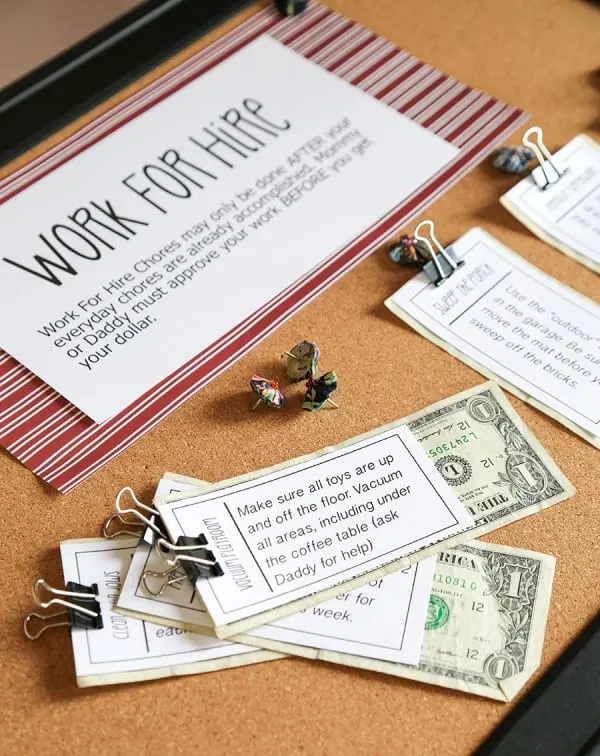 If you're searching for a creative twist on the idea of chore charts, look no further! A work-for-hire board is all you need to incentivize kids to start doing chores for a reward! Typically, a chore chart for kids contains a list of chores that kids can strike off as they complete them. The act of striking chores off the list is both gratifying and rewarding and enables children to build a healthy relationship with chores.
A work-for-hire board, on the other hand, contains dollar notes up for grabs! The catch? Each dollar note is placed underneath a post-it or note that describes the chore that needs to be completed for the kid to claim the money! Instead of striking chores off a chore chart, kids are rewarded with a dollar note that they can save up to buy something they have their eyes on, or use the next time an ice cream truck passes through the neighborhood!
What We Like: It offers a departure from traditional chore charts and rewards kids with money!
Where to Access the Chore Chart: As a work-for-hire board isn't exactly a chore chart, you can instead learn how to make a DIY work-for-hire board here!
3. iMom's Check, Check, Done!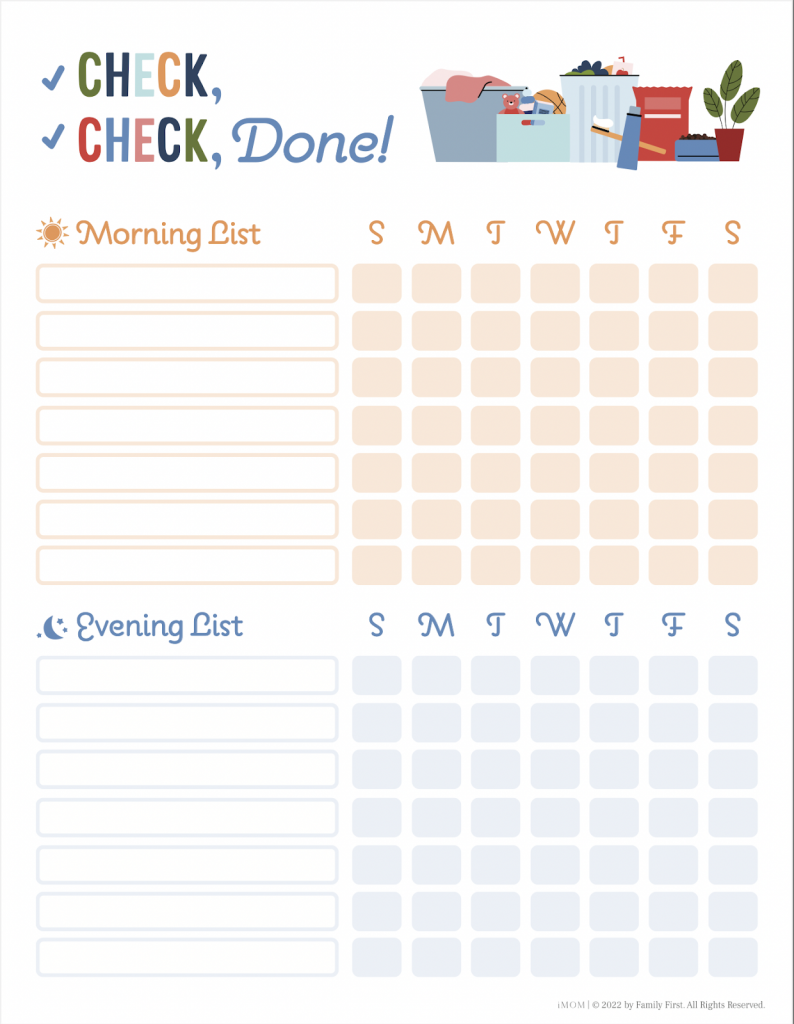 This chore chart introduces some colors and design elements into its template, making it better suited to kids that are looking for a chore chart that pops! It features seven boxes underneath each day of the week, leaving generous space for parents to add chores! But this chore chart offers a novel feature that you may not find in other charts!
Designed by iMom, this chart contains a morning and evening list of chores for kids to complete! These lists are separated so that parents can list chores like making the bed and brushing their teeth in the morning list, while chores like clearing up toys and helping with the dishes can occupy the evening list.
The morning and evening lists have even been accorded different colors, making it easier for kids to distinguish between the two! If you expect to assign many chores for your child to complete and think this distinction between a morning and evening chore list can help them stay better organized with their chores, then this is the chore chart for you!
What We Like: It offers a way for parents to separate morning and evening chores!
Where to Access the Chore Chart: iMom
4. Over the Big Moon's Chore Chart for Kids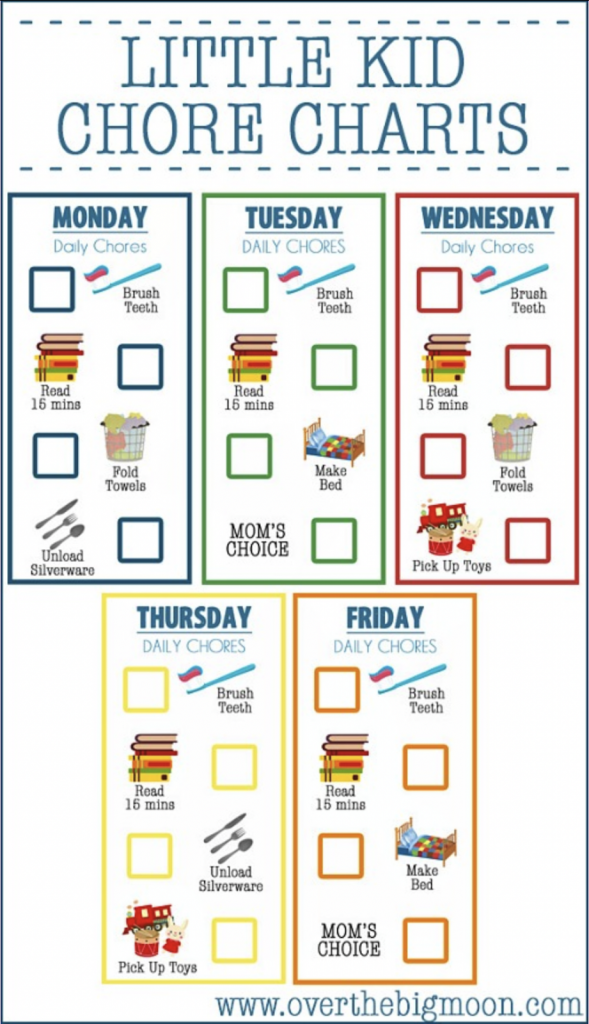 This chore chart for kids comes with predetermined chores so that you don't have to assign chores to your kids yourself! The chores are quite basic and include reading, folding clothes, and brushing teeth, among others! Each listed chore is also accompanied by a sizable square intended for kids to strike off every time they complete a chore!
But that's not all! Designed by Over the Big Moon, each chore is also accompanied by a fun illustration of some element of the chore, making it perfect for younger children! 'Picking up toys', for example, comes with an image of a toy train, drums, and a bunny, while 'brush teeth' is accompanied by a toothbrush with toothpaste poured on the bristles! If you're looking for a fun chore chart that stands out for its design elements, you've found a winner with Over the Big Moon's chore chart!
What We Like: Includes fun images for the listed chores and should aid younger children!
Where to Access the Chore Chart: Over the Big Moon
5. Mke With Kids' Chore Checklist Chart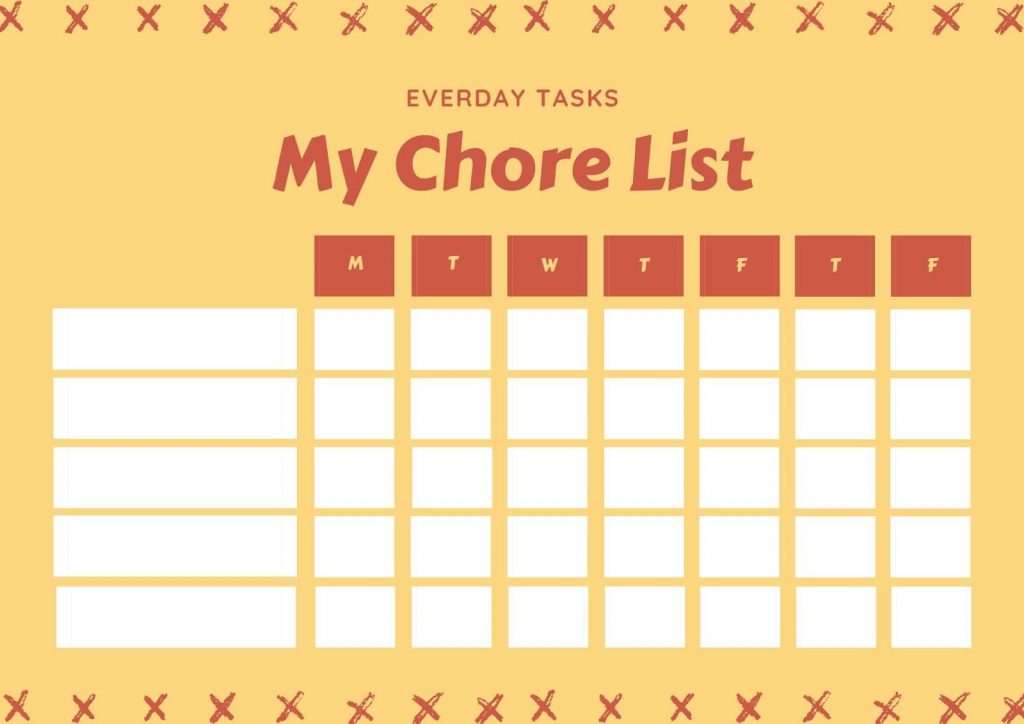 If you'd prefer chore charts for kids that don't come with predesignated chores and offer you the flexibility to negotiate chores with your child, then look no further! This simple chore chart features a minimalist yellow and red color scheme with nothing except the essentials! It contains blank boxes to list the name of the chores, along with smaller boxes where your child can strike off the chores that they've completed!
Designed by Mke With Kids', this chart is perfect for discussing the kinds of chores your kids would enjoy completing before incorporating more challenging ones into their daily routine. The chart allows you to incorporate anywhere from one to five chores a day! It doesn't come with a designated space for your child to write their name, but if that's something they don't mind, then you should be fine!
What We Like: Features a unique yellow and red color palette that some kids should like!
Where to Access the Chore Chart: Mke With Kids
Weekly Chore Charts for Kids
While some chore charts offer kids a way to track their chores daily, weekly chore charts give them an overview of all the chores they've been assigned over the course of a week! Here are some of our favorites!
1. Printable Crush's Weekly Cleaning Checklist
When it comes to weekly chore charts for kids, here's one that's sure to please! This weekly chore chart comes with the title 'Weekly Cleaning Checklist' but can be used for just about any chore since the space provided to assign a chore below each day of the week is left blank! But this smart chore chart has a few surprises up its sleeve!
In addition to weekly chores, this chart also includes another unique way for kids to track their chores! For chores that don't need to be performed regularly, like cleaning out the fridge or dusting ceiling fans, parents can place them under the 'Complete Tasks Monthly' column! Designed by Printable Crush, we expect this weekly chore chart to leave a good impression!
What We Like: Features a unique monthly tasks column for chores that don't need to be completed frequently!
Where to Access the Chore Chart: Printable Crush
2. Mke With Kids' Weekly Chore Chart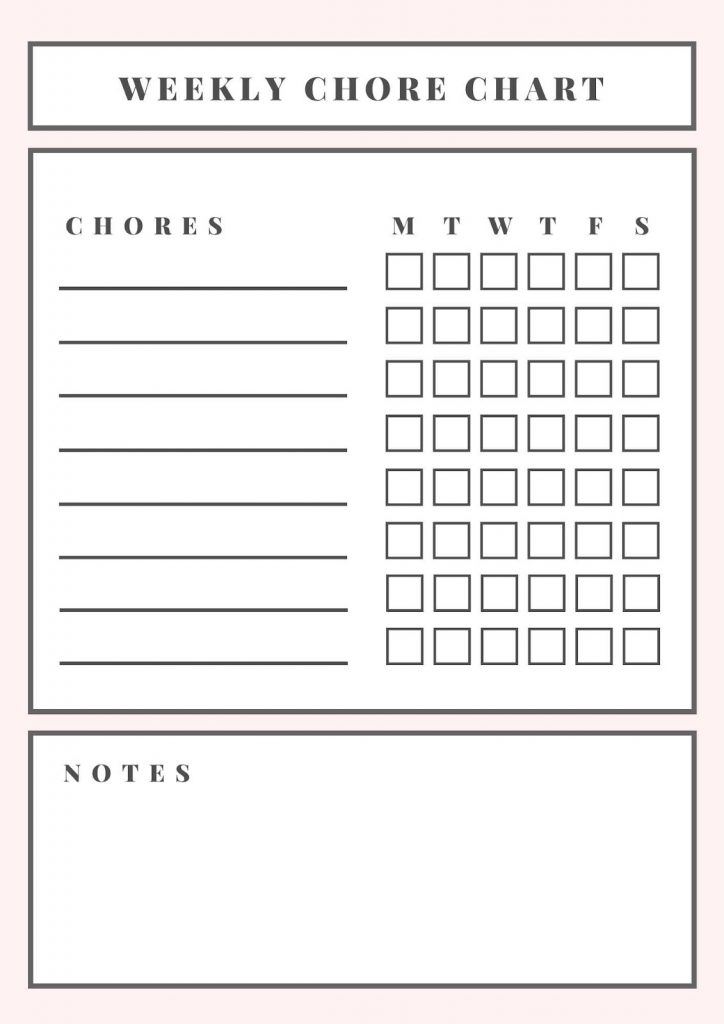 Here's a name we're familiar with! Mke With Kids makes another appearance with this minimalist weekly chore chart for kids! It offers a clean but clear dashboard with just the essentials! This chart is generous with the space it provides to list chores. At eight slots, it's comfortably larger than some of the other offerings!
But that's not all that Mke With Kids has in store for us! This chore chart also comes with a large box below the list of chores titled 'Notes' that can be helpful! Parents can leave reminders for their kids in this space or mention chores that don't necessarily have to be done weekly!
What We Like: Contains ample space to list chores and provides a space at the bottom that can be utilized in accordance with your needs!
Where to Access the Chore Chart: Mke With Kids
3. Mke With Kids' Chore Chart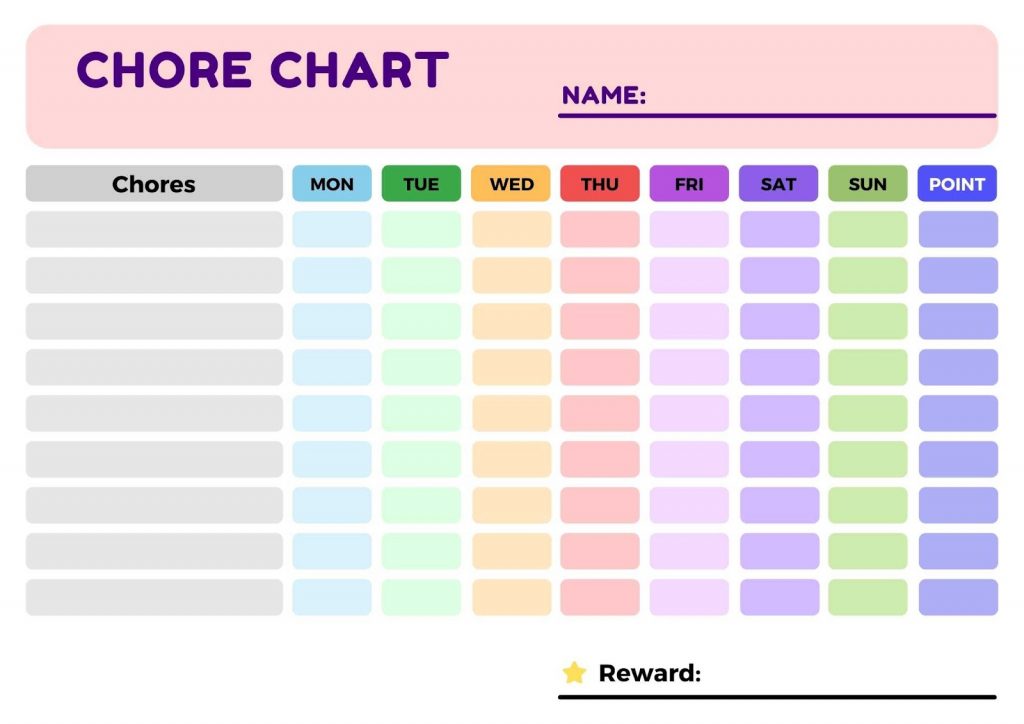 Perhaps the most colorful chore chart for kids out there, this one's sure to please! The chore checklist for each day of the week color has been provided in a different color to make it more accessible, and of course, colorful! But there's one unique feather that this chore chart boasts!
It comes with a column at the end titled 'Point'! This means that parents can set up a personalized points system that allows kids to earn points for every chore they complete! To incentivize them further, you could come up with a system where they can redeem these points! 10 points for a cookie? 20 for a new toy they have their eyes on? You decide!
What We Like: Allows you to develop a rewards system to incentivize kids to finish their chores!
Where to Access the Chore Chart: Mke With Kids
4. Lovely Indeed's Daily and Weekly Chore Chart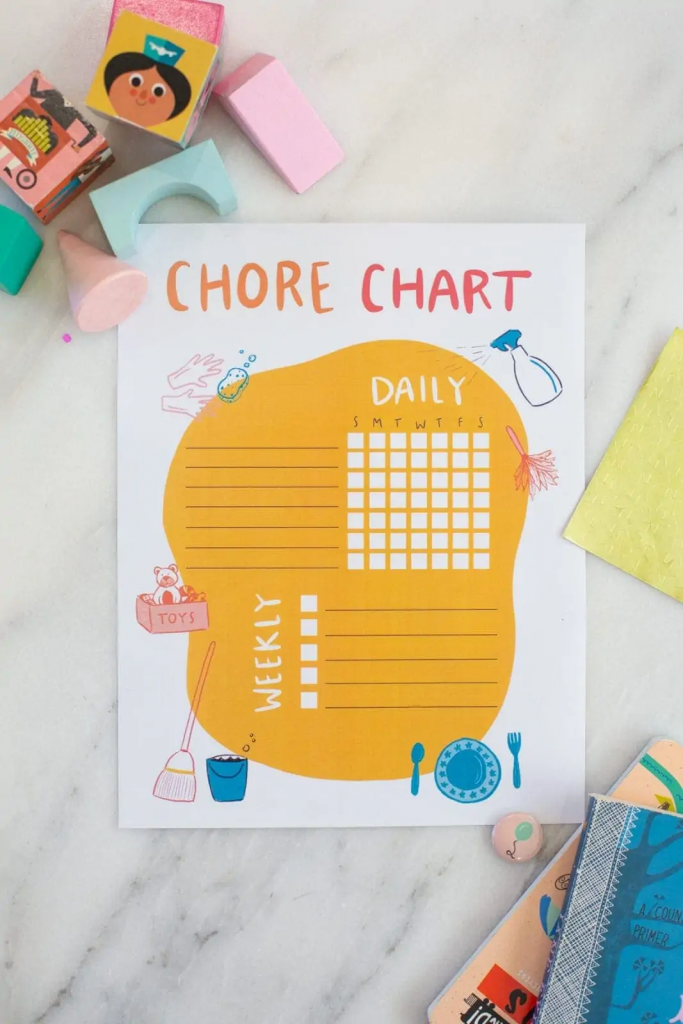 If you're having a hard time deciding between a daily and weekly chore chart to use with your child, then we're here to help! Lovely Indeed's creation combines both so you don't have to choose! It features a minimal design that offers great flexibility in how it's used! With no predesignated chores, you and your kid have the freedom to choose how chores are assigned!
With a yellow and white color scheme, it features a simple but effective chore template that should be accessible to kids. If you can't decide between a daily and weekly chore chart, then you can't go wrong with this daily and weekly chore chart from Lovely Indeed!
What We Like: Can't pick between daily and weekly chore charts? You get the best of both worlds!
Where to Access the Chore Chart: Lovely Indeed
5. Burlap & Blue's Chore Chart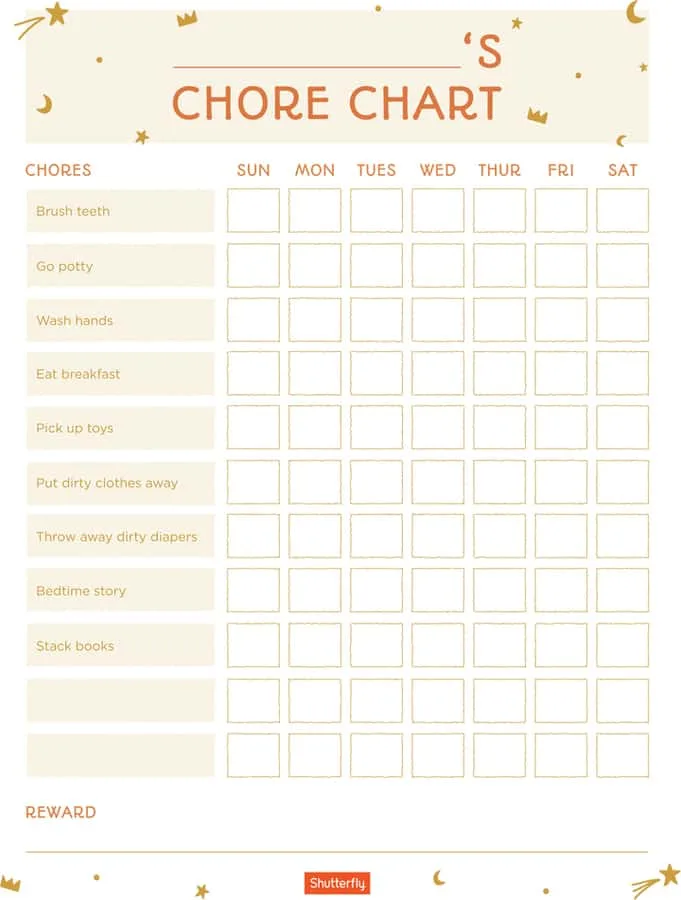 This chore chart features predesignated chores for each day of the week! If the designated chores aren't enough or you'd like to add some more for your child, you can easily do so within the two provided empty chore slots!
Burlap & Blue also includes a space at the top of the chore chart for kids to write their names! Including nothing but the essentials, you can't go wrong with this one!
What We Like: Predesignated chores make planning weekly chores a breeze!
Where to Access the Chore Chart: Burlap & Blue
Related Reading: 

Best Teaching Strategies
Benefits of Daily Chore Chart for Kids
Inculcating a sense of responsibility in children from a young age can help them yield lifelong dividends from this essential attribute! Whether it involves making their bed after getting up in the morning, lending a hand with the dishes, or setting up the table before a meal, indulging in chores can help inculcate this sense of responsibility! But there are plenty of other reasons why you should consider using chore charts with your kids!
Helps Recognize the Value of Hard Work: Encouraging kids to participate in household chores is not only essential for developing their sense of responsibility and independence, but also teaches kids to support their family, friends, and peers, while helping them recognize the value of hard work!
Develops Their Confidence: The action of striking off chores from kids chore charts should not only be gratifying and rewarding but should also boost their confidence! They will regularly be reminded of their ability to tackle a range of tasks head-on and get them done day after day!
Allows Them to Become Independent: As kids complete chores on their own, which can range from helping out with the dishes, mowing the lawn, tidying their room, or helping set up the table, and anything in between, they're essentially learning to carry out tasks that will have life-long relevance and allow them to become self-sufficient.
Related Reading: 

Best Indoor and Outdoor Team Building Activities for Kids
Why Chore Charts Are So Helpful
However, it isn't uncommon to see kids exhibit some reluctance when it comes to doing chores. The idea of engaging in chores can feel like a dull occasion that they have to slog through. Parents, on the other hand, may not enjoy repeatedly reminding and nudging their kids to help out with chores. Nagging kids is a short-term solution at best!
Luckily, there are dozens of chore chart ideas for kids that can help them change their relationship with chores from something that makes them frown and groan, to something they look forward to! A kids' chore chart can help shift the burden of reminding children to complete chores from parents to a simple chart! But that's not all!
When kids recognize the household chores that have been delegated to them through a chore chart, they can better anticipate, track, and manage these chores better! A chore chart for kids allows them to have a better understanding of their household responsibilities! The simple but effective action of striking out a task on their chore chart after they've completed it should be a rewarding experience!
Related Reading: 

After-School Activities for Kids to Stimulate Their Minds
Tips for Using Daily Chore Chart for Kids
A chore chart for kids is fairly simple to use! While they may come in different shapes and forms, they ultimately allow parents to provide clear visual instructions about how they expect their kids to manage their time, take care of their home, and fulfill certain tasks! Before we discuss how you can use chore charts, it's important to recognize essential elements that are characteristic of an effective chore chart! An effective chore chart should typically contain:
Some space for the child's name
Some space for the list of chores they have been assigned
Some space for the child to eliminate or check off completed chores
Now that we know what an effective chore chart looks like, let's discuss how it can be used!
First and foremost, determine the chores that you would like to assign to your child!
Ensure that the number of chores that you assign for each day of the week is an amount that they can manage without feeling overwhelmed!
It might be helpful to sit down with your child and discuss the chores that they would prefer to start with!
After you have discussed the chores that would be assigned to your child on each day of the week, you can add all the chores for each day of the week under the corresponding days!
You can set a time for when you expect your child to complete certain chores! Making their bed after they wake up, for instance, could be something that's expected to be completed before they leave for school on weekdays!
Every time your child completes a chore, they should be encouraged to strike off or eliminate that task from their chore chart! Grown-ups love striking off things from their to-do lists and we expect kids will, too!
Once kids start enjoying the process of completing chores and striking them off their chore charts, you can even think about adding more!
A chore chart can be dynamic! You can add appropriate chores as the occasion arises! If your kid had friends over for playtime and lunch this weekend, you can add 'clearing up educational toys and board games for kids as a new chore to be completed before dinner!
It might help to laminate your kid's chore chart and write over them with a non-permanent market. This allows you to easily wipe off the chart at the end of the week for your child to reuse instead of printing a new one!
Related Reading: 

Enjoyable Kids' Activities for a Whoopee Time
Let's Get Some Chores Done!
With so many amazing chore charts to choose from, it might help to sit down with your child and walk through these options before settling on one! Since they all ultimately help fulfill the same goal, which is to raise children to become self-sufficient and responsible adults, you can't go wrong with any! So what are you waiting for? Let's get some chores done!
Frequently Asked Questions (FAQs)
How frequently should a chore chart be changed?
Since all chore charts work more or less the same way, there's no real need to change them over time! Most of the differences between chore charts are cosmetic! However, if you laminate your child's chore chart and only use it with an erasable marker, you can make it last a long time!
When should one start using chore charts?
Some chore charts come with picture descriptions next to the names of chores to accommodate young children who are still learning how to read! It's never too early to start using chore charts!