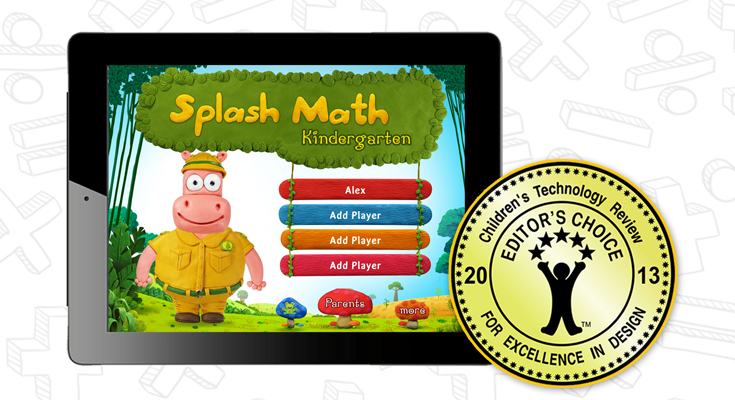 Splash Math Kindergarten App, prequel to Splash Math series (Grades 1 to 5), is on a roll. After getting featured in the "Real Teacher's Stories" section on Apple.com earlier this year; the Kindergarten app is now honored with the Editor's Choice Award 2013 from Children's Technology Review (CTR).
CTR has been serving parents and teachers since 1993 with just one goal: "to provide complete and objective reviews of children's interactive media products."
CTR's Editor's Choice Awards are given to only the highest quality children's products in the interactive media category. These are "no fail" products, worthy of their cost, and able to keep children engaged for days at a time.
Awards like these inspire and motivate us to keep innovating; to make math practice fun and help children develop lifelong math skills. After all, over 4 million kids, their parents and teachers, trust us with the same.
About Splash Math Kindergarten App
Ideal for kids 3-6 years in age, it's a superb math game for kids in preschool and kindergarten.
The content is aligned to Common Core State Standards and covers the following syllabus:
Numbers – 0 to 20; represent numbers.
Counting – count up to 20; counting forward, counting with objects and numbers
Comparisons – compare numbers and groups.
Addition Concepts – add with/without pictures, addition word problems, make a ten.
Subtraction – subtract with/without pictures, addition word problems, subtraction sentence.
Geometry – identify 2D/3D shapes and figures, positional words.
Measurement – classify by color, size or object; length, width, weight, capacity.