"What should I pack for my child's lunch today?" This question is constantly swirling around parents' minds when creating lunch ideas for kids.
They are always looking for ways to pack a wholesome meal in their kids' lunch boxes, which is easy to cook, compact, and have high nutrient content. And that's not easy, especially when you have a picky eater. 
So, do you find it challenging to feed healthy lunch to your kids every day? If so, we have curated this post to make your life a bit easier. We have listed down the 10 best healthy yet tasty lunch ideas for kids that you can cook quickly. 
Fruits & Veggies Lunch Ideas for Kids
Vegetarian lunch is nutritious, lightweight, and easy to pack. Plus, it is a good idea to pack different types of vegetables and fruits in your child's lunch box so they can develop a taste for all green veggies. Here are some simple vegetarian lunch ideas for kids: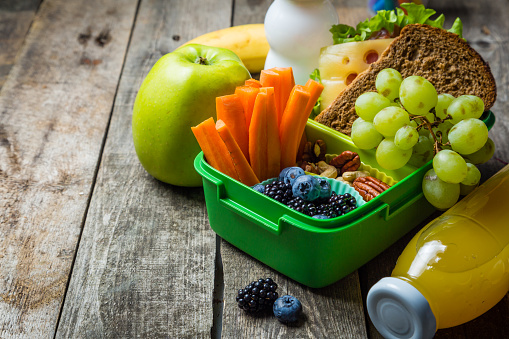 1. Oatmeal Pancakes
Ingredients: Oatmeal, milk, eggs, fruits, and honey
Now, who doesn't love pancakes? Everyone, right? But, your regular flour pancakes are not nutritious and healthy. Therefore, you can substitute flour with oatmeal and wipe out some quick pancakes for your kids. You can pack honey in a separate container so that your kid can drizzle it over pancakes when they are about to eat it. This way, pancakes will not turn soggy. Also, slice some fruits to make a wholesome oatmeal pancake lunch for your child.
2. Waffle Cheese Sandwich
Ingredients: Bread slices, lettuce, tomatoes, cucumbers, mozzarella cheese, and a waffle maker
This lunch idea for kids might sound complicated, but it is super simple. You need to make a regular cheese sandwich using lettuce, tomato, cucumber, and a slice of mozzarella cheese.
Instead of using your sandwich maker, you should put the sandwich inside a waffle maker to get that lovely crisp pattern on the bread slices. With this simple twist, you can make lunch appetitive and fun for your children.
3. Taco Salad Treat
Ingredients: Tacos and different green veggies
Making children eat green veggies is not an easy task. If you pack a plain salad in your child's lunch box, there's a big chance that it will come back untouched. So, you can turn a simple vegetable salad into a taco treat. Wrap your salad inside a taco and drizzle some tomato sauce or add some cheese, and your children will relish it in no time. 
Vegan Lunch Ideas for Kids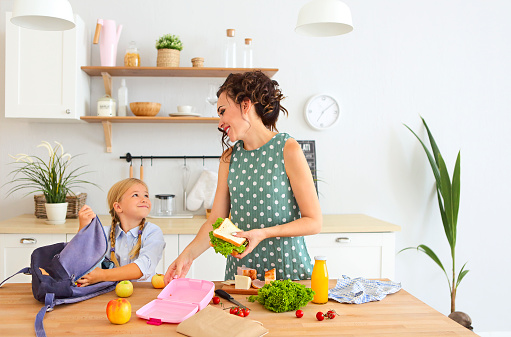 Is your kid allergic to dairy products? Or, you want them to develop a taste for vegan food to remove starch from their life. In that case, there are many great vegan lunch ideas for kids available for you to try, such as:
4. Hummus Avocado Wrap
Ingredients: Flour tortillas, alfalfa sprouts, avocado, vegan hummus, cucumbers or tomatoes
It is a pretty simple lunch recipe that you can cook within five minutes: heat tortillas and spread avocados and protein-rich hummus mixture on them. You can also add sprouts, cucumbers, or tomatoes for a refreshing touch and properly fold the tortilla wrap. And a super healthy and tasty lunch is ready.
5. Brown Rice Salad
Ingredients: Brown rice and colorful veggies like peas, bell peppers, celery, or carrots
Brown rice is packed with proteins and nutrition. They are perfect for a wholesome lunch meal to energize your child throughout the day. You can also include colorful veggies while cooking brown rice to make a completely healthy dish for your children. Try to use colorful veggies to make the dish look appetizing because brown rice looks bland, and your child might judge the book from its cover.
6. Honeyed Fruit Salad
Ingredients: Honey, lemon, and seasonal fruits
Is it like 30° outside? Then, you should pack something lightweight and refreshing in your child's lunch box to keep them active. So, the best vegan lunch idea for kids here is to make a quick honey fruit salad. You need to pick all the different seasonal fruits available in your local grocery store and cut them into bite-size pieces. Afterward, squeeze some lemon juice and drizzle a few drops of honey on top of the fruits to make them more sweet and tangy for your little guy.
Related Reading: 

How to Choose Healthy Snacks for Kids: 10 Snackable Options for Kids
Meaty Lunch Ideas for Kids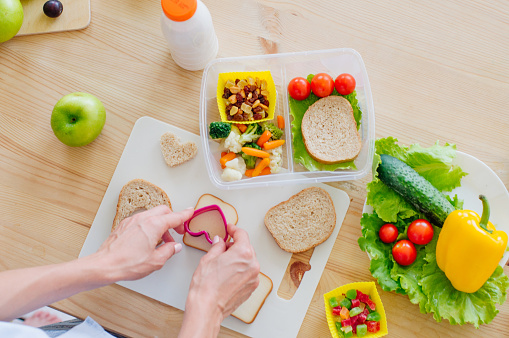 All protein dishes are not bad for packing lunch. Some dishes are healthy and lightweight that you can quickly wipe out for your kids' lunch, for instance:
7. Salmon and Cream Cheese Sandwiches
Ingredients: Bread, smoked salmon, and cream cheese
Smoked salmon and cream cheese is a classic bagel combination. But you can also use this classic combination to create a simple sandwich for your child's lunch. However, you must put some ice cubes in a Ziploc and pack them with your salmon sandwiches to keep them cool until your child eats them. So, it is a bit tricky to pack these sandwiches. But if your kids are old enough to deal with liquid water and ice cubes, you can try this lunch idea.
8. BBQ Chicken Salad
Ingredients: BBQ chicken, beans, vegetables, and corn chips
Do you have some leftover BBQ chicken in your refrigerator? Then, you can quickly make BBQ chicken salad for your child's lunch. You can cook some beans and vegetables and the leftover chicken to make it a nutritious and protein-rich diet. You can also throw some corn chips on the top to make your dish look tasty and crunchy. 
Cold Lunch Ideas for Kids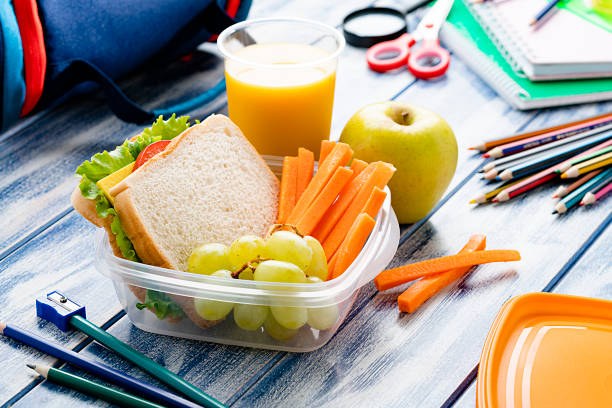 It is always challenging for parents to pack lunch so that it remains hot till the lunch break. But, let's face it, no amount of heatproof technology can keep lunch warm beyond 3-4 hours. Therefore, the best idea is to pack lunch dishes that are served cold. Here are some healthy cold lunch ideas:
9. Cucumber Turkey Sub Sandwich
Ingredients: Cucumbers, turkey breast, and veggies
This sandwich is similar to your regular sub sandwich. But the only difference is that you will not be using bread in it. Wait, how can I make a sandwich without bread? Well, you will be substituting bread slices with cucumber slices. Peel a cucumber, cut it from the middle, and get two bread slices to stuff your turkey and veggies.
10. Pizza Lettuce Wraps
Ingredients: Lettuce, mozzarella cheese, and veggies
This is another quick lunch recipe for kids. In this pizza recipe, you will be using lettuce as a pizza base and wrapping all your veggies and cheese around it. You can serve this pizza wrap cold, as no bread can turn soggy and chewy after some time. 
Things to Consider Before Making Lunch Menu for Your Kids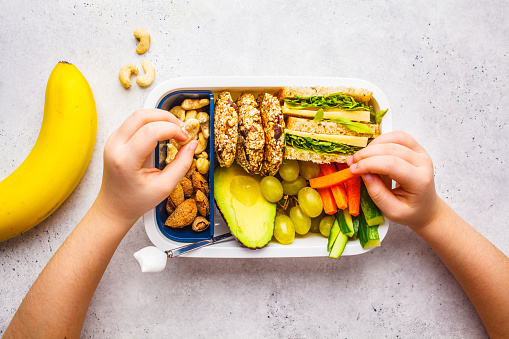 Before selecting a lunch menu for your little ones, ensure to remember these things:
Avoid packing poultry in lunch boxes because it can get bad quickly and produce a foul smell while unboxing the lunch box. Eggs can be an exception here as they don't spoil quickly or smell bad.
Don't experiment with new dishes because they might skip their lunch if your kid doesn't like them.
Never add liquid dishes to the lunch box because no matter how leak-proof the lunch box you get, there is always a chance of a spill accident. 
Taste before packing the lunch, and ensure everything is well-seasoned and cooked.
Also, pack lunch just before sending off your child to school.
Use sustainable containers for packing, like stainless steel lunch boxes.
For packing soups and pasta, you can use thermoses.
Put some fruits, vegetables, nuts, and other nutritious food items in your kid's lunchbox.
Let's Pack a Healthy Lunch!
Packing a healthy lunch is not less complicated than a math formula. You need to think logically and plan your things to pack a healthy and tasty lunch every day.
It is always good to take your kids' suggestions when deciding on a weekly lunch plan. You don't have to deal with your kids' tantrums every morning. We have shared 10 easy lunch ideas for kids to discuss with your family and try out next time. 
Frequently Asked Questions
What should a wholesome lunch for kids have?
A wholesome lunch for kids should include green vegetables, fruits, dry nuts, millet, proteins, and other essential nutritious elements. You should aim to pack a lunch box including all the vital vitamins, minerals, and nutrients. 
How do you pack kids' lunch boxes to prevent spill accidents?
You should always cover liquid food items with plastic foil before placing them in an airtight container. In addition, you can use thermoses to pack soups and pasta like liquid dishes. On the contrary, get those special covers for lunch boxes, so your kids don't have to put their lunchbox inside their school bag.
Moreover, avoid packing liquid dishes inside the lunch boxes because accidents can happen with liquids.