Classroom bulletin boards are a perfect way to decorate your classroom and provide value to your students. Since kids return to school after a long time, implementing these innovative bulletin board ideas can better engage them.
SplashLearn: Most Comprehensive Learning Program for PreK-5

SplashLearn inspires lifelong curiosity with its game-based PreK-5 learning program loved by over 40 million children. With over 4,000 fun games and activities, it's the perfect balance of learning and play for your little one.
Try for free
For your convenience, we have gathered the best bulletin board ideas that you can use throughout the year. So, let's explore easy and valuable bulletin board ideas.
35 Easy and Simple Bulletin Board Ideas
It can overwhelm you to think of a new bulletin board idea every week or month, but do not worry! We have collected 35 innovative and easy bulletin board ideas that will cover you for the entire year.
Back to School Bulletin Board Ideas
Also read: How to create a lesson plan template [with free templates]
1. Create a Clipboard Wall
You can welcome your students back to class with a personalized motivational message. Create a clipboard using ribbons and clips for your students to excite them for offline classes.
2. Be Yourself Bulletin Board
This is the most straightforward bulletin board idea. Just write down a few motivational quotes and randomly paste them on a bulletin board to welcome back your students.
3. Emoji Bulletin Board
Cheer up your students with emoji-adorned bulletin boards. Students have gone through enough gloomy times due to online/alone studies, so you can make them happy with the adorable emoji bulletin board.
4. Kick Start a New Year Bulletin Board
You can create a fun "kickstart new year" bulletin board to welcome your new class with excitement. Sometimes keeping things simple is the best way to attract kids' attention.
Fall Bulletin Board Ideas
5. Fall into a Good Book
You can make your students fall in love with books and motivate them to read more with a simple bulletin board containing some good book recommendations.
6. Falling Leaves Bulletin Board
Fall is incomplete without leaves. So, you can create a big tree and a few leaves with particular messages on them to put on your fall season bulletin board.
7. Handprint Leaves Bulletin Board
This bulletin board idea can give a new twist to the handprint craft. It would help to ask your students to mark their handprints on paper. Then, you need to cut the paper into a leaf shape and paste it on a bulletin board to embrace fall in your classroom.
8. Owl Vowel Bulletin Board
You can create an owl vowel bulletin board to teach your class vowels. In this idea, you need to cut different shapes of owls and write vowels on them so that your class can learn vowels in the fall season.
Winter Bulletin Board Ideas
9. Smitten to Learn Bulletin Board
Let's smitten your class to learn with cool mitten bulletin board ideas. You need to create colorful mittens with a meaningful message and paste them on your bulletin board to celebrate the winter theme. 
10. Snowman Counting Bulletin Board
You can create colorful snowmen and put random numbers on them to design a fun snowman counting bulletin board for your preschoolers.
11. Snowflake Bulletin Board
Using different shapes of snowflakes, you can teach your students that every person is different, like snowflakes.
Spring Bulletin Board Ideas
12. Never Stop Growing Bulletin Board
Spring is all about colorful flowers. So, you can create 3-D effect flowers with a subject name on them and design a growth bulletin board in your classroom.
13. Butterfly Lifecycle Bulletin Board
You can use the spring theme as an opportunity to introduce a life cycle of butterflies to your students. From a cocoon to a beautiful butterfly sitting on a flower, you can showcase a different aspect of a butterfly on your bulletin board.
14. Yellow Bulletin Board
Taking inspiration from sunflowers, you can create an all-yellow bulletin board for your class. You can add different flower names on the bulletin board using yellow and brown colors.
Summer Bulletin Board Ideas
15. Beach Bulletin Board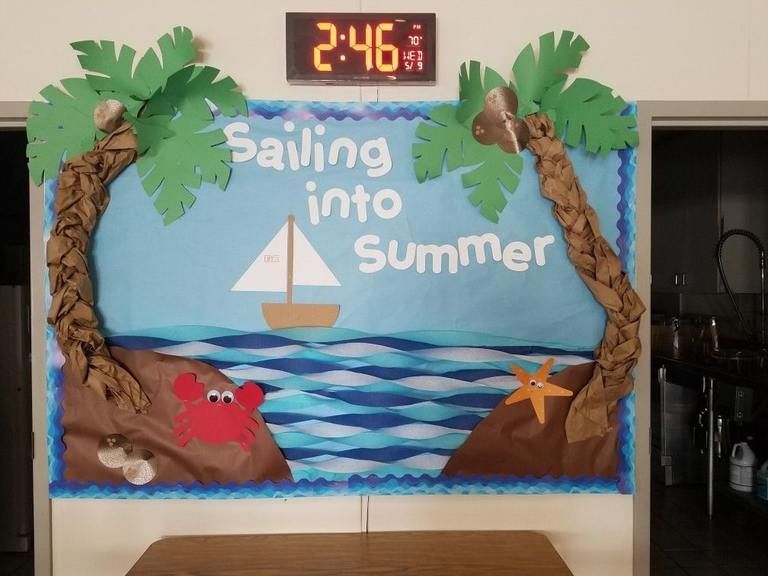 You can create a beach-themed bulletin board for the summer season to introduce different sea creatures to your class. You can even teach the water evaporation process using the beach scene.
16. Colorful Popsicles Bulletin Board
You can introduce different colors and their names using a colorful popsicle bulletin board to your students.
17. Fish Bulletin Board
Summer bulletin boards are also a perfect time to teach various fish names to your class.
Christmas Bulletin Board Ideas
Download some creative zoom backgrounds here!
18. Secret Santa Bulletin Board
You can motivate your students to spread happiness this Christmas. Create a Secret Santa bulletin board using small pockets with each student's name on them. Then, ask your students to make a gift for their friends and put it in the pocket of their name.
19. Stocking Bulletin Board
This Christmas bulletin board idea can reduce your workload as your students can design the bulletin board for you. Ask your students to get a stocking and hang it on your bulletin board with a secret message to Santa.
20. Carol Bulletin Board
You can write down popular carols on your bulletin board to bring Christmas to your classroom. You can also sing these carols with your students to create a festive vibe in your class.
Easter Bulletin Board Ideas
21. Candy Decor Bulletin Board
It is a fun and delicious Easter bulletin board idea. Ask your class to bring different flavors of candies and paste them on your bulletin board. And in the last period, you and your class can hunt for different sweets present on the bulletin board.
22. Bunny Hopping Bulletin Board
You need to divide your bulletin board into winter and spring. Here you need to create a hopping bunny from winter to spring. This will symbolize the whole concept of Easter.
23. Chicken Wings Bulletin Board
You can draw a big chicken body on your bulletin board and request your class to create wings for the chicken. They can also add a message on the chicken wings and stick to the bulletin board to make a giant chicken.
Thanksgiving Bulletin Board Ideas
24. World Cuisine Bulletin Board
To introduce different cuisines to your students, request them to write a note on their favorite dish that their family cooks on Thanksgiving.
25. Be Thankful Bulletin Board
The best way to celebrate Thanksgiving in your class is by requesting your students write a note on all the things they are thankful for. 
26. Facts About Thanksgiving Bulletin Board
Ask your class to search for some unknown Thanksgiving fact that you can put on your bulletin board for the month.
Halloween Bulletin Board Ideas
27. Batty Bulletin Board
A googly-eyed bat can bring a smile to anyone's face. You can request your students to create a funny bat with a positive measure to paste on your bulletin board.
28. Pumpkin Patch Bulletin Board
Using recycled material, you can design a small pumpkin patch on your bulletin board. You can also ask your students to prepare components for your bulletin board using waste materials like plastic cans, paper, etc. 
29. Quirky Costume Bulletin Board
The best Halloween bulletin board idea is to ask your students to dress up in different Halloween costumes. And you can click your student's photos with a Polaroid camera to pin on your bulletin board.  
Valentine's Day Bulletin Board Ideas 
30. February Library Love Bulletin Board
Use February month as an opportunity to make your students fall in love with books. For the February bulletin board, create a unique book recommendation board in a heart shape for your students.
31. Love Letter Bulletin Board
You can ask your students to write a love letter to their favorite subjects and list down reasons why they love a particular subject.
32. Spread Love Bulletin Board
In this bulletin board idea, ask your class to bring a photo for the bulletin board that showcases pure love, like a mother hugging their child, etc.
General Bulletin Board Ideas
33. Growth Balloons Bulletin Board
Balloons can make anyone happy. So, use balloons to share growth hacks and success mantras with your class.
34. Scrabble Bulletin Board
Cut out letters like a Scrabble game to write your bulletin board message. You can teach new words to your students to enhance their vocabulary. 
35. Comic Book Bulletin Board
You can teach healthy eating habits or COVID-19 precaution tips to your class with the help of comic-style illustrations.
7 Things to Consider Before Creating Bulletin Boards in Your Classroom 
A good bulletin board is attractive and informative and quickly grabs everyone's attention. So, before exploring the best bulletin board ideas, let's focus on a few essential tips:
1. Use Fabric, Not Paper
It would help to cover your bulletin board with fabric instead of paper. That's because the paper is more prone to wear and tear. All the staple marks, glue stains, and color fades are visible on the paper. Thus, you should use fabric to create your classroom bulletin board for a month. 
2. Use Painter Tape
Putting letters in a straight line on the bulletin board is a real hassle. Always one or two letters ruin your entire hard work and have you redesign the bulletin board. But there's nothing to worry about. 
Align all your bulletin board letters and put them on the floor. Using painter's tape, stick all the letters and, as it is, transfer them to the bulletin board to get the perfect alignment. 
3. Use Black Sharpie to Outline
If you use block letters to make the bulletin board message bold, provide extra clarity to your letters with a black outline. Once you paste letters to your bulletin board, outline them with a black sharpie to make letters visible to pupils seated in the back of your class. 
4. Make It Attractive
Make it interactive and engaging if you want students to pay attention to your bulletin board. For this, you can use fabric clips, colorful sketch pens, and even create different pockets to store information. All in all, use your creativity to make your bulletin board as interactive as possible.
5. Take Your Students Help
Reduce your workload and use your students' artwork or achievements to decorate your bulletin board. You can even motivate your students to help you design the bulletin board.
6. Avoid Seasonal Bulletin Boards
Don't get mad! We know seasonal bulletin board themes can help you provide different lessons to your students. But it doesn't look good when your November bulletin board is still there in December. Thus, if you don't get sufficient time to change your bulletin board often, it is better to go with neutral theme bulletin boards.
7. Laminate Your Bulletin Board Items
We know it is an extra task for you. But it is helpful to spend a few additional minutes on laminating your bulletin board items now so you can later on, save your time. You can reuse your bulletin board items to create different designs throughout the year. 
How Can Bulletin Boards Help Students?
It is vital for teachers to select the proper bulletin board ideas for their class because students can learn many new things from them, such as:
1. Stimulates Interest
Creating unique bulletin boards can spike students' interest in different areas. For example, you can create a bulletin board highlighting marine creatures to excite your students about the water lifestyle.
2. Engages in Learning
Sometimes students can better learn through visuals and interactive designs. Teachers can use their creative extent to design innovative bulletin boards to help students learn faster.
3. Increases Students Involvement
Teachers can involve students in the bulletin board design process. This way, students will learn new things and research different concepts. For teaching complicated math formulas and science concepts, bulletin boards are perfect. 
4. Involve Parents 
Through bulletin boards, teachers can increase parents' involvement in the classroom. Teachers can leave the responsibility of designing bulletin boards for the parents.
Let's Design Cool Bulletin Boards!
There you go, teachers! We have shared the interesting 35 bulletin board themes that you can try in your classroom to provide value to your students.
However, you can try different methods and creative ideas to create excellent bulletin boards in your classroom. The best way to design a bulletin board is to involve your students in the process. This will help to increase students' creativity and involvement in the learning process.
Frequently Asked Questions (FAQs)
What makes a bulletin board attractive?
Educationists should strive for a bulletin board that's interesting and helps students to learn something new. A good bulletin board is creative and informative and can help students learn new values or lessons. The bulletin board has to be creative enough to stimulate students' curiosity. 
How to create a bulletin oard?
To create a simple bulletin board, you need a big cardboard or wooden board and 4-6 inches of plain fabric to cover it. After that, you can use your own creativity to design a bulletin board with different themes and ideas based on the situation.
How frequently should you change bulletin board hemes?
It depends on your schedule. If you have free time to decorate your bulletin board every week or month, then target different seasonal themes on your bulletin board like Spring, Summer, Halloween, and others. However, if you don't get sufficient time to regularly update the bulletin board, use the general themes to decorate the board so that it won't look odd if you don't change the decoration for months.