Struggling to engage your students with traditional math teaching methods? In this blog, we're going to explore some of the best math teaching apps for teachers that are not only fun and interactive but also come equipped with powerful analytics and grade tracking features for educators.
SplashLearn: Most Comprehensive Learning Program for PreK-5

SplashLearn inspires lifelong curiosity with its game-based PreK-5 learning program loved by over 40 million children. With over 4,000 fun games and activities, it's the perfect balance of learning and play for your little one.
Try for free
The best apps for teaching math online go beyond just imparting knowledge; they make the learning experience enjoyable for kids through rich storytelling, captivating visuals, interactive elements, and well-structured grade-wise lessons. From counting to expressions, these apps cover a wide range of topics and facilitate both in-class teaching and homework assignments. So, let's dive into the world of best apps for math teachers and explore some of the finest options available.
Related Reading: How to Help Kids with Math: 6 Innovating Approaches
20 Best Math Teaching Apps For Teachers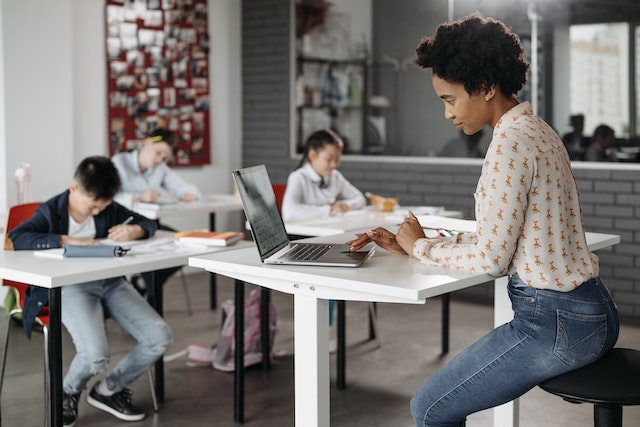 Technology has always made human effort a lot less than before and the same applies to the Math teaching Apps. This integration of technology with the classic classroom model has completely revolutionized the arena of teaching. Through these apps, teachers can ensure better concept explanation, greater student engagement, more student practice sessions and also track individual student progress. We have curated a few of the best Math teaching apps to assist you in your teaching journey. So, let's take a look at them!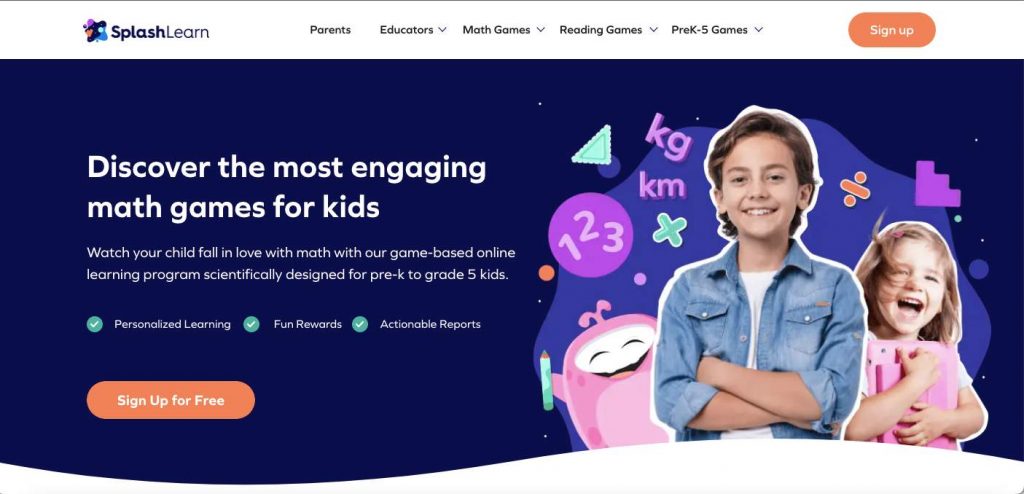 With SplashLearn, you get a visually engaging platform for kids to learn about math concepts in a fun-filled way. You can also track your lessons, get weekly reports, and check subject-wise progress, as kids undertake an exciting math adventure through fractions and geometry.
You can personalize learning experiences for your classroom, going beyond videos, picture books, props, and animations. Here, you can start by selecting your grade and preferred math lesson. This award-winning math learning app is one of the most popular among teachers.
App Cost – Free for teachers
Features – Story-based games, activities, worksheets, etc.
CTA: Free sign-up on Math Games Page for Teachers!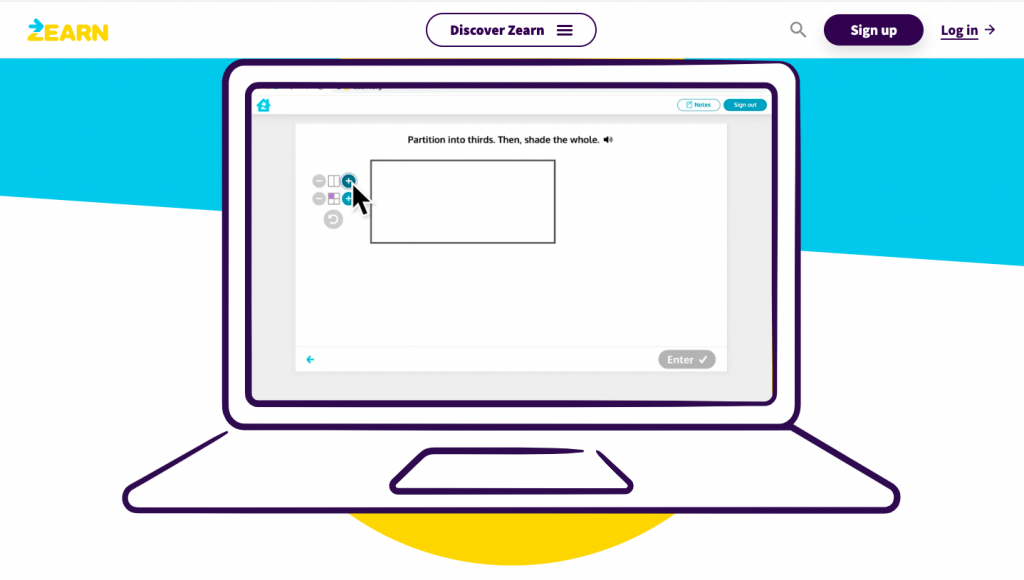 Zearn prioritizes structured learning through its math education app, catering to teachers' instructional needs. Interactive math sessions within the app foster targeted skill development for students.
Immediate alerts for student assistance can be triggered, promoting timely intervention within the network. Students can also solve math problems directly within the math app itself.
For Grades – Grade 1 to Grade 5
App Cost – Free for up to 35 students and 1 teacher
Features – Walkthroughs, tracking tool, support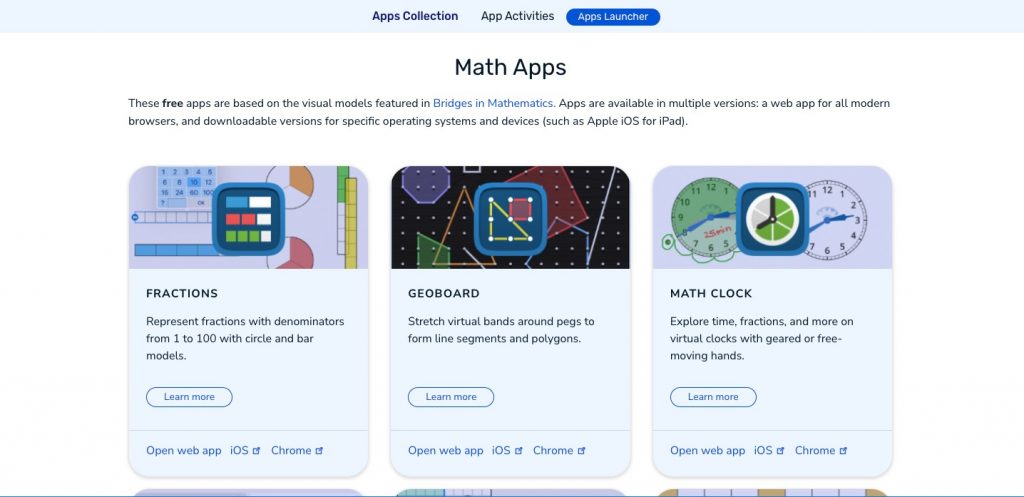 The Math Learning Center is a unique educational app that is centered on providing different math teaching apps for teachers for different topics. Here, kids can actively play around with fractions, proportions, number charts, and a range of mathematical concepts. This helps them get better acquainted with complex concepts, so that they're able to apply them practically.
For Grades – KG to Grade 3
App Cost – Free
Features – Math play-along exercises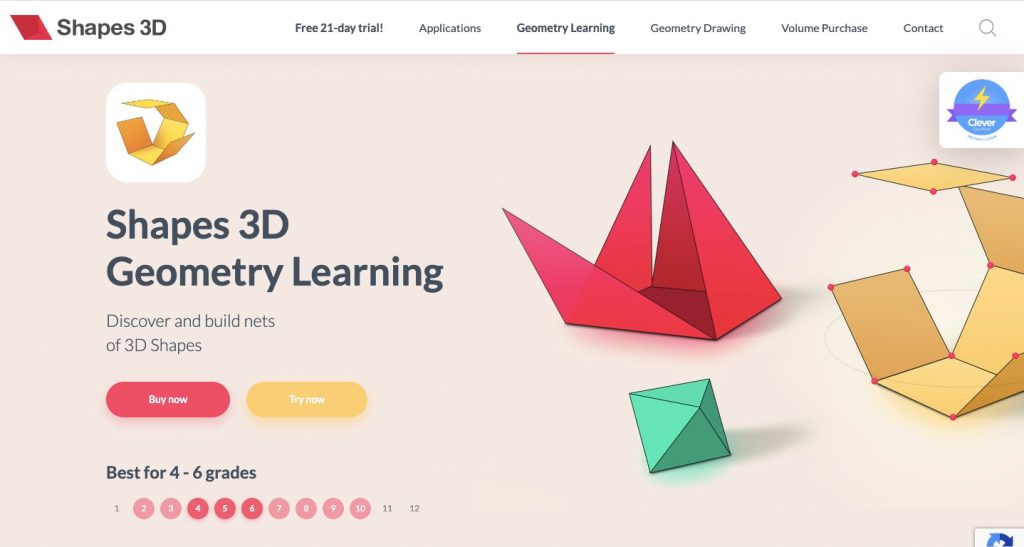 Shapes 3D is a unique geometry math app that is perfect for teachers looking to visually map out key concepts. With this app, you can build large nets of 3D figures and map out different shapes with ease. You can demonstrate concepts such as volume, area and circumference, by unwrapping 3D objects into 2D space.
For Grades – Grade 4 to Grade 6
App Cost – $6 or $0.5 per license
Features – 3D visual demonstration of geometry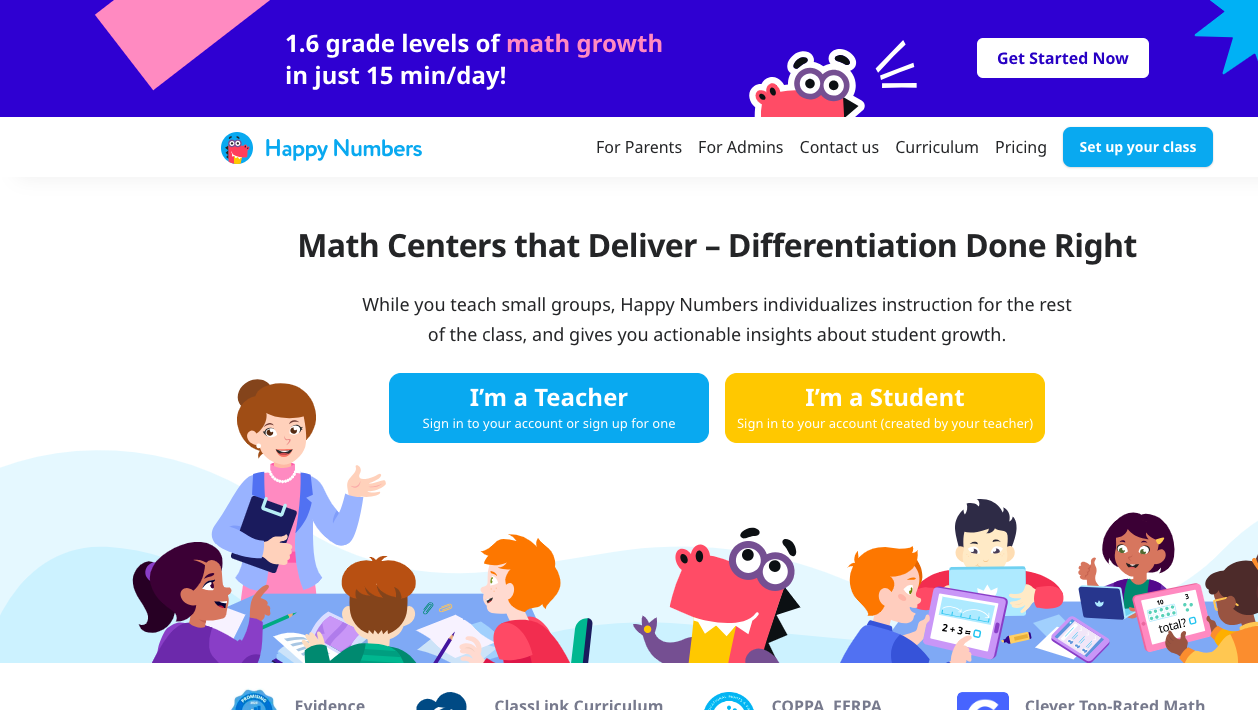 Happy Numbers is a task-based math teaching tool that uses interactive activities to reinforce concepts. You can have your class follow along with the instructions and play the interactive animations that allow for visual thinking. The teaching app can also be used to track progress through class participation.
For Grades – Pre-K to Grade 5
App Cost – School-wide license at $2900
Features – Teaching tools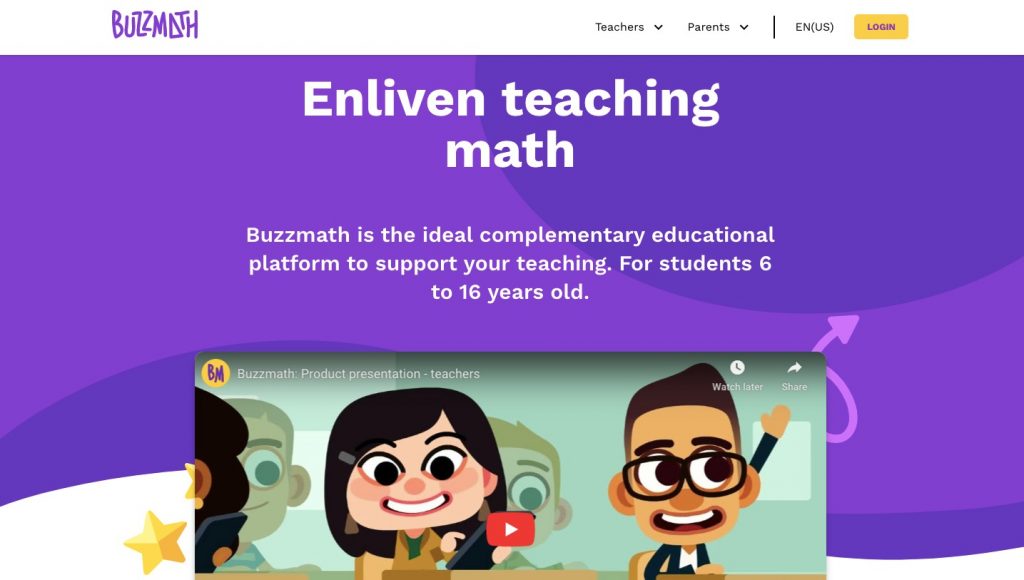 BuzzMath improves class participation through digital lessons, interactive questions, and targeted activities. You can focus on developing your curriculum and have BuzzMath design the right activities to improve recall and application. Students also gain a complete glossary of mathematical concepts for ease of referencing as well.
For Grades – Grade 1 to Grade 12
App Cost – Starting at $300
Features – Math exercises, teaching tools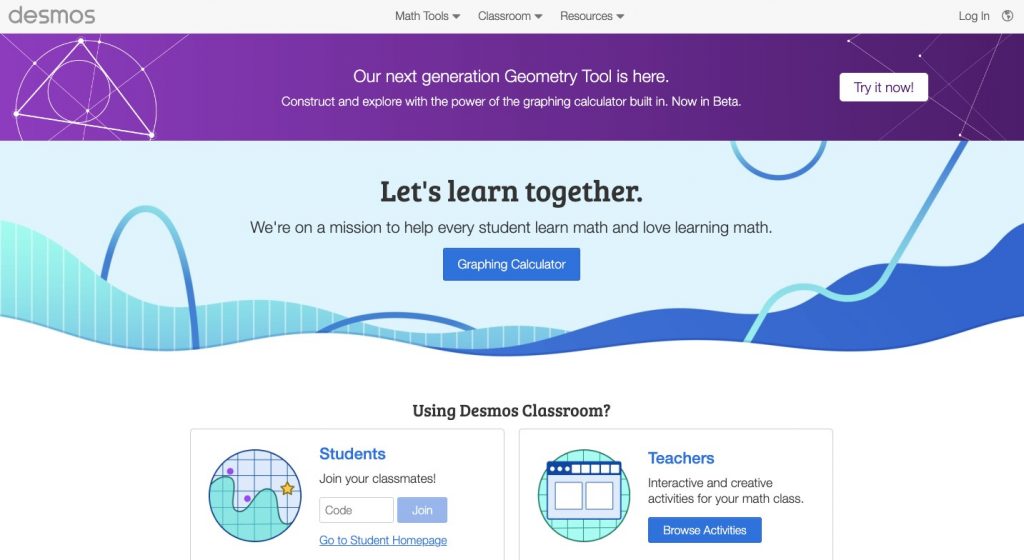 Desmos is a scalable activity management solution for math teachers. It helps them organize their lesson plan, schedules, tasks, and lists of activities for the class. They can track assignments, suggest prompts, and review the output of each student within this digital educational tool. Students can collaborate using text, sketches, pictures and more.
For Grades – Grade 6 to Grade 8
App Cost – Free
Features – Math tools, activities management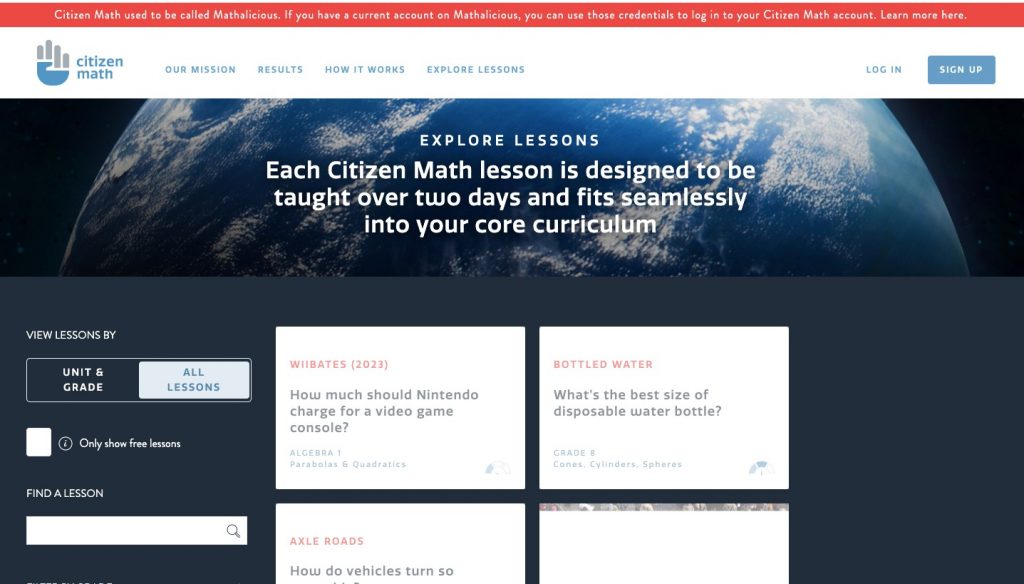 Citizen Math is a unique teaching app that can be used to explore practical applications of math concepts. Instead of hypothetical questions and solutions, the app allows students to make real life estimations and calculations. Practical examples such as ticket sales, tipping, profitability, and economic changes are explored for students through the lens of math.
For Grades – Grade 6 to Grade 8
App Cost – $14 per month
Features – Exercises, demonstrations, tools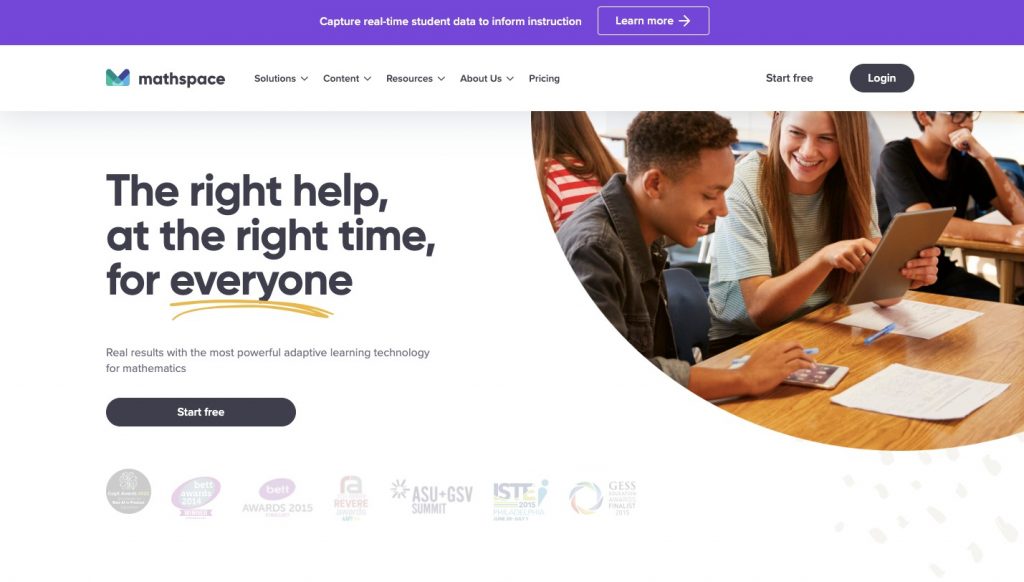 MathSpace provides a robust tool for teachers who want to plan their curriculum through digital solutions. They can personalize learning experiences for students with this app and leverage the interactive textbooks available through the platform. They can also assign adaptive homework that continues to test the knowledge of their class based on students' answers.
For Grades – Grade 3 to Grade 12
App Cost – Customized
Features – Curriculum planning, smart inputs, prompts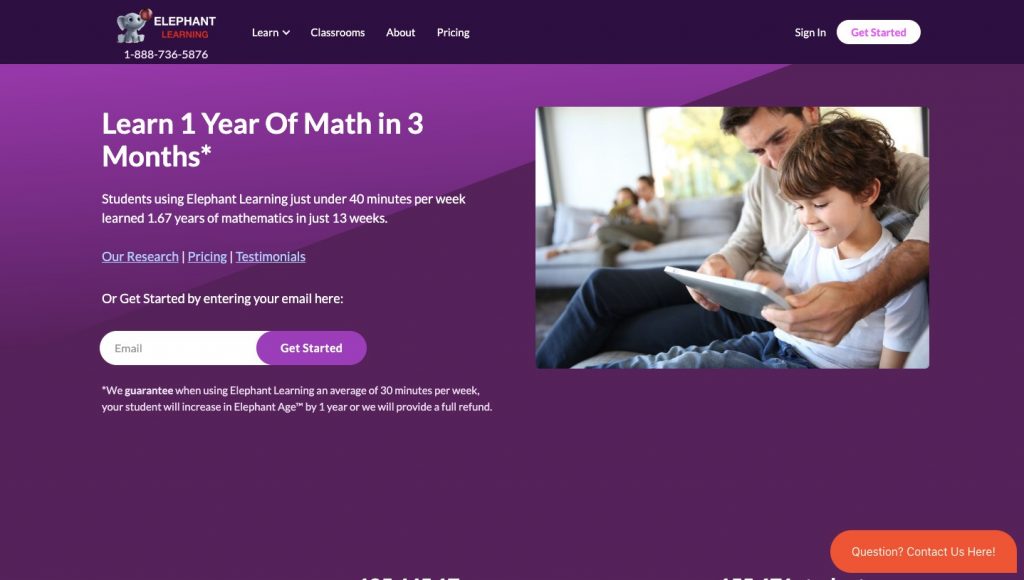 Elephant Learning focuses on structuring teaching plans to ensure that students can keep up with dynamic math concepts. The teaching app focuses on individualized learning plans, instant reporting, and complete tracking of student performance. It optimizes experiential learning to ensure that kids are progressing from one concept to another with the right technology.
For Grades – Grade 1 and above
App Cost – $70 per month
Features – Curriculum planning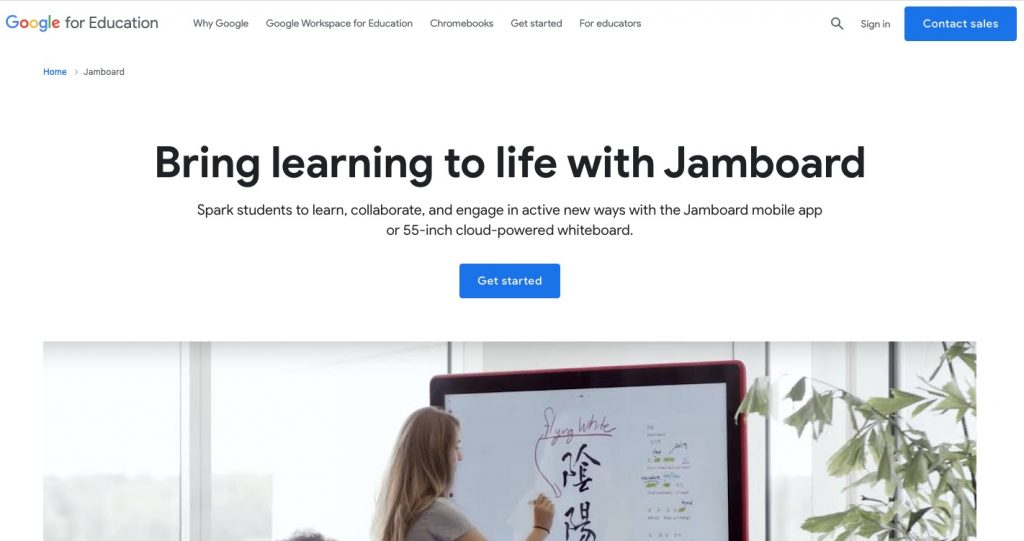 Jamboard is an educational tool by Google that teachers can use for math as well. It is primarily a digital collaboration platform that connects students for better educational experiences. You can start a lesson, introduce new concepts and have your students complete math problems within the Google Jamboard application.
For Grades – Grade 2 and above
App Cost – Free
Features – Collaboration tools, remote connectivity
Doodle Learning offers a wide range of math exercises that align with curricula across the country. You can easily access different lessons and exercises that your students can participate in, by leveraging this teaching app. The platform enables kids to learn independently by letting their curiosity drive their educational experiences. The solution also provides the right reporting mechanisms by tracking their classroom performance with ease.
For Grades – KG to Grade 9
App Cost – Customized
Features – Math exercises, planning tools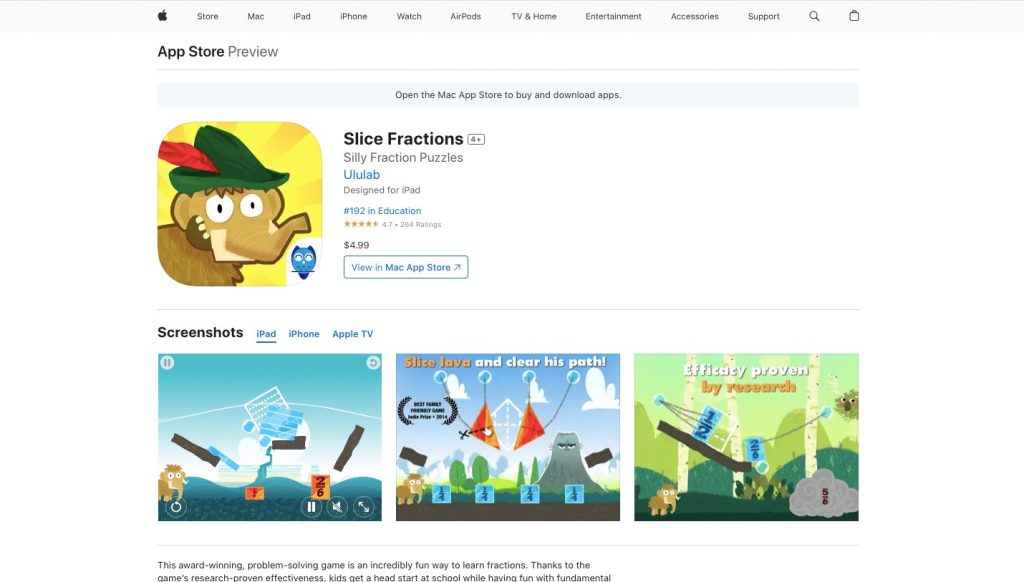 The interactive app focuses on teaching the essentials of mathematical fractions through engaging stories, animated friends and adventures. Your students can slice through lavas, chains and other cool objects to proceed with the storyline. It's an interactive app that focuses on making fractions and division more intuitive for kids.
For Grades – Grade 1 to Grade 4
App Cost – $5.49
Features – Math exercises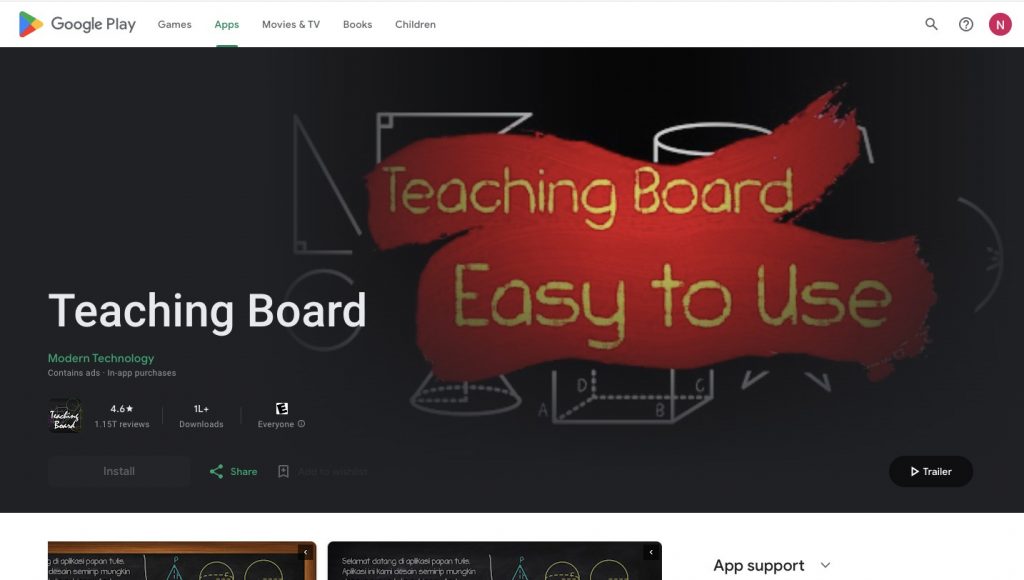 Teaching Board is a math app designed for visual demonstration. You can teach different geometrical concepts by illustrating different shapes, lines, and formulae directly on the device. Your students can also actively interact with the lesson plan as per their own interpretations of the concepts being taught through the device.
For Grades – Grade 1 and above
App Cost – Free
Features – Interactive teaching tool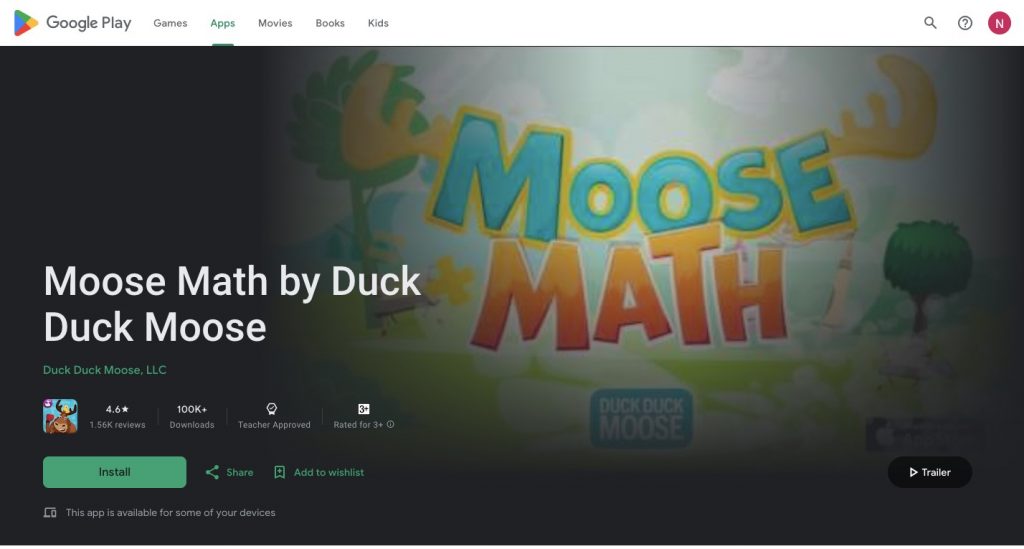 Moose Math focuses on engaging younger kids with storytelling and world-building to teach math. Your students can play counting, algebra, and basic arithmetic activities, while the characters build their city using math. Moose Math also helps in bringing a sense of playfulness with funny animated buddies that go on adventures in their mathematical city.
For Grades – KG to Grade 2
App Cost – Free
Features – Interactive digital play-along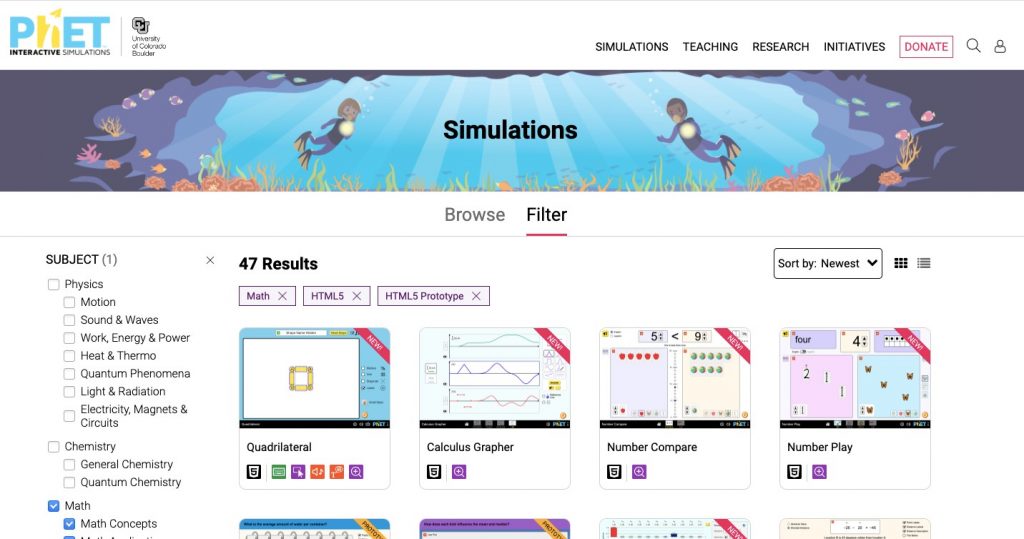 The PhET application is essentially a simulator that helps students intuitively learn about math concepts. You can teach your class about ratios, proportions, geometry, and other fascinating math topics by allowing them to participate in simulations. This makes the class more interactive and fun-filled, giving students a new tool to practice their Math skills.
For Grades – KG to Grade 12
App Cost – Free
Features – Math simulations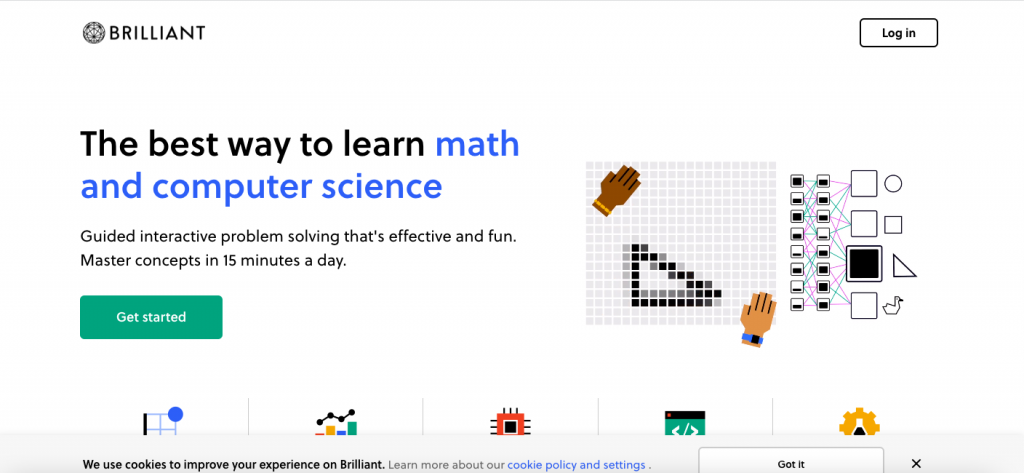 The Brilliant math app serves as an invaluable digital tool for teachers to illustrate math concepts effectively. It fosters interactive problem-solving through the use of digital blocks, making the learning process engaging and dynamic. Within the app, students are presented with practical problems to tackle, honing their math skills with every challenge they conquer.
For Grades – Grade 5 to Grade 12
App Cost – Starting at 11.99$ per month
Features – digital blocks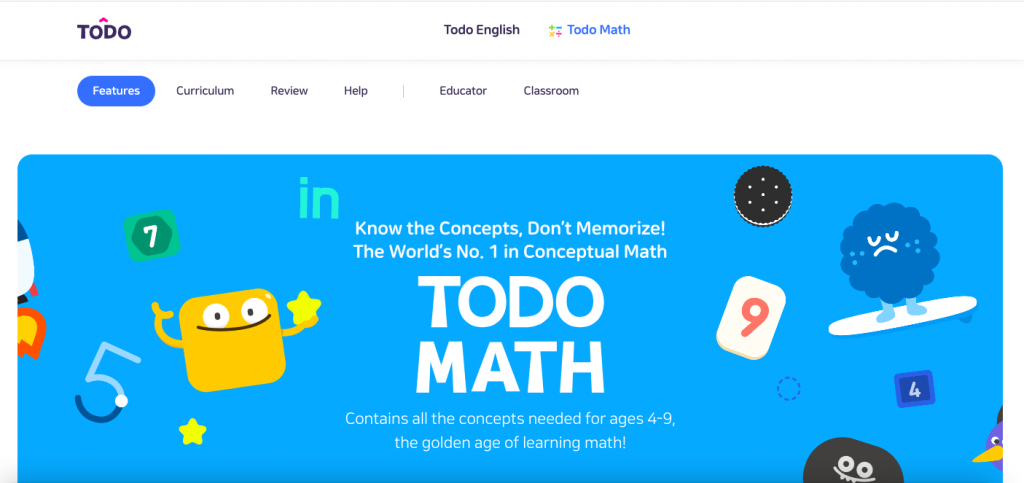 Todo Math is an exciting and educator-endorsed math adventure for kids. Aligned with school standards, it offers over 600 math activities for preschool to 2nd grade, ensuring a strong foundation in math skills.
For Grades – PreK to Grade 2
App Cost – Free
Features – Math activities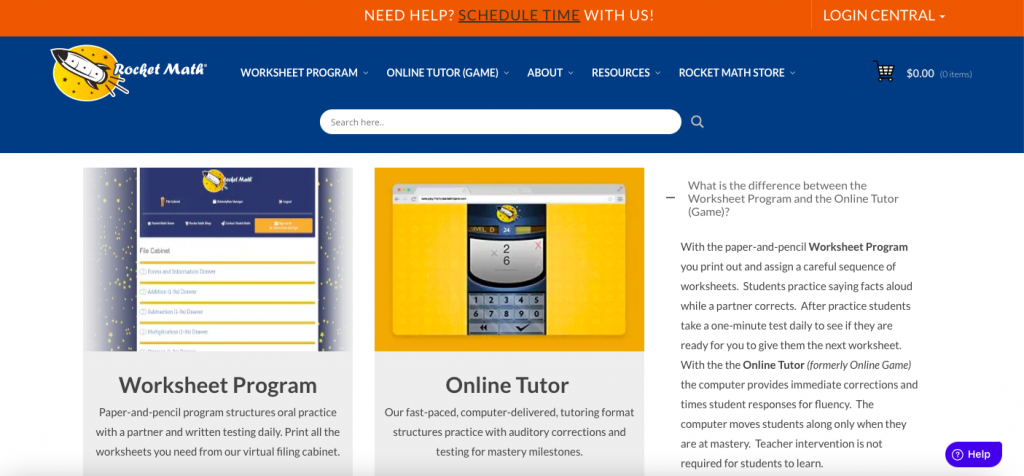 Rocket Math is an innovative educational platform that harnesses the theme of space travel to make math learning engaging and enjoyable for kids. Interactive activities and grade-specific worksheets, enable students to enhance their math skills in a fun and exciting way. This solution complements your existing curriculum and infuses a sense of wonder and exploration into your lesson plans.
For Grades – Kindergarten to Grade 6
App Cost – Starting at $3 per seat
Features – interactive activities, worksheets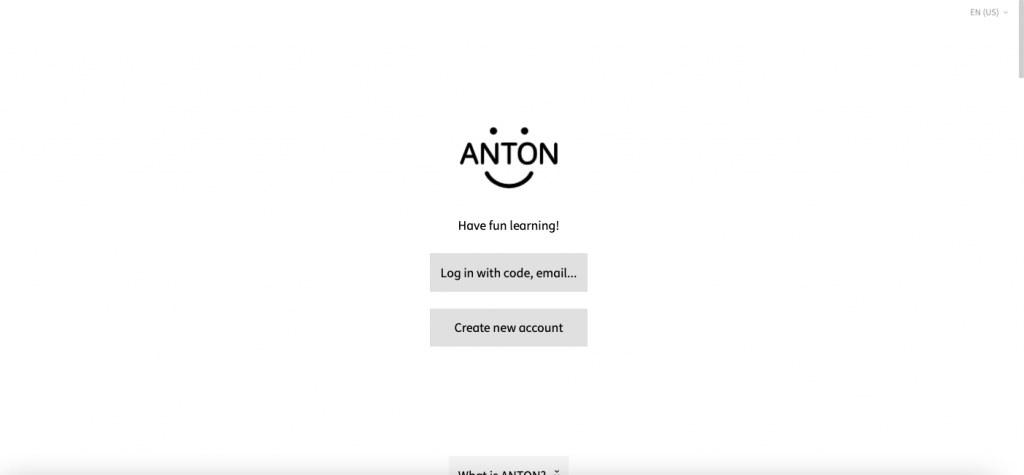 Anton offers innovative approaches to teach math concepts, enabling students to grasp abstract ideas more effectively. By employing this platform, educators can encourage their students to sketch geometrical shapes, explore the notion of speed through car simulations and practice counting using animated fruits on their digital screens.
For Grades– PreK to Grade 8
App Cost – Free
Features – digital screens
Benefits of using Math Teaching Apps For Teachers In The Classroom?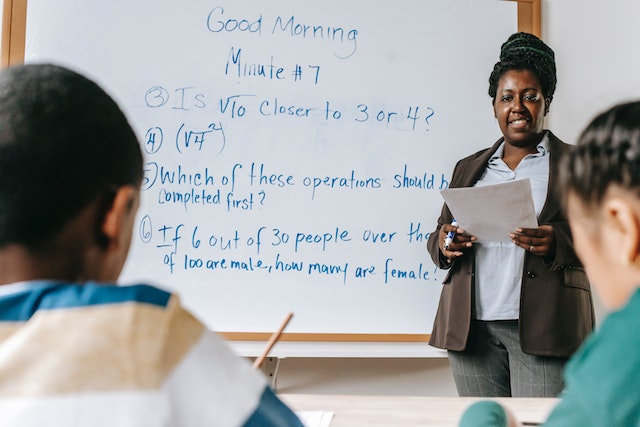 Teaching apps are integral tools that help educators diversify their approach to teaching standardized programs. Following are its benefits for teachers:
These apps elevate participation, engagement and retention using the right digital tools. Using them, students can participate in enriching math activities.
They improve the productivity of their lesson plan by exploring new avenues beyond the classroom.
They also use digital tracking tools that ensure no child is left behind. They track students' performance through different stages. Educators can also highlight students' areas of strength and weakness and provide them the right skills to improve their abilities.
Through these teaching apps, teachers can ensure that their classroom stays aligned to annual goals.
Related Reading: Best Teaching Strategies for 2023
Conclusion
The best part of having multiple options in math apps, is that you can start with free trials and in many cases even use them for free. They can be integrated with most of the teaching tools, making them highly scalable for classrooms of larger sizes.
Teachers can also review the effectiveness, feature list, quality of lessons and other qualitative factors to see if a solution fits with their teaching style. Since educators often have unique teaching methodologies for math, it's advisable to experiment with various tools in distinct stages of the year.
So, what are you waiting for? Get started and digitize your classroom to level up your game!
Frequently Asked Questions (FAQs)
Will students actively engage with math teaching apps for teachers?
Yes, several of the top teaching apps have demonstrated improvements across grades, which is why they are ideal for teaching math lessons.
Are math apps for teachers effective long-term?
Certainly, top-notch math teaching apps for teachers can amplify students' productivity and information retention for educators, alongside streamlined tracking of student achievements through digital platforms.
Can I select my own lessons within a teaching application?
For several math apps, you can select the kind of lessons you want to teach. For instance, if your class is already adept at number theory, you can skip that and start with geometry instead.
Do I need a mobile device, or can I use school computers?
For most cases, you will require school computers to engage students with the math apps.