Are you raising a child with special needs? If so, you must be feeling exhausted and stressed all the time. It's hard to raise a child, but things get even more challenging when your child needs special care.
SplashLearn: Most Comprehensive Learning Program for PreK-5

SplashLearn inspires lifelong curiosity with its game-based PreK-5 learning program loved by over 40 million children. With over 4,000 fun games and activities, it's the perfect balance of learning and play for your little one.
Try for free
One of the major problems that parents with special needs children face are finding the right education institution. There are not many public schools available with facilities to support a child with autism, ADHD, or other sensory disorders.
So, if you are also struggling to find the right school for your child with special needs, you can homeschool them. That's because no one can better care for your child than you. Plus, it is legal in many states to homeschool your child even if they don't have any special needs.
This guide will help you find the best homeschooling curriculum for your child with special needs and some helpful homeschooling tips.
Why Is Homeschooling Better for Children with Special Needs?
Homeschooling is better for children with special needs because they get to learn in a familiar environment. In addition, they get support from their loved ones while learning and exploring new things. Besides this, homeschooling can help parents and children in many ways, like:
1. Flexible Learning
All days are not the same when raising a child with special needs. Some days are more complex than others. Therefore, you can easily adjust the homeschooling curriculum based on your child's daily mode and physical health. For example, if your child feels agitated or tired someday, you can cut the lesson short and take your child outdoors for relaxing activities.
2. Learn at Your Pace
When your child has a sensory disorder like autism or dyslexia, they might need more time to process things than other children. Your children might feel overwhelmed and pressured to follow up with the entire class in a classroom. This can make them more nervous and anxious. Homeschooling can give your child an opportunity to learn at their own pace. They can revise a lesson multiple times without feeling judged at home.
3. One-on-one Attention
Children with special needs require more care, attention, and support than a regular child. In a school where a teacher has more than 20 students in a class, they can't provide one-on-one attention to your child. Therefore, you can teach your child at home and cater to all his special needs while providing them with a safe learning environment.
Related Reading: 

Brain Games for Kids to Nurture Holistic Development
4. Experiment with Learning Modules
You can try different learning methods to provide a safe and innovative learning environment for your child at home. For example, you can take your child outdoors and make them learn new words by pointing at different things. You can also use games and visual lessons to make learning easy for your senses-deprived child.
5. Healthy Surroundings
If your child has a low immune system, public schools can easily pass on the infection. Therefore, for your child's safety and good health, it is best to get the homeschooling curriculum and start teaching them in the safe surroundings of your home.
How to Choose the Best Homeschool Curriculums for Children with Special Needs?
While selecting the homeschool curriculum for your children with special needs, you should consult other parents who homeschool their children. This will help you understand all the challenges that might come your way while teaching your child at home. You can also find some good resources for a homeschool curriculum for special needs from other parents.
In addition, you should check out all the rules and regulations related to homeschooling in your state. You can go online to find information about homeschooling in your area and search for some good homeschooling resources.
You should mentally and physically prepare yourself before homeschooling your child because there will be a challenging road ahead of you. So, be patient, and don't forget to take care of yourself.
Best Homeschool Curriculums for Autistic Children
If your child has autism or sensory disorders, you need a unique homeschool curriculum to stimulate their senses. Here are some excellent homeschool curriculums for children with sensory disorders:
SplashLearn is the best homeschool curriculum for math and ELA training. The platform offers over 8000 games, worksheets, and 500 courses for children to practice at home. All the courses and worksheets are visual-aided. Thus, children with special needs can quickly learn using different gameplay and intuitive storyline. Parents and teachers can register for free on this portal or download the SplashLearn app on their mobile devices. 
Autism Tool Kit is a web portal where you can find different resources to help your autistic child. This website contains resources, PDF files, and links to various applications and learning material for autistic children. It is a comprehensive gallery of resources for parents who want to make life easier for autistic children.
Autism Speaks a WHO-supported platform to help autistic children, parents, and educators. The World Health Organization's Caregiver Skills Training (CST) provides parents and caregivers with daily training to support autistic children. The organization works with Congress, the White House, and other autistic organizations to create scientific learning recourses. 
Best Homeschool Curriculums for ADHD Children
Attention-deficit/hyperactivity disorder is a chronic condition including attention difficulty, hyperactivity, and impulsiveness. ADHD impacts your child's self-esteem, poor relationship-building, and academic performance. Therefore, you need a special homeschool curriculum that can help your ADHD child, such as:
This homeschool curriculum is suitable for preschoolers and high schoolers. Using this platform, you can provide interactive lessons, worksheets, unit assessments, and visual lessons to your ADHD child. The platform also offers puzzles and repetitive quizzes to make learning simpler for your children.
Oak Meadow is a 36-weekly lesson program for specially-aided children. In this lesson program, you can find a lot of reading material, assignments, worksheets, and much more. For the convenience of parents, the platform also provides planning and checklist features. Parents can also customize lessons based on their child's requirements and improve their self-esteem with manageable assignments.
This is another best homeschool curricula for special needs students. The platform has features that can help your sensory-disordered children, such as maths training and reading and writing skill improvement. You can also find a gallery of CVC words to improve your child's pronunciation skills.
Best Homeschool Curriculums for Dyslexic Children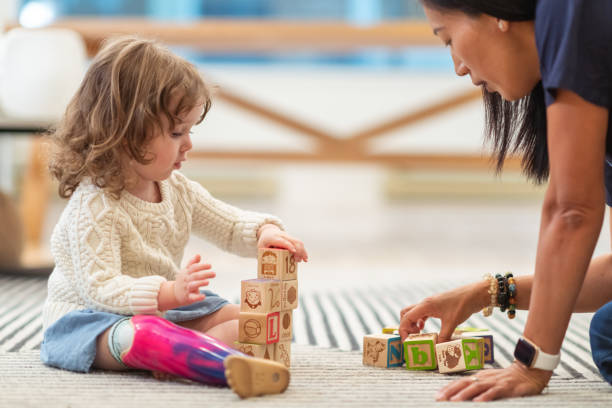 Dyslexia is a learning disorder. Children at a young age often suffer from this problem, making it hard for them to learn new things and process new words. Therefore, you can start homeschooling your late bloomer using these resources:
Related Reading: 

Best Math Games for Kids That Are Fun to Play
Brave Writer is a perfect platform to improve the writing skills of your dyslexic child. You can find several great writing courses and worksheets on the website to help your child write.
Do you want to learn more about dyslexia? If so, this is the best platform to learn more about the disease your child is suffering from. Moreover, you can find many great reading, writing, and speaking resources to improve your child's learning ability. It is a complete portal for teaching your children with special needs. 
This mobile-based homeschool curriculum lets you teach your child anytime and anywhere. Using interactive audio and video lessons, you can make learning simpler for your children. Many great e-books, stickers, background images, and other visual elements are also available.
Parting Remarks
It is challenging to educate your children with special needs at home. But, when you educate yourself first and try to understand your child's special requirements, you can easily create an intellectual learning environment for them at your home.
It will take some time and energy to build a homeschool curriculum for your child. So, you can start with the resources mentioned in this blog and slowly start homeschooling your special children.
Quick FAQs
Can I teach my autistic child at home?
Yes, you can teach your autistic child at home. You might need more resources than a regular homeschool curriculum to teach your autistic child at home. For this, you can consult other autistic parents or autistic support groups to gather the right resources for homeschooling.
Is homeschooling best for children with special needs?
Yes, homeschooling is one of the best methods to make learning easy for your children with special needs. You can provide one-on-one interaction with your child at home and let them learn independently. In addition, you can prevent your child from crowded and infectious places by teaching them at home. And importantly, no one can care for your special child better than you.