Toddlers are full of energy and love interacting with new objects, spaces, and activities. The ideal games for toddlers have lots of colors, entertaining characters, and fun-filled experiences to keep them engaged.
SplashLearn: Most Comprehensive Learning Program for PreK-5

SplashLearn inspires lifelong curiosity with its game-based PreK-5 learning program loved by over 40 million children. With over 4,000 fun games and activities, it's the perfect balance of learning and play for your little one.
Try for free
It's important for your toddler's growth and development to introduce them to different types of activities, games, and experiences. You can select a handful of games from each of the categories mentioned in this article to ensure that your child maximizes their developmental years in an enriching environment. These 30 online games for toddlers can also be played in groups to maximize social learning, teamwork, delegation, and other crucial skills.
Looking for more online Math games and ELA games to educate and engage your kids? Here are more games to check out!
The Best Learning Games for Toddlers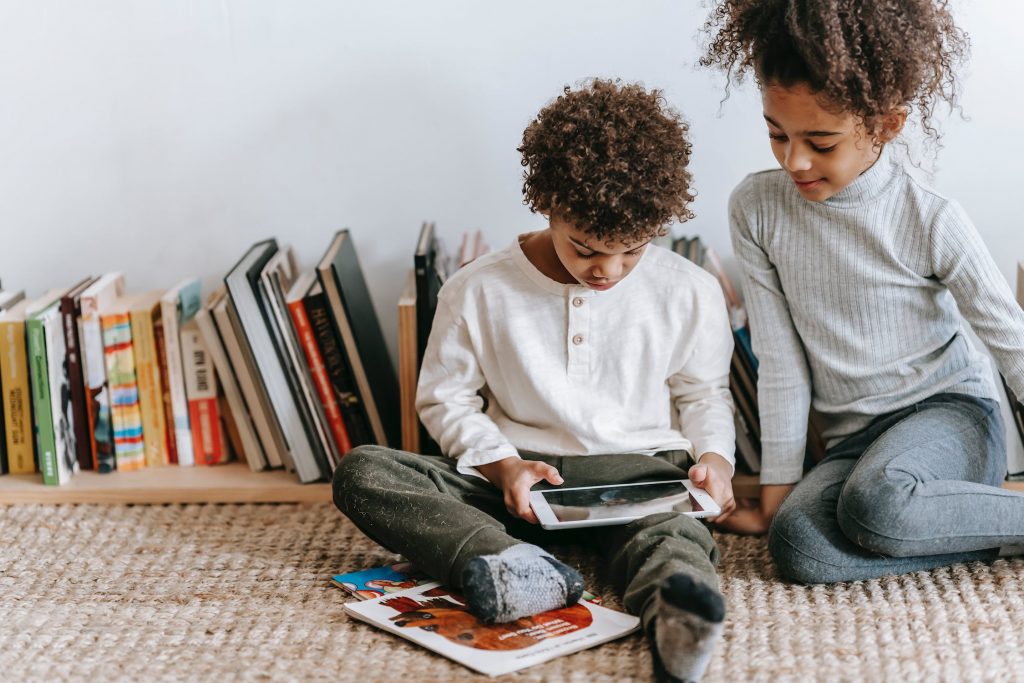 Educational games for toddlers are valuable from an overall cognitive development perspective because they allow kids to learn while having fun. The best games for toddlers include learning apps, animated games, and science activities.
1. SplashLearn Online Games
SplashLearn games are fun for kids in grades PreK-5, making them dynamic, engaging, and fun-filled. A great learning game that toddlers can play is the Tracing Game. They can follow cute, cuddly animated guides to Tracy Farm and trace numbers correctly as they collect honey from Buzzy the Bee. 
Online games with rich storytelling create a more immersive educational experience. You can play the game here right now from any device! It's one of the most engaging free online games for toddlers aged 3 and above.
Age Range – 3 to 11 years old
Players – 1
2. Sink or Swim Experiment Game
One of the most fun learning games for toddlers is the sink-or-swim experiment. You fill a bucket of water and use 5-10 different types of objects for experimentation. To give toddlers an intuitive sense of buoyancy, you can test and explain why some objects float while others sink. Toys can also help strengthen development and recall in this domain.
Age Range – 3 years and older
Players – 1 player or more
3. Odd One Out
In this game, you can stack multiple objects and props before your toddler and have them guess the odd one. You can use flashcards, household objects, toys, and other elements with similar themes and stand-out objects. Using different elements of similarities will keep them thinking and teach them how to spot patterns. 
Age Range – 3 years and older
Players – 1 or more players
4. Jigsaw Puzzles
Puzzles, both digital and physical, can be the perfect learning game for toddlers who want to use their creative thinking skills each day. Younger children love visually appealing puzzles that involve different animals, objects, and landscapes. Keeping puzzles under 20 pieces can be perfect for toddlers who are just starting out.
Age Range – 3 years and older
Players – 1 or more players
Related Reading: 

Best Math Puzzles for Kids to Improve Cognitive Abilities
5. Color Sorting
With the color sorting game, you can give your toddler a bowl of different colored objects and have them sort them out by grouping them according to color. You can start with primary colors, then secondary, and finally, tertiary colors to help them get an intuitive sense of why colors are important. 
You can explain why certain colors are used in specific instances, such as red is used to mean 'no' or 'stop,' while green is used for 'yes' or 'go.' Use colorful household items that toddlers can easily recognize and categorize similar colors and shades.
Age Range – 3 years and older
Players – 1 or more players
6. Shape-Hole Puzzles
As a parent, you should remember to get shape-hole-style puzzles, allowing your toddlers to use trial and error to figure out the right shape for the right piece. To play the game, use a board with holes of different shapes hollowed out, like a circle, square, or triangle. Children use different blocks that fit the shape of the holes.
This uses fine motor skills, encouraging kinesthetic application and memory. More complex shapes can be introduced when your child gets older.
Age Range – 3 years and older
Players – 1 or more players
7. Guess What's Inside
Guess What's Inside is a sensory-based game for toddlers about understanding spatial dimensions through touch and estimation. Your preschooler should be able to guess vegetables, fruits, toys, and other simple household objects with some guesswork. You can add multiple objects inside the box to make the game challenging. 
Age Range – 3 years and older
Players – 1 or more players
Board Games to Improve Mental Acuity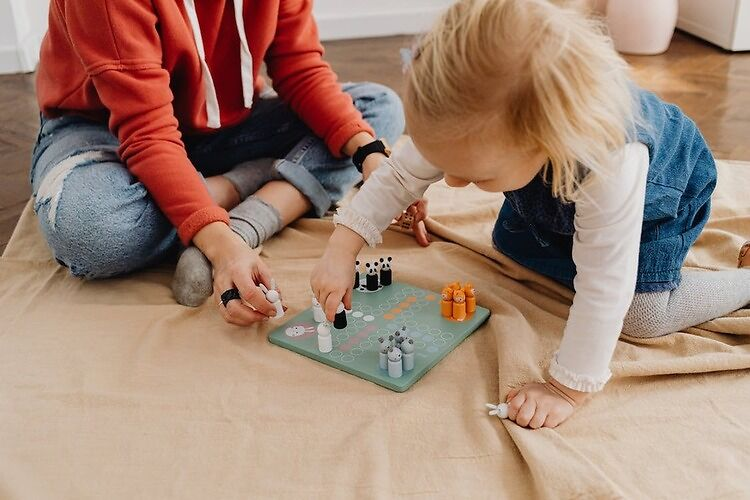 Board games help strengthen problem-solving, pattern detection, and logical reasoning skills that children can cultivate over time. Toddlers can develop long-term thinking when they apply their skills to board games. You can even play some great board games for toddlers online if you download the right online app for the associated game.
Board games for toddlers that involve finding hidden objects or monuments in busy landscapes make for bundles of fun and excitement. The joy of finding the right object is magnified when you collaborate to find important clues. You can make the game more interactive by crafting a story around finding the object. Each game to find the hidden objects can have different rules depending on what your toddler is comfortable with. If you want to mix it up, there are many free online games for toddlers aged 4 and above related to finding hidden objects.
Age Range – 4 years and older
Players – 1-3 players
9. Memory Games
Games like Life on Earth, Picture Bingo, and What's Missing focus on maximizing memorization and recall. Memory games are important for toddlers to craft their sense of perception and understanding. These games are also important to develop short-term retention. Adding cartoons and animated characters will make the game more fun.
Age Range – 3 years and older
Players – 1-2 players
In these board games, the objective is to create a unique story based on the card prompts provided to your toddlers. You can get create-a-story cards online or print them out to host a storytelling session with your kids. Adding prompts will help toddlers make longer stories.
Age Range – 3 years and older
Players – 2 or more players
Related Reading: 

Storytelling for Kids: Benefits, Books, and More
11. Stacking Games
Your toddler can learn the art of stacking similar objects in games such as Animal Upon Animal. They can practically apply their skills in the form of a stacking challenge and create impressive works of design. A variety of stacking-type board games can be used to strengthen lateral thinking.
Age Range – 3 years and older
Players – 1 or more players
3D color matching games offer toddlers a multisensory experience that is immersive and instantly visually appealing. Games like Hoot Owl Hoot can be fun hours for younger children who want to enjoy simple-to-understand games. Diversifying the types of matching games will be the best option.
Age Range – 4 years and older
Players – 2 or more players
Price – Starts from $17.95
Movement and Physical Games That Engage Toddlers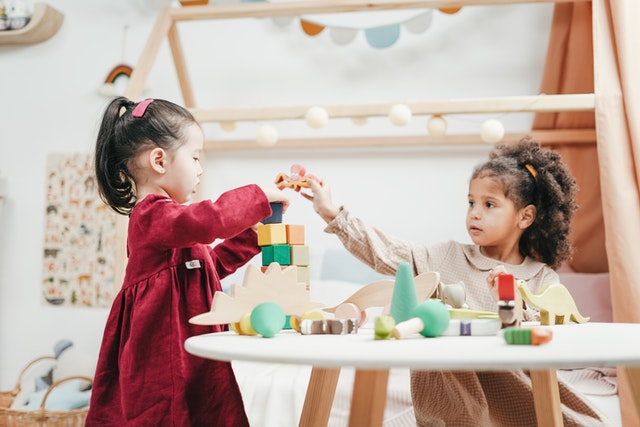 One of the most impactful forms of games for toddlers is movement and physical games. Any activity that involves movement and kinesthetic input can be immediately awe-inspiring for any toddler. It is important to get the right movement games that toddlers can learn from instantly. 
13. Balance Beam
You can make a mini balance beam type of game on the floor of your home with some thread, tape, or paper. Challenge your kids to walk along this straight line by placing their feet on it and balancing their bodies. This game for toddlers is a great way of building coordination and following instructions in a gamified format. Your toddler can also carry objects to make the game challenging.
Age Range – 3 years and older
Players – 1-2 players
14. Tape Maze
In the tape maze game, you can design a mini maze for your toddler to go through and reach the finish line. This can help them improve coordination, active participation, and interactivity with their environment. It will also help them improve their ability to perform trial-and-error methods. Multiple colors of tape can indicate new pathways.
Age Range – 4 years and older
Players – 1 or more players
15. Driving Course
You can design a quick driving course if your toddler loves driving their mini-car or wheeled scooter around. Adding cones, objects, obstacles, and roadblocks can make things more interesting for your toddler. You can have them do multiple laps to strengthen their abilities.
Age Range – 3 years and older
Players – 1 or more players
16. Simon Says
This classic game for toddlers is perfect for testing their deductive reasoning skills. One player is chosen as "Simon." The other players gather around Simon and must listen and follow the instructions given. For example, "Simon says jump twice." You can strengthen your toddler's active listening skills with the game and ask them to perform unique tasks that keep them engaged. The more unique the task, the more engaged toddlers will be in the game.
Age Range – 3 years and older
Players – 4 or more players
17. Getting Hot Or Going Cold
You can hide a toy or a memorable object and have your toddler guess where it is hiding based on the cues of hot and cold. You can help strengthen your toddler's ability to demonstrate patience, long-term thinking, and compartmentalization skills. The game can be made more exciting by using numbers as well, such as going from 0 to 10 (0 being the closest to the hidden object) etc. You can also hide multiple objects to get them thinking.
Age Range – 3 years and older
Players – 1 or more players
18. Mini Basketball
The best way to get toddlers interested in sports early is to get them to play mini-basketball. You can hang a small hoop anywhere in their room and have them practice shots, layups, dribbling, and other fantastic skills. This can boost confidence, strengthen hand-eye coordination, and keep them active. You can also start them off with a laundry ball, rolled socks, and laundry baskets.
Age Range – 4 years and older
Players – 1 or more players
19. Treasure Hunt
A theme-based treasure hunt can be an entire day of exciting fun for toddlers. You can print out clues or make them by hand to make the activity more immersive for toddlers. You can also use different props, technologies, modes, and spaces to make the game dynamic. The hunt can be made exciting by drawing maps, adding clues, puzzles, etc.
Age Range – 3 years and older
Players – 5 or more players
20. Obstacle Course
You can design an obstacle course for your toddler to explore with cardboard boxes, cones, strips, sheets, and rope. You can construct the course outside or inside the house, making it as challenging as your little one can manage. Using soft pillows and blankets will prevent unwanted injuries
Age Range – 3 years and older
Players – 1 or more players
21. Red light – Green light
The classic momentum-based game strengthens your child's audio differentiation and body control skills at the same time. You can instruct your toddlers to move when you say green light and be completely frozen when you say red light, after which you turn around and look at the kids. The player is eliminated if you catch them moving after you say red light.
Red light – green light, or Statues, is a great game for young kids. You can add obstacles to make the game challenging. 
Age Range – 3 years and older
Players – 2 or more players
Indoor Games For Spatial Awareness And Motor Skills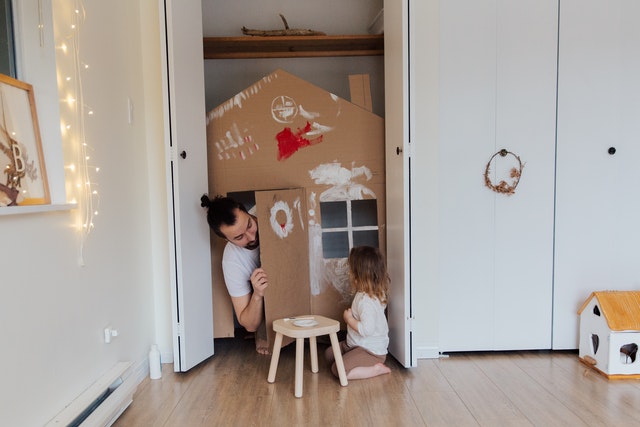 Indoor games can lead to hours of fun, especially when played together. They are extremely fun and involve multiple forms of input. Toddlers can run around, hide, find objects, and do other multi-cognitive activities. The great part is these are easy to play, making them some of the best free games for toddlers.
22. Charades
Charades keep toddlers guessing the correct word or phrase. The game requires prompts that you can tailor to improve their experiences. Players must explain the given word or phrase without talking, using only actions and signs. 
You can turn it into an educational game for toddlers by having clues around reading, writing, logic, and memory. You can also keep the rules simple for them to enjoy without worrying about the specifics.
Age Range – 4 years and older
Players – 4 or more players
23. Hide & Seek
This classic game for toddlers can be personalized by making it a mission-based game. You can have toddlers role-play as astronauts hunting for aliens or scientists looking for dinosaurs. Individuals can hide and play out the role assigned to them and the tasks they need to accomplish. Giving tasks to hiders makes the game multidimensional for toddlers.
Age Range – 3 years and older
Players – 5 or more players
24. Jenga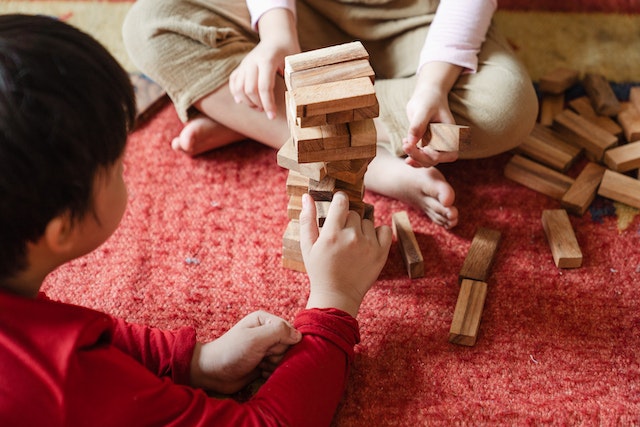 Jenga is a simple-to-understand concept that toddlers can intuitively grasp within minutes. They can even help stack the tower and easily remove the pieces using careful precision and visual acuity. You can add fun rewards at the end of each round. For toddlers, you should get colorful Jenga towers that can be used for other games as well.
Age Range – 4 years and older
Players – 2 or more players
25. I-Spy
The classic visual assessment game can help your toddler improve their sense of detection and differentiation within a mixed signal environment. One player will count to 10 while the other players hide within a specified area, indoors or outdoors. The player will then try to find every hiding player. 
They must find all the players before someone who hasn't been caught tags them, and everyone gets to hide again. You can make the game more interesting by integrating toys, objects, stories, and puzzles your child loves. You can use different themes for the game.
Age Range – 3 years and older
Players – 2 or more players
Related Reading: 

Best Indoor and Outdoor Team Building Activities for Kids
26. Hot Potato
You can help develop your toddler's hand-eye coordination, quick thinking, and strength-based skills with the classic Hot Potato game. You can roll up socks, use a ball, or any rounded object to make the 'Hot Potato,' that is soft enough for them to catch and hold.
The children have to sit in a circle and pass the hot potato once a song or music plays to the player next to them. The player holding the ball when the music stops is eliminated. Additionally, if a player in the circle fumbles and drops the ball, they are eliminated.
Age Range – 3 years and older
Players – 4 or more players
27. Building Block Games
Parents should encourage their toddlers to make different types of structures, animals, and landscapes using blocks, magnets, and sheets. This improves creative thinking, visual application, and analytical skills early on. You can combine different types of blocks and shapes for maximum creative output.
Age Range – 4 years and older
Players – 1 or more players
28. Card Games
You can play simple card games, such as sorting, matching according to numbers or colors, etc., with a toddler for hours. You can teach them new games while ensuring a social learning element is attached to the experience. Card games can also be used to strengthen dexterity and quick thinking.
Age Range – 4 years and older
Players – 4 or more players
29. Broken telephone
A group of children can sit in a circle and whisper a 5–6-word sentence into each other's ears. Everyone repeats the same phrase or sentence, and the last player in the circle has to say the sentence they heard out loud. The players cannot repeat the sentence when whispering to the next player.  The game aims to strengthen memory skills, focus, and clarity in speech.
Age Range – 4 years and older
Players – 7 or more players
Related Reading: 

How to Approach Speech Therapy for Toddlers
30. Singing Games
You can play games like Floating Down the River, Brown Bear, and Dum Dum Song as musical games with your young children as fun musical experiences. You can use instruments and have them rhyme and fill in the blanks with their singing. You can create your own songs and sing them based on your toddler's interests.
Age Range – 3 years and older
Players – 2 or more players
Explore more online educational resources and printable worksheets for kids to aid their learning experience.
Frequently Asked Questions (FAQs)
Which specific skill areas do games positively impact in a child's development?
Multiple types of games affect different skill areas for kids. Games can positively impact cognitive development involving motor skills (fine and gross), spatial awareness, social skills, problem-solving, and pattern detection.
How do I get my toddler excited about playing games?
If your child is reluctant to participate in playing the games or shows disinterest, then the best course of action is to show enthusiasm as they play along. You can reward them through cheer and attention and appreciate their effort through each task.
How often should I play games with my toddler?
Games are a great way to entertain children under 3 years of age. The best approach is to keep them engaged through a pre-designed schedule of games and activities – carving out an hour of a day is a good start.