Storytelling holds a special place in many parents' hearts, as it is a unique bonding experience driven through an engaging narrative. Stories are also passed down from generation to generation, uniting individuals of all backgrounds and ages. Kids also love playing around with the story's characters in their minds to strengthen their creative abilities organically.
Read: 30 classic storybooks for kids that are free
Parents need to select the right stories for their kids to impart the right lessons. You can empower your children through the wisdom of age-old tales and have them set the right example for their peers. Kids also learn about the value of courage, perseverance, hard work, and confidence through stories, which is why storytelling is a valuable activity that should be done a few times a week.
Explore more Reading educational resources for kids that will help with their learning experience and make them smarter.
Related Reading: 

Amazing Short Stories for Kids That Teach Beautiful Lessons
Storybooks every kid should read
Related Reading: 

Free Online Classic Storybooks for Kids
Storytelling for kids has evolved, with parents now reading texts through online mediums and focusing on subjects relevant to modern challenges. Kids are navigating through new environments, so incorporating a blend of classic and contemporary tales is ideal. You can set a historical foundation with stories you remember from childhood and impart 21st-century lessons through new stories.
1. The Lion and The Mouse
This is one of the most famous of Aesop's tales, describing the value of asking for help. The mouse was too little for the lion when the lion was trapped in the net. However, the mouse helped the lion regardless of its size. Even today, the story is impactful as it teaches kids to be brave and help others when they need it.
SplashLearn: Most Comprehensive Learning Program for PreK-5

SplashLearn inspires lifelong curiosity with its game-based PreK-5 learning program loved by over 40 million children. With over 4,000 fun games and activities, it's the perfect balance of learning and play for your little one.
Try for free
2. The Boy Who Cried Wolf
A classic tale of an eager boy who didn't understand the importance of trust and truthfulness, the story is a hallmark example of value-driven storytelling. While it is taught around schools worldwide, you should dive deeper into the story with some one-on-one time with your child. You can talk about why it is essential to remain truthful and how lies can hurt your reputation, making adults distrust you when you need assistance.
3. The Midas Touch
The Midas Touch talks about the value of money and the corrupting power of greed. Kids can learn about the role of money in society and how excessive greed can impact relationships, happiness, and self-development. After the curse was lifted, King Midas began enjoying the simpler things in life and felt happier in the company of great friends.
4. Last Stop on Market Street
This modern story revolves around a young boy who goes on an adventure with his grandmother. He discovers the power of everyday things and the joy of being aware of his surroundings. He interacts with people from all communities and broadens his perspective on what happiness is for different people. It is a modern classic, and it teaches kids about the importance of accepting different people as they are.
5. The Book of Mistakes
This is a great book that teaches kids the importance of making mistakes and learning from them. Kids can explore different dimensions of what it means to make a mistake and understand the importance of taking ownership. With a simple story of an artist making a painting, the book talks about the role of mistakes in making progress in life.
What are the benefits of storytelling for kids?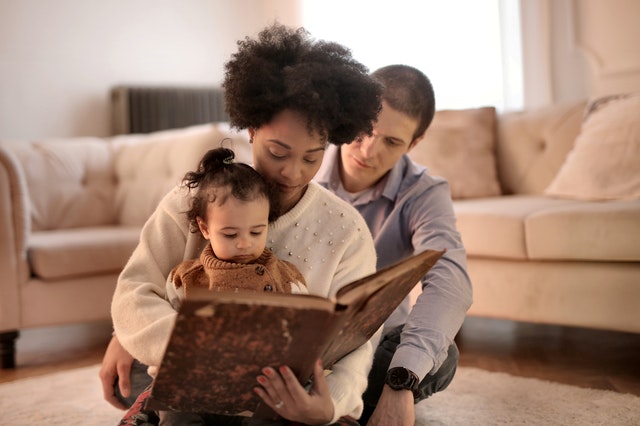 Storytelling offers vital benefits for kids that can't otherwise be experienced without stories. The role of fiction in the development of the brain is critical as children can imagine new worlds, scenarios, and future instances. They also strengthen their inherent creativity and can improve their outlook toward the future.
1. Improve creative thinking in kids
Storytelling is a crucial tool for improving creative thinking. You can ask your kids to think about the characters, the storyline, the choice of dialogues, and other aspects as you read the story to them. You can customize the story, ask them to take the narrative further, and use toys to enact the story how they like it to be.
2. Stories bond families
You can't go wrong with a good story to make your family come together. Stories have a magical ability to make kids fall in love with reading and to have families come together with commonly shared values. Some stories go back to ancient Greece and are passed down generations.
3. Imparting the right traits
Between the ages of 2 and 5 is when you can shape the minds of younger ones to have them learn the right values. The right characteristics can be imparted, along with the right direction and way of thinking. You can choose books from different backgrounds and authors to have your child learn different lessons throughout their reading journey.
Related Reading: 

Best Online Resources for Kids to Find Free eBooks
4. Inspirational for children
The characters in the books are aspirational for children, so they love reading so much in the first place. You can cultivate the love of reading by choosing books that inspire them to pursue arts, science, math, and teaching. You can establish the right foundation for learning and growth as you provide books that nourish the mind.
SplashLearn integrates storytelling into learning through animated games and worksheets.
Kids can learn at their own pace when they have the right foundation for learning. SplashLearn offers engaging games and activities via a scientifically designed platform to encourage kids to learn about math and ELA. Kids can actively learn while playing for hours by playing games led by animated characters and rich storylines.
You can learn more at – SplashLearn
Want to reach out to us? Send us an email at – help@splashlearn.com
Frequently Asked Questions
How do you teach storytelling to children?
Kids can learn how to tell stories by reading immersive stories. They can form their narrative and design their characters when interacting with animated stories, characters, and games.
Why is storytelling for kids important?
Storytelling activates parts of the child's brain responsible for creative thinking, decision making, and active listening. It is an essential tool for imparting the right knowledge and life skills.
What is the objective of storytelling?
Storytelling for kids focuses on knowledge, values, and lessons while engaging them in a unique and colorful way.
How do stories teach lessons?
Stories can teach lessons if they are incorporated organically into the narrative. Stories with abrupt messages or takeaways may not have the same impact.