Science kits for kids can help to introduce science in a fun way to your child. Eshach and Fried (2005) propose that learning science early on can develop children's reasoning abilities and build a positive attitude toward science.
Science experiment kits can help children learn various scientific concepts while playing. STEM science kits are also an excellent method to stimulate logical and analytical skills in your kids.
So, whether you want to gift something to a child or spike their interest in science, we have shortlisted the best science kits for children of all ages.
20 Best Science Kits for Kids to Explore, Play and Learn the Secrets of Science
There is a myth that science is a complex subject and only introduced when a child is older. But that's not true. Science is for everyone. Your toddler can benefit from science project kits as much as your elementary school goer.
You simply need to find age-appropriate science kits with educational value. You will be amazed to see how many interesting science kits for kids are available nowadays.
Here are the best science kits for STEM skill development among kids of all ages:
Price: $32.99
Age: 10 years or above
This is a perfect science lab kit for older kids. It can help them learn different concepts and principles of science. It has different chemicals, goggles, and other fun elements to entertain your child. Your child can learn more about volcanoes, dinosaurs, and outer space. Detailed Earth and Moon models can spike your child's interest in astrology.
Key Features
It can help your child learn about the habitats of bugs, frogs, and other reptiles.
It has chemicals, crystals, models, and other fun science elements to keep your child engaged.
This kit has six different science experiments.
SplashLearn: Most Comprehensive Learning Program for PreK-5

SplashLearn inspires lifelong curiosity with its game-based PreK-5 learning program loved by over 40 million children. With over 4,000 fun games and activities, it's the perfect balance of learning and play for your little one.
Try for free
Price: $34.99
Age: 6 to 10 years
It is one of the most diverse homeschool science kits for kids. This kit has over forty experiments and a bonus of sixty experiments that you can do with simple things available in your home. Using the Einstein Box, you can introduce the magic of chemistry to your kids. Your kids will be amazed to see how colors change and soaps are formed with simple chemical reactions.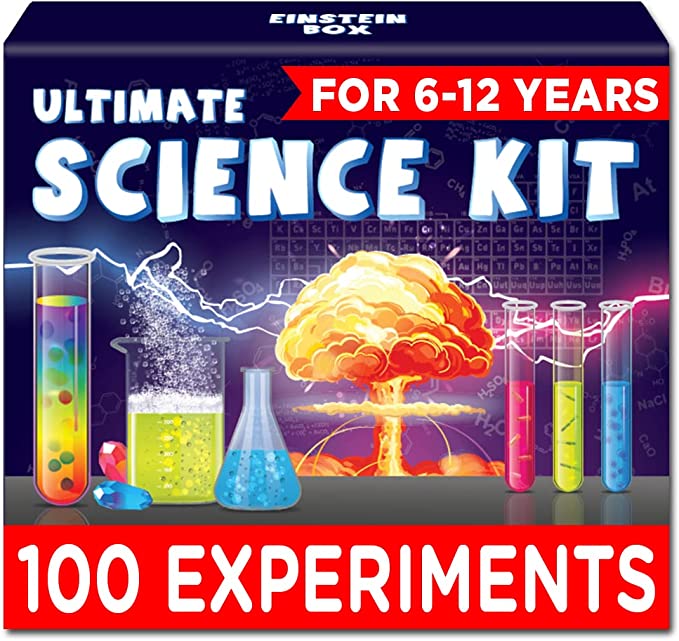 Key Features
It includes several explosives, colors, water, soaps, and more experiments.
A complete kid-safe kit with the US Toy Safety Requirements and European Toy Safety Directive confirmation.
A perfect kit for early science skill development.
Price: $29.44
Age: 8 years or above
It is a yucky and messy science set with forty-five experiments. However, NATIONAL GEOGRAPHIC has designed a smart STEM kit to teach complex science concepts messily. Your kids will have a blast popping blood vessels, dissecting the brain, creating snot bubbles, and more yucky experiments.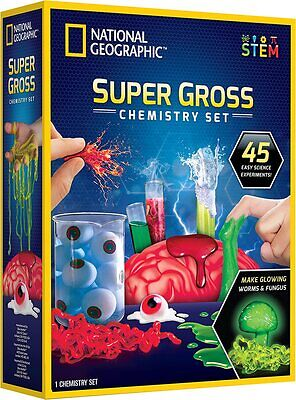 Key Features
It teaches concepts like polymer science, chemical reactions, pH science, luminescence, and biology.
It helps to improve sensory disorders as kids have to use their hands to play.
This kit can improve motor skills and make science entertaining for children.
Price: $29.99
Age: 8 years or above
Do you want to inspire your child to become an archeologist? Then this is one of the best educational science kits for kids to teach them the mysteries of the Earth. Your child can grow a crystal, dig quartz, erupt a reusable volcano, and more. This science set has over fifteen experiments that can make your child fall in love with Earth and its mysteries.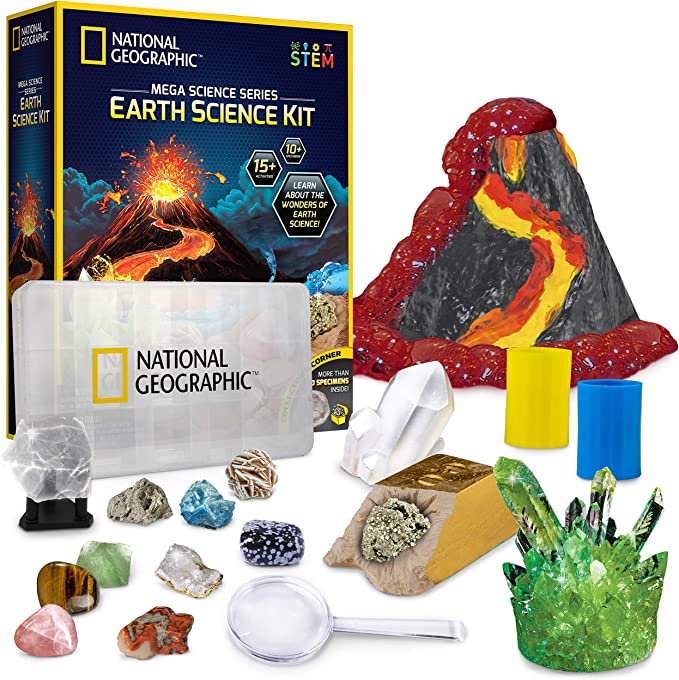 Key Features
Good to teach geographical concepts with two geologic dig kits, dueling water tornadoes, and more.
A perfect playtime for the entire family.
Proper instructions to run experiments with excellent kid safety.
Price: $29.99
Age: 10 years or above
Go beyond boring STEM toys; let real scientists guide your kids to try cool DIY chemistry experiments. It is a perfect science kit for teens. It has several hands-on chemistry experiments and VR lessons on atoms, physics, and more.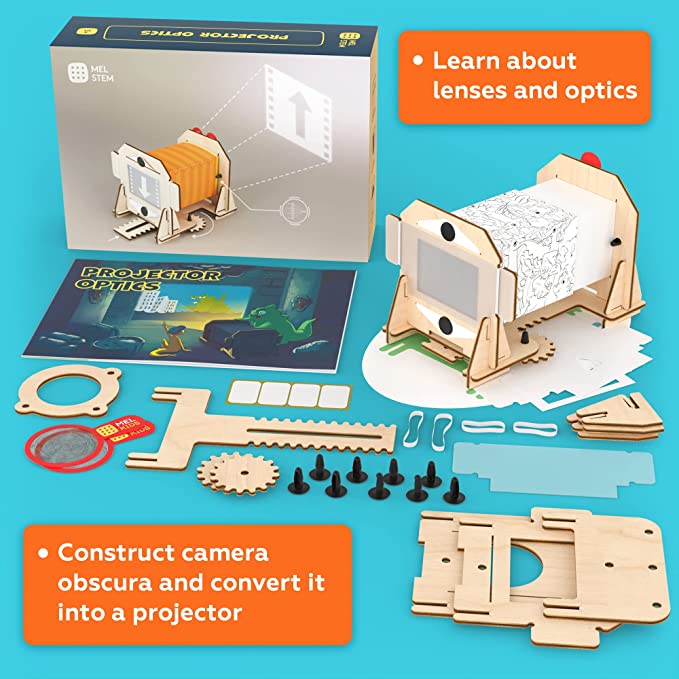 Key Features
Compliance with the US and EU safety regulations.
Intruding learning games to conduct science experiments.
Lifetime access to 16 VR lessons.
It is a futuristic science kit for kids taking STEM learning beyond lenses and optics.
Price: $32.99
Age: 3 years to 11 years
This is a fun science kit for toddlers. You can spend some quality time with your children while developing their interest in science. This kit has thirty hands-on science experiments, including cool bottles of chemicals. It also has lab coats and safety glasses to protect your little scientist.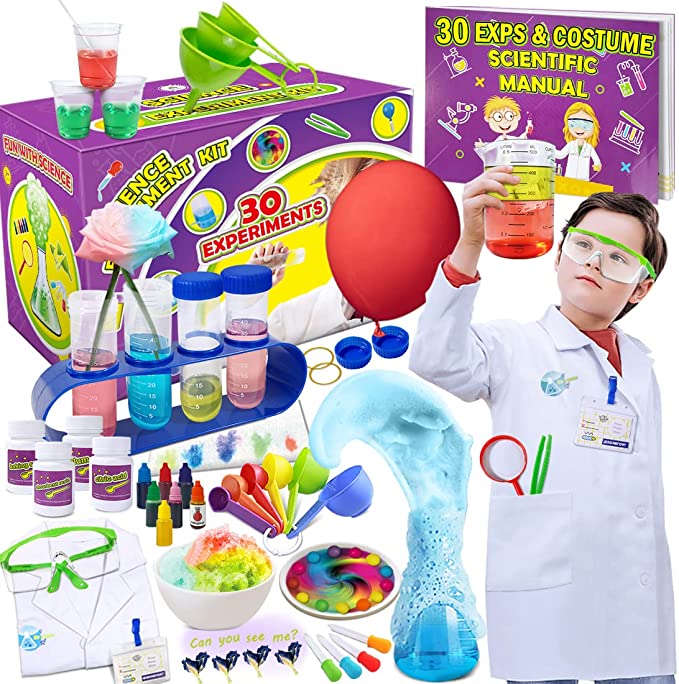 Key Features
Helps to strengthen problem-solving, math, and sequencing skills.
Allows you to teach the science of common household ingredients to your kids.
It is perfect for gifting purposes.
Price: $29.99
Age: 8 years or above
Is your kid fascinated with dinosaurs? Then this is the best educational toy kit for them. The kit contains twelve dinosaur species to nurture your child's imagination skills. In addition, parents can share interactive playtime with kids and teach them fun facts about dinosaurs.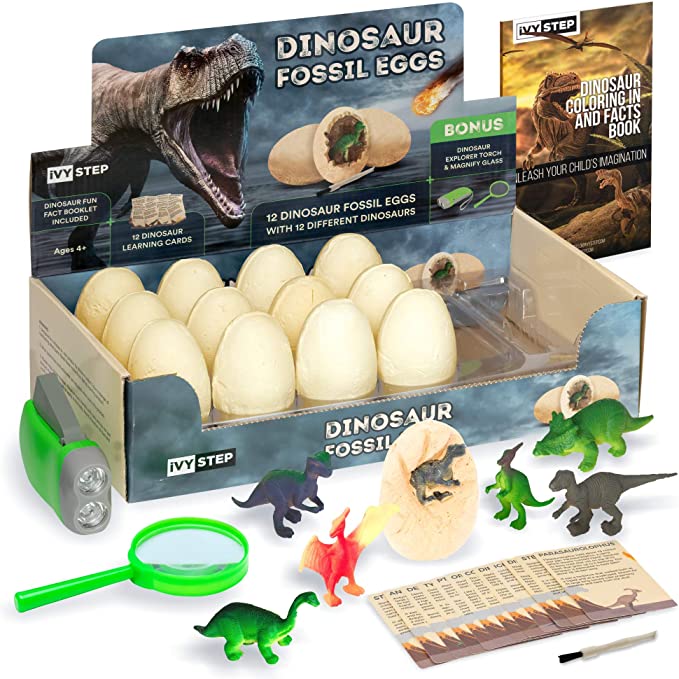 Key Features
Allow your child to be a real paleontologist.
Cool dinosaurs, colorful, fun fact book.
Hands-on fossil excavation experience to improve your child's motor skills.
Twelve dino eggs, chisel tools, dino excavation cards, a torch, and a magnifying glass.
Price: $59.99
Age: 8 years to 12 years
Do you want Bill Nye to teach science to your kid? This children's science kit makes it possible! Using VR headsets, your kids can learn the scientific principles behind thirty science experiments. You can download the app supporting kit on your phone for more fun and make your kid a science fan.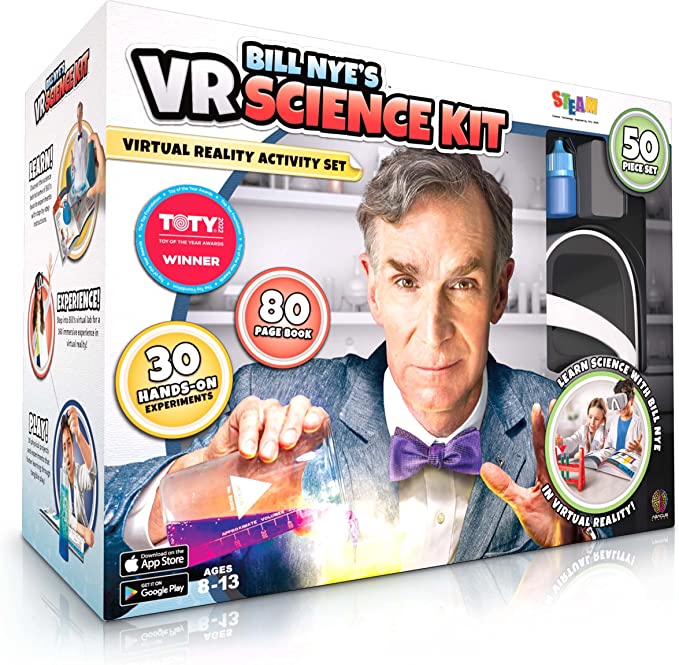 Key Features
An excellent kit for an immersive learning experience.
It covers the fundamental principles of physics and chemistry.
Step-by-step tutorials and instructions using augmented reality.
The kit includes fifty pieces, and even a pair of VR goggles.
Price: $54.99
Age: 8 years to 12 years
Another VR science kit for kids to explore outer space. It has immersive learning equipment with an 80-page book that covers the topics on the solar system, universe, planet, and more. This kit can help your kid learn across various channels to retain information better.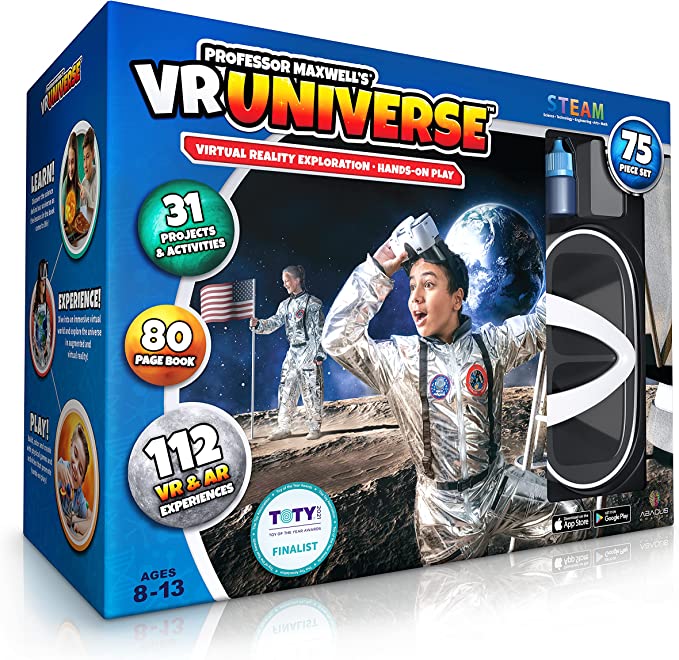 Key Features
Hands-on learning through various activities and crafts.
A pair of VR goggles to create an immersive learning experience.
It contains twenty-one pieces, including puzzles, crafts, activities, and more.
Price: $170
Age: 2 years to 5 years
Young children adore a good life-size play set and will be overjoyed with the Little Tykes Wonder Lab. The kit includes twenty hands-on experiment ideas that can be done with common household ingredients. To keep their attention, the lab is brightly colored and makes lots of fun sounds.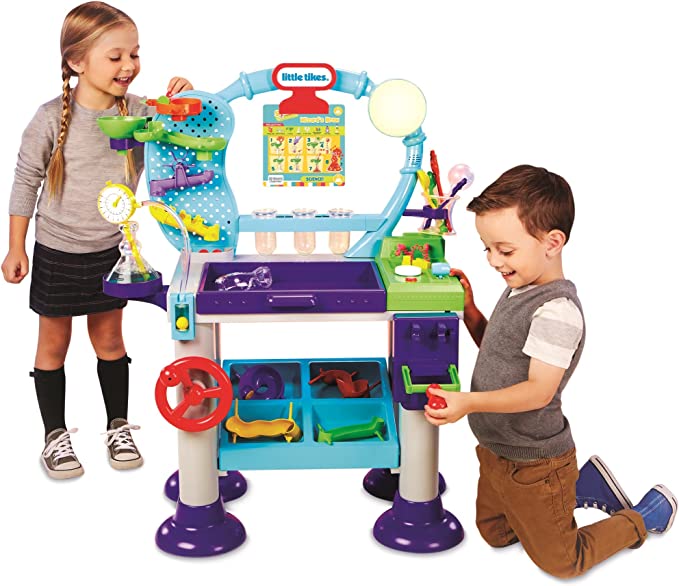 Key Features
It has maze pieces, test tubes, stirring spoons, lab goggles, and more for kids to pretend to be scientists and conduct real experiments.
This STEM learning kit includes more than forty playful sounds and phrases to help toddlers with their speaking skills.
Price: $29.99
Age: 5 years to 12 years
It is a fun chemistry kit. Your kids can try fifty different science experiments with real tools. It is a kid-safe kit, so your children can play alone without your assistance. Plus, there are easy-to-follow videos and instructions to experiment safely.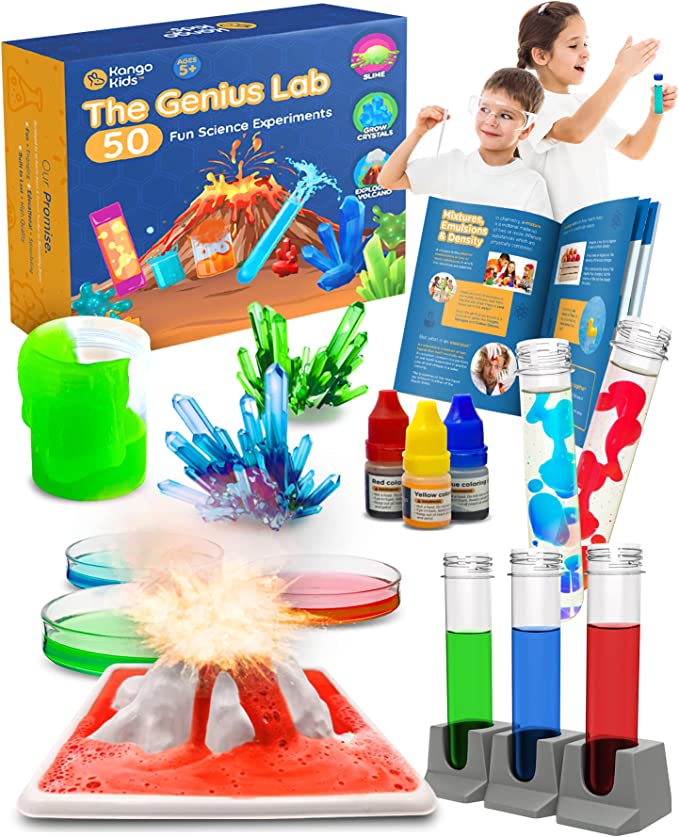 Key Features
All chemicals and equipment meet the USA safety testing standards.
Your child will feel like a real scientist with cool volcanoes, slime, and crystal kits.
Price: $52.99
Age: 3 years or above
As you might have guessed, this STEM kid is inspired by the Netflix show—Ada Twist, Scientist. It is an adorable role-play game with six experiments. To get ready for your little scientists, the kit includes goggles, beakers, an eye dropper, and more.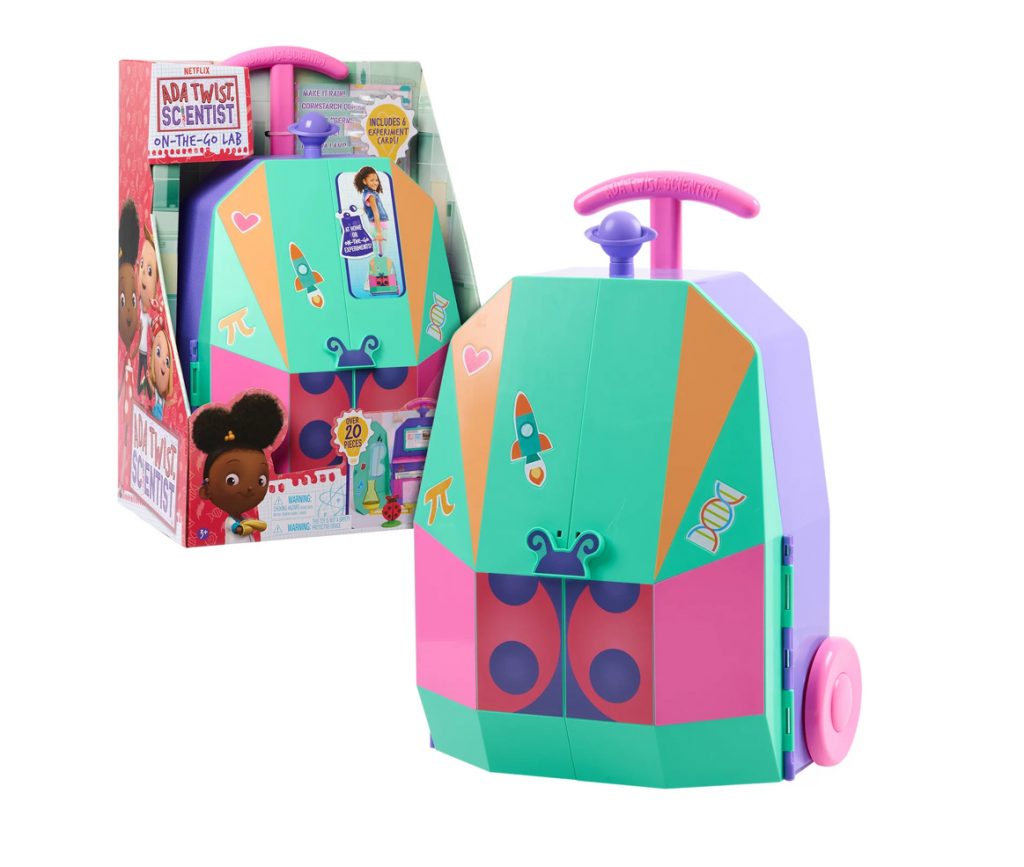 Key Features
Perfect for toddlers.
It is a safe and engaging STEM toy kit.
Price: $18.99
Age: 5 years or above
It is a special bubbly volcano kit for kiddos. It builds observation, experimentation, and other early STEM skills. Your kids can get amazed by color-changing creatures inside the Beaker Creatures Reactor Pod.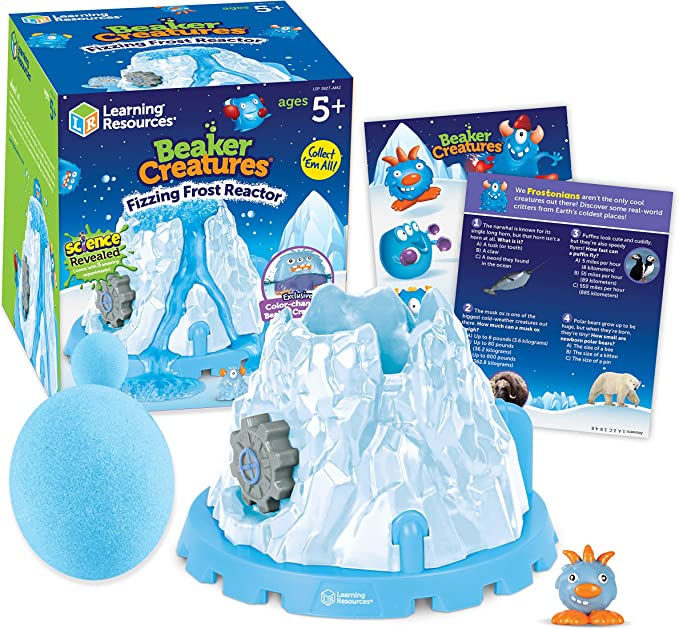 Key Features
It is a safe and fun science kit for young kids.
The best for early STEM skill development.
Price: $13.44
Age: 5 years to 8 years
It is a mind-blowing science experiment and activities kit. You can delightfully teach your kids solid, liquid, or gas concepts. Your children will get excited about science when they make crystals from cabbage or erupt color-changing volcanos.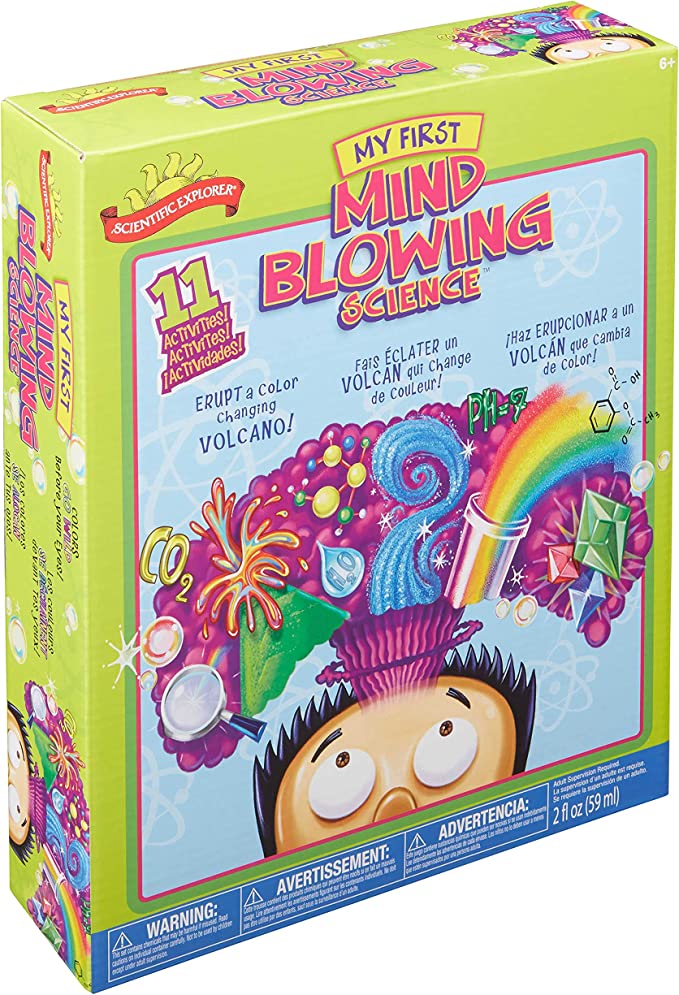 Key Features
Eleven mind-blowing science experiments and activities
Twenty pieces to learn basic science.
It is a safe kit that your kids can use without your supervision.
Price: $19.99
Age: 8 years or above
You get a fun five science experiments kit from the house of discovery. It can help your child learn polymers and the basics of chemistry and physics with hands-on activities. The kit includes cool experiments like creating pop-resistant bubbles or worms bouncing around walls.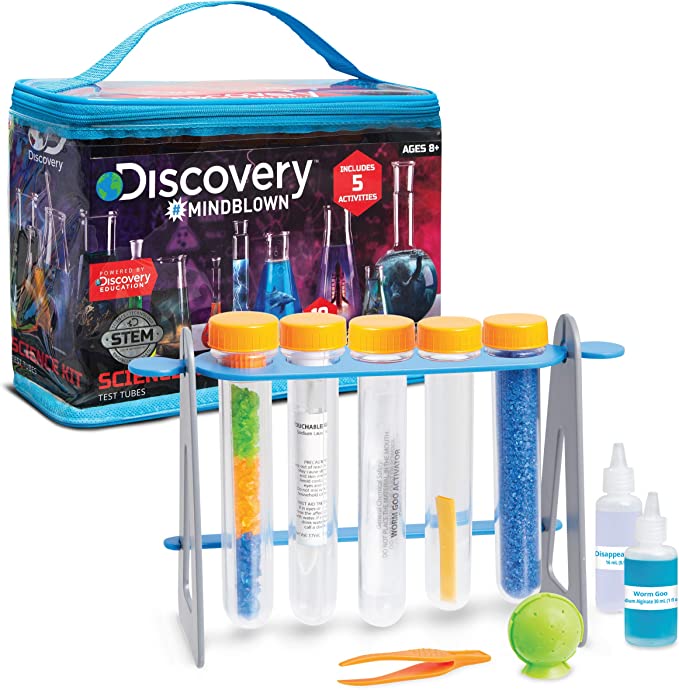 Key Features
A fun and educational toy to explore the universe and animals.
It allows your kid to imagine and learn science simultaneously.
Price: $28.99
Age: 8 years or above
This comprehensive science kit teaches kids aged eight and up about physics laws. It includes six projects: a rubber band car, a sharpening wheel, and a rocket launcher. Once your child has built these machines, they will be engrossed in conducting numerous experiments. To supplement learning, the manual includes theories, facts, and quizzes. It's an excellent investment for children interested in physics and machines.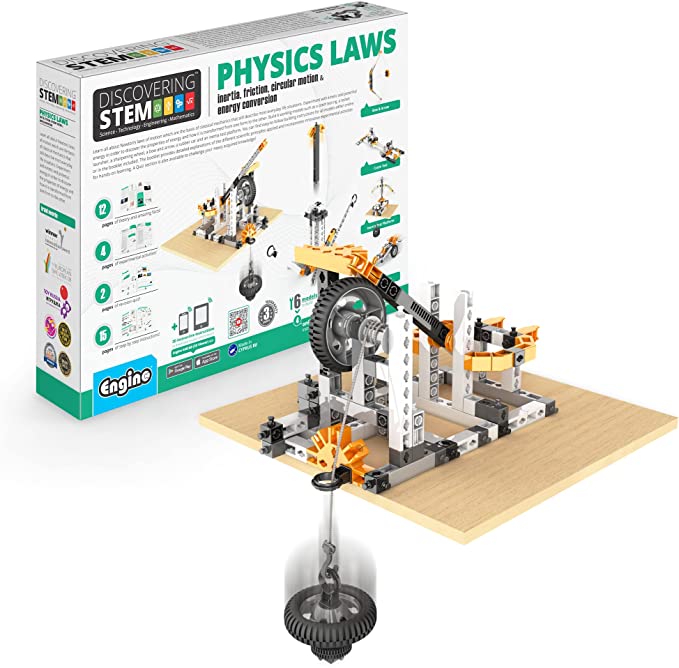 Key Features
All the material is made from plastic and safe for kids.
Boost the concentration span of young kids.
You can download the Engino 3D app for more fun.
Price: $39.46
Age: 4 years to 12 years
Who doesn't want to see a caterpillar transform into a butterfly? The Butterfly Pavilion includes a 24-inch tall mesh habitat designed for kids to watch caterpillars—not included in the kit, but free with the included voucher—transform right before their eyes.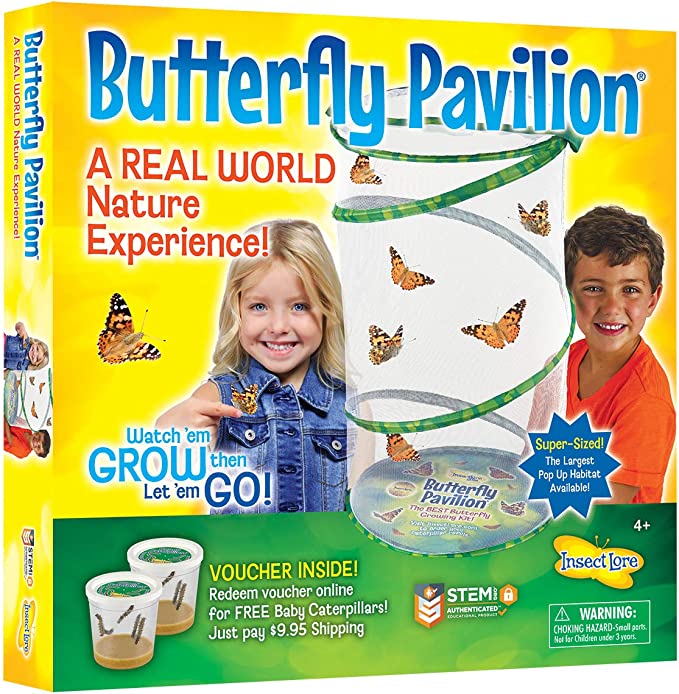 Key Features
Perfect for learning the butterfly life cycle.
It is an expensive toy.
Price $27.99
Age: Kids and adults
Most adults who have not studied science may be terrified by "organic chemistry." That's because we never had a toy/study aid like Old Nobby's kit. The snap-together three-dimensional models help high school and college students learn and remember specific molecular structures. Still, the beauty of a kit is that even younger children can understand and enjoy them on a basic level. That means they can approach chemistry with confidence in the coming years.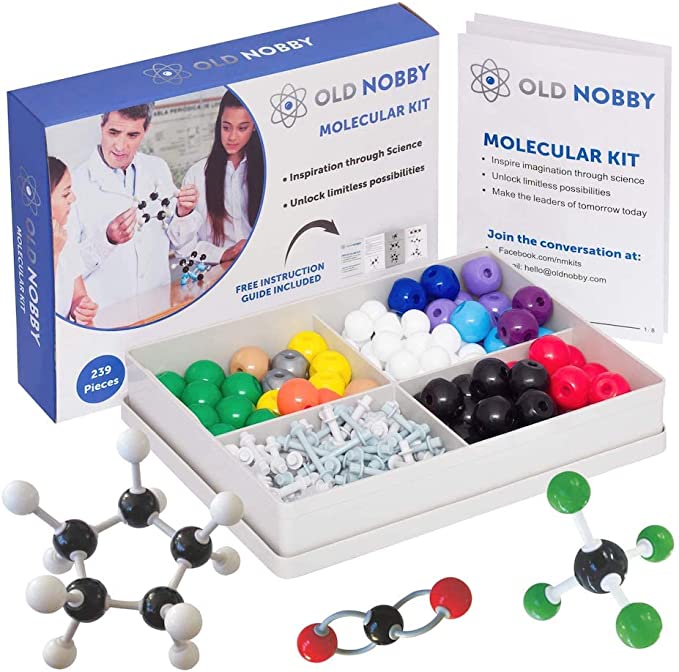 Key Features
Instructional manual to identify all atoms and connectors.
3D visual learning module for the immersive learning experience.
Price: $39.99
Age: 8 years or above
With the help of pipettes, test tubes and racks, and other tools included in this entertaining and educational set, younger and older children will develop a passion for chemistry. However, if you lack time and patience and want to give kids more freedom, the Chemistry Station is a fantastic substitute for DIY experiments.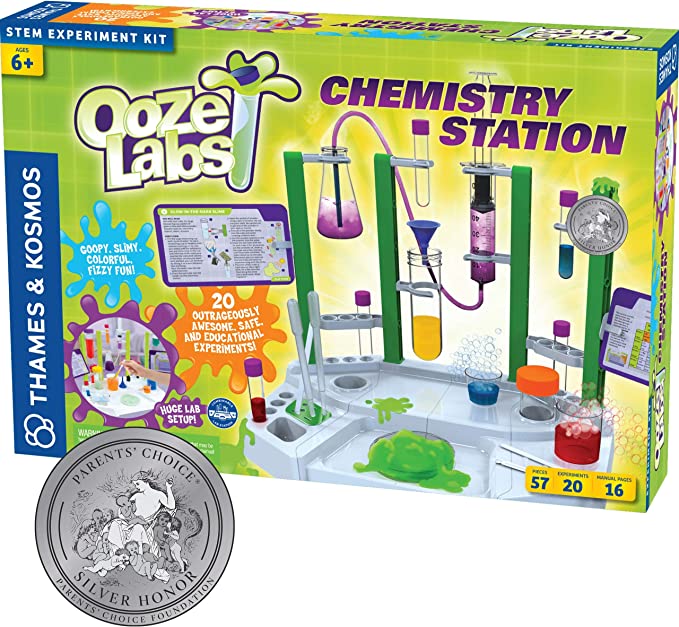 Key Features
All the experiments use non-hazardous materials.
Clear instructions for reference.
Fun experiments, including glowing slime, an underwater volcano, etc.
Price: $29.20
Age: 5 years to 9 years
This introduction to electronic exploration is jam-packed with excitement and fun. Your little ones will enjoy figuring out how to construct projects with the fourteen included parts because they were designed for elementary-aged engineers. The kit comes with a simple instruction manual and plenty of lights, sounds, and motion to keep any child interested the entire time.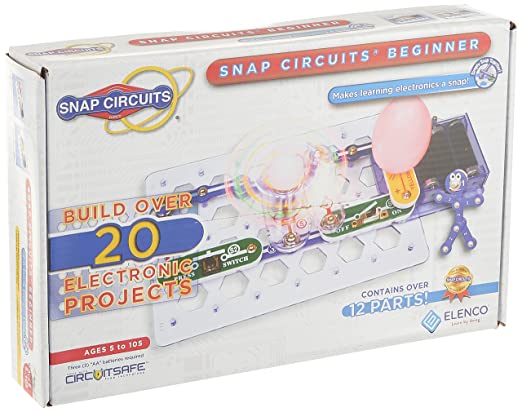 Key Features
It Is good to develop your child's senses.
Extra safety features for younger engineers.
Related Reading: 

Divergent Thinking Techniques That Will Skyrocket Students' Learnings
Let's Make Science Fun!
Science can be an interesting subject when your child gets the right start. The fun and engaging science kits can give better science introductions to kids. They can engage more with different principles of science.
Now that you have the best twenty science kits for kids, let's not wait any more. Pick suitable children's science kits based on your child's age and interest, and get started now!
Explore more online educational resources for kids that will help with their learning experience and make them smarter.
Frequently Asked Questions (FAQs)
Why is learning about STEM important?
STEM-based education teaches kids more than just math and science principles. The emphasis on practical application-based learning fosters the development of a range of skill sets, including creativity and twenty-first-century competencies.
How do I introduce science to my three year old?
Give your child various items, such as soft fabric, rocks, leaves, or shells. Encourage them to examine and feel each one. Talk about the similarities and differences between them. Thus, your child will be inspired to be curious and investigate the ideas of shape, size, and texture. Giving kids science kits to play and experiment with is a great way to encourage them to try new things and build an interest in how things work.
How can science be taught to young children?
You can teach science by incorporating it into playthings. For example, give the children cups, syringes (without needles), and light toys to pique their curiosity. Ask them questions about the water while you observe them playing.
For instance, inquire about what toys or objects they believe will float or sink. Use colored water that has been frozen, then add the cubes to the water if you're using water tables.
How are kid-friendly science experiments beneficial?
Participating in science-related activities encourages children's natural curiosity. Early exposure to science is beneficial for a child's brain development. Young children can conduct easy science experiments. Utilizing toys and other playthings encourages children to develop big ideas and a solid understanding of the fundamentals.