There are several strategies you can focus on when developing a 1st grade homeschool curriculum for your child. You can focus on state requirements, general guidelines, and innovative learning styles to make learning fun, interactive, and value driven. Your child can also get more from their homeschool experience when multiple teaching techniques are used.
Understanding General Curriculum for 1st Grade Homeschooling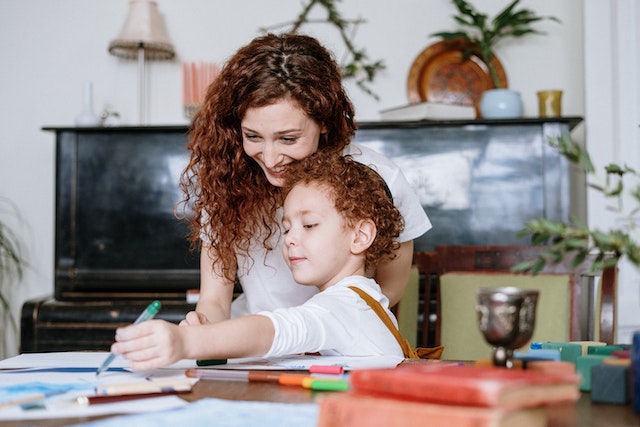 While every state has its own sets of guidelines for a homeschooling program for a 1st grader, it is important to have a broad understanding of what your child should learn about. Your child should have a basic understanding of math, science, reading, learning, social studies, and other related subjects.
SplashLearn: Most Comprehensive Learning Program for PreK-5

SplashLearn inspires lifelong curiosity with its game-based PreK-5 learning program loved by over 40 million children. With over 4,000 fun games and activities, it's the perfect balance of learning and play for your little one.
Try for free
It is also important to know the most important learning objectives for 1st graders so that you can optimize your teaching strategy. Some top learning goals for your first grader are as follows –
Understanding phonics and related concepts, including combinations.
Structuring composition and understanding its utility.
Counting to 100+, along with skipping counting for 1s and 2s.
Addition and subtraction problems in math.
Understanding units of measurement.
Interpreting time, date, year, and other measures of time.
Direction following and task completion.
Recall and memory for stories, tales, and directions.
Names and sounds of all consonants and vowels.
You can also create dynamic goals, such as weekly or monthly objectives, so that your first grader can be on-track. The best homeschool curriculum for 1st grade is the one that is flexible enough for your child's needs.
Related Reading: 

What Is Inquiry-Based Learning? Types, Benefits, Examples
What's The Right Homeschooling Schedule for a 1st Grader?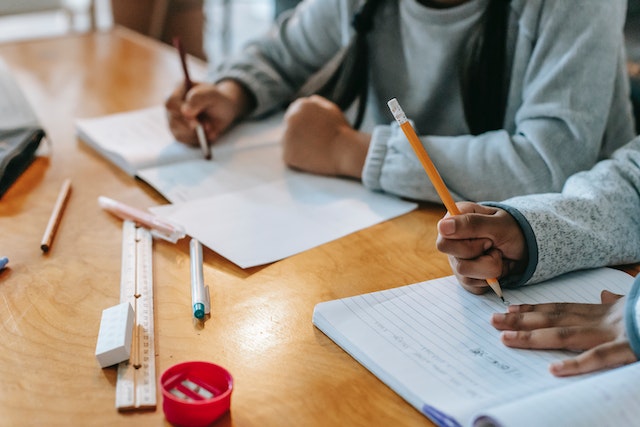 When looking at how to homeschool a first grader, finding the right schedule will be a preliminary question. You can focus on a 4 days per week learning cycle, with 2-3 hours of structured learning within that framework.
You can also keep the schedule flexible, in terms of revisions, assignments, online learning classes, etc,. These online classes benefit kids in many different ways. This means that different days could have different challenges, which is why having a well-structured approach to homeschooling works best.
The Best Books for Homeschooling 1st Grade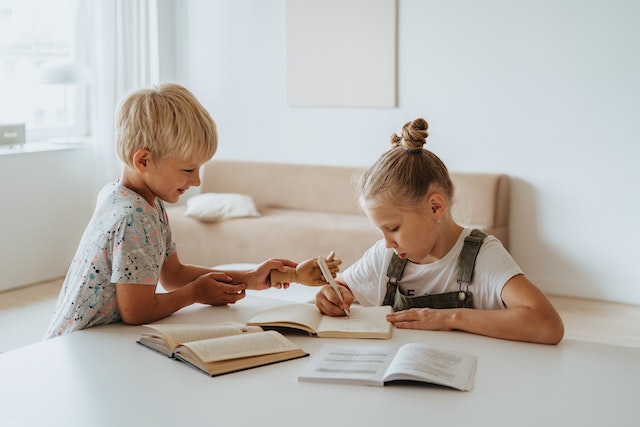 1. Reading
Reading is one of the most important fundamental skills that all 1st graders need to start learning. Books around phonics and daily practice skills can be immensely valuable for 1st graders to start learning about reading intuitively. Books such as 180 Days of Language by Christine Dugan, The Best Seat in First Grade by Katharine Kenah, and Junie B. Jones by Barbara Park, are great resources to improve reading skills in 1st graders.
2. Spelling
Along with reading, learning how to spell correctly is vital for secondary skills building. The right knowledge of constructs, verbs, tenses, and phrases can help your child interpret more complex forms of reading at a younger age. You can check out books such as, Sight Words and Spelling by Modern Kid Press, Spectrum 1st Grade Spelling, and 180 Days of Spelling by Shireen Pesez Rhoades, to focus on spelling. You can also try some of the best spelling games for kids!
3. Language Arts
Language arts books are also vital for helping kids explore their inner reading capabilities. With the right sets of books, your homeschooler can start appreciating the art of learning how to read and write organically. You can access books including, 1st Grade Jumbo Language Arts by Sylvan Learning, Learning Without Tears, and Don't Let the Pigeon Drive the Bus! by Mo Willems to get your kids learning quickly. Reading strategies for students can help them approach these in a much more effective way.
4. Handwriting
Learning how to write is one of the most important skills your homeschooler will need to succeed in later stages of their learning. By using the right resources, they can learn to write correctly and by using the right structures. Resources like 1st Grade Writing Worksheets or sight words can be used.
5. Math
With the right learning resources and tools, math can become one of the most fun-filled classes in a homeschooled session. You can take the stress away from math, by rethinking how to make math fun. You can use books such as, School Zone – Big Math 1 by Joan Hoffman, Spectrum 1st Grade Math Workbook, and My First Grade Math Workbook by Lena Attree.
Related Reading: 

Reasons Why Math Is Important in Real Life
6. Literature
Solidifying grammar, vocabulary, and sentence interpretation can be done with the right literature books. You can improve context perception and bring back a sense of joy in reading with the right homeschooling literature books. You can use resources such as, What Should Danny Do by Adir Levy, Amelia Bedelia by Herman Parish, and Frog and Toad Are Friends by Arnold Lobel, to improve literary understanding.
7. Bible
Christian early readers can also start learning about the Bible with the right types of books. You can incorporate them into your homeschooling curriculum to help them develop a stronger relationship with the Bible. Resources such as, I Can Read My Illustrated Bible by Zondervan, The Beginner's Bible, and Joseph the Dreamer can help you get started.
8. Science
Learning the basics of physics, chemistry, and biology will help your kids establish a core set of skills they can leverage later. Science is a core part of a 1st grade homeschool curriculum and can be made more engaging with the right books, shows, videos, etc. You can check out books like First Grade Science by D. W. Skrabanek, Ada Twist Scientist, and How to Code a Sandcastle by Josh Funk, to teach kids about coding, science, and more.
9. History
History is a fascinating subject and one of the most important supplemental subjects within a complete 1st-grade homeschool curriculum. You can teach your kids about the great historical events in the US and worldwide with the right sets of history books. You can start your kids off with 1st Grade United States History, First Grade Us History: The First Americans, and Grade 1 History: Learning And Discovery for a well-rounded historical curriculum. Kids can try more
10. Art
Art is one of the most important creative skills to develop at an early age, and you can develop a love for creative expression with the right books. You can strengthen their ability to create new works of art with the right homeschooling books. Books such as, Teaching Art with Books Kids Love by Darcie Clark Frohardt, Art For All Seasons, and Marguerite Makes a Book by Bruce Robertson, are great resources to get started.
Related Reading: 

Children's Songs When You Want to Dance With Your Kids
11. Music
Having an ear for musical appreciation is a key skill that kids can develop early on. A young Beethoven could be born in your household with the right homeschooling material. Music is also a key supplemental subject in a complete 1st grade homeschool curriculum. You can check out books such as, First Steps in Global Music by Karen Howard, Welcome to the Symphony by Carolyn Sloan, and The Story Orchestra to get your kids involved in music.
12. Physical Education
The right sets of workouts for kids can help your child burn off excess energy. PE can be a great homeschooling subject to also introduce a break within a tough schedule. You can use workouts, sheets, and books, to incorporate multiple types of movements. Books such as, Physical Education Unit Plans, Ready-to-Use Physical Education by Maxwell J. Landy, and Breath Like a Bear by Kira Willey, can help introduce meditation, mindfulness, and fitness.
13. Foreign Language
A multicultural kid is someone who's well versed with phrases, books, and texts from different countries. By introducing new languages within your 1st grade homeschool curriculum, you can introduce a sense of travel, global outlook, and adventure in your child. You can start your FE journey with books such as, Little Bun: A Bilingual Storybook by Amanda Hsiung-Blodgett, First 100 Words, and Head, Shoulders, Knees, and Toes by Annie Kubler.
The Ideal length of a Daily Homeschooling Session for a 1st Grader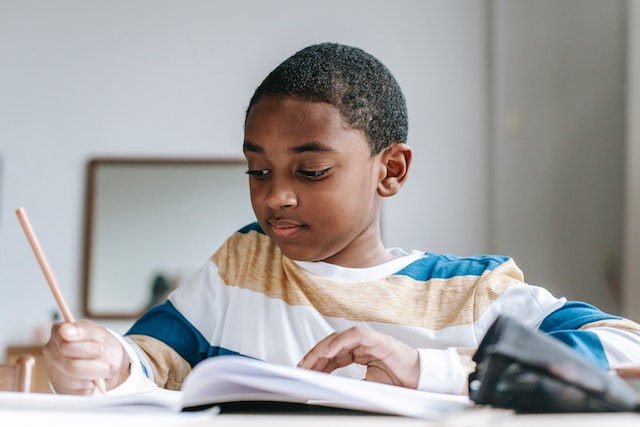 It is important to know how long a daily session is supposed to last, to maximize their attention span and get them thinking. You can target a few hours each day for focused learning, around 3 hours, so that you can teach the fundamental subjects.
These include math, learning, writing, reading, and science. You can also target the supplemental subjects, such as history, art, music, literature, etc. 2-3 times a week for a well-rounded homeschooling experience for your child. You can get a first grade homeschool curriculum free online and start the school year.
Related Reading: 

Best Tips on Homeschooling for Parents
Conclusion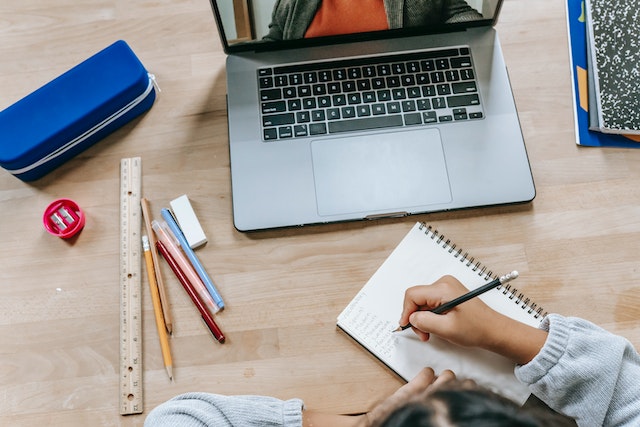 You can get started with these handy strategies and make the right 1st grade homeschool curriculum for your little one. They can get a well-rounded homeschool experience when they learn about math, science, art, reading, writing, social studies, etc. You can also introduce props, books, online learning tools, and gamified learning experiences to help them become more curious about learning.
Frequently Asked Questions (FAQs)
How do I find local state requirements for 1st grade homeschooling?
You can reference the website of the Department of Education, find your state, and understand the local requirements for homeschooling.
How do I make homeschooling more fun for my kids?
By making the learning process more interactive, using different props, toys, and tools, you can make learning more fun.
Will my child get overwhelmed with too many subjects when homeschooled?
It is important to develop a natural sense of curiosity, when it comes to learning, within your child. You should ensure that they're introduced to different subjects early on.
Can I change homeschooling schedules for my child?
Yes, you can keep the schedule dynamic so that your child can maximize their learning experiences.