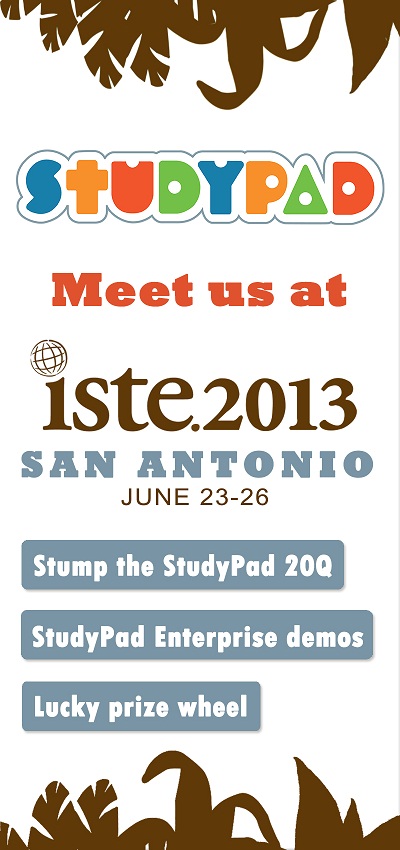 In step with the invigorating pace of technology revolution innovating education, StudyPad leaves no stones unturned to help parents and teachers address the emerging and most pressing state, national, and global standards of education. Marching on its relentless mission of transforming the educational landscape, StudyPad is excited to participate in ISTE's 34th Annual Conference and Exposition to be held between June 23-26.
ISTE Annual Conference provides an incredible array of professional learning and collaborative networking opportunities with ed tech professionals, teachers, administrators and industry representatives from all across the globe.
Last year, we had successfully captured the eyeballs of ed tech czars at the conference and wowed booth visitors by taking their volley of questions about our educational products head on. We had also invited teachers, parents, and kids to have a first-hand view of our applications by tapping our devices on their own. The different quizzes that we had hosted were super fun, and the winners grabbed some amazing prizes. We also received valuable feedback, questions and suggestions from the visitors that gave us real quick insights into the users' expectations and their plight, in general.
At ISTE 2013, Splash Math is all geared up to:
Set up a great booth and take the plastic wrap off from our Integrated web product
Showcase our Summer Math program and catalog of award-winning math applications
Network with like-minded ed tech enthusiasts
Offer various sessions to booth visitors amid hands-on learning environments
Attend great keynotes
We hope to see a similar or even bigger turn out at our booth (#14074) this year at ISTE 2013. However, we're not a typical conference booth. Take a tour of the fun things we'll have at our booth, the one with the lucky prize wheel.
Stump the StudyPad 20Q – Answer 20 simple questions about StudyPad correctly and win exciting prizes.
StudyPad Enterprise demos – Curious to see our interactive educational web & mobile products? Drop by for a demo on our iPads.
Lucky prize wheel – You can be the winner of our lucky bumper prize. It's a surprise. We guarantee, you'll be amazed!
Don't miss out on any of the fun, follow us @StudyPadInc on Twitter. Here's StudyPad wishing you a great ISTE 2013!