Kids are little helpers. You can teach them to help at home by giving them age-appropriate chores for kids. From the time they're toddlers, you can start getting them involved by having them pick up their toys after they play. As they grow old, you can assign more complex tasks accordingly.
Parents are often looking for effective tips to teach their children about responsibility and how to clean up after themselves. It is also important that kids know that contributing to the family is a way of life. By helping out around the house, they will become more aware of what they have to maintain to live comfortably.
There are many simple chores for kids that will not take away from your child's playtime, but they will help them learn essential life skills.
50+ Age-appropriate Chores for Kids
Chores for kids are an integral part of growing up and becoming responsible. They also show kids that their contribution to the family is valuable, which can help boost self-esteem. Household chores also teach kids a sense of responsibility. So assign age-appropriate chores for kids to learn how to do them well.
Here's a list of age-appropriate chores for kids, from toddlers to teenagers, that they can easily accomplish:
Related Reading: 

Best Learning Activities for 2-Year-Olds Every Parent Must Try Once
Chores for Toddlers (Ages 1 to 3)
There's no such thing as too young to start when it comes to cleaning. If you wait until your kids are older, they will be harder to teach and less apt to help around the house. So embrace the mess and dive in – you'll be glad you did!
SplashLearn: Most Comprehensive Learning Program for PreK-5

SplashLearn inspires lifelong curiosity with its game-based PreK-5 learning program loved by over 40 million children. With over 4,000 fun games and activities, it's the perfect balance of learning and play for your little one.
Try for free
For younger children, make sure that you assign age-appropriate chores that they can complete with minimal supervision. As your child gets older, you can adjust the list of tasks for kids by age. Here are a few examples of household chores that toddlers can quickly help you with:
Put away their toys
Put clothes in the hamper
Help feed pets
Water plants
Help make their beds
Take out garbage cans
Bring napkins or silverware to the table
Carry dirty clothes to the laundry room
Chores for Preschoolers (Ages 4 to 6)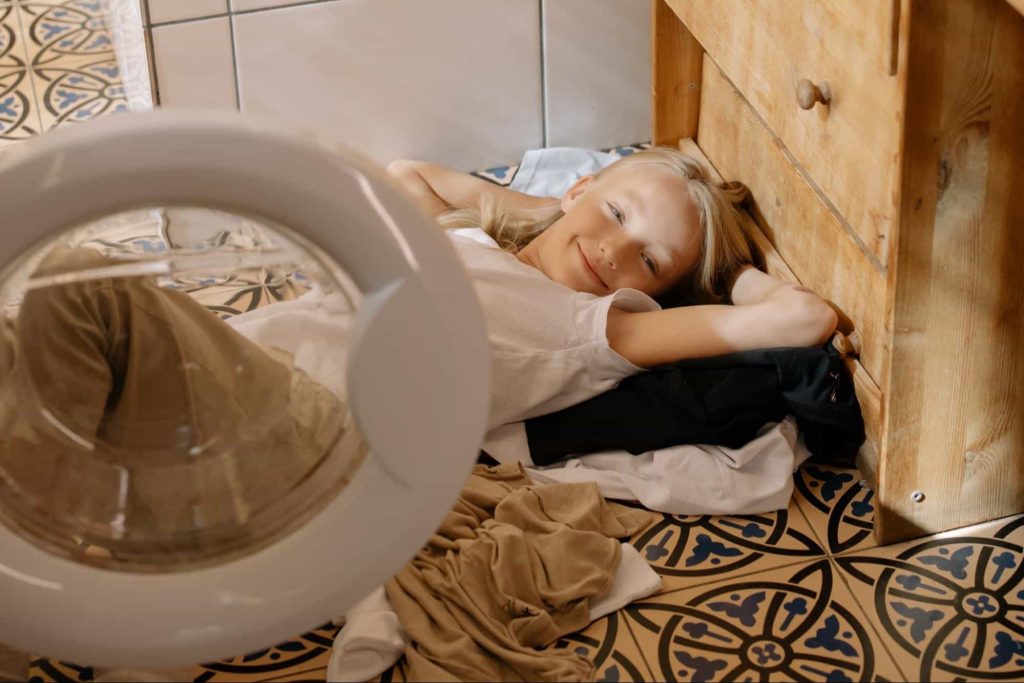 Children between the ages of 4 to 6 are still not capable of doing the same chores as their older siblings or parents. However, there is plenty that kids can do to help out around the home. Below is a list of tasks that your preschool kids can take on, along with some fun activities that can boost their productivity and add a sense of responsibility at the same time. Here are some of the simplest household chores for your 4-year-old, as well as some comparatively complex tasks for 6-year-olds:
Related Reading: 

Exciting Tips & Activities to Prepare Your Child for the First Day of Kindergarten
Dusting with a cloth
Unloading the dishwasher
Make bed on their own
Wipe off the table after meals
Folding washed clothes
Picking up groceries
Putting dirty clothes in the laundry
Hang coats on hooks in a closet or coat rack
Chores for Primary Schoolers (Ages 7 to 9)
There are a lot of ways to incorporate household chores for kids. But when it comes to primary schoolers, parents need to make sure the chores aren't too challenging and that the kids understand what they have to do.
Ages 7 to 9 are an excellent time for kids to start doing more around the house. They can do basic chores independently or as part of a team. You'll still need to supervise them, but they can start taking on more responsibility.
Here are some easy household chores for 7-year-olds to 9-year-olds that they can quickly help with:
Tidying the living room
Taking out the rubbish or recycling
Scrubbing bathroom sinks clean
Helping with the dishes
Wiping down kitchen counters after dinner
Helping with meal preparation
Sweeping floors using a mini hand-held vacuum or dustpan and brush set
Packing their school bag each day
Bringing in the mail from the mailbox
Sorting dirty clothes into darks and lights
Putting dirty clothes in a laundry basket
Setting the table for meals
Chores for Middle Schoolers (Ages 10 to 14)
By now, kids are ready for more complex tasks. Kids ages 10 to 14 are capable of more than they may realize. They can take on more responsibility while still enjoying free time with friends, going to camp, and playing sports. Once your child is older and has become independent, it's easier to delegate whole tasks. You may consider including some of these tasks on their chore charts:
Make the bed every day without supervision
Take care of the pets by feeding them, walking them, brushing them, or cleaning their cages if needed.
Mow the lawn
Load/unload the dishwasher
Empty out trash cans around the house or in their room
Do laundry (under supervision)
Clean kitchen appliances like microwave ovens or fridge drawers
Look after their siblings with supervision
Wash family vehicles
Chores for Teenagers (Ages 13+)
Many parents struggle with asking children to do around the house, especially teenagers. Is it reasonable to expect them to help with dinner and clean up afterward, or should they be responsible for making their meals?
As with many parenting questions, there is no one correct answer. However, some guidelines can help you figure out what activities are age-appropriate and help kids learn responsibility and self-reliance.
However, keep in mind that not all teenagers will be able to perform the same tasks at the same age because everyone develops differently. Consider each child's abilities and limitations when determining what they should do around the house.
Avoid arguments by asking your teenager what they would like to do around the house. This might reduce their resistance and make them feel like their opinion is valued.
At this age, teens can do almost anything. They should perform most of the tasks listed above, along with a few additional ones. Here is a list of some easy chores that teens can do to extend their helping hand at home:
Wiping down surfaces (tables, counters, appliances)
Sweeping and mopping floors without assistance
Doing dishes without supervision
Changing bed sheets and washing linens
Taking the trash out regularly
Folding laundry
Preparing easy meals
Going grocery shopping independently
Washing windows inside and out
Cleaning the bathroom floor, including under and around the toilet seat
Babysitting younger siblings with minimal assistance
Looking after the pets (including walking dogs)
Placing all the dirty clothes in the laundry basket and putting clean and folded ones back where they belong
Ironing washed clothes
How to Assign Chores to Kids
There are several ways to go about assigning chores for kids. Some families have a chore chart or list of things to do daily, and everyone does their share. Other families have a weekly meeting and discuss the things to do for the week, and then each person is assigned specific tasks. Either way works as long as everyone knows what is expected of them.
Related Reading: 

Best & Important Character Traits for Kids That All Parents Must Instill
Teaching kids to do chores early on in life can have both immediate and long-lasting benefits. By doing chores, kids learn lessons in responsibility and gain a sense of accomplishment. Plus, they're one step closer to being able to live on their own when they grow up!
4 Reasons Why Chores Are Important for All Kids
Parents hear whining and complaining when they ask their children to do chores. It's so much easier to do it themselves and avoid the hassle, but there are benefits to having kids help with chores around the house.
Children need to learn that it takes effort and work to run a home smoothly. It will also allow them to practice skills they'll need as adults, like being on time for a chore or assignment. Chores for kids are essential for many reasons. They teach responsibility and accountability. They help children develop self-esteem, confidence, and independence. Most importantly, they teach kids how to contribute to the family household.
When your child does chores, you spend more time together positively. Chores can be done as a family or friends to increase feelings of belonging and connection.
1. Build a child's self-esteem and confidence
Every parent wants their child to grow up happy and confident. Having a routine of age-appropriate chores for kids can help build self-esteem in our kids. When they complete a task, whether making their bed or folding laundry, they feel good about what they accomplished. They learn that hard work is rewarded with recognition from their family members, which further boosts their confidence.
2. Teach kids responsibility
Household chores for kids help them learn to take the initiative, make good decisions, and complete a task once they start it. Although children can have a lot of responsibilities at school, practicing responsibility at home is still essential to their overall development. In addition to helping them learn independence, it also helps them develop other skills like time management and teamwork.
3. Help enhance a child's life skills
Chores for kids help develop essential life skills. Doing chores teaches children how to manage their time and money, set goals, and plan for the future.
4. Teach time management skills
By keeping a regular schedule, your child will learn to manage their time wisely, which is an important life skill.
Bottom Line
While chores may not be a favorite activity for many kids, there are many benefits to including chores for kids in their daily routine. Chores for kids help instill a sense of responsibility and a better understanding of self-worth in young children.
Two of the most important things for children to learn are their role in the world and their place in society. Children need chores to feel as though they are contributing something meaningful to their family structure.
A child's first step into adulthood is a milestone worth celebrating, and these developmental milestones should be recognized and celebrated. We hope all SplashLearn users feel equally inspired and that making laundry fun will help your children develop a lifelong love of housekeeping!
Explore more online educational resources for kids that will aid in their learning experience.
Frequently Asked Questions
How can chores benefit kids?
Chores are an important way to help children feel like they are contributing members of the family household. This will enable them to acquire a sense of belonging and learn the value of being a contributing member of the family.
How can chores be used to teach discipline to kids?
Chores give kids the access to be more responsible, compassionate, and hardworking as they move forward toward adulthood.
What chores should a 9-year-old do?
8, 9, and 10-year-olds can do the following chores:
Make their beds without assistance.
Get dressed on their own.
Groom themselves and take care of their personal hygiene without supervision.
Tie their shoes.
Water plants and look after the pets.
Clean up after themselves.
Help pack their own lunch.
How many chores should a kid of 12 be assigned daily?
There's no specific number of chores children should be assigned daily, but if the kid is a preteen or younger, assign them tasks that take about 10 to 30 minutes altogether as they have school throughout the week.