We're here with the best Scooby-Doo quotes because who doesn't love Scooby-Doo? He is friendly, loyal, goofy, silly, and always ready to help others. He can be very helpful when it comes to solving mysteries. He also loves to eat hamburgers and hot dogs.
Scooby-Doo is known for the adventures of Scooby-Doo, the very famous Shaggy, Velma, Fred, and Daphne. The gang enjoys together and gives the audience many unforgettable & humorous moments!
SplashLearn: Most Comprehensive Learning Program for PreK-5

SplashLearn inspires lifelong curiosity with its game-based PreK-5 learning program loved by over 40 million children. With over 4,000 fun games and activities, it's the perfect balance of learning and play for your little one.
Try for free
Best quotes from Scooby-Doo & The Gang
"Scooby Doobie Doooo!" – Scooby-Doo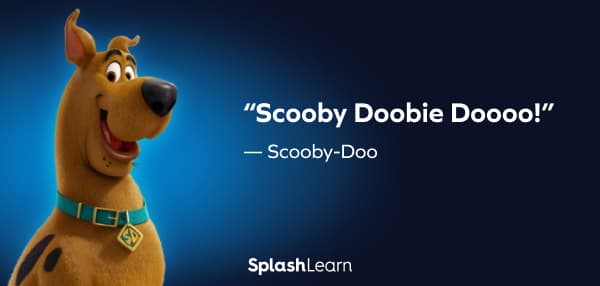 "Let's do what we do best Scoob, eat." – Shaggy
"I Have To Laugh At Myself. Those Two Chickens Tricked Us!" – Fred
"Yeah, yeah, yeah, yeah!" – Scooby-Doo
"Come on, let's get out of here while we still can!" – Fred
"Scooby-Doo, where are you?" – Shaggy
"The place is haunted." – Velma
"rought ra rindow." – Scooby-Doo
"Leave it to Daphne to pick the wrong door!" – Shaggy
"I told you I'd save you." – Velma
Also read: 

Best Winnie the Pooh quotes that make life easy
"Over here!" – Scooby-Doo
"It looks like we've got ourselves a mystery." – Fred
"Watch the pretty coin of gold, and you will do as you are told. You are brave, and that's a fact. You will do the high wire act."-Ghost Clown
"That's one fish story no one will believe." – Velma
"I can already taste those chocolate-covered hot dogs." – Shaggy
"Ruh-roh–RAGGY!!!" – Scooby-Doo
"But Don't Worry, I Got A Hot Idea!" – Velma
"That's funny. He doesn't look a day over two thousand to me." – Shaggy
"Rizza Rie!" – Scooby-Doo
"Let's vote on it. Mystery or pizza pie?" – Shaggy
"I'm so scared! I wish I had a ham sandwich to calm my nerves!" – Shaggy
"Ooh, wow! They sure picked a creepy enough place to read a will." – Daphne
"Would you do it for a Scoobie Snack?" – Daphne
"Creeps and Crawls! They sure picked the right lawyers for this job." – Shaggy
"Huh? Scooby, I always knew you were a little batty!" – Shaggy
"Zoinks! It's the creepy coin collector again!" – Shaggy
"Wow, he could still scare me, Professor." – Daphne
"Great, but next time, please don't do me any favors." – Shaggy
"Shaggy, sometimes I think you'd rather eat pizza pie than solve a mystery." – Daphne
"Say, Scooby, kind of a spooky night, huh?" – Shaggy
"Oh, My Hairdo!" – Daphne
"Here, double ugly, go buy yourself a new face." – Shaggy
"There's a very logical explanation for all this." – Velma
"Like Who's Gonna Build A New Us?" – Shaggy
Related Reading: 

Pinky and the Brain Quotes: Silly, Smart & So Fun
Best Scooby-Doo Quotes from "Scooby-Doo, Where Are You!"
"Mary Jane: I'm Mary Jane.
Shaggy: Like, that is my favorite name." – 'Scooby-Doo: The Movie'.
We discovered the mastermind is Scrappy, who sadly was taken by evil." – Velma Dinkley, 'Scooby-Doo: The Movie'.
"Hey, you guys, look, I know I'm just the dude that carries the bags. But it seems to me we all play an important part in this group. I mean, we're just like a big, delicious banana split. Fred, you're the big banana. Daphne, you're the pastrami and bubble gum flavored ice cream, and Velma, you're the sweet and sour mustard sauce that goes on top." – Shaggy Rogers, 'Scooby-Doo: The Movie'.
"No, Scoob. Friends don't quit." – Shaggy Rogers, 'Scooby-Doo: The Movie'.
"Scooby-Doo: Shaggy, You're whipped!
Shaggy Rogers: I'm whipped? Oh, yeah? Why don't you say that to my face, man!
Scooby-Doo: Okay, I will. Your mother eats cat poop!
Shaggy Rogers: No, Scooby-Doo, Your mom eats cat poop!" – 'Scooby-Doo: The Movie'.
"I am so over this damsel in distress nonsense."-Daphne Blake, 'Scooby-Doo: The Movie'.
"Gotcha! You look so much bigger on T.V!" -Scrappy Rex, 'Scooby-Doo: The Movie'.
"I would have gotten away with it! If it won't for you misable son's of a – "Scrappy Rex, 'Scooby-Doo: The Movie'.
"Danger-Prone Daphne Did It Again." – Fred
"Maybe He Went Out For The Night, Get It?" – Shaggy
Some History
Scooby-Doo has been around since 1969. The cartoon series follows the adventures of Shaggy Rogers (voiced by Frank Welker) and his dog, Scrappy-Doo (voiced by Matthew Lillard). The show was created by Hanna Barbera Productions and aired on CBS from September 15, 1969, until December 31, 2002.
In the early 1970s, Hanna Barbera produced a live-action television series called Shaggy & Scooby-Doo Get a Clue! This version featured Fred Jones and Daphne Blake as the main characters. The show ran for two seasons before being canceled.
In 1981, Hanna Barbera released another animated series titled Scooby-Doo, Where Are You!, featuring the same cast as the previous TV series. The new show lasted for three seasons and spawned several spin-offs, such as Scooby-Doo and Scrappy-Doo, where Scrappy became the star of his own show.
The much-loved Scooby-Doo reminds everyone of their childhood and the magical days of Cartoon Network supremacy.

Which of the above-mentioned Scooby-Doo quotes do you like the most? Let us know in the comment section below.