Reading is one of the most impactful activities kids can engage in for hours. It teaches them values beyond verbalization and asks them to think about the world from another person's perspective. Your children can also develop an inherent love for stories with the right books at the right age.
Some of the most notable books in a child's life can be non-fiction books about exciting lives, inspiring figures, facts about the world, and our rich history. You can help uncover hidden gems from nonfiction books to teach your children the correct values and lessons from diverse source materials.
Here are some online reading games to educate and engage your kids!
The top nonfiction books that all parents need to incorporate in their kids' libraries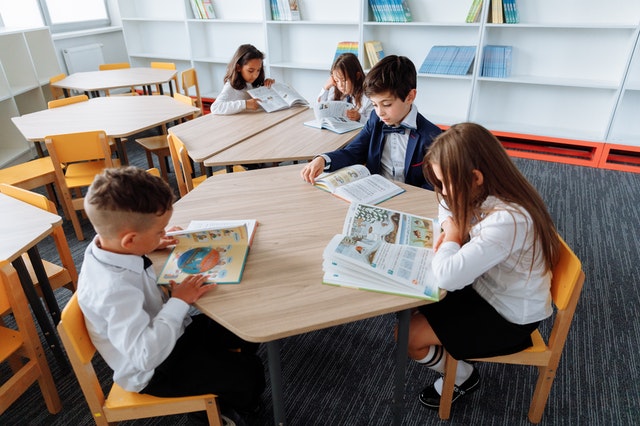 Related Reading: 

Best Books for 1st Graders That Will Open Up New Worlds for Them
Hidden figures is a brilliant nonfiction book that teaches kids about the role of four women who were instrumental in the space race through the help of mathematics. They were African American women who defied all odds and helped the US reach space in the 1960s. The book covers the challenges, the perseverance, and the issues that women had to face at the time.
SplashLearn: Most Comprehensive Learning Program for PreK-5

SplashLearn inspires lifelong curiosity with its game-based PreK-5 learning program loved by over 40 million children. With over 4,000 fun games and activities, it's the perfect balance of learning and play for your little one.
Try for free
2. Danger! Volcanoes by Seymour Simon
This is a classic educational nonfiction book that centers around some of the most active volcanoes in the world. The role of volcanoes in their regions, eruption patterns, life cycles, and other exciting aspects is captured elegantly in Danger Volcanoes. The book is perfect for young ones who want to know about geography's weird and interesting side. It is also a great book to excite your children about the wonders of nature.
3. The Girl Who Thought in Pictures by Julia Finley Mosca
The remarkable story of Dr. Temple Grandin has been portrayed in this classic illustrative book that depicts the challenges of autism. She could think in pictures and used her special gift to transform how we farm today radically. Her challenges and accomplishments are captured through poetry and art, giving young girls today an actual superhero to look up to. The book also documents much of her journey as a leading scientist and her journey into transforming processes.
Want to strengthen your child's reading comprehension? Let them play ELA games that make learning fun!
4. Our Universe: Earth! by Stacy McAnulty
This awe-inspiring collection of facts, figures, and stories about our planet is designed to engage kids who love science and geography. The illustrations within the book are also structured to continually excite kids to read about the dinosaurs, the evolution of mammals, and how we evolved over 4 billion years. The book is also created as an autobiography of the Earth, making it even more exciting and entertaining.
5. Shark Lady by Jess Keating
Shark Lady captures the story of Eugenie Clark and her journey to becoming one of the most fearless scientists in the world. She faced several challenges, such as constant doubt, lack of opportunities, and minimal support. She became one of the top women scientists to make groundbreaking discoveries about sharks through sheer will and hard work. She was the pioneer in scuba diving for research purposes, drove significant results in marine biology, and led over two hundred expeditions worldwide.
6. Anne Frank by Alexandra Zapruder
Anne Frank is a classic nonfiction book describing a young child's journey whose life was radically changed during World War II. Her diary serves as one of the most important documents of the era and continues to inspire us to be brave in complex situations. For children, the narrative aims to enlighten children about the dangers of hatred and preconceptions and the importance of courage and intelligence to survive the most challenging scenarios.
7. She Persisted Around the World: 13 Women Who Changed History by Chelsea Clinton
The masterful book is a collection of real-life stories of 13 inspirational women worldwide who defied the odds and brought real change to the world. The book covers the stories of Marie Curie, Viola Desmond, Maathai, Aisha Rateb, J.K. Rowling, and many more inspirational women. Your children can get a first-hand opportunity to explore the accomplishments, journeys, and challenges these women face to reach their milestones.
8. Her Right Foot by Dave Eggers
Inspired by the fact that Lady Liberty is mid-stride while holding the torch, the book focuses on lesser-known facts about the world. This is an excellent read for parents and children to learn more about American history. The authors go deeper into the realm of art and history to figure out the deep-rooted mysteries of what made the country remarkable. Your children can learn about the role of patriotism in culture and what values are essential to make a nation great.
Why nonfiction books for kids play a vital role in development
Related Reading: 

Best Books for 3rd Graders That Will Make Turn Them into Lifelong Readers
Children can only learn so much from fiction, fantasy, and storytelling books. It would help if you enriched their curiosity by providing them with books about actual life events, facts, and lessons. From geopolitical dynamics to history-changing events, nonfiction books simplify reality to communicate takeaways that any kid can learn from.
Nonfiction books are also instrumental in shaping a child's future at an early age. Your kids can learn what it takes to be a scientist, biologist, fireman, and other interesting occupations from real-life stories. They can also cultivate a passion for marine life, volcanoes, dinosaurs, and machines, with the right combinations of nonfiction books.
You can also improve reading comprehension and learning with nonfiction books if your child doesn't respond well to fictional stories. Nonfiction books for kids can provide a rich pool of knowledge and lessons drawn from real accounts, stories, and events, making the child feel like a part of the story organically.
SplashLearn offers scientifically designed games for improving comprehension and ELA for kids.
Kids can improve their reading ability by playing fun animated games that improve grammar, comprehension, structural recognition, etc. SplashLearn's integrated games are playable by kids in Pre-K through 5th grade, making them highly accessible for anyone to fall in love with learning. With hundreds of games available for any child, our platform is perfect for eager readers who want to learn how to read more challenging texts.
Explore more printable reading worksheets for kids that will help with their learning experience and make them smarter.
Related Reading: 

Best Math Books For Kindergarten that Kids Will Definitely Enjoy
Frequently Asked Questions
Are nonfiction books appropriate for younger kids?
Yes, nonfiction books are published with younger audiences in mind. This ensures that the language, structure, graphics, and imagery presented are suitable for kids. It is ideal to start your child's reading journey early as well.
What are popular nonfiction books for kids?
Books such as – She Persisted Around the World & Finding Winnie, are popular nonfiction books for kids.
What are the types of nonfiction books for kids?
Narrative books are presented as biographies, memoirs, and accounts. Tree books present a foundation of ideas with sub-ideas and explanations. Expository books inform children about specific topics in a fun and creative way, such as the journey of famous people, the study of birds, etc.
What are nonfiction stories?
Nonfiction stories are novels that are based on fact. They are designed to represent truths about subjects, whether they be ladybugs or US presidents. The range of nonfiction books available makes it popular among kids who want to explore topics beyond fiction.
What is the purpose of nonfiction?
The purpose of nonfiction books is to stimulate the minds of children who want to learn more about specific events, animals, geographical sites, etc. They aim to inform children about truths around the world, as well as introduce new ideas based on facts.