You're here because you are looking for the best & inspiring quotes for little girls that can uplift your baby girls' spirits and help her shine!
Daughters are every parent's world and these precious sayings for your little girls are bound to melt your hearts and bring in good vibes!
Best little girls quotes – For your precious baby girls!
Daughters are precious and they deserve to know how special they are. These daughter quotes & little girls' sayings will melt your heart and help you express your love for your sweet baby girl!
"Thank heaven for little girls
They grow up in the most delightful way." – Maurice Chevalier, 'Thank Heaven For Little Girls'
"A toddling little girl is a center of common feeling which makes the most dissimilar people understand each other."- George Eliot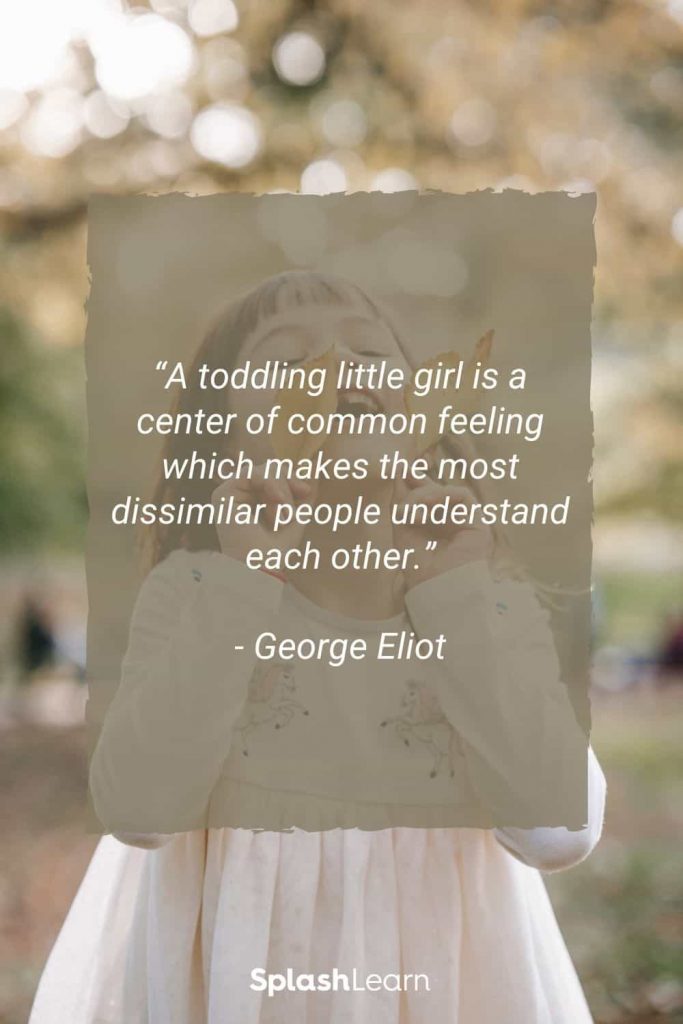 Also read: 80+ best sister quotes you need to share with your sis right now
3. "Isn't she lovely, isn't she wonderful, isn't she precious, less than one minute old… Isn't she pretty, truly the angel's best. Boy, I'm so happy, we have been heaven blessed. I can't believe what God has done, through us he's given life to one. But isn't she lovely, made from love." – Stevie Wonder (Isn't She Lovely)
4. "The love of a daughter makes life worth living. It makes my heart full and I just keep on."- AJ Winners, 'The Love Of A Daughter'
SplashLearn: Most Comprehensive Learning Program for PreK-5

SplashLearn inspires lifelong curiosity with its game-based PreK-5 learning program loved by over 40 million children. With over 4,000 fun games and activities, it's the perfect balance of learning and play for your little one.
Try for free
5. "Hold her a little longer, rock her a little more. Read her another story, you've only read her four. Let her sleep on your shoulder, rejoice in her happy baby smile. She is only a little girl for such a little while." – Unknown
6. A daughter may outgrow your lap, but she will never outgrow your heart."- Unknown*
7. "Little girls are the nicest things that happen to people. They are born with a little bit of angel shine about them, and though it wears thin sometimes there is always enough left to lasso your heart." – Alan Beck
8. "The knowingness of little girls, is hidden underneath their curls."- Phyllis McGinley
9. "A daughter is a day brightener and a heart warmer." – Unknown
10. "In my dreams, I could be a Princess, and that's what I was. Like most little girls, I believed nothing less than a Prince could make my dreams come true." – Loretta Young
11. "Let her sleep, for when she wakes she will move mountains."- Napoleon Bonaparte
Related Reading: 

Best Fall Quotes & Beautiful Sayings About Autumn
Also read: 60 inspiring quotes for kids to help them skate through life
12. "My wish for you is that this life becomes all that you want it to; your dreams stay big and your worries stay small; you never need to carry more than you can hold." – Rascal Flatts (My Wish)
13. "She is just a baby
She's my little girl
She looks like her mommy
Sporting little curls…" – Clark Richard, 'Red Robin'
14. "Daughters are like flowers… They fill the world with beauty – and sometimes attract pests." – Unknown
15. "My son is my son till he have got him a wife, but my daughter's my daughter all the days of her life." – English proverb
16. "Little girls, like butterflies, need no excuse." – Robert A. Heinlein
17. "Always remember, you are braver than you believe, stronger than you think, and loved more than you know."- A A Milne.
18. "A daughter is a treasure and a cause of sleeplessness." – Ben Sirach
19. "What if I fall? Oh but my darling what if you fly?"- Erin Hanson
20. "Fathers and daughters have a special bond. She is always daddy's little girl." – Richard L. Ratliff
21. "You are altogether beautiful my darling, beautiful in every way."- Song of Solomon, 4:7
22. "A man's daughter is his heart. Just with feet, walking out in the world." – Mat Johnson
23. "But a smile from my daughter makes me forget every ordeal."- Raymond Raoul Lambert, 'Diary Of A Witness'.
24. "There's no better feeling than making your little girls laugh." – Jerry O'Connell
25. "I try to parent equally, but I think little girls are a little more sensitive."- Don Johnson
26. "Mother and daughter, their hearts as one. A link that can never be undone." – Unknown
27. "I hope the fathers and mothers of little girls will look at them and say 'yes, women can.'"- Dilma Rousseff
Related Reading: 

Best Winnie the Pooh Quotes That Make Life Easy
28. "No matter how old she may be, sometimes a girl just needs her mom." – Cardinal Mermillod
29. Courage, sacrifice, determination, commitment, toughness, heart, talent, guts. That's what little girls are made of."- Bethany Hamilton
30. "All little girls should be told they're pretty…"- Marilyn Monroe.
31. I like to tell little girls that not every day is going to be your best day and that you won't look pretty every day either and that that's OK."- Eiza Gonzalez.
32. "Dad: a daughter's first love." – Unknown
33. "I believe that happy girls are the prettiest girls."- Audrey Hepburn
"I refuse to give energy to the negative. I've got a great fella and two great little girls."- Melissa McCarthy.
"A daughter is just a little girl who grows up to be your best friend." – Unknown
"A baby girl is a bundle of firsts that excite and delight; giggles that come from deep inside, always wonderful and precious… so much that your love for her knows no bounds."- Barbara Cage
Inspirational Little Girls Quotes – Empower your baby girl!
It's important that we help little girls become strong women of tomorrow! Inspirational little girls quotes can help you motivate & empower your daughters to take on the challenges of the world!
"Think like a queen. A queen is not afraid to fail."- Oprah Winfrey
"I want little girls to believe that they can be CEOs." -Payal Kadakia
"Some girls are just born with glitter in their veins." – Paris Hilton
Related Reading: 

Best Reap What You Sow Quotes to Keep You Responsible & Grounded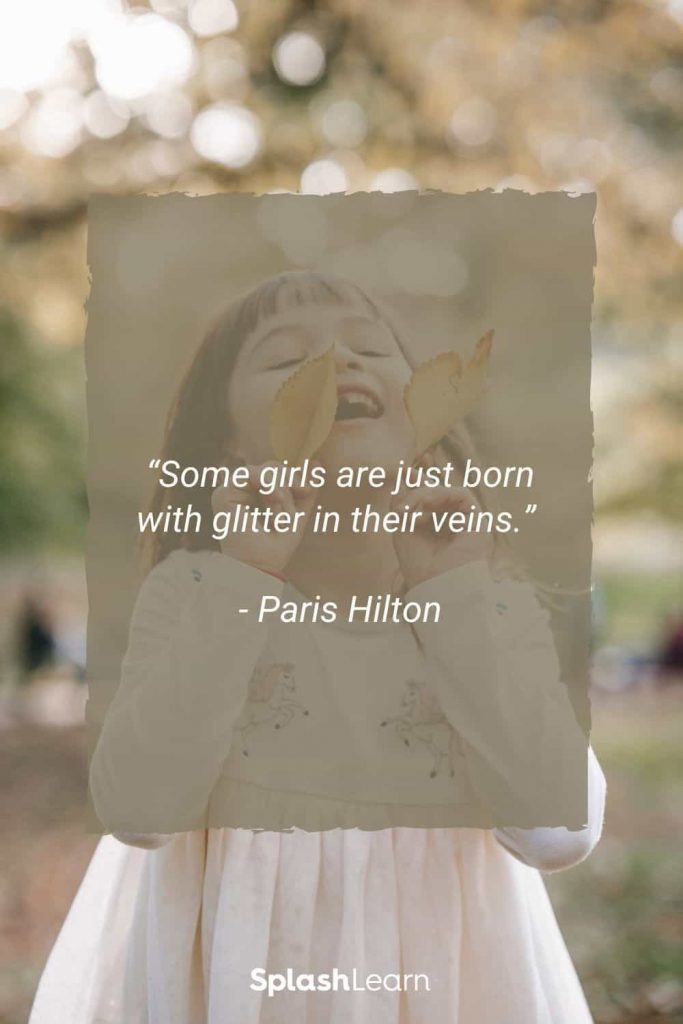 "When a woman becomes her own best friend life is easier."- Diane Von Furstenberg
"What I wanted most for my daughter was that she be able to soar confidently in her own sky, whatever that may be." – Helen Claes
"I love to see a young girl go out and grab the world by the lapels."- Maya Angelou
"I hope the fathers and mothers of little girls will look at them and say, 'Yes, women can.'" – Dilma Rousseff
"Be that strong girl that everyone knew would make it through the worst, be that fearless girl, the one who would dare to do anything, be that independent girl who didn't need a man; be that girl who never backed down."- Taylor Swift
"Whatever boys can do, girls can do better." – Journal Writing
"… let's keep going until every one of the 161 million women and girls across America has the opportunity she deserves to have."- Hillary Clinton
47. "I think that young women and little girls need to see that they don't have to be the damsel in distress. They don't have to not show their strength. They don't have to be whatever the stereotype is or the tropes that we go to in our minds." – Octavia Spencer
48. "We gotta start teaching our daughters to be somebodies instead of somebody's."- Kifah Shah
49. "She is clothed with strength and dignity and she laughs without fear of the future." – Proverbs 31:25 (NLT)
50. "And one day she discovered that she was fierce, and strong, and full of fire, and that not even she could hold herself back because her passion burned brighter than her fears."- Mark Anthony
51. "Courage, sacrifice, determination, commitment, toughness, heart, talent, guts. That's what little girls are made of." – Bethany Hamilton
52. "The world needs strong women. Women who will lift and build others, who will love and be loved. Women who live bravely, both tender and fierce."- Amy Tenney
53. "Be like a diamond precious and rare. Not like a stone found everywhere." – Rita Gatourey
54. "A girl should be two things: who and what she wants."- Coco Chanel
55. "Who runs the world? Girls." – Beyoncé
56. "Though she be but little, she is fierce!"- William Shakespeare, 'A Midsummer Night's Dream'.
57. "Be a unicorn in a field of horses." – Unknown
58. "A daughter is one of the most beautiful gifts this world has to give."- Laurel Atherton.
59. "Little girls with dreams become women with vision." – Unknown
60. "We cannot all succeed when half of us are held back. We call upon our sisters around the world to be brave – to embrace the strength within themselves and realize their full potential."- Malala Yousafzai
61. 'What if I fall?' 'Oh, but my darling, what if you fly?'" – Erin Hanson
62. "As a little girl living in the English countryside, I used to go running around in the forests, creating my own fairy tale."- Lily Collins
63. "Life is tough my darling, but so are you."- Stephanie Bennet Henry
64. "Representation is so important because it's hard for kids to want to be what they can't see. Little girls and boys need to know that it's natural for girls to love science and tech."- Emily Calandrelli
65. "Don't you worry your pretty little mind, people throw rocks at things that shine." – Taylor Swift, 'Ours'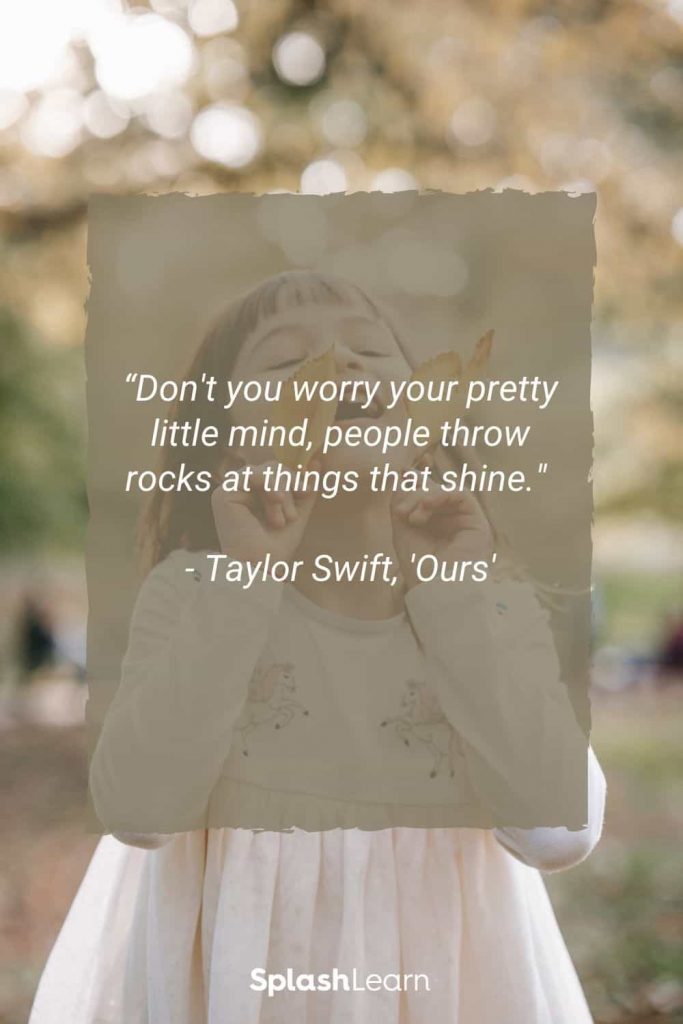 Related Reading: 

Best Sister Quotes You Need to Share With Your Sis Right Now
66. "You're a beautiful girl, and you can do anything you want in life."- Jeanine Pirro
67. "I believe in being strong when everything seems to be going wrong."- Audrey Hepburn
68. There are miracles and glory in every child. Our glory lies in empowering them to flourish their glory."- Amit Ray
69. "Baby girls are bits of stardust blown from the hand of God. Lucky is the woman who knows the pangs of birth for she has held a star."- Larry Barretto
70. "What the daughter does, the mother did." – Jewish proverb
71. "This little girl will guard her tower with the most vicious dragon of all: indifference."- Yesenia Barkley
72. "To all the little girls who are watching this, never doubt that you are valuable and powerful, and deserving of every chance and opportunity in the world to pursue and achieve your own dreams."- Hillary Clinton
73. "A tiny daughter gives parents a life in a climate of perpetual wonder."– Pierre Doucet
74. "Like star dust glistening on fairies' wings, Little girls dreams are of magical things." – Sherry Larson
75. "Little girls are cute and small only to adults. To one another they are not cute. They are life-sized."- Margaret Atwood
76. "My little girls are the most beautiful women in the world. I am a lucky, lucky man. I will spend every day making sure that they know this."- Russell Simmons
Little girls are parents' blessings and with SplashLearn, you can get them the learning they deserve. Sign up today to access fun games & courses and make your little girl, a fearless learner!