Some of the fondest memories of childhood involve sitting in front of the TV waiting for our favorite shows to come on. While some of them had a compelling narrative, most educational kids shows revolved around teaching us about science, math, and history through animation, puppets, and actors.
SplashLearn: Most Comprehensive Learning Program for PreK-5

SplashLearn inspires lifelong curiosity with its game-based PreK-5 learning program loved by over 40 million children. With over 4,000 fun games and activities, it's the perfect balance of learning and play for your little one.
Try for free
They also taught us to be forgiving, loving, respectful, and expressive as we grow older. Educational kids' shows continue to make children excited about learning about their world.
They create magical experiences and make kids feel like they're explorers, astronauts, and scientists for a day. While some of them are reboots, most offer a new style of animation or presentation that kids are used to seeing online and on TV.
Let's check out these top 10 educational kids shows together? Hop on, and let's go!
The Best Educational Kids Shows & Series to Watch in 2023
1. Sesame Street
With nearly 52 seasons under its belt, Sesame Street is a beloved educational show with some of the most memorable moments in TV history. They're the perfect go-to-show for learning even today, with many videos from counting to spelling. Parents can check out the website for more information and watch a few episodes with their kids online.
2. Ask the StoryBots
Ask The StoryBots on Netflix is an animated series that focuses on harnessing curiosity for various topics. It focuses on reading, comprehension, and listening to improve a child's vocabulary and desire for learning. That's what makes StoryBots one of the top educational kids shows available.
3. Xavier Riddle and the Secret Museum
If your kids are fans of adventure-based shows, this one's just right for them. The Secret Museum is full of interesting people, history lessons, and change-makers worldwide. Each episode focuses on a famous individual whose life story is fully explored from a historical point of view. Based on the renowned book series – Ordinary People Change The World, you can find it on PBS Kids.
Watch Xavier Riddle and the Secret Museum here!
4. Bill Nye, the Science Guy
Everyone loves Bill as he explores why the atoms spin and why the fruits have colors. His lessons are just as valuable and entertaining today as in 1998. His charm, charisma, and energy for learning inspire kids worldwide to remain curious about the world.
The show's high production value makes it highly entertaining even for adults to watch decades later. Bill's youthful exuberance makes the educational kids' show that much more exciting to watch.
Watch the original Bill Nye The Science Guy Series here!
Related Reading: 

Popular Kids' Movies to Binge Watch This Holiday Season
5. The Magic School Bus Rides Again
This Netflix show has everything your child needs to learn about the universe's wonders. They'll be surfing on the sound waves while they explore the hidden creatures at the bottom of the ocean. It's based on the iconic kids' show 'The Magic School Bus' and follows the same principle of learning something interesting through animated characters.
6. Brainchild
Brainchild is another exciting show on Netflix inspired by the classic TV show – Bill Nye the Science Guy. Its host takes you on an adventure across the mind with subjects like – "What are germs?", "Why do people feel emotions" and "How do fishes breathe?". It's perfect for older kids who have many questions and are curious about the oddest things.
7. Weird But True
It's one of the more unique educational kids' shows, as it focuses on the weirder side of science and discovery. The Disney show asks kids simple questions like – "Why do golf balls have dimples?" and "Can honey bees recognize human faces?" and goes on an adventure explaining the answer through science. It's a must-watch for any kid who loves science and wants to explore the mysterious side of nature.
8. Little Einsteins
This Disney Jr. show teaches kids the valuable lesson of creativity and teamwork. The characters go on different adventures in each episode, as gems of knowledge are dropped within a normal conversation.
The show has an interactive element, asking kids to participate and find specific objects. The Einsteins also go into new adventures in each episode, which makes them fresh and appealing for kids to follow.
9. Blue's Clues & You
Blue's Clues & You is a refreshing reboot of the classic educational kids show Blue's Clues. It's about finding clues and solving puzzles while learning to count, spell, arts & crafts, and colors.
It's the perfect show for preschoolers who want to learn at their own pace and love animated cartoons. The show's slow pace makes it ideal for younger children to enjoy the educational kids show and learn valuable lessons along the way.
10. Dinosaur Train
Children who love dinosaurs will jump with joy when they watch Dinosaur Train. The show is all about exploring different types of dinosaurs, their habitat, and their characteristics as they go through the time tunnel of exploration. The show also teaches kids about sharing, making kids feel welcomed and accepting of different backgrounds. The show also goes into deeper details about dinosaurs, which few other educational shows do.
When your kids have explored it all, and there's more to follow, these educational content platforms are perfect for continuing the learning process.
Related Reading: 

Best Online Learning Platforms Gaining Traction These Days
Educational Content Platforms for Engaged Learning
Kids have several options for shows, movies, and animated series while watching them both online and on TV. The growth of educational content platforms is also drawing attention, as more kids want to learn new things while enjoying the process.
You can find some of the most fun experiences on Sesame Street, PBS Kids, and Scholastic websites that continue to offer fun games to make learning exciting for kids.
Let's check out some of the top content platforms that bring back the fun in active learning:
1. SplashLearn – Fun Math & ELA learning
SplashLearn, used & loved by over 40 million learners worldwide, offers a highly structured program for little ones to explore their curiosity. With math and ELA programs, kids can explore in-depth programs with animated companions guiding them every step of the way. With courses designed with the help of experts, SplashLearn transforms Pre-K to grade 5 learning.
2. Papumba Learning Tools
Papumba is designed for kids between ages 2 and 7 and covers various topics through an interactive presentation. The app uses cartoons and animation styles to teach kids about pattern recognition, shapes, counting, spelling, etc.
Its design offers interactive exercises for kids to explore regardless of their age group. The app is accessible across platforms, giving kids the choice to learn on the go.
3. Math Tango
Math Tango incorporates storytelling and mathematics, allowing kids to learn about math engagingly. Through various missions, challenges, and games, kids can unlock new story directions by solving math puzzles. The app is also interactive by design and encourages kids to keep trying until they succeed. For kids who prefer sticking with math learning exercises, this application can help them continue learning for hours.
Get Started NOW!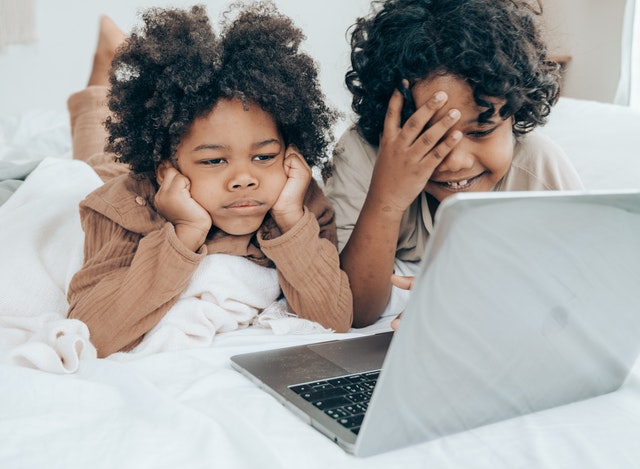 Kids who love animated shows, series, and cartoons, will love SplashLearn's exciting, gamified lessons.
Our games are designed for kids to make mistakes and learn independently in a non-judging and non-pressurizing way. Kids can choose the lessons they love and immerse themselves through games that help them level up. Whether it's geometry or adjectives, there's a lesson for every child.
Parents can sign up for free and check out the extensive library of SplashLearn courses here.
Have a question to ask? Send an email here.
Frequently Asked Questions
What are educational shows for kids online?
Educational kids' shows online are a collection of animated series, live-action shows, and other forms of media focused on education-oriented material. They are typically designed to engage a specific age group and teach them critical skills lightheartedly. Kids are entertained for hours when they watch and participate in these educational shows, which is why they're growing in popularity as they go more digital.
How are kids shows educational?
Kids love watching engaging stories, interactive play, and educational content presented well. Kids also love participating in interactive dialogue, which is one of the biggest reasons the top shows are so popular. Kids shows are designed to teach essential skills such as coloring, spelling, and counting.
Q. What are the top educational programs on TV?
A. Some of the top educational programs for kids on TV are –
Sesame Street
Xavier Riddle and the Secret Museum
The Magic School Bus
Dora the Explorer
Blue's Clues
Odd Squad
Which cartoons are educational?
A. Many cartoons are educational by design. Some of them are –
Ask the StoryBots
Dinosaur Train
Little Einsteins
Wild Kratts
Molly of Denali
Can kids learn from watching TV shows?
Yes, educational kids' shows are designed to infuse storytelling with essential lessons. While these lessons can range from compassion & forgiveness to arithmetic & grammar, there is always a critical lesson interwoven in each episode.