Introducing your children to educational content doesn't have to be a dull affair. In fact, with the right resources, learning can be as entertaining as Saturday morning cartoons. This is where educational cartoons for kids come into play, blending vibrant animation with lessons that stick. But why exactly should you consider incorporating these animated series into your child's routine?
SplashLearn: Most Comprehensive Learning Program for PreK-5

SplashLearn inspires lifelong curiosity with its game-based PreK-5 learning program loved by over 40 million children. With over 4,000 fun games and activities, it's the perfect balance of learning and play for your little one.
Try for free
A study published in the International Journal of Computer Graphics & Animation (IJCGA) provides us with some insights. Researchers found that when primary school students were exposed to interactive learning materials, including animations, they showed a significant improvement in their ability to acquire knowledge and skills. The study highlighted that students were more enthusiastic and receptive to learning when engaging content, such as animations, was part of the teaching method.
We've curated a list of the best cartoons for kids that promise to make learning an adventure. These cartoons are more than just entertainment; they are a bridge to knowledge, designed to foster learning in a fun and engaging way.
Ready to transform learning into an adventure? Check out educational games and make every lesson a fun discovery-
Play here!
Related Reading: Best Animated Movies for Kids
13 Best Educational Cartoons for Kids: Smart Screens
Here are our top picks of educational cartoons for kids that you must check out:
1. Schoolhouse Rock
Schoolhouse Rock is a collection of educational cartoons to watch for a fun and musical way to learn. With its catchy tunes and memorable lyrics, this series has made topics like multiplication and American history stick in the minds of several generations. It's a classic approach to education that has stood the test of time.
Age Group: 6-12 years
Learning Topics Covered: Math, History, Grammar, Science
Animation Style: Traditional 2D animation
Keep the math magic alive after Schoolhouse Rock with interactive math games – fun for ages 2-11!
2. Super Why!
Super Why! is a series that combines fairy tales and literacy, where children learn to read through interactive storybook adventures. The show stands out for its educational value, making reading fun by turning it into a superhero adventure. It's a great way for kids to develop their reading skills and a love for books.
Age Group: 3-6 years
Learning Topics Covered: Reading, Spelling, Phonics
Animation Style: 2D digital animation with bright, storybook visuals
Turn reading into a superpower with online phonics games. Designed for ages 3-6 years, these games complement the literacy skills learned in Super Why! and make reading an interactive adventure.
3. Sesame Street
Sesame Street has been a cornerstone in children's television for decades, using a mix of live-action, puppetry, and animation. It's a go-to series for parents and educators alike, making it one of the most popular cartoons for learning english. The show covers everything from numbers and letters to social skills and emotional well-being, all through its beloved cast of characters.
Age Group: 0-6 years
Learning Topics Covered: Literacy, Numeracy, Social Skills, Emotional Intelligence
Animation Style: Combination of live-action, puppetry, and animation
Love the learning on Sesame Street? Continue the fun with literacy games!-
Related Reading: How To Teach Social Skills To Kids
4. Magic School Bus
Hop on board the Magic School Bus for an extraordinary ride with Ms. Frizzle and her eager class of students. This animated series takes children on wild adventures into space, under the sea, and even inside the human body, making it one of the best kids cartoons for exploring the wonders of science and nature. Each episode is a new journey into a scientific concept, brought to life with humor and imagination.
Age Group: 6-10 years
Learning Topics Covered: Science, Nature, Technology
Animation Style: Traditional 2D animation
Related Reading: Best Science Activities
5. Numberblocks
Numberblocks is an engaging and imaginative animated series that brings numbers to life through colorful characters who join together to solve mathematical problems. Each episode is a vibrant adventure that encourages children to discover the joy and fundamentals of mathematics. The characters, each representing a number, combine in various ways to demonstrate how numbers work, from simple counting to more complex operations.
Age Group: 3 to 6.
Learning Topics Covered: Basic arithmetic (addition, subtraction), counting, number recognition, sequences, patterns, and introductory geometry.
Animation Style: 2D characters
6. Dora the Explorer
Join Dora the Explorer, a beloved character in English cartoons for kids, as she embarks on quests filled with learning and discovery. Dora's adventures are interactive, asking viewers to solve puzzles. It's an engaging way for children to develop their language and problem-solving skills.
Age Group: 2-7 years
Learning Topics Covered: Language, Problem-Solving, Cultural Awareness
Animation Style: Bright and colorful 3D animation
Related Reading: Best Problem Solving Activities for Kids
7. Cyberchase
Cyberchase is an animated series that takes children on adventures in a digital universe, teaching math and problem-solving skills along the way. As kids follow the heroes trying to thwart the villain, they encounter puzzles and challenges that require them to use their math prowess to save the day.
Age Group: 8-11 years
Learning Topics Covered: Mathematics, Problem-Solving, Logic
Animation Style: Stylized 2D animation
Related Reading: Best Math Puzzles for Kids
8. Blue's Clues
Blue's Clues is a playful interactive show that stands out among academic cartoons for its unique approach to problem-solving and critical thinking. Children join the host and the animated dog, Blue, in searching for clues to solve the day's puzzle. It's a hands-on experience that encourages active participation and observation.
Age Group: 3-5 years
Learning Topics Covered: Problem-Solving, Logic, Observation
Animation Style: Live-action combined with 2D animation
9. Sid the Science Kid
Sid the Science Kid uses humor and curiosity to get kids excited about science. This show is perfect for cartoons for discovering the world of science. Sid and his friends teach children to ask questions and how to seek answers, fostering a scientific mindset from a young age.
Age Group: 3-6 years
Learning Topics Covered: Science, Inquiry, Exploration
Animation Style: CGI animation with a unique, vibrant look
Related Reading: Easy Science Experiments for Kids to Enjoy & Learn
10. Octonauts
One of the engaging kid cartoon shows that combines action with education. This team of underwater explorers introduces children to marine biology and the importance of teamwork, making it one of the more dynamic children cartoons focused on environmental science.
Age Group: 4-8 years
Learning Topics Covered: Marine Biology, Ecology, Teamwork
Animation Style: 3D animation with colorful underwater landscapes
11. Little Einsteins
Little Einsteins is a harmonious blend of classical music, famous artworks, and global culture, making it a unique choice for children cartoons that inspire creativity. Each episode is a mission that integrates artistic and musical elements into the storytelling, encouraging kids to appreciate the arts.
Age Group: 3-6 years
Learning Topics Covered: Music, Art, Culture, Geography
Animation Style: 2D animation with real images of artworks and musical scores
12. Bill Nye the Science Guy
Bill Nye the Science Guy is one of the good cartoons to watch for children eager to understand the world of science. With a mix of live-action and animation, Bill Nye uses fun experiments and clear explanations to engage children in a wide range of scientific topics. His enthusiasm turns complex science into captivating lessons.
Age Group: 7-12 years
Learning Topics Covered: General Science, Experimentation, Environmental Issues
Animation Style: Live-action with animated segments
13. Wild Kratts
Join the Kratt brothers in Wild Kratts, an adventurous show that dives into animal science and the importance of biodiversity. It's an animated series where two brothers explore wild habitats, meet exotic animals, and learn about the unique abilities of the animal kingdom.
Age Group: 6-10 years
Learning Topics Covered: Zoology, Ecology, Conservation
Animation Style: 2D animation with live-action segments
Take the visual learning experience to the next level with engaging games- Sign Up for Free!
The Science of Learning Through Animation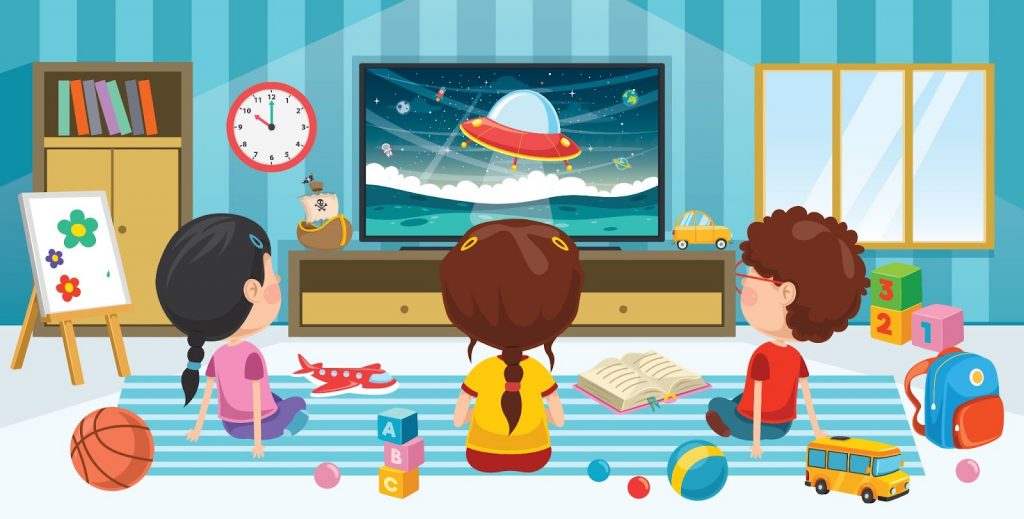 1. Visual Learning Enhancement: Kid cartoons engage them with vivid imagery and motion. The IJCGA study highlighted that students who learned with the help of animations were more engaged and understood complex subjects, like the solar system, better than those who didn't.
2. Improved Test Scores: According to the study, children exposed to educational animations performed better in assessments. For instance, a significant number of students who learned through a blend of traditional teaching and animations scored between 11-15 out of 15 on a test, a notable improvement over traditional methods alone.
3. Increased Engagement: The research found that cartoons for little kids can lead to higher enthusiasm for learning. When animations were used, students were more eager to watch and learn, indicating that kid cartoon shows can be a powerful tool for capturing and maintaining children's attention.
4. Blended Learning Success: The study's blended learning approach, which combined animations with teacher instruction, was particularly effective. It showed that integrating kid cartoons into the learning process could enhance the traditional educational experience, making it more interactive and beneficial.
By incorporating these points from the IJCGA study, we can see the tangible benefits of educational cartoons in a child's learning journey. Kid cartoon shows are more than just a pastime; they're a bridge to better understanding and retention of educational content.
Conclusion
To wrap it up, these educational cartoons for kids are great for learning and fun to watch. They teach important stuff like reading, science, and math in a way that feels like play. Kids can go on cool adventures and learn new things without even realizing it. So, next time your kids are watching cartoons, they could also be learning big ideas and having a blast at the same time.
Frequently Asked Questions (FAQs)
Can educational cartoons improve my child's academic performance?
Educational cartoons for kids can positively influence academic performance by making learning fun and engaging. They often reinforce language skills, mathematical concepts, and scientific inquiry, laying a foundation for classroom learning.
What should parents look for in a quality educational cartoon?
Parents should look for cartoons that have a clear educational goal, age-appropriate content, positive messages, and interactive elements. It's also beneficial if the cartoon encourages critical thinking and problem-solving.
How much screen time should be allotted for educational cartoons?
The American Academy of Pediatrics recommends no more than 1 hour of high-quality programming for children ages 2 to 5 years per day. For older children, it's about balancing screen time with other healthy activities. Even educational content should be consumed in moderation.