Art activities are a great escape for kids from the vicious cycle of school assessments and tests. It fuels their creative hunger. Additionally, it allows them to express, explore and create. Research shows that art is an integral tool of development for kids of every age.
It improves their motor skills and problem-solving abilities and develops patience. Moreover, such indoor activities for kids help unhook them from their mobile screens, which otherwise cause them more harm than good. This blog will give you a taste of all the fun art activities for kids.
So, get ready with your supplies and dive into the world of color splash!
Related Reading: 

How to Nurture Growth Mindset for Kids: A Complete Guide
30 Best Art Activities or Project Ideas for Kids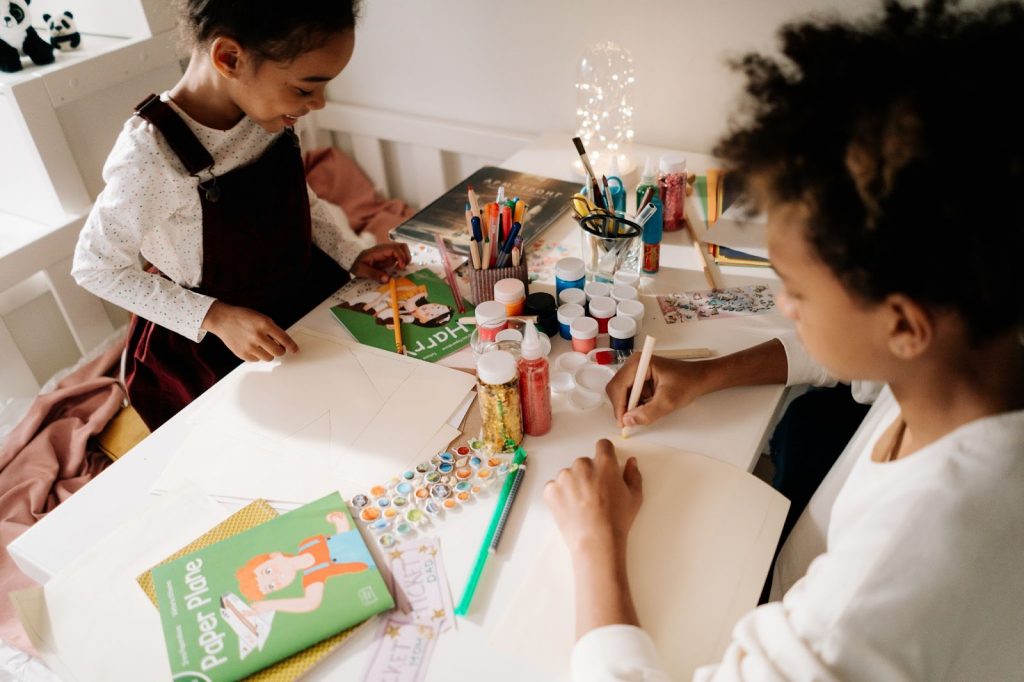 The more age-appropriate the activities are, the more benefits and fun they promise. From crayon drawing ideas to recycled art, the list has everything you are looking for!
Art Projects for Elementary Students
1. Melted Crayon-Stained Glass Art
A top-notch art activity that's easy and loved by kids.
Ideal Age Range: 6-9 years
Materials Required: A box of crayons, sketch pens, wax paper, and an iron.
Instructions: Collect some old crayons and grate them to produce crayon shavings. Take a piece of wax paper, fold it into two parts to create a crease, and unfold. Use the crayon shavings to fill the desired shape on the wax paper. Sandwich the crayon shavings between the two folds.
Now, place a newspaper on the surface of the iron stand and also above the wax paper. Slowly run the iron over the paper. The newspapers will soak the oils from the crayon shavings, and Tada! Your art is ready! You can add more colorful dimensions by using sketch pens.
SplashLearn: Most Comprehensive Learning Program for PreK-5

SplashLearn inspires lifelong curiosity with its game-based PreK-5 learning program loved by over 40 million children. With over 4,000 fun games and activities, it's the perfect balance of learning and play for your little one.
Try for free
2. Citrus Fruit Printmaking
Making art prints with citrus fruits like orange, grapefruit, lemon, etc., is a fun way to engage students and bring out the artist in them.
Ideal Age: 5-6 years
Material Required: 2-3 citrus fruits of your choice, paints, drawing sheets, paint brushes, a palette, and a knife
Instructions: Cut each citrus fruit into two halves (Parents/ Teachers are advised to do that). Now squeeze out all the juice gently, as it saves the activity from turning messy. Now, ask the kid to load their favorite color paint using the paintbrushes on the pulp side.
Stamp the different colors on the sheet one by one to create beautiful prints. Kids can also stamp them on a cotton cloth for homemade gifting purposes.
3. String Art
These fun art project ideas for kids help them learn mathematical concepts like geometry and fractions. Learning math in a fun way is always welcomed by kids!
Ideal Age: 7-10 years
Materials Required: A square wood craft frame, finishing nails, hammer, pencil, ruler, and 2-3 colored yarn or strings.
Instructions: On the frame, measure and draw a square exactly halfway between the frame edges and opening. Create equally spaced marked points using a pencil in the square fence and hammer the nail at each marked dot.
Parents/teachers should perform the hammering part under their surveillance. Now, it's time for kids to cut out colorful strings and make shapes by tying the string/yarn around the nails.
4. Mystery Grid Art Challenge
Looking for a brainy and fun math game for kids? Look nowhere!
Ideal Age: 5-8 years
Material Required: Few printouts of mystery grid challenge sheets, a pencil, an eraser, and scissors.
Instructions: You or some other kid will draw a picture on one of the grid sheets. Keep this picture a secret from other kids. Then, cut out all the grids as small squares and pile them up by the unused side above. Now hand over the other fresh grid sheets to the kids.
Ask them to pick each small square one by one and draw the pattern shown on the corresponding grid on their sheet. This way, they will have the challenge to complete the picture piece-by-piece.
5. Egg Carton Flowers
Before you discard empty egg cartons, try giving a shot at this cool and fun activity!
Ideal Age: 5-8 years
Materials Required: Egg carton, acrylic paints, pom pom, paper straw, scissors, glue, and a paintbrush
Instructions: Carefully cut out four containers from an egg carton. Trim them accordingly to give the shape of the petals of a flower. Paint the cut out using different colors. Attach the paper straw to the stem of the flower. Choose a colored pom-pom and paste it at the center of the painted egg carton. Your recycled flower is ready!
6. Paper Weaving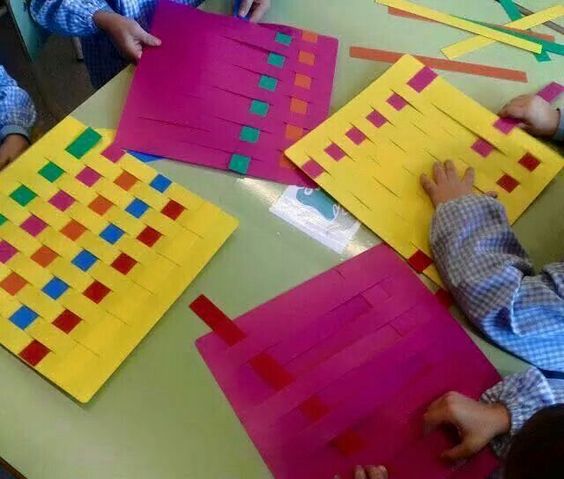 It serves as a fine motor skill activity for younger children using waste papers at home.
Ideal Age: 5-9 years
Material Required: Paper weaving cutting template, old newspapers, colored papers, scissors, and a ruler
Instructions: Adults should prepare the weaving cutting template using a paper cutter. Let the kids cut out many long paper strips of the same width. Ask them to pull the strips over and under the slots one by one to create this best-out-of-waste masterpiece.
7. DIY T-shirt Sun Painting
Try this activity on a sunny day and let the kids' creative side shine!
Ideal Age: 6-10 years
Materials Required: A plain white T-shirt, acrylic paints, solid items to create impressions, and a paintbrush
Instructions: Submerge your T-shirt in water and squeeze it once gently to remove the excess water. Water down the paints in a 3:2 ratio. Next, place the shirt under the Sun on a hard surface.
Start arranging the solid items on the T-shirt to create a blueprint of your desired design. Spray the paint slowly on the T-shirt and let it dry. You will be amazed to see the magic of the Sun and paints!
8. Pressed Flowers
Do you know that your kids' creative streak can adorn the walls of your home?
Ideal Age: 5-7 years
Materials Required: Some flowers such as pansies and violets, a heavy book, white sheets, and a few heavy objects
Instructions: Trim the flowers' stems and place them flat on the middle page of a heavy book. Make sure to cover the flowers with a white sheet. Carefully close the book and place a heavy object like a brick over it.
Leave it for a few days. Remove the delicate flowers to see the beauty! You can get it framed and let it add to the beauty of your home.
9. Funky Painted Rocks
These painted rocks make a cute DIY gift for your kids' friends.
Ideal Age: 6-9 years
Materials Required: Few smooth rocks, acrylic paint, paint markers, white spray primer, and fine line black pen
Instructions: Try collecting some smooth rocks from a park nearby. Be cautious because most rocks are sharp and may hurt the kid in the process. Apply white spray primer on the rocks and let them dry. Paint the base color using acrylic paints. Do the detailing as per your kids' choice.
10. Water Bottle Wind Spirals
One of the most loved projects by mothers, empty water bottles can set out some engaging activities for your little ones.
Ideal Age: 6- 10 years
Material Required: Empty plastic water bottles, permanent markers in different colors, scissors, and some stickers.
Instructions: Wash all the empty bottles thoroughly and allow them to dry. It's time for the little ones to color them with their favorites and add all the desired detailing. Remove the flat edge of the bottle. Snip around from bottom to top to create a spiral.
Add some cool stickers to elevate the design. Voila! Hang them from a slender tree branch on your lawn and feel in awe of the colorful wind spirals.
Related Reading: 

After-School Activities for Kids to Stimulate Their Minds
Fun Art Activities for Kids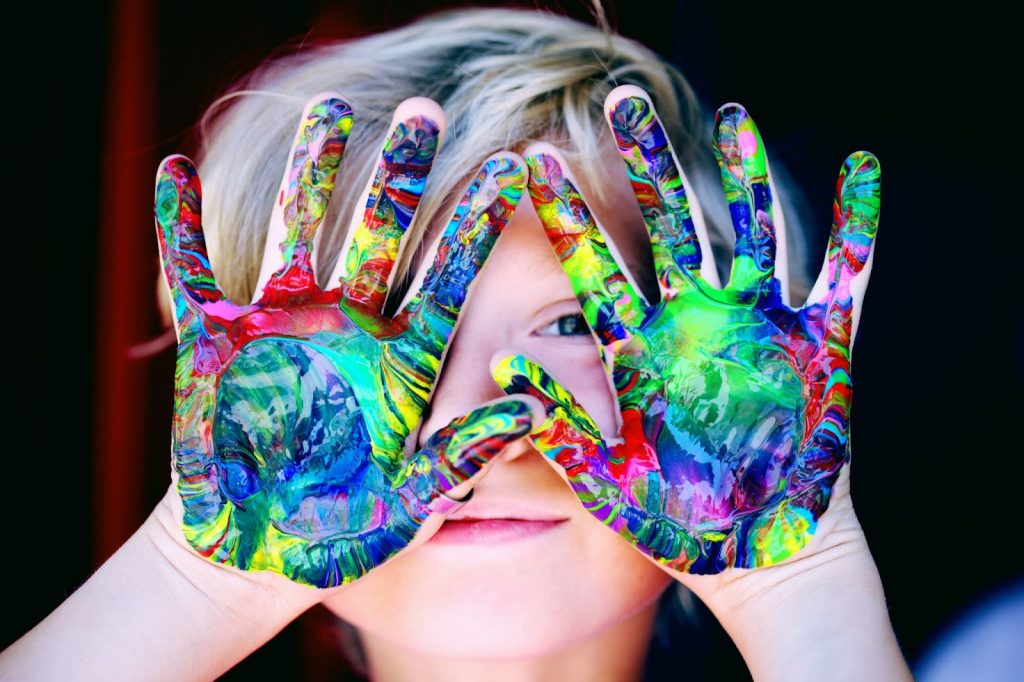 11. Feather Painting
A popular art activity amongst all kids, feather painting is worth all your time. An exciting painting idea for kids!
Ideal Age: Suitable for all junior school kids
Material Required: Large white feathers, gel food coloring, paint brushes, and paint pens.
Instructions: Drop some gel coloring on white feathers and spread using paint brushes. Try the same with different colors of your choice. Rinse the sticky color to leave the stain. Let it dry to see the colorful haven.
12. Pasta Necklace
Making a fashion statement with pasta on your neck? Don't miss this fun activity!
Ideal age: 5- 7 years
Material Required: A bowlful of penne pasta, acrylic paints, scissors, and strings
Instructions: Paint the penne pasta with colors of your choice. Choose 3-4 different colors to make the necklace more vibrant. Take a string commensurate to your kid's neck size and attach beads in a sequence. Experiment with designs, and the high-end necklace is ready to rock!
13. CD Fish Aquarium
Every house has a carton full of old CDs. The best way to use them is to create a school of fish.
Ideal Age: 6-9 years
Material Required: Few Old CDs, tissue paper, construction paper, bubble wraps, straws, scissors, permanent markers, googly eyes, tape, and a glue
Instructions: To make a fish, use permanent markers to draw fish detailing on the CD. Cut the fins using tissue paper and set them accordingly with glue.
An aquarium can be made using big-sized construction paper, with bubble wraps and plastic straws to depict rocky bottom and corals, respectively. You are free to show extra creativity to make the perfect aquarium.
14. 3D Portrait
3D elements are a great way to elevate the art activity session at your home.
Ideal Age: 6-8 years
Material Required: Colorful crepe sheets, cardboard, pencils, and glue.
Instructions: Take used cardboard and draw the desired portrait or scenery with a pencil. Ball up pieces of crepe paper and paste them neatly on the cardboard. Your 3D portrait is ready!
15. Ice Painting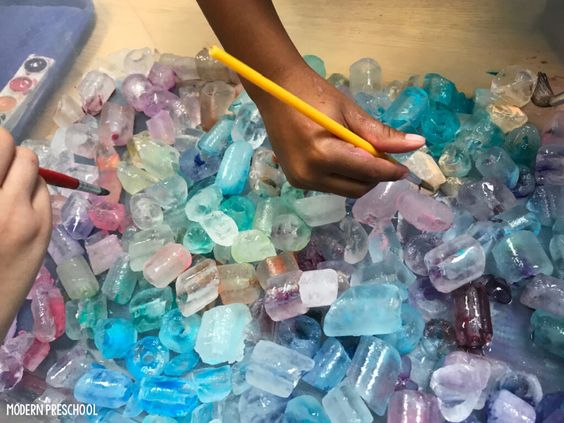 A really fun activity where the ice cube is your guest of honor.
Ideal Age: 6-10 years
Material Required: 1 cup of water, four colors of food coloring, short popsicle sticks, and an ice cube tray
Instructions: Take an ice tray and fill them with water. Add a few drops of each color to each cube mold and mix them well. Insert the popsicle in each cube mold and freeze them for 4-6 hours. Take the tray out, and then start experimenting with your new ice color sticks.
16. Illustrated Dictionary Pages
It's time to let knowledge mix with some art and let your kids have all the fun!
Ideal Age: 7-9 years
Material Required: Old dictionary to tear out pages, soft pastels, colored pencils, ink pens, and a pack of crayons
Instructions: Tear out the pages from the old dictionary and choose what word your kid wants to illustrate. Brainstorm the ideas. Start with light sketching, then highlight them with ink pens and crayons. Enjoy your new sketch masterpiece!
17. Craft Stick Airplane
Bring back some nostalgia with your favorite and easy-to-make colorful airplanes.
Ideal Age: 5-7 years
Materials Required: Mini wooden craft sticks, Jumbo wooden craft sticks, wooden beads, cloth pins, markers, and glue
Instructions: Color all types of sticks and wooden pins with markers. To make an airplane, add glue in the middle of two jumbo sticks and a cloth pin between them to secure the sticks.
These are the wings of your airplane. The tail can be made using mini sticks with a bead stuck on them. Leave it for drying, and let the fun begin with your wooden airplane.
18. Umbrella Paper Plate
A really affordable art activity that kids will enjoy creating.
Ideal Age: 5-6 years
Materials Required: Paper plates, blue beads, paint, white string, glue, black marker, markers, and scissors
Instructions: Cut the plate into two halves. On one of the horizontal bottoms, draw scallop designs using a pencil similar to umbrella scallops. Give your umbrella the best colors using paints or water markers. Now, take seven pieces of yarn of 10" each.
Tie 4-5 blue beads each year and secure them with a double knot. Paste these knots on the back side of your umbrella using glue or tape. Your Umbrella Paper Plate is done!
19. Handmade Tiles
Get ready to be in awe of your kid's hand-crafted treasure!
Ideal Age: 4-7 years
Materials Required: ½ cup water, ½ cup flour, ¾ cup salt, a mixing spoon, bowl, rolling pin, acrylic paint, and paintbrushes.
Instructions: Mix flour, water, and salt in a bowl and knead it for 2 minutes. Make a dough and roll it into a square shape to make a tile. Create impressions on the soft dough using a sharp object. Highlight the borders with a pencil and leave it to dry in the sun. Once the tile is dried, load them with your favorite color paints.
20. Water Color & Oil Pastel Resist Snowflake
Oil Pastels are one of the best materials for resist art. Kids can create some gorgeous art using a combination of watercolors and oil pastels.
Ideal Age: 4-5 years
Materials Required: Watercolor paints, white oil pastel, watercolor paper, water, and paintbrush
Instructions: On watercolor paper, draw a snowflake using white oil pastel. Dip the paintbrush in water and start applying watercolor paints. It is recommended to use softer colors like baby pink and icy blue to make the snowflake look more appealing. Dampen the paper with a sponge and see how magical the snowflake looks!
Related Reading: 

How to Make Gardening With Children Fun and Educational
Easy Art Activities for Kids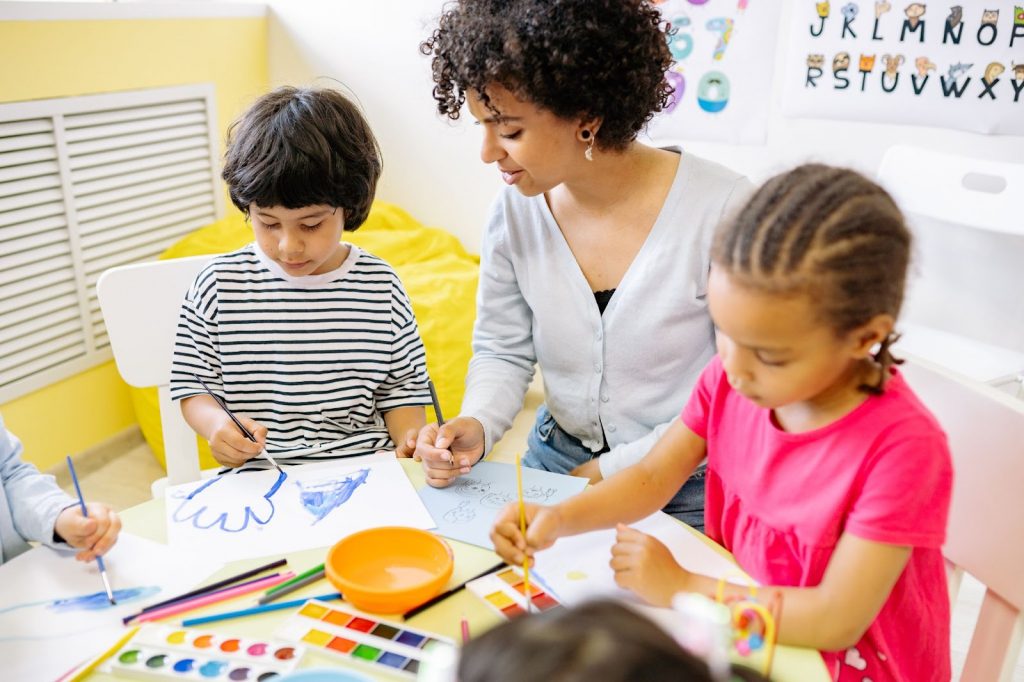 21. Winter Tree Finger Painting
This simple art activity is enjoyed by pre-schoolers the most. It is also a great fine motor exercise.
Ideal Age: 3-4 years
Material Required: A sheet of blue paper, white paint, and a black marker/brush.
Instructions: Draw a branched tree on a blue sheet of paper using a black marker or paintbrush. Let your child stamp their fingers in white to create a beautiful snow-covered tree.
22. DIY Love Card
This is probably the easiest art that kids love to make, especially for their parents, friends, and teachers. This is among the easiest activities for preschoolers!
Ideal Age: 2-5 years
Material required: A-4 size-colored sheets, crayons, pencils, scissors, and glue
Instructions: There are no hard and fast rules for this one. Let the kids get creative with whatever patterns they would want to depict love with. A protruding paper heart, a string heart, I love you in sign language, pencil sketches, etc., could be some great kids' art ideas to start with. For having more ideas, pattern games can help the kids.
23. Mosaic Artwork
The next masterpiece by your kid is ready to rock the living room walls.
Ideal Age: 3- 5 years
Material Required: Pages of old magazines, newspapers, glazed papers, pencils, and glue.
Instructions: Draw a scenery on a drawing sheet using a pencil. Ask kids to tear small pieces of magazine pages, newspapers, colored papers, etc., and collect them in a bowl. Glue them carefully on the scenery to complete the artwork.
24. Tie and Dye Bookmarks
This is an easy and fascinating art using sharpie markers, giving some excellent results.
Ideal Age: 4-6 years
Material Required: An opaque material (milk jug, juice jug, etc.), sharpie fine-tip markers, rubbing alcohol, medicine dropper, ribbon, decorative bead, scissors, and hole punch.
Instructions: Cut the opaque material in the regular bookmark dimensions. Color your bookmark with markers as you like. Fill a dropper with rubbing alcohol and start dipping tiny drops on the bookmark. Observe the heavenly colors blend and fuse. Let the bookmark dry completely, and Tada! It's ready!
25. Sponge Painted Wrapping Paper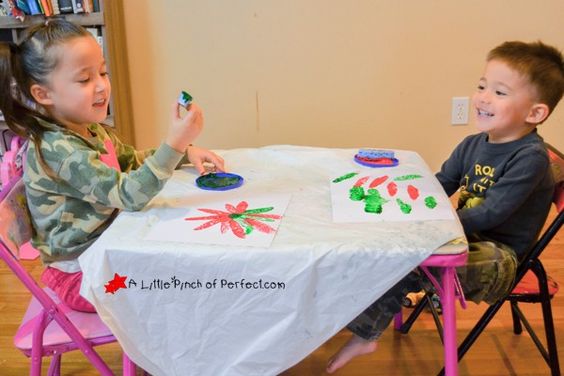 Bored of repetitive readymade gift wrappers? Try making a Reindeer wrapping with your kids for this Christmas.
Ideal Age: 4-6 years
Material Required: Circular sponge brushes; Green, Brown, and Red Paint, Brown/White paper, a black marker, red mini pom poms, glue, scissors, tape, and ribbons
Instructions: Dip the sponge brushes in the green paint and randomly dab on the brown paper. Repeat the same using red color. Use black markers to draw the reindeer's eyes and antlers. Stick red pom pom for Rudolph's nose. You are ready to wrap the Christmas gift for kids!
26. Milk Carton Birdhouse
Pair up the recycled milk cartons in your house to make this quick and fun activity for kids.
Ideal Age: 6-7 years
Material Required: Clean Milk carton, white paint, chipboard, glue, paintbrush, tissue paper squares, wooden spoon, and a knife.
Instructions: Coat the milk carton with white color fully so that the original colors don't shine from within. Ask your kids to paste tissue paper the way they like. Gently paint the tissue paper with glue to ensure all edges are glued down.
Cut the opening for the door using a knife (under parental guidance). Insert the handle of the wooden spoon to create perch. Create two small slits about 2'' apart and tie the twine securely by attaching a roof-type cardboard piece.
27. Button Art Tree
It's a great activity to keep your little ones busy in their upcoming vacation.
Ideal Age: 3-5 years
Material Required: A drawing sheet, a black/brown marker, a collection of colorful buttons, and glue
Instructions: Collect all sizes of colorful buttons. Draw a branched tree using a marker on a plain white sheet. Ask your kid to glue the buttons as per their imagination. Frame this golden art to preserve it.
28. Gelli Printing
Gelli pads are a tricky yet fun art activity to keep your kids engrossed on a playdate.
Ideal Age: 4-6 years
Material Required: A Gelli pad (buy it from Amazon or stationery), acrylic paints, nice quality paper, stamps, wooden popsicle sticks, bubble wraps, paper towels, paint and paint brushes
Instructions: Gently pull the plastic protective cover from the Gelli pad. Squirt a few drops of the desired color and roll the brayer over the paint to spread it evenly.
Press the stamps onto it to create designs. Lightly press down the pad until it feels flat. Starting with the bottom, pull the paper from the pad and adjust your design as needed.
29. Neurographic Art
It is a meditative drawing process that combines psychology and art. This type of drawing process helps relieve stress and improves the overall well-being of young minds.
Ideal Age: 7-10 years
Material Required: Drawing sheets, paint markers, black point markers, and pencils
Instructions: Ask children to draw freeform lines for three seconds using fine black point markers. On the intersecting lines, ask them to transform them into a smooth U-Shape. The lines could go from thick to thin or have a variety of weights to form neuro designs. Color them if needed.
30. Shake it up! – No Mess Art
A very interesting activity for pre-schoolers, Shake it up is all about shaking, wiggling, and giggling.
Ideal Age: 2-4 years
Material Required: A clean and empty jar (for example, a peanut butter jar), washable neon paints, dried beans, and a white card stock/heavy paper
Instructions: Cut the white card stock to fit into a jar. Add a couple of drops of 2-3 different neon paints at the bottom of the jar. Drop a handful of dried beans in the jar so much that it covers the bottom. Close the lid tightly.
The fun part begins… shake, move and roll the jar around. Carefully remove the painting from the jar and see the magical colors.
Related Reading: 

How to Make Gardening With Children Fun and Educational
Conclusion
The art activities for kids are a great way to keep your kids engaged in the fun during the weekends or, preferably, during their vacations. Every art activity is unique in its own way, but there's always some room for fun. Add your elements of laughs and creativity to make these activities a fun learning experience for the young ones.
Explore more online educational resources and printable worksheets for kids that will help with their learning experience and make them smarter.
Frequently Asked Questions (FAQs)
Do I need to assist my kid with every art activity?
Depends on the nature of the activity. If the art project involves the use of knives, paper cutters, or other supplies that may hurt the kid, a guardian should complete the project under his surveillance.
Can the art projects be done in a group?
Yes, most of them. The above easy art ideas for kids can be completed in a group of 2-3, except for activities like finger painting, button tree art, and other similar ones. You can assign a task or two to each kid and allow them to compile the project together. Essentially, art helps a common ground for children who may not know each other. It's a good get to know you activity for kids.
How much time do these art activities for kids require?
In general, most projects take between 30-60 mins to complete. However, in activities requiring complete drying, time may exceed depending on the weather. Moreover, the time will vary from kid to kid. The little ones may take longer than the elementary school kids.