Are your kids glued to their smart gadgets? Is it raining like cats and dogs, so your kids can't play outdoors? Then, it is the perfect time to grab art supplies because the perfect crafts for kids are here!
Making crafts will keep your kids busy and reduce their screen time. Plus, you can spend some quality time with your little ones while creating some DIY crafts.
Have a look at these 20 quick and easy craft ideas for kids that you can easily make at home.
20 Easy DIY Crafts for Kids
Clay Bowl
Let your kids get their hands dirty with clay and paints to make a cute bowl for your center table. It would help if you bought easy oven-baked clay and some watercolors for this craft idea. Allow your child to use their imagination to make a clay bowl and decorate it using vibrant colors.
Related: 15 enjoyable kids' activities for a whoopee time!
Pom-Pom Bouquet
There is nothing more fun than making pom-poms. Grab colorful yarns, folks, needles, scissors, and ribbons to execute this craft idea.
SplashLearn: Most Comprehensive Learning Program for PreK-5

SplashLearn inspires lifelong curiosity with its game-based PreK-5 learning program loved by over 40 million children. With over 4,000 fun games and activities, it's the perfect balance of learning and play for your little one.
Try for free
Wrap 3 inches of yarn around folk, tie it in the center and cut edges to form a pom-pom using scissors. Create several colorful pom-poms and use a needle to tie them all together to form a bouquet.
See this video & make beautiful pom-poms from wool!
Related: 20 artsy Christmas crafts that are easy to make at home
Dough Shapes
This craft for kids is educational and therapeutic for adults. All you need is flour, water, and salt to make this craft.
When your kids mold the dough into different shapes, it will strengthen their hand and finger muscles. Additionally, you can teach them different geometrical and animal shapes while having fun with dough.
Origami Chatterbox
Origami chatterbox is a fun craft idea for kids. It is the easiest craft for which you need A4 size paper, scissors, and a pencil.
Form a triangle using the paper and cut extra edges. Open the triangle and fold the opposite corners together. Open it again to fold each point of the square into the center. Now, flip the fortune teller in half and slip your finger and thumb under its flaps to tell your kid's future. You can add funny future predictions on the different flaps using a pencil.
DIY Sticker Book
Who doesn't like cool stickers? Give sketch pens, scissors, glue sticks, and a plain notebook to your kid, and let them draw different stickers and paste them into an empty notebook to create a personalized sticker book. You can also get stickers of different characters from their favorite books and movies to make it more interesting for your kids!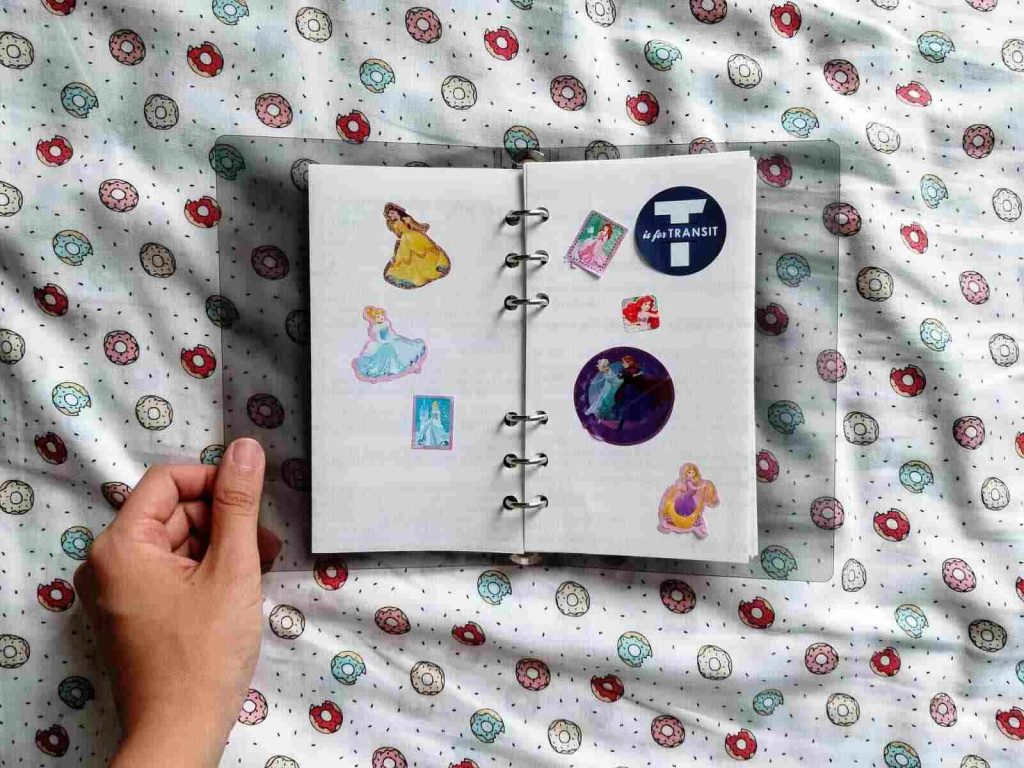 Counting Stick
If your kids are still learning to count, then this craft can help them learn numbers in a fun way. It would help if you had popsicle sticks and glitters to make this craft.
Draw circles on popsicle sticks using glitters so your kids can count circles and tell a number. It is a fun and tactful way to teach counting to toddlers.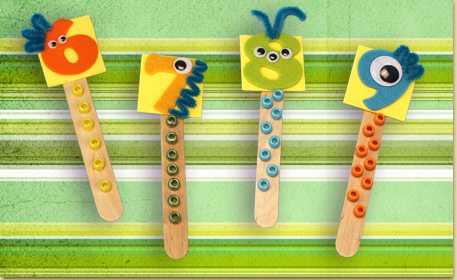 Related: 10 fun & unique Thanksgiving crafts for your kids
Milk Jug Watering Can
If you want your kids to develop gardening as a hobby, this simple craft idea can help. You need to grab a waste milk bottle from the garbage and prick a few holes in the bottle's cap. Now, fill the bottle with water and ask your toddler to water plants in your backyard.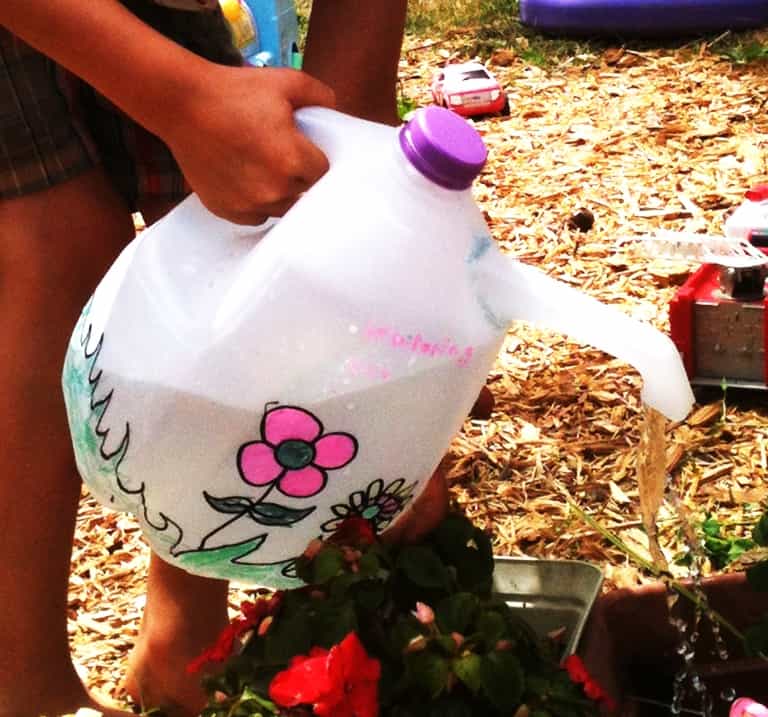 Garden Pinwheels
This is another craft idea for kids to connect them with nature. For this craft, recycle your kids' old drawings into pinwheels.
To make pinwheels, you need to help your kid cut a paper in half from all four sides. Using the pin, take the edges of the paper to pin them in the center and glue the pinwheel to a stick to place in your garden.
Painting with Old Cars or Trains
This craft idea is super fun and messy. First, make your kids wear old clothes to have great fun with colors.
Lay down a big paper piece on the floor. Splash watercolors on a tray and dip your kid's old car or train toys in the paint to run on the paper. If you forget the mess part for a moment, your entire family will have blast racing cars and creating abstract art.
Fabric Covered Paperweight
Your kids can use this craft to organize their desks and pass their time. All the things to make this craft are available in your home – fabric, small rock, scissors, and a hot glue gun.
Help your kid cut straps of fabric using a scissor. Then, cover the rock with fabric straps and decorate it with different embellishments to make a cute paperweight.
Hand Stitched Card
Card making is a popular craft for kids. But you can jazz it up a bit using hand stitching. Ask your kids to cut a shape out of paper like a flower or an animal to make a card.
Next, use a small punch hole to punch holes in the border of the paper. Use embroidery floss or yarn to stitch holes. You can also use vintage buttons to decorate your card.
Related: 23 free & fun coloring pages for kids to foster creative development
Paper Bag Monster
This is the most affordable craft for kids. All you need is a waste paper bag, colorful papers, and other embellishments. And let them use their imagination to turn a paper bag into a scary monster.
Paper Plate Fish
As the name suggests, you need old paper plates to create this simple craft. To make this craft, your kids need to cut a triangle shape from the half side of a paper plate and stick it to the other side to form a fish's tail. After that, they can use colors, googly eyes, and other things to decorate the fish.
Paper Roll Dragon
Your kids can create a cool dragon using the waste toilet paper roll. Kids can paint toilet paper rolls into furious dragon colors like red, yellow, and orange. Later they can use googly eyes, pom-poms, and colorful paper strips to give a character to the dragon.
Paper Plate Dream Catchers
This is another paper plate-based craft for kids. For this craft idea, help your kids cut the center of the paper plate and make crisscrosses using yarn instead. Now, attach bird feathers to the base of dream catchers. Further, they can use colors and beads to decorate the dream catcher.
Salt Painting
All you need is salt, watercolors, and paper to make a salt painting. By mixing salt with watercolors, your kids can create a unique salt painting at home. Once your kids create the painting, just put it under the sunlight for water to vaporize and create a unique grainy texture.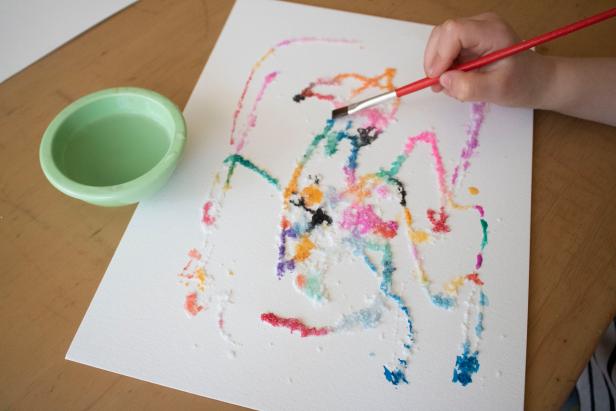 Magic Wand
If your kid is a big fan of magic and witches, you can pick a stick from your garden to make a magic wand for your little one. You can use colorful paper, pom-poms, and other magical embellishments to decorate the magic wand for your little magician at home.
Leafy Friends
You can take your kids to a local park or your backyard to pick some dry leaves. Then, please give them a sketch pen to draw faces on leaves, make cute leafy friends, and place it in their books as a bookmark.

Here's a video to paint ten leafy faces:
Dye Old T-shirts
If your kids are big enough to handle fabric colors, let them be creative with your old t-shirts and colors. However, take your kids outside for this craft to prevent your expensive furniture from color treatment.
Pen Holders
You must have broken or old coffee mugs lying around. So, give those mugs and art supplies to your kids to decorate a cute pen holder.
Watch this to see how:
Let's Start Crafting
Making crafts is an essential part of your child's cognitive development. It helps to channelize their creativity and imagination to create something different and new.
Thus, if your kids are free at home, use this opportunity to teach a new craft to them. We have already shared 20 easy and pocket-friendly crafts for kids. So, don't wait up and start crafting with your kids.
Explore more online educational resources for kids that will help with their learning experience and make them smarter.
Frequently Asked Questions (FAQs)
Why is craft important for kids?
Crafts help to stimulate creativity and improve hand coordination among kids. It gives them a sense of pride that they have created something unique. Also, crafts help to keep kids busy and away from screens.
How to select craft ideas for kids?
You should select craft ideas for kids based on three things — affordability, ease of creation, and learning factors. A perfect craft is something simple and provides some value to kids.
What types of crafts are good for toddlers? 
For toddlers, select craft ideas that don't involve scissors or watercolors. Crafts like Paper bag monsters or counting sticks are perfect for toddlers.