Christmas is all about spending time with family and friends and creating wonderful memories that will last a lifetime. Children love Christmas but keeping them engaged in the house all day can be a bit challenging. Don't worry because with these easy Christmas crafts for kids, they can have a constant source of entertainment!
So, we're here with the best way to keep kids engaged – Christmas crafts! Let's look at 20 simple Christmas crafts for kids that you can enjoy making with them.
Easy Christmas Crafts For Kids to Make the Christmas Jolly
1. Bags With Snowflakes
You can carry this bag anywhere you want.
Materials Required: Rubber stamps and paper bags
To Make: The easiest way to produce snowflakes is to use snowflake rubber stamps available in any departmental store. Use shades of blue like light blue, dark blue, and white ink to imprint them on the front of brown paper bags. Make two holes on the top of the bag with a small round hole punch. Thread a length of red and white baker's twine through the holes and tie it off.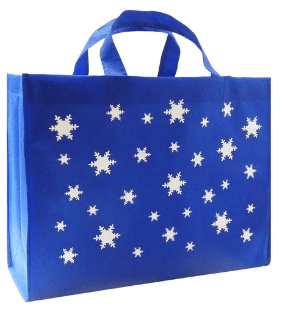 Also Read: 

Cheerful Christmas poems and carols for a mistletoe-y festive spirit
2. Thumbprint Ornaments Of Reindeer
With the cute reindeer ornament that doubles as a sweet childhood remembrance, you can freeze your kids' tiny fingerprints forever! These would be wonderful homemade Christmas gifts for grandparents.
Materials Required: Colours and paper
To Make: You can easily make this with your toddlers or kids who are still too young to use glue and scissors. Take the impressions of your toddlers on paper and make a reindeer on the thumb by drawing.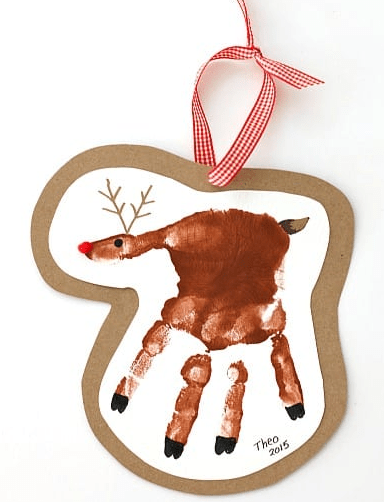 3. Christmas Tree With Handprints From Family
This family tree version is a wonderful way to incorporate the entire family.
Materials Required: Colourful papers, scissors
To Make: All you need to do is take impressions of hands from the eldest member of the family to the youngest one. Arrange them in ascending order and glue them.
Related Reading: 

Fun Christmas Activities for Family to Try This Year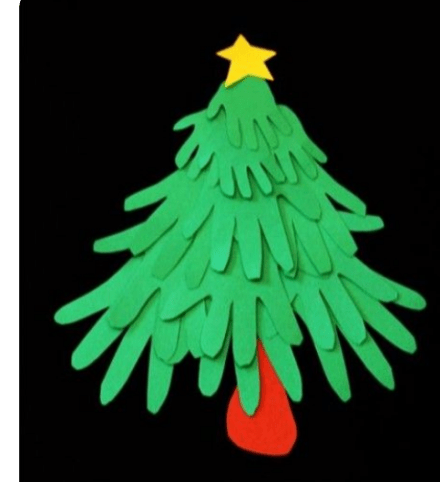 4. Wreath Made Of Tissue Paper
These wreaths are simple to create and inexpensive, and they make wonderful homemade Christmas gifts for grandparents.
Materials Required: Some colorful tissue papers and pompoms
To Make: Just arrange the tissue papers in the form of a wreath and decorate it with some sequins and pompoms.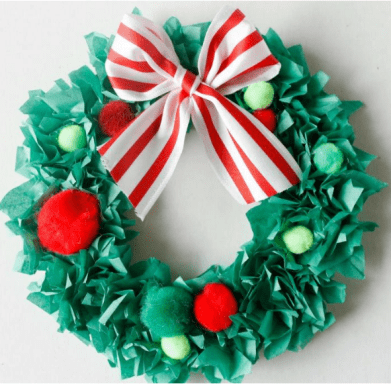 5. Jingle Bells All The Way
This is a wreath with a twist.
Materials Required: Lots of Christmas bells and a ribbon
To Make: Thread three lengths of ribbon with huge jingle bells and knot one end of the ribbon. Tie the unknotted end of the ribbon around a miniature wreath to form or a circle of wire. Attach a tiny bunch of seasonal greenery to the wreath or ring made with wire. Tie a big bow and attach it to the wire immediately above the plant with hot glue.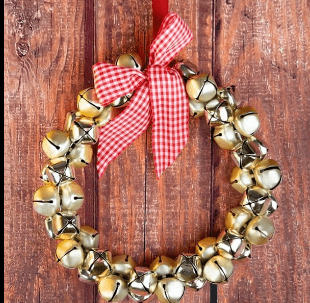 6. Candy Ornaments Made Of Felt
If your family is a dessert lover, this is perfect for your kids to prepare. Let them make these in various arrangements, as felt candy ornaments come in various sizes and forms.
Materials Required: Felt candies
To Make: These treats are just like a splash of colours in the eyes and they are amazing. Just use the candies and make shapes as you like.
You can combine felt candies of different colors, like red and white, take them together, and twist them. Bend the end to make the handle of the cane, and Voila! Now, you can make your own Christmas decorations with felt candies.
Related Reading: 

Best Christmas Decoration Ideas for This Year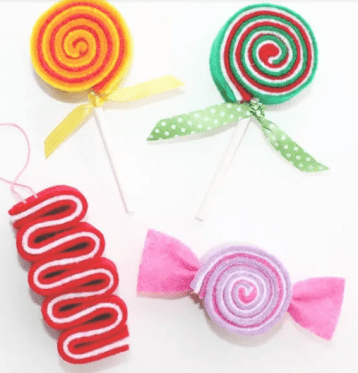 7. Tree Made Of Tin Cans
Do your youngsters enjoy putting bricks together? If that is the case, your kids are going to love this craft. This craft is one of the easiest to make, but it is very fun at the same time.
Materials Required: Empty tin cans and some decorative items of your choice
To Make: Remove any sharp edges from old food cans and paint them green to repurpose them.
Arrange the cans on top of one another and decorate them with sequins, pompoms, and ribbons to complete the look.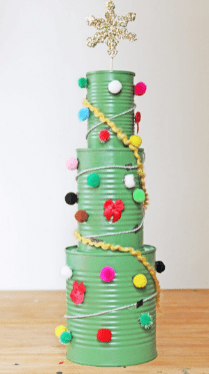 8. Cloche With Dinosaurs
This adorable cloche, which features a fashionable gold dinosaur and a painted pinecone, is easy to make and give as a present.
Materials Required: Empty glass can, a dinosaur, and a pine cone
To Make: Assimilate the materials as seen in the given picture and enjoy.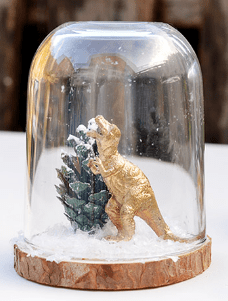 9. Ornaments With Beaded Snowflakes
These elegant and lovely snowflake ornaments make for some wonderful DIY Christmas crafts for kids that can be used as a present, as well! They're very easy to make and just require a few basic items!
Materials Required: Snowflake-shaped beads, gum, and some wire
To Make: Make any jewelry of your choice, like earrings and wristbands, and give your kids the look of Elsa from Frozen. These can be made by children as young as toddlers, though smaller children will require adult aid in bending the wire ends.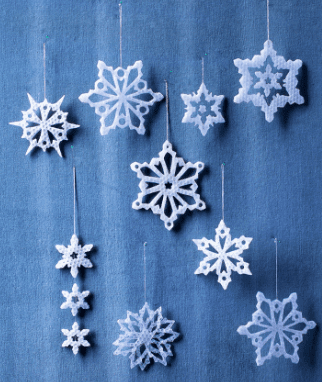 10. Christmas Slime With Peppermint
It's a great way to incorporate Christmas colors and scents into your slime-making!
Materials Required: Peppermint of red, green, and white color
To Make: Mash the peppermints and make slime out of them. Also, don't forget to make different shapes that are attractive to look at. With its stunning green and red sparkles, this slime recipe is a great science and sensory exercise for youngsters.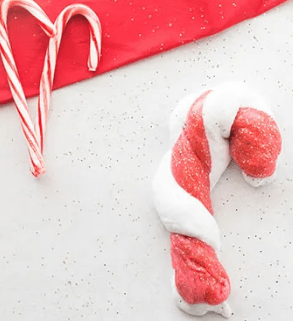 11. Ornaments With Glitter
These glitter ornaments are easy to make and will add a little glitz to your tree.
Materials Required: Colourful balls and lots of multicolored glitters
To Make: Fill clear plastic ball decorations with a variety of colored glitter confetti. To create the illusion of snow, use white glitter. Decorate the Christmas balls with glitter and add some sequins and cut-outs to them to make them look even more attractive.
Related Reading: 

Cheerful Christmas Poems & Carols for Kids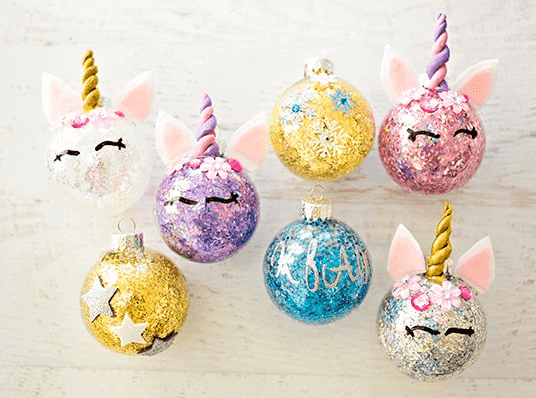 12. Christmas Art With Salt Painting
This is a perfect blend of Christmas arts and crafts for kids and is suitable for children of all ages.
Materials Required: Salt, paint, and some tape
To Make: Use tape to create a design, and then paint around it, salting the wet paint as you go. Once the tape and salt have dried, remove them to see your masterpiece.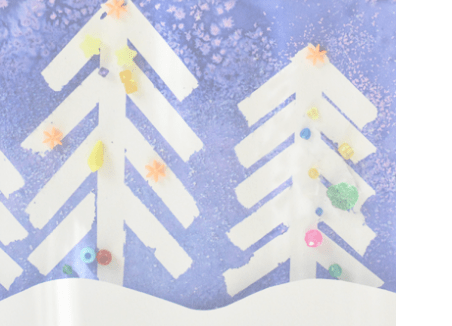 13. Stained Glass With Tissue Paper
Stained glass artwork can be used to decorate your windows. Make layered tissue paper Christmas light forms and attach them to your window.
Materials Required: Different color tissue papers and glue
To Make: Attach different color tissue papers to your glass windows in varied patterns or just abstract. They look amazing when you turn on the lights in the room. You and your neighbors will be able to appreciate their beauty as the light shines through them.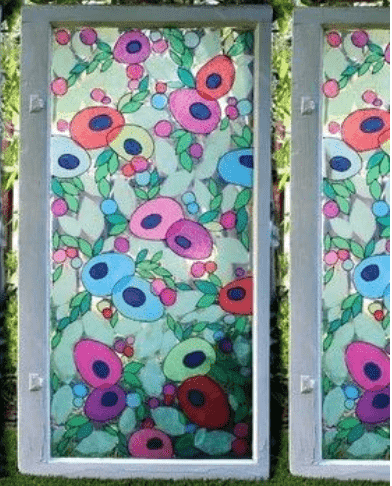 14. Make Your Own Snow Globes
If you live in a warm environment, get into the mood of winter by creating a snowy wonderland with your kids.
Materials Required: Empty glass jar, your favorite miniature toy, sawdust, or pieces of porcelain
To Make: Apply glue to the interior of the lid of the jar. Put your child's plastic figurine on top of it and put it in place. Fill the container halfway with ice water. Stir in 1-2 tablespoons of glitter. Place the lid on. If you're worried about your toddler trying to open it, you can glue it shut.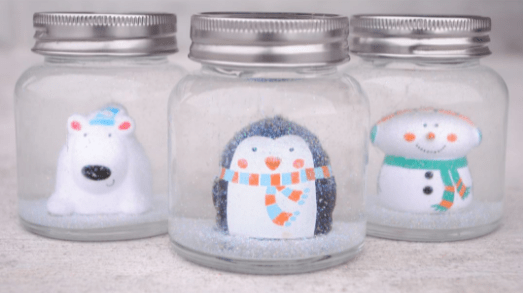 15. Popcorn With A Melted Snowman
Make holiday gifts for your children's teachers with them.
Materials Required: Popcorn medley, edible eyes, chocolate sticks, and some sour orange candies
Related Reading: 

Best Christmas Movies for Kids in 2023
To Make: Fill the beautiful jars with this popcorn medley you have prepared with your choice of ingredients. Then get out the art items and make a snowman out of the jar. This delightful delicacy also makes a nice gift for friends or neighbors. Arrange the products to make a snowman, deconstruct it, and enjoy the dish!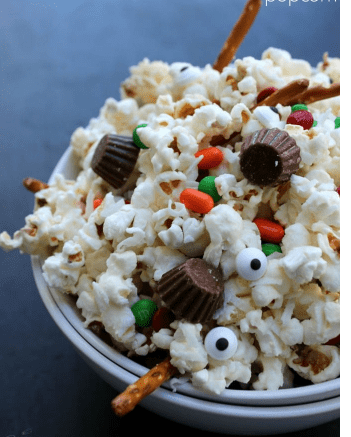 16. Puppet Reindeer
Puppets are entertaining to play with and may also be used as cute Christmas crafts for kids. Your children can present these to their classmates or teachers if you include a smart message inside.
Materials Required: Old sock and some paper cut-outs
To Make: You may easily make these deer head puppets with items you already have in your craft kit. Stuff the sock with some old paper or cloth. Attach pieces of paper to make it look like a reindeer.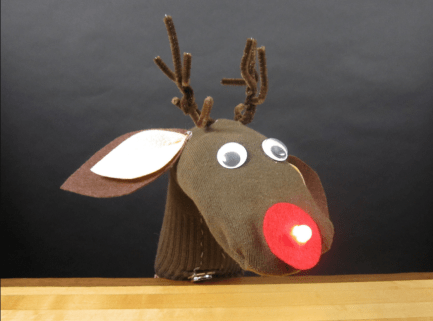 17. Make Your Own Paper Lights
Make your own brightly colored holiday lights.
Materials Required: Paper and glue
To Make: Cut and fold the paper in a geometrical shape like a honeycomb or multiple cones and then attach them to ends to make it look like a lampshade. These easy-to-make paper lights can be strung on a tree, hung in a window, or displayed on a mantle.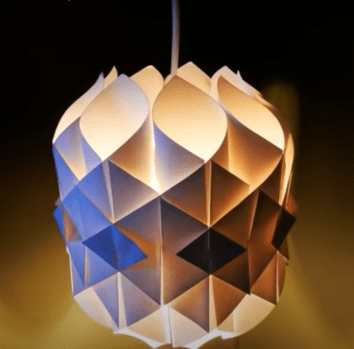 See here how you can make this Christmas craft:
18. Christmas Wreath With Handprints
Assist your child in creating holiday decor that they will be happy to display on the front door.
Materials Required: Colourful papers and some decorative items
To Make: Make impressions of your hand in the paper and cut them out and arrange them in the form of a wreath. Add any other embellishments, such as berries or bows, and if desired, attach a few decorative items to complete the look.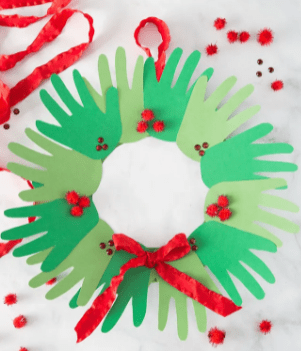 19. Santa Claus On A Paper Plate
Here's how you can make Santa Claus on a paper plate easily.
Materials Required: Paper plate, cotton balls, and paper cut-outs
To Make: On a paper plate, draw a Santa face. Cut out a circle for the head and a triangle for the cap with your child's help. For the beard and the top of the hat, glue cotton balls on. Add eyes, a nose, and plenty of glitter for the finishing touches.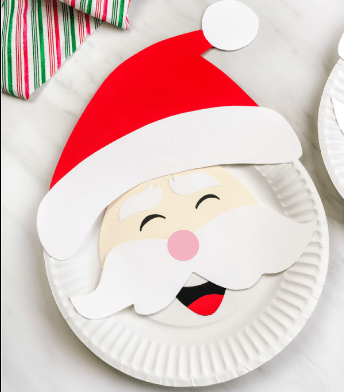 20. Beautiful Pine Cones
Collect and paint pinecones for a holiday craft that incorporates nature.
Materials Required: Pinecones and some colors and glitter
To Make: Acrylic paints in various hues can be used. Color the pine cones with shades of your choice and add glitter to enhance the look. You can use these pine cones to decorate the mantel or hang them on the tree.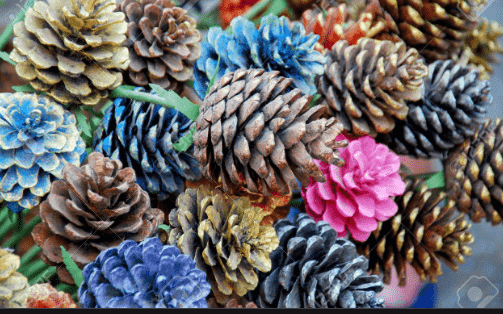 Related Reading: 

Best Christmas Movies for Kids in 2023
Staying indoors and making crafts with your kids is a great way to beat the cold. Using some fun Christmas crafts for kids is a fun way to keep your kids entertained while also allowing them to express their creativity.
These gifts are the perfect way to present their loved ones with a sense of personal touch. They'll become enjoyable and long-lasting Christmas traditions if you do them yearly.
After going through the list, we hope you have already found your favorite Christmas crafts for kids. Try them with your kids and family and have a gala time. We wish you and your family a joyful and fun-filled holiday season. Merry Christmas!
Frequently Asked Questions (FAQs)
How can I make craft time at home less messy?
As a precaution, lay down a trap or a highly absorbent fabric where you're planning the activities. Next, keep everything far away from the furniture and areas you don't want to risk getting dirty.
The easiest way to ensure minimal mayhem is to set up the activity zone near or inside your kitchen or washroom. This way, when anyone has to quickly wash their hands, they don't have to run across the entire house with paint or glue dripping from their hands.
How can I make it easy to decorate the house during the holiday season?
Keep it simple and attractive. The best rule to follow is to make the decorations that highlight the spirit and catch the essence of the holiday. For Christmas, this can mean mistletoes, snow sleds, and, obviously, Christmas trees! Also, keep the tree decorations simple, like bells, canes, and maybe some fairy lights.
What can I do to make Christmas more fun for my kids?
Christmas is always a joyous and merry time of the year, however, it can be made even better with more food, games, and other activities. Here are some things that can make Christmas even more enjoyable for kids:
Make tasty treats like Brownie Santa or Brownie reindeer. You can also make them from cookie dough r gingerbread!
Watch Christmas movies together. It's the perfect idea to get everyone curled up n blankets and watch an excellent Christmas movie, with a warm drink, maybe?
Make eggnog together for everyone as a comfortable holiday beverage. A tradition of the Christmas spirit that simply cannot be forgotten.
How do Christmas craft activities help children's creativity?
Craft activities already help spark creativity in kids, but the idea of Christmas activities ties traditions and culture along with creativity. Christmas crafts for kids usually have some important stories connected with them that can engage kids in unexpected ways, like the stories of Rudolph, the red-nosed Reindeer, or stories of Santa's little helpers, the Elves.