Christmas is that time of the year when everything around us is thriving with joy, and children are at their happiest, indulging in Christmas books for kids wrapped in cozy blankets, warm cups of hot chocolate in their hands. The house smells of freshly baked cakes and cookies, with lights on the Christmas tree brightening up the room.
Celebrate this Christmas with your little bundle of joy with Christmas classics and enchanting modern tales as we bring you a list of Christmas storybooks for kids from different genres that you can gift your little ones. All the books are suitable for kids aged between 3–10 years. Choose a Christmas book your kid would love to read this holiday season.
Related Reading: 

Fun Christmas Activities for Family to Try
Classic Christmas Books for Kids to Read Out Loud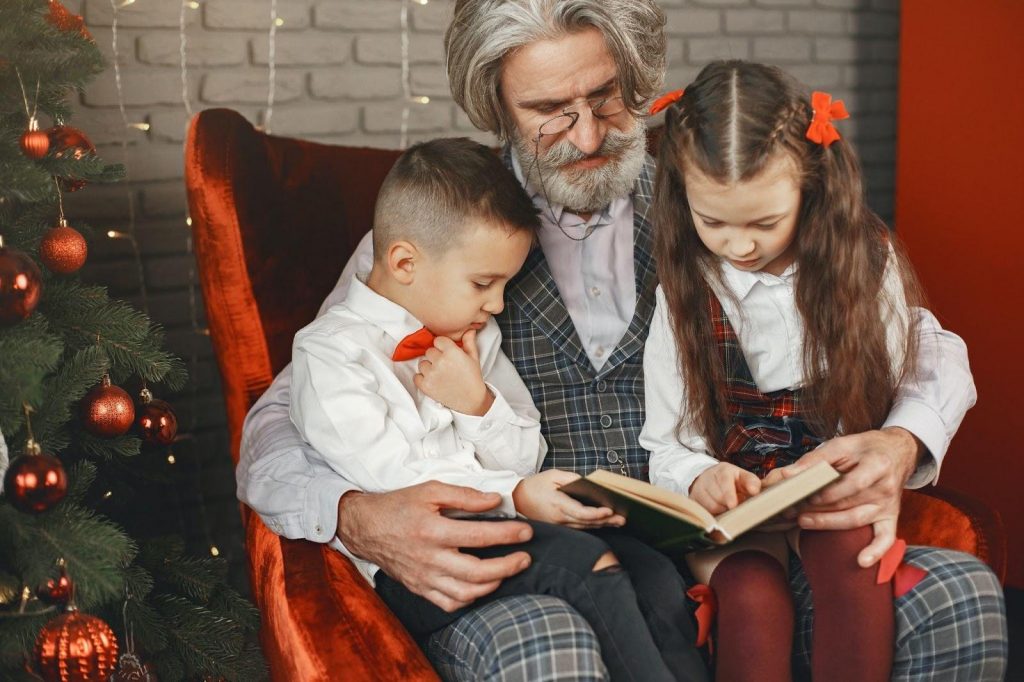 A classic Christmas tale for kids, written by Chris Van Allsburg, The Polar Express has won hearts and makes one reminisce of chilly winters that bring Christmas vibes through the sound of sledges and vivid illustrations.
A Caldecott Award winning book, The Polar Express is a fantasy book that narrates the story of a boy who does not believe in Santa but embarks on a journey to the North Pole on Christmas Eve. The book has sold 7 million copies and has become a popular Christmas movie!
Age: 4–10 years
This one appeared as a poem for the first time in 1823, in a newspaper in Troy, New York, on December 23rd. It became a Christmas classic soon, with a thread of magic and mystery running throughout the poem. One of the best kids' Christmas books, The Night Before Christmas is a true holiday classic that you can gift your kid for Christmas.
Age: 3–8 years
Help your kids understand the true spirit of Christmas and the joy of sharing associated with it through this lushly illustrated book, where Charlie Brown's friends show love to a forgotten tree, sing Christmas songs and bring the spirit of Christmas. This wonderful book by Charles M. Schulz is an absolute Christmas treasure for your little kid if you want to spend some reading time with them.
Age: 4–8 years
A magnificent addition to the Grinch-mas series, How the Grinch Stole Christmas is about a Yule Ghoul living in a cave just north of Who-ville. The Grinch steals presents, ribbons, and wrappers from the Whos only to realize that Whos enjoyed their Christmas even without any of those things simply by spending time with their close ones. This unique Christmas story melts the heart of young readers as they learn that the true joy of Christmas lies in being around our close ones.
Age: 4–10 years
Rudolph and the story of his brilliant red nose has been a classic since before we were kids. Written by Robert L. May in 1939, this story helps your kid learn that everyone has unique powers and gifts. It preaches life lessons through the red-nosed reindeer's journey, making it an interesting story for kids.
Age: 4–10 years
Related Reading: 

Best Christmas Movies for Kids
Funny Christmas Books for Kids to Read Out Loud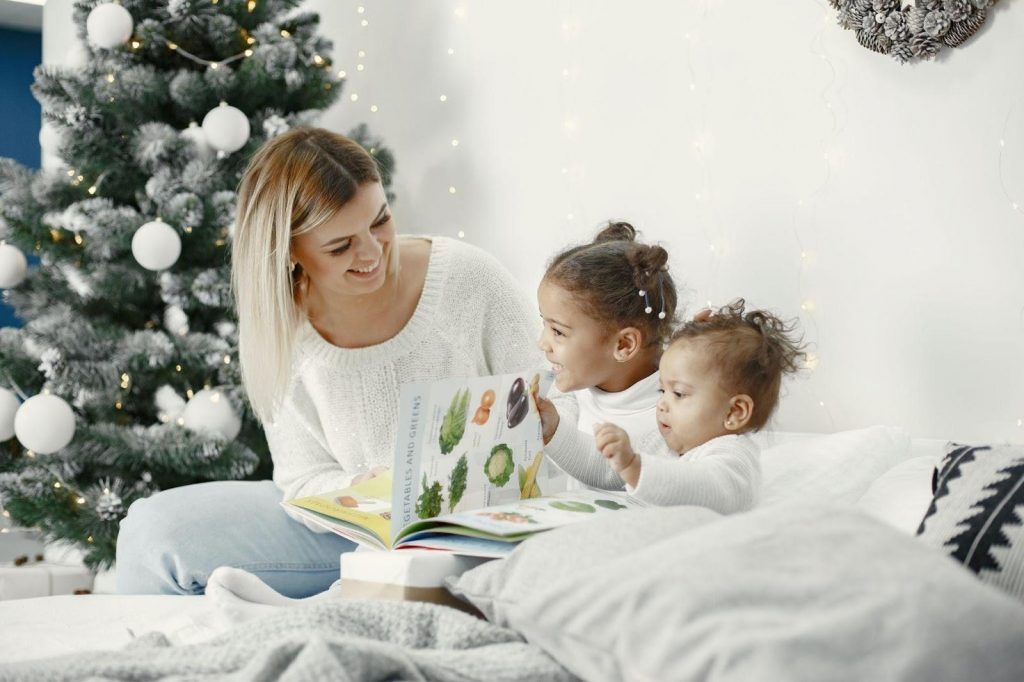 1. Santa Baby by Jonathan Stutzman
Infused with Jonathan Stutzman's adorable sense of humor, Santa Baby is a fun read for Christmas. Watch your kids roll over in laughter as they discover how Santa becomes a baby in his purge to stay young and the elves take on his role of delivering presents. A warm, fun read for kids, Santa Baby is a true delight in the fun genre of best children's Christmas books.
Ages: 4–8 years
A high-energy read, rich with comical illustrations, 12 Sleighs of Christmas is a fun read where elves are tasked with building the coolest sleigh for Christmas. As the elves unfold their imaginations in creating the coolest sleigh for Santa, your kids will also have a great time imagining how they could make a sleigh if they had to. Imaginative, fun, and innovative, this one is a Christmas book for kids that even featured on the New York Times bestseller list.
Age: 3–8 years
Inventive and fun at the same time, this is a story that helps us accept ourselves for who we are. Your kid will be on a joyride of laughter as they discover the story of a cookie that tries to sweeten itself, thinking it tastes not nice, only to find out it's meant to be an ornament. A picture book with bright and colorful illustrations, your kids are going to love this one!
Age: 4–6 years
Revolving around the story of two friends, Billy and Javier, this is a story that inspires the true meaning of Christmas. When Mustache baby wants to keep all the toys, Santa tells him that the real joy of Christmas lies in giving, not receiving.
Age: 4–10 years
Adventurous and full of cartoony illustrations, Peppermint Post is about the postmaster of North Pole's Peppermint Post Office, who realizes that he missed out on one gift while filling up Santa's sleigh. His adventure continues from thereon, enticing the reader throughout the rest of the story. This rhythmic text, combined with hilarious art, makes this a perfect Christmas read for toddlers.
Age: 4–10 years
Related Reading: 

Funniest Christmas Jokes for Kids of All Ages
Christmas Books for Kids to Read Out Loud
Read Aloud Books are fun when read with rhythm and in a fun way. Here's a list of Christmas read aloud books for kids:
A delightful Christmas read-aloud story for kids, A Return to Christmas is about twin brothers who indulge in the adventure of a lifetime, changing how readers see Christmas. An enigmatic read filled with joy, sadness, and warmth, this book is a must for kids who haven't yet come across it. Enlighten your little one with this heartwarming Christmas read-aloud book.
Age: 3–7 years
The loving, heartwarming story of a little boy and his treasure pig toy DP, this book is a delightful Christmas read. Filled with beautiful illustrations that enliven the spirit of Christmas, narrate this story to your kids as you and your family gather joyfully around the Christmas tree on Christmas eve and enjoy hot cocoa with marshmallows.
Age: 4–10 years
You cannot miss out on this one on your Christmas book list. One of the best kid's Christmas books, this book narrates the story of the Herdman Siblings and their mischievous acts that annoy everyone. Hilarious and fun to the core, this is an excellent short read for your kids as they explore the lives of the Herdman kids and the Christmas magic all around them.
Age: 5–10 years
Quirky, captivating, and heartwarming, this read-aloud book narrates Christmas through the eyes of Cornelia Funke. Your kid would want to hear a witty trifle between Santa and the villain Gobylinch till the end of this brilliant read-aloud Christmas story.
Age: 4–10 years
5. Kringle by Derek Feuti
A brilliant Christmas fantasy epic by Tony Abbot, this book is about the story of an orphan and his journey to becoming Kris Kringle. Think elves, goblins, and flying reindeer; this fantasy narrative will take your kids on an imaginative wonderland journey as you read it out to them at Christmas. An absolute delight, this book tops the chart as a Christmas read-aloud book for kids!
Age: 4–8 years
Related Reading: 

Christmas Crafts Ideas for Kids
Christmas Chapter Books for Kids to Read Out Loud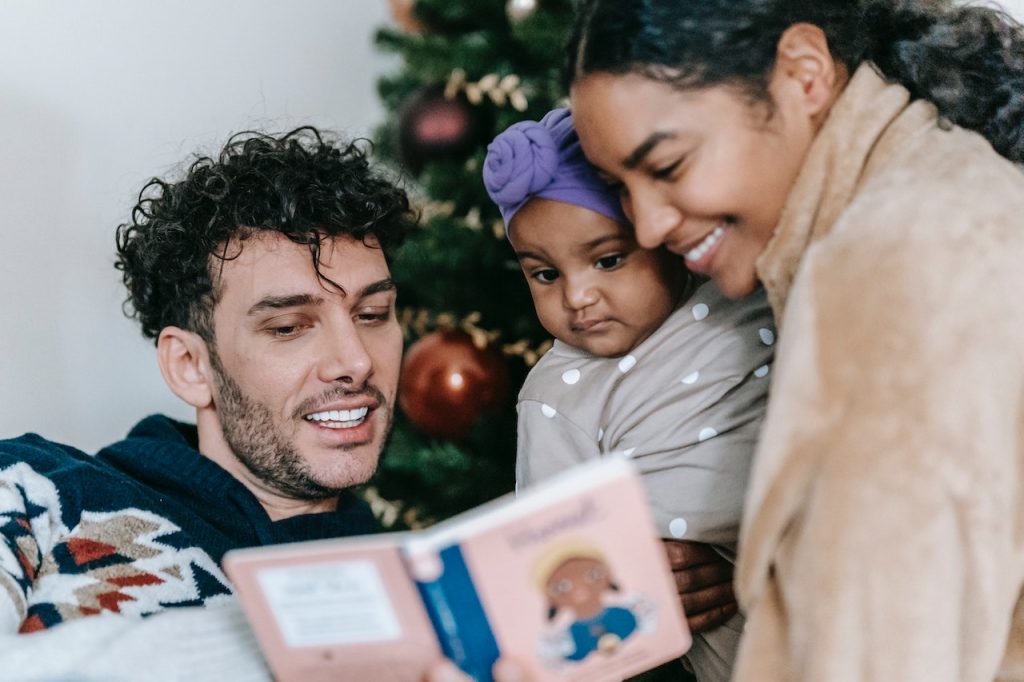 Christmas is about carols, good food, and laughter. Beautiful artwork and fascinating tales of the Christmas spirit make this one a popular Christmas chapter book for kids. Infused with elements of modern-day whimsy and Victorian Christmas illustrations, this is one of the most popular Christmas books to gift to kids on Christmas.
Age: 4–10 years
Fascinating and arduous, Valentine Davies' Miracle on 34th Street has become a holiday treasure, popular in the list of Christmas story books for children. It tells the story of three people whose lives are changed due to an older man who calls himself to be Santa. This epic chapter book has sold millions of copies by now. A delightful Christmas read for people of all ages, especially kids, Valentine Davies has made this a perfect chapter book for the holidays.
Age: 5–10 years
A captivating moral take about a saintly child who wishes to celebrate Christmas with the nine Ruggles children, Kate Douglas has created a beautifully honest picture in this book. As the story continues about the girl, who is young and full of aspirations but bedridden due to her physical condition, it uncovers many moral truths and lessons for the reader. Your kid will love this one as they understand the true essence of Christmas.
Age: 5–10 years
A delightful read, much like Santa Baby, this one celebrates the life of Santa Claus as he grows into a young boy. Kids are always mesmerized by the idea of Santa Claus as a figure who brings presents and loves all kids. This one takes a detour from that and portrays Santa Claus in a different light. Santa Claus is found in the story as a baby in the forest of Burzee by an immortal, AK. Kids will enjoy watching the story unfold and celebrating the spirit of Christmas.
Age: 4–8 years
We all know the famous song that goes "On the first day of Christmas…" Based on the popular carol, this book by Jenny Overton talks about Christmas gifts on all thirteen days. A brilliant Christmas chapter book for kids, this book would be the perfect gift for your little one. Thirteen Days of Christmas is a marvelous study of dreams, Victorian households, and Christian traditions. The book has enchanted the hearts of young readers for many years now.
Age: 4–8 years.
Related Reading: 

Popular Kids' Movies to Binge Watch This Holiday Season
Christmas Story Books for Kids to Read Out Loud
This one's a super fun read, where Greg, the sausage roll, gets picked up as a treat for Christmas. A roller-coaster of fun and adventure, this is one of the best Christmas books for kids. Enigmatic and funny, this book has been exclusively designed for toddlers with beautiful images and artwork.
Age: 3–5 years
One of the best festive stories for the holiday season, The Nightmare Before Christmas is about the story of the king of Halloween, Jack Skellington. Painting a beautiful picture of Christmas Town, this book enlivens the spirit and joy surrounding Christmas. Your little one will instantly like the plotline as you read it out to them on Christmas Eve.
Age: 5–7 years
A popular and fun-filled Christmas story, Gingerbread Christmas is the story of a Gingerbread baby and his friend who become popular with their Gingerbread band during Christmas.
As the children get the aroma of gingerbread, the Gingerbread baby realizes that it is time to run away. Fascinating illustrations and the rhythmic narrative make the book a popular one in this genre!
Age: 3–5 years
Make your kids' Christmas special with the sequence of the classic tale of Dave and his toy Dogger. As Dave opens presents with his sister and celebrates Christmas in full fervor, the reader is enthralled with the joy and happiness that Christmas brings with it. The story shows the charm and warmth we feel with our loved ones around us during Christmas.
Age: 3–5 years
A fascinating Christmas story with picturesque elements, the Night Tree narrates how a little boy and his family decorate a Christmas tree together with sunflower-seed balls, tangerines, and apples for the animals in the forest. Portraying the true spirit of Christmas, this book shows a family's unusual Christmas tradition and the joy it brings to the family.
Age: 4–8 years
Get the best Christmas book for kids this holiday season!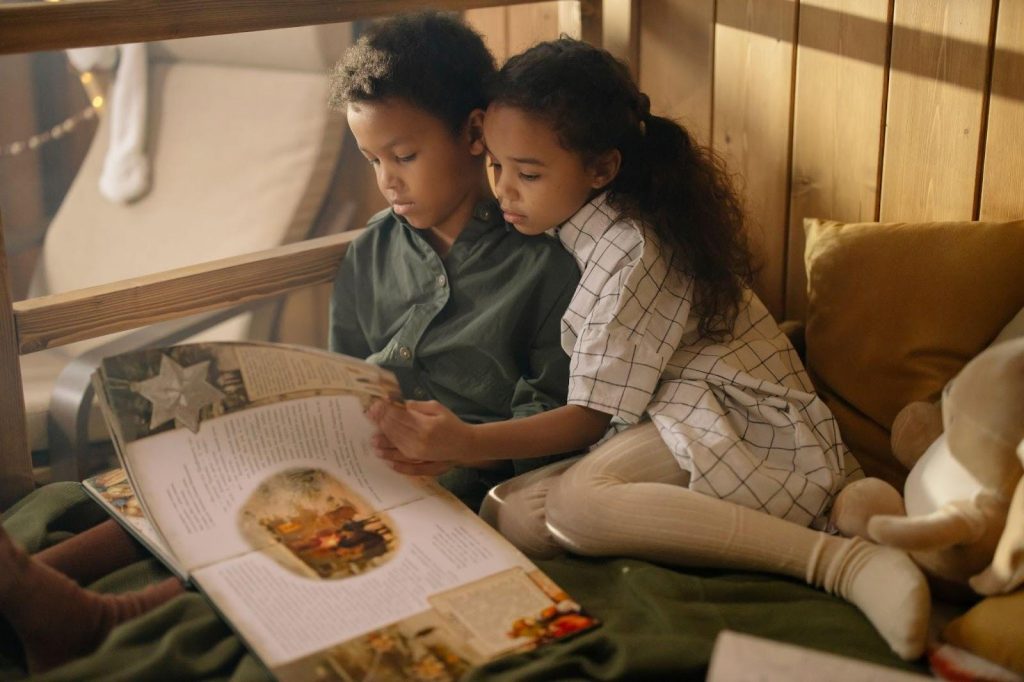 Christmas is a time of unwrapping gifts, colorful lights, and learning and sharing with our loved ones around us. Kids wait all year round for their Christmas holidays, hoping for newer gifts and memories to cherish forever. It brings joy, and there's happiness in the air around us. Make this Christmas special for your little one with a storybook they can truly love and read this holiday.
Frequently Asked Questions (FAQs)
What is the main theme of Christmas books for kids?
The main theme of Christmas books are stories of Santa Claus, birth of Jesus and celebration of Christmas.
What do children learn from Christmas books?
Children learn about the spirit of Christmas, the joy of sharing and keeping close ones together from Christmas books.
Why is it important to introduce kids to newer books on Christmas?
While reading books is an excellent habit that every parent must inculcate in their children from an early age, Christmas books have a happy, joyous tone and a learning curve with beautiful graphical images. This makes it a perfect gift to give your children during Christmas, and help them learn something new from each book.
What is so special about Christmas storybooks for kids?
Christmas stories have an element of satire and enthusiasm which kids find appealing and heartwarming. This is why Christmas books are special and loved by all children.