Every family has a Christmas tradition, like decorating a Christmas tree, baking, and singing carols. Don't worry if you haven't picked your Christmas family tradition because we have an idea for you! You can sing beautiful Christmas poems with your kids and bring the whole family together!
Christmas poems for kids will help them learn the real meaning behind this fruitcake of a festival in a fun way. Plus, you can create a Christmassy environment in your home by singing happy Christmas poems with your children.
Check out these all-time 20 favorite Christmas carols for kids (links in the title of every poem) that you can teach them this year!
1. "Christmas Stars" by Marie Irish
"Christmas Stars" is a beautiful composition to paint a glossy Christmas image in your kid's mind. This poem teaches that Christmas is about spreading peace and goodness worldwide.
Poem's Snippet:
"They tell of the peace and good will
The Christmas time brings to earth,
The peace and good will all should feel
At this season of joy and mirth."
Related Reading: 

Best Christmas Movies for Kids
An image of the poem Christmas Stars by Marie Irish
2. "Little Tree" by E.E. Cummings
Your family can recite this Christmas poem while picking and decorating a Christmas tree to get into the festival mode. This poem is a mesmerizing wordplay that expresses the beauty and diversity of a little Christmas tree.
Poem's Snippet:
"little tree
little silent Christmas tree
you are so little
you are more like a flower."
3. "' Twas the Night Before Christmas" by Clement C. Moore
Do you want to excite your little ones about Santa Claus and his secret visit before Christmas night? If yes, teach them this poem and ask them to sing it while baking cookies for Santa's welcome and hanging stockings around the fireplace.
Poem's Snippet:
"He was dressed all in fur, from his head to his foot,
And his clothes were all tarnished with ashes and soot."
4. "The House of Christmas" by G.K. Chesterton
This Christmas poem has a deep and soulful meaning that Christmas is all about sharing happiness with your family. G.K. Chesterton is a critically acclaimed poet, and his writings are a perfect way to introduce festive literature to your kids.
Poem's Snippet:
"…This world is wild as an old wives' tale,
And strange the plain things are,
The earth is enough, and the air is enough
For our wonder and our war;"
5. "The First Christmas" by Marian Swinger
Marian Swinger used his pen to write about the first Christmas celebrated two thousand years ago. This Christmas poem is an engaging way to tell your kids about Jesus Christ's birth.
Poem's Snippet:
"He'd seen a crowd of angels in the silent starlit sky.
In the stable, ox and ass stood very still and calm
and gazed upon the baby, safe and snug in Mary's arms."
6. "Music on Christmas Morning" by Anne Brontë
To rejoice and rekindle your Christmas morning, sing this melodic poem by Anne Brontë. When you wake up your kids while singing the "Music on Christmas Morning" poem on Christmas Day, it will immediately get them into the holiday mood.
Poem's Snippet:
"Music I love -­ but never strain
Could kindle raptures so divine,
So grief assuage, so conquer pain,
And rouse this pensive heart of mine."
7. "Winter Time" by Robert Louis Stevenson
If you want your kids to fall in love with winter, "Winter Time" is a beautiful Christmas poem by Robert Louis Stevenson to paint an imperial winter image for your kids.
Poem's Snippet:
"Late lies the wintry sun a-bed,
A frosty, fiery sleepy-head;
Blinks but an hour or two; and then,
A blood-red orange, set again."
8. "Before the Ice is in the Pools" by Emily Dickinson
This Christmas poem talks about all the Christmas wonders and magical moments that can pump up the festival spirit in your kids.
Poem's Snippet:
"Before the ice is in the pools—
Before the skaters go,
Or any check at nightfall
Is tarnished by the snow—"
Parents, sign up for free!
9. "How the Grinch Stole Christmas" by Dr. Suess
If your family enjoys watching Dr. Seuss' "How the Grinch Stole Christmas" movie, then this Christmas poem by Dr. Seuss will surely give a happy turn to your Christmas celebrations. Additionally, the poem powerfully conveys that evilness can never ruin Christmas or your happiness.
Poem's Snippet:
"So he paused. And the Grinch put his hand to his ear.
And he did hear a sound rising over the snow."
10. "O Holy Night" by John Sullivan Dwight
This Christmas poem is an adaptation of a French text from Placide Cappeau's Cantique de Noel. This melodious poem will make your Christmas night merry and happy.
Poem's Snippet:
"O holy night! The stars are brightly shining,
It is the night of our dear Saviour's birth."
11. "Mom Is Making Christmas" by Vicky A. Luong
Vicky A. Luong has beautifully expressed his childhood Christmas memories through this composition, like mom's baking, decorating the home, and making a perfect Christmas for children.
Poem's Snippet:
"Cookies baking in the kitchen,
The smell floats through the air;
Mom is making Christmas
with her usual merry flair."
12. "Christmas Morn" by Libbie C. Baer
Christmas Morn is yet another beautiful poem to teach your children about Christ's birth and how his presence eradicated sadness and sorrow worldwide.
Poem's Snippet:
"There's a holy light like a beacon bright,
Afar over land and sea."
13. "The Christmas Wreath" by Anna de Brémont
While decorating your home for Christmas, request your kids to sing along to this Christmas poem to ignite the festival spirit.
Poem's Snippet:
"Oh! Christmas wreath upon the wall,
Within thine ivied space
I see the years beyond recall."
14. "A Christmas Carol" by Samuel Taylor Coleridge
If you spend your Christmas Eve visiting a church or singing carols with your friends, teach this Christmas carol to your children so they can celebrate Christ's birth with you. This is one of the most iconic Christmas carols for kids of all time.
Poem's Snippet:
"The Shepherds went their hasty way,
And found the lowly stable-shed
Where the Virgin-Mother lay."
15. "Christmas Eve" by Ella Higginson
After a lavishing Christmas Eve dinner, when your children eagerly await Santa, this harmonious Christmas poem will calm their excitement and help them fall asleep for Christmas Day celebrations.
Poem's Snippet:
"Straight thro' a fold of purple mist
The sun goes down—a crimson wheel—
And like an opal burns the sea
That once was cold as steel."
Image of a family having a Christmas dinner
16. "King John's Christmas" by A. A. Milne
When your kids are busy writing their wish list for Santa and hanging stockings, you can recite this poem and help them realize how Christmas is about sharing your happiness with others.
Poem's Snippet:
"King John was not a good man —
He had his little ways.
And sometimes no one spoke to him
For days and days and days."
17. "Talking Turkeys" by Benjamin Zephaniah
This Christmas poem reflects old English literature and its richness. If your kids are a bit older to understand the depth of literature, teach this poem to them.
Poem's Snippet:
"Be nice to yu turkeys dis Christmas
Cos' turkeys just wanna have fun
Turkeys are cool, turkeys are wicked
An every turkey has a Mum."
18. "The Crying Need for Snow" by Clive James
If it doesn't snow on Christmas in your area, this Christmas poem will help set a snowy Christmas mood without the snow.
Poem's Snippet:
"It's cold without the softness of a fall
Of snow to give these scenes a common bond
And though, besotted on a viewless rime."
19. "In the Bleak Midwinter" by Christina Rossetti
This Christmas poem is about Christ and his supernatural powers to hold heaven and earth together.
Poem's Snippet:
"In the bleak midwinter a stable place sufficed
The Lord God Almighty, Jesus Christ."
20. "A Christmas Angel" by Denise Burke
This is a lighthearted Christmas poem for kids how they can be like Christmas angels and bring joy to someone else's life.
Poem's Snippet:
"Oh, I wish I was an angel on the tree
Oh, I wish I was an angel on the tree
I'd give every girl and boy
Lots of Christmas peace and joy."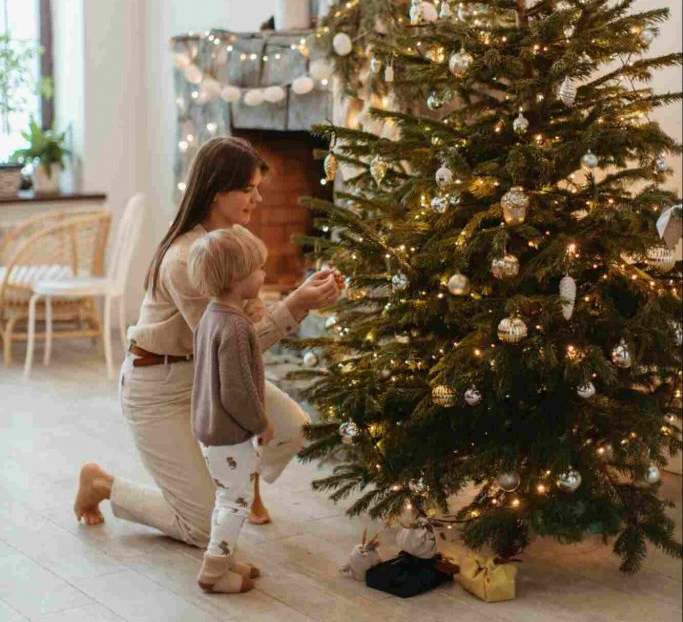 Christmas poems to have a merry Christmas!
It's once again the time of year when everything turns red and white to welcome Mr. Santa Clause. Christmas is a festival of lights, happiness, and spending time with your family.
Poems are the perfect way to start Christmas celebrations, whether you want to teach Christmas values or bring your kids in the festival spirit. When your kids illuminate the home with a beautiful Christmas poem and riddles that teach about the holiday, it automatically gets your whole family into a Christmas mood.
Start practicing these Christmas poems with your kids today to make your Christmas merry.
From all of us at SplashLearn, we wish you a jolly Christmas!
Related Reading: 

Fun Christmas Activities for Family to Try
Frequently Asked Questions (FAQs)
What are the benefits of teaching poems to kids?
Poetry is a literary art form that helps children understand different cultures and viewpoints of people worldwide. Poetry also allows you to teach new things and values to children in an interactive manner.
What is the main objective of Christmas poems for kids?
Christmas poems help to convey Christmas values and emotions to children via beautiful words so they can better understand the traditions and rituals of Christmas better.
How to teach Christmas poems to kids?
The best way to teach Christmas poems for kids is to sing poems and ask them to repeat them after you loudly. Reciting the poems themselves will help them remember it for a long time.