Your search for budget-friendly and creative Christmas decoration ideas is over!
Christmas is the perfect time to hunt for more cost-effective decorating ideas! Budgeted Christmas decorations are an excellent way to add style and get into the holiday spirit, even more so if you can keep your costs down while making your holidays more environmentally friendly.
So here is a list of the 20 budget-friendly decoration ideas you can use pretty quickly while beautifying your home!
20 Budget-Friendly Christmas Decoration Ideas for Kids
1. Make A Unique Advent Calendar
Alternative advent calendar ideas are a great way to get a head start on budget-friendly decorations. Make a smaller version with little delights targeted to the recipient instead of buying pricey beauty or chocolate advent calendars.
How to do it: Put treats in tiny boxes and paper bags with numbers 1 to 24 written on them. Use a couple of wire scarf hangers on the wall to create a hanging display, then tie your packages on with colored string.
In gifts, tiny toys, collectible figures, and handicraft purchases will appeal to children, while teens will enjoy mini make-up and hair accessories.
2. Redecorate Old Wine Bottles
Almost everyone saves wine bottles from different parties and occasions. It is now time to reuse them.
How to do it: Collect the wine bottles of various shapes and designs and use acrylic or glass paint to color them in the Christmas theme. Users can also add some decorations like stars, sequins, and glitters to add an extra edge to the bottles.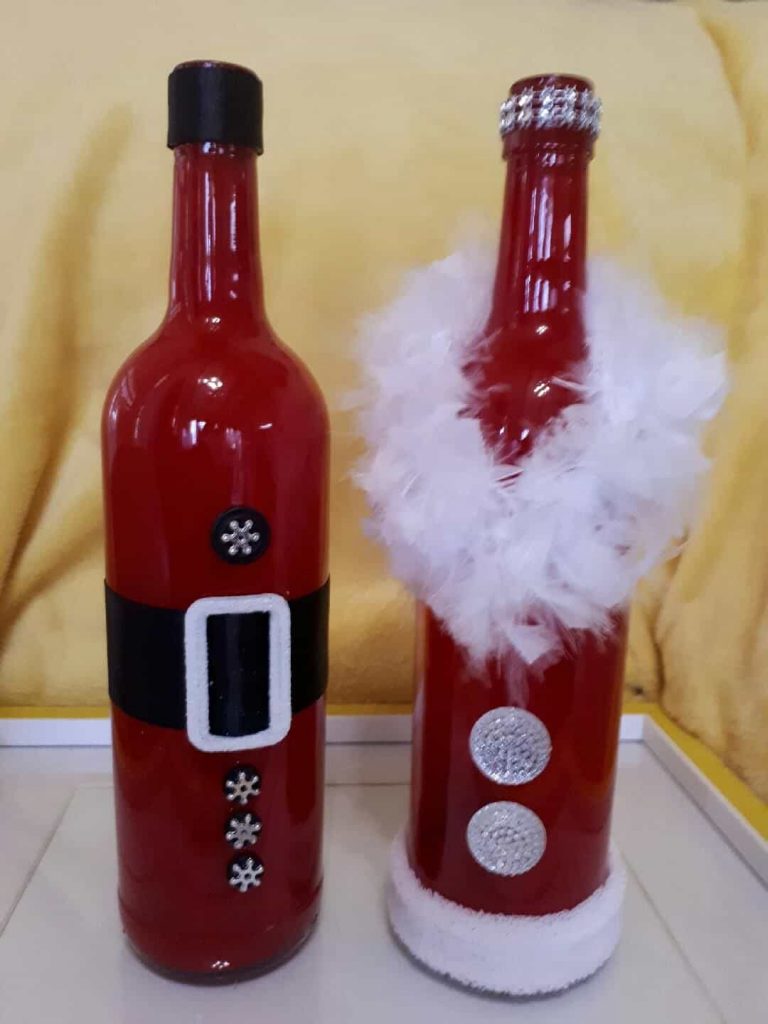 Related Reading: 

artsy Christmas crafts for kids that are easy to make at home
3. Make A Personalized Chandelier
Make a hanging ornament to place above the dining table or in the hallway's focal point.
How to do it: Make a foundation out of an inexpensive plastic hula-hula hoop by spray painting it or by covering it with tape or string. Then, place a variety of colored Christmas ornaments at varying heights on top. Suspend from the ceiling with fishing wire or string.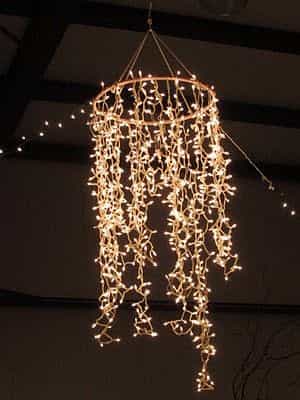 4. Pom-Pom Wreath In Many Colors
With this colorful handicraft, you can add a little bit of fun and sophistication to your festive season.
How to do it: All you'd need to make perfect pom-pom wreaths are a foam wreath shape, pom-poms in a variety of sizes and colors, and a hot glue gun or fabric adhesive. To make it look more beautiful, choose colors similar to the colors on the wall.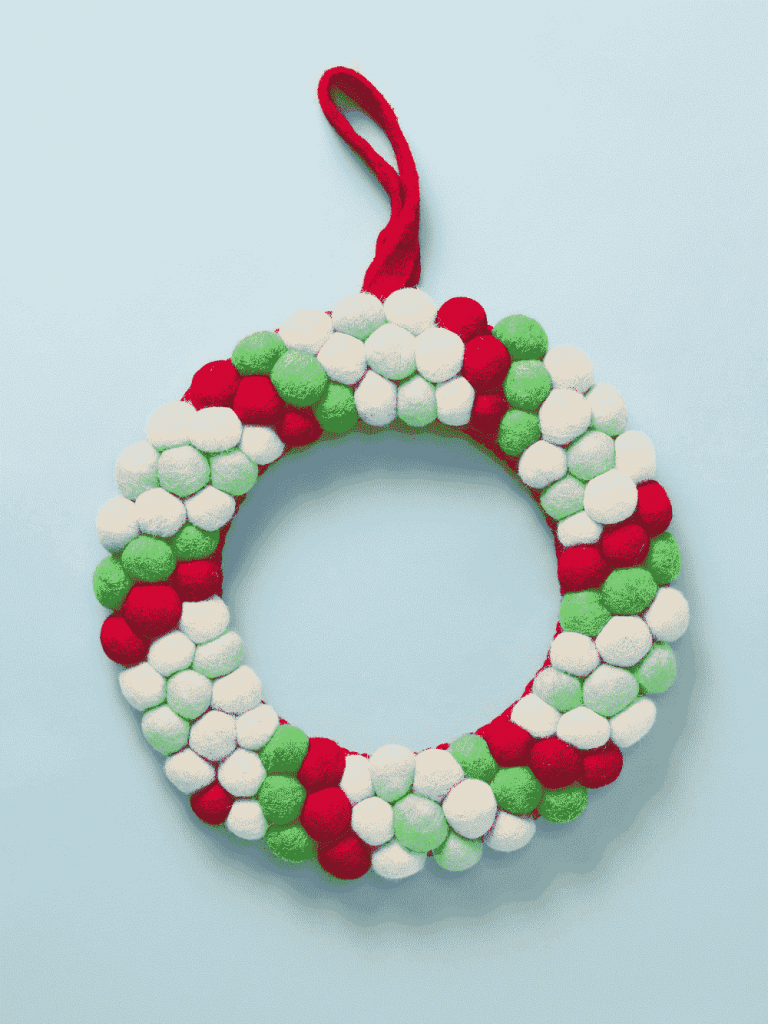 5. Christmas Lanterns Made From Mason Jars
If you believe that your Christmas tree's trimmed branches are useless, think again.
How to do it: After you've finished sprucing up your Christmas tree, make these perfectly rustic masons jar Christmas lanterns out of leftover pine branches. Decorate the mason jar with Christmas ribbon and seasonal objects like pine cones, then place a tea light on top of the branches. While watching romantic Christmas movies, dim the lights and enjoy the illumination of your handcrafted lanterns.
Watch this video and create your own mason jars!
6. A Simple Up-Cycle To Brighten Up The Mantel
Create a Christmassy mantel display using a thrift store picture frame or an old shattered mirror.
How to do it: First, remove and discard any old glass, mirror, or backing from a frame's interior. Then fill the frame's center with various favorite baubles and ornaments draped on lengths of colorful ribbon.
Stick the ribbon to the frame's rear with sticky tape, and then fill the gap with hanging decorations at varying heights. To add to the festive vibe, place the frame on a shelf or mantel with little gifts and trinkets.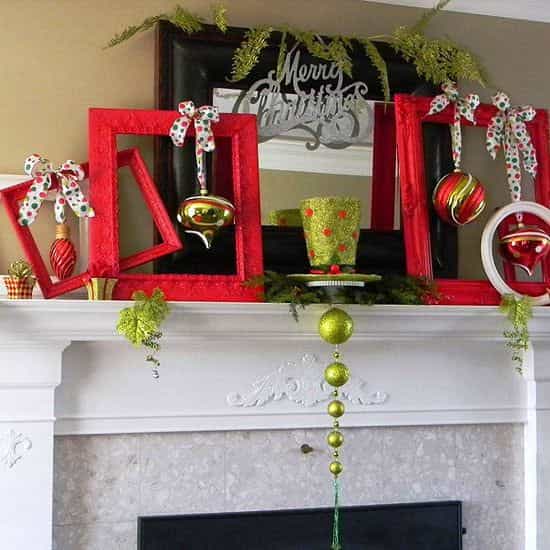 7. Village Of Paper Lanterns
The perfect centerpiece for your mantel or dining room table is this paper lantern village.
How to do it: All you'll need is some cardboard and tea lights for this. Place an electric tea light behind each house made of white cardboard to create a warm and cheery glow. Sprinkle some fake snow on top for a little extra oomph. It's just as cheerful as these holiday sayings.
Watch this video and easily make paper lanterns!
8. Make Paper Baubles In A Variety Of Colors
Make a striking show without breaking the bank. Folding fans in a row, when watched from the ceiling, looks eye-catching and is an easy solution to fill empty wall space above a sofa or sideboard.
How to do it: Choose a different blend of colors for a distinctive look, or stick to an all-white paper deck for simplicity. Use colored rope or fine ribbon, and position them at different heights for visual interest.
See here how to make paper baubles at home:
Related Reading: 

cheerful Christmas poems & carols for a mistletoe-y festive spirit
9. Christmas Figurines Made Of Wood
Rudolph, Frosty, and Santa are everything that you can ask for in a budget-friendly Christmas decor.
How to do it: To bring characters from your favorite Christmas movies to life, all you'll need are some big pieces of wood and acrylic paint. If you want to create some contouring, shave the wood pieces a little.
10. Hang Christmas Cards With Spare Ribbons
Create a hanging display to show your favorite Christmas cards if you don't have enough shelf space.
How to do it: Ribbon remnants from previous Christmases are great. Use a variety of ribbons in a range of colors and thicknesses, trimmed in a variety of lengths. Then, use small tacks to secure each length to a wall or picture rail. As a finishing flourish, secure cards with little pegs and add a tiny ornament or bell to the end of each length of ribbon.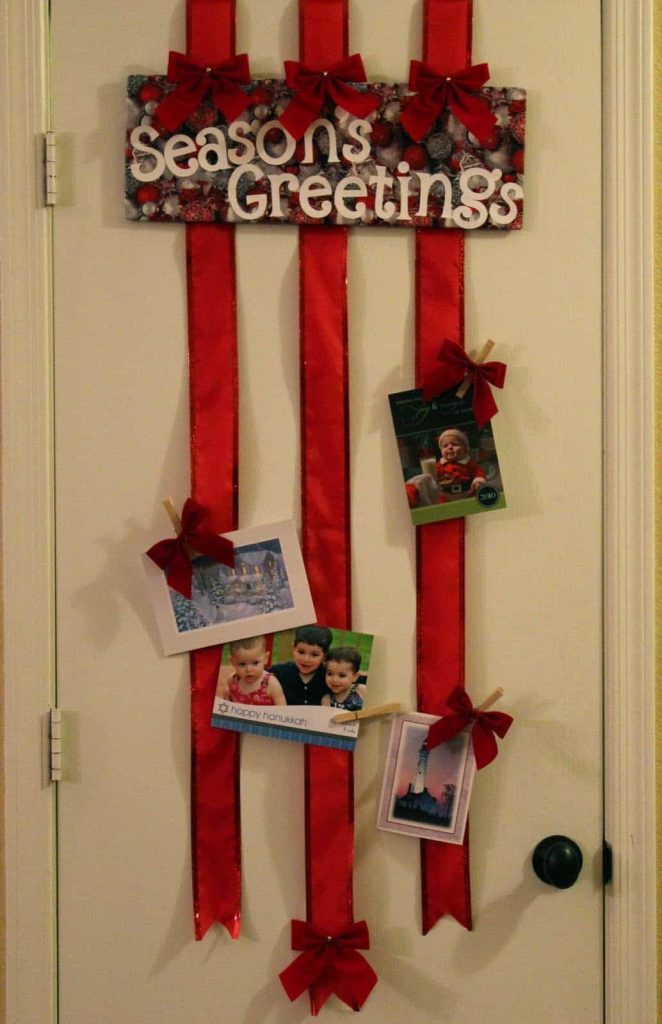 11. Merry Christmas Banner
A cheerful banner is an ideal way to welcome guests to your holiday gathering.
How to do it: To spell out "Merry Christmas" on a cutesy banner, cut pieces of burlap or another type of durable cloth into triangles and hot-glue felt letters. After the flags have dried, attach them to sections of string and hang the banner. Use the official Christmas colors of red and green to make it even more festive.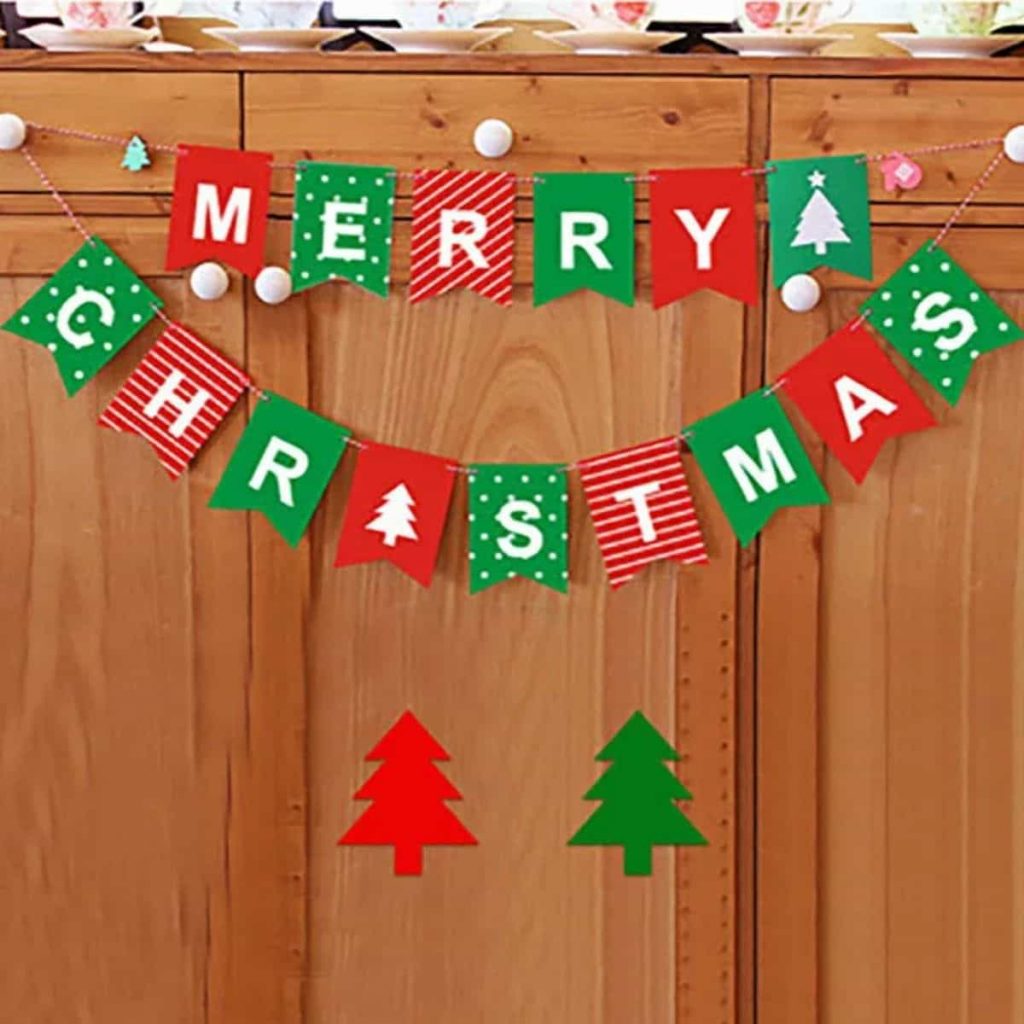 12. Hand-Made Tags To Dress Up Gifts.
By raiding your Christmas decorations box, you may give your gifts a high-end appeal.
How to do it: Mini baubles, imitation leaf scraps, and broken-off berries make excellent gift toppers. Wrap your gifts in plain brown paper or colored wrap for a professional appearance, then knot with lengths of raffia or colored ribbon and add your decorative tag for a fashionable, personalized touch.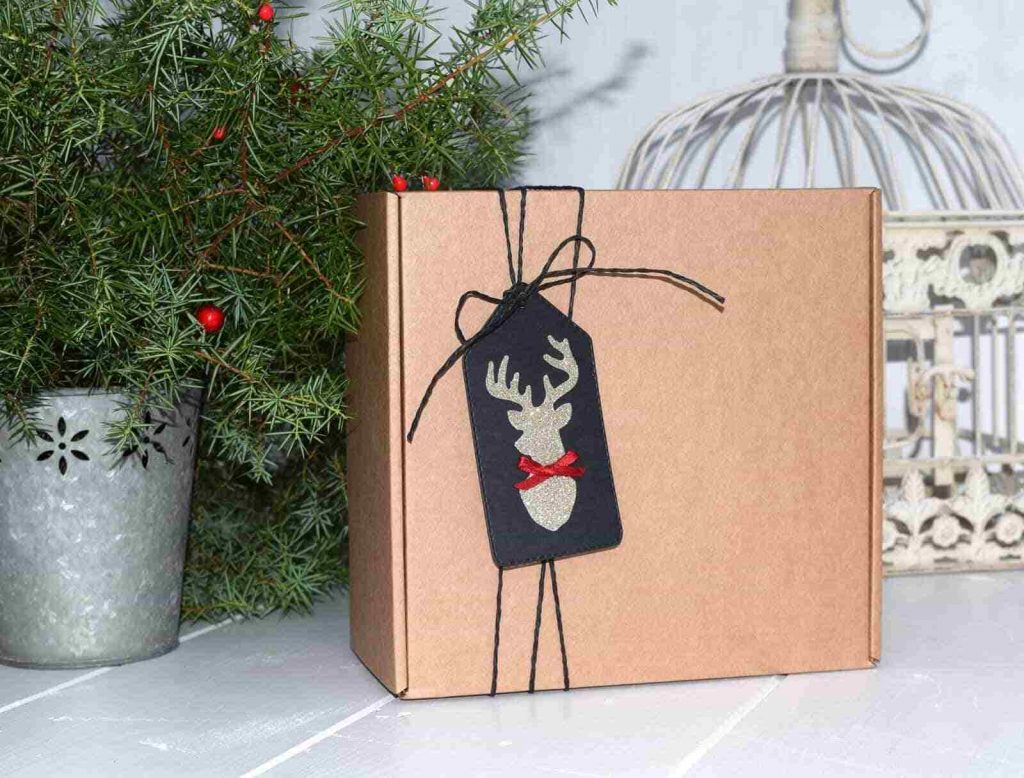 13. Wreath Made With Wine Cork
After the wine bottles have been painted and used for the decorations, how about we use those corks?
How to do it: Attach all of the wine corks to a foam wreath form with hot glue and finish with a Christmas ribbon. For a festive touch, add pine cones and evergreen sprigs.
Here's a super creative way to create a Christmas wine cork wreath!
14. Create An Eye-Catching Table Centerpiece
A stunning centerpiece can be the cherry on your Christmas decorations!
How to do it: To add height and drama to the table, repurpose old cake stands and stack them on the table. Dress the stand with leftover ornaments and dried fruit for a decorative touch. Your room will now be filled with a Christmas aroma.
Look at this beautiful centerpiece made from a cake stand!
15. Christmas Frame With A Rustic Feel
This simple yet stylish rustic Christmas frame will appear like a window into your own personal winter wonderland!
How to do it: All you need is a large wooden picture frame, pine branches, bows, ornaments, and whatever other baubles you wish to use. Just make sure the wintry pieces are secured with hot glue.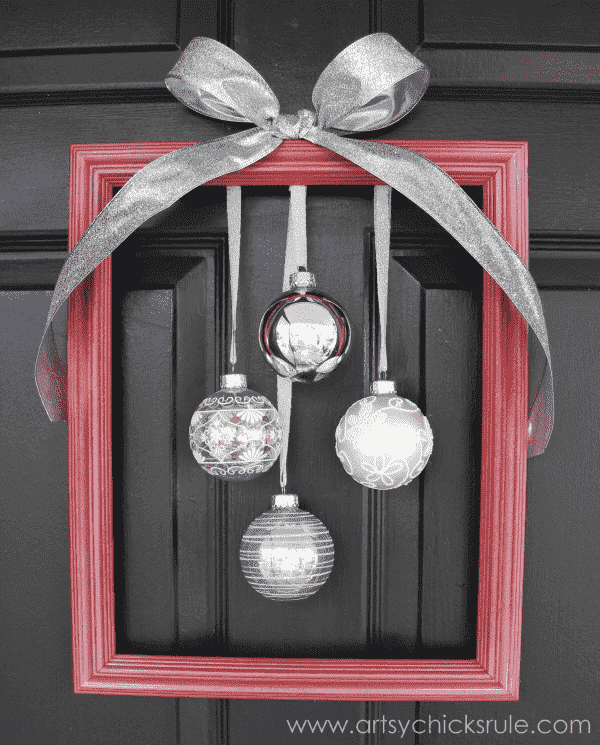 16. Hall Mirror Makeover
Christmas cards from friends and family are your best friends when it comes to decorating on a budget.
How to do it: Fill your typical hallway mirror with cards to turn it into a festive centerpiece. This works excellently with window mirrors. Add some glitter to the mirror by hanging a few fairy lights over it.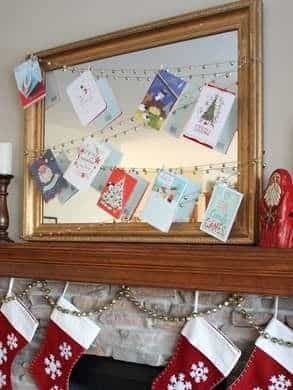 17. Terrarium For Christmas
Are you a fan of succulents? Then, this is the Christmas craft you've been looking for.
How to do it: To make the base of your terrarium, fill a glass orb with sand, stone, and/or dirt. To give this sustainable décor a Christmas touch, start with your favorite succulent, and then add a little deer figure and holly berries.
You can also make a winter terrarium. Here's how!
18. Handmade Crackers To Decorate The Table
Reducing waste has become a need of the hour. Additionally, handcrafted place sets make guests feel even more welcome.
How to do it: Put a treat inside a cardboard roll, wrap it in crepe paper or fabric scraps, and tie the ends with a ribbon.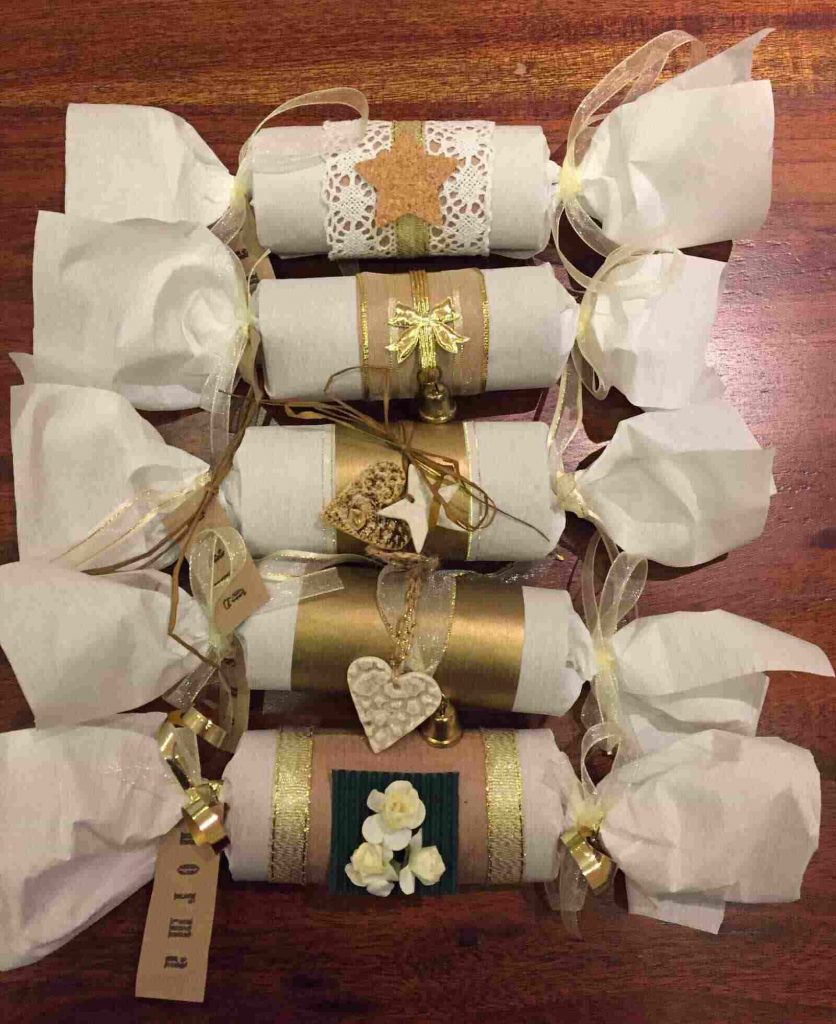 19. Snowmen Made Of Glue
What would Christmas be like if the Snowmen weren't there?
How to do it: Wrap glue-soaked twine over small balloons to construct the shape of the cheery snowman. Pop the balloons and clothe the snowmen after the adhesive has dried. Make little hats, scarves, eyes, and carrot noses for your new creations by crocheting miniature hats, scarves, eyes, and carrot noses.
20. Gather Pine Cones From Different Seasons
Sometimes it's best to keep things simple, and this casual presentation is both simple and attractive.
How to do it: Take your favorite candles, a handful of pinecones, and one or two color-coordinated trinkets or decorations to complete the look. For a comfortable and beautiful holiday aesthetic, place it on a mantelpiece in your living room or a console table in your hall.
Start Decorating Now!
We hope you have already chosen your favorite DIY Christmas decor from the above list. Enjoy making it with your family and create some special memories.
From all of us at SplashLearn, wishing you and your family a merry & decorative Christmas!
Frequently Asked Questions(FAQs)
Which decorations should I use to make my house attractive?
Here are some decoration tips to make your house stand out on Christmas nights:
Well Lit:
Keep the areas of the house you are decorating in good light. Choose lighting that contrasts your house and the decorations.
Wash Your Windows:
You can use water and white vinegar to clean your windows and frames. Since the outside of your house is in the spotlight, keeping the windows clean is good. Keep It Structured:
Decorate your house so that it all looks like it comes together as one piece. Keep the colors in coordination, select a theme, and don't go over the top!
What are the symbols of Christmas?
An essential part of planning Christmas decorations is putting up symbols that embody the spirit of Christmas. You may know some of these but let's go through the symbols of this holiday:
The Star
Christmas Trees
Wreath
Candy Canes
Poinsettias
Doves
Lights
Angels
Stockings
Presents
Snowflakes
How can I make my whole family get involved in decorating for Christmas?
Although almost everyone wants to be part of Christmas activities, there are ways to ensure everyone you want is involved in the festivities. Here are a few tips:
Give everyone duties and tasks so they take responsibility
Split people in groups or pairs so they can help each other
Plan all the activities in the evening and on weekends when everyone is home