The best spring crafts for kids allow children to explore their creative side with fun and excitement. You can have your children work on some of the most interesting and innovative projects involving simple arts & crafts tools.
Arts and crafts activities also kickstart a child's imagination and sense of wonder about the world, making it a collaborative exercise. The top spring craft ideas for kids also involve refining fine motor skills that kids of all ages should continuously work on as they get older.
Let's explore some of the best spring craft projects for kids that empower them to pursue creative expression. This can be achieved through cutting, drawing, and painting ideas for kids.
Here are some more online Math games and ELA games to educate and engage your kids!
The Best Spring Crafts for Kindergarteners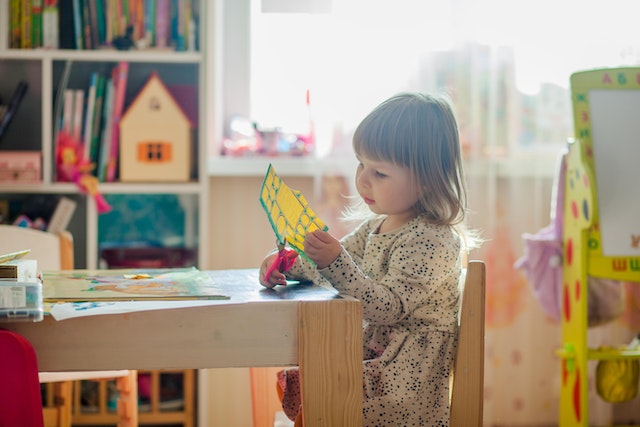 In kindergarten, it's important to get a sense of expression through art. You want your little one to start manipulating objects to turn them into mini works of art. You can also bring them a sense of pride and joy as they accomplish various tasks to complete the art activities for kids.
1. Over the rainbow
You can make a rainbow using craft paper, colors, cotton, and tape. You can start by coloring seven strips of paper with different colors of the rainbow. You can then make clouds out of cotton balls that are clumped together. You can take seven strips together and glue them to the clouds on either side.
SplashLearn: Most Comprehensive Learning Program for PreK-5

SplashLearn inspires lifelong curiosity with its game-based PreK-5 learning program loved by over 40 million children. With over 4,000 fun games and activities, it's the perfect balance of learning and play for your little one.
Try for free
2. Let's make some funny bees
To make some spring bees, you need a toilet roll, some colors, and some paper. You can start by wrapping the paper around the toilet roll cardboard. You can then paint in some yellow and add two strips of black around the circumference. You can cut out some wings from black paper and give your bees silly eyes.
3. Straw flowers
This is an easy spring craft for kids, involving paper straws and colored paper. You can take a straw and cut out six equal parts for the petals of the flower. You can make a yellow circle and stick it to the end of the leftover straw length. You can glue the smaller straw ends to the yellow circle and tape the whole thing to the main straw.
4. Cool ladybug rings
A great way to make 3D crafts that are reusable is to make rings out of them. You can have your child draw out a ladybug and cut it down in the middle. They can stick both parts on either end of a long thin strip of paper. They can curl both sides into each other until they make a ring and then tape it up.
5. Natural caterpillars
In these types of spring crafts for kindergarten kids, you can incorporate nature into your crafts. You can borrow a leaf and thread a string through a bunch of cotton balls of different colors. You can add some silly eyes to the front of the string of balls and then glue the bunch onto the leaf for your caterpillar.
Related Reading: 

Funny Spring Jokes for Kids That Will Make Them Laugh
Let's Explore The Top Spring Craft for First Graders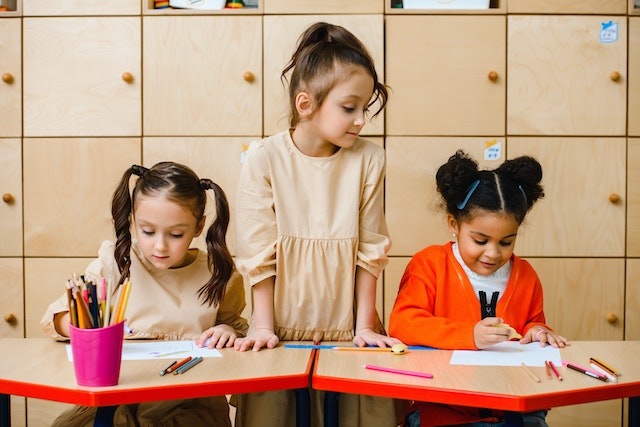 Spring crafts for kids become a bit more complex in the first grade, as kids become more accustomed to using scissors and glue. You can have them design unique spring flower crafts for kids, funny animals, and unique landscapes, using the power of their imagination.
1. The sunflower picture craft
This is a great first grade spring art project for kids involving cutting out a picture of your child and making a flower out of paper and straws. This spring flower craft for kids can be made by cutting out a pinwheel out of colored paper and a stick. You can attach the picture of your kid in the center to make it a sunflower shining brightly.
2. The handprint tree
You can trace out your child's handprints and have them color in the roots and the branches. They can attach cotton balls to resemble cherry blossoms, with painted flowers at the base of the trunk. This is one of the best spring crafts for kids if they love spending time in nature during the season.
3. Sunshine through a cloud
You can have your child cut and color raindrops and attach them through a string to make 4-5 lines of drops. They can then clump cotton balls to create a cloud and then attach the strings to the back of the clump to create the scenery. A sun can be colored and glued to represent the coming of spring.
4. Bubble-wrap sheep
Your child can cut out a sheet of bubble wrap into a flower and paint it white. They can cut out the face and legs of the sheep and stick googly eyes to it. The white bubble wrap can serve as the body, as your child glues the face and legs onto it.
5. Paper plate butterfly
Your little one can cut a circular paper plate into four equal parts by folding it twice and cutting through. These serve as wings and can be colored with different patterns found in nature. They can make the butterfly's body by cutting out a strip of colored paper and attaching the wings to it.
Related Reading: 

Best Spring Activities for Kids of All Ages
Here Are The Best Spring Craft Ideas for Second Graders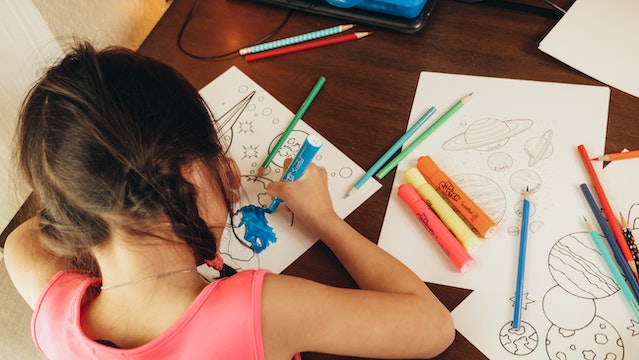 Let's explore the best spring crafts for kids in the second grade.
1. Yarn made tulips
You can keep some yarn, popsicle sticks, and some colors for this unique spring craft idea. Your kids can cut out the shape of a tulip from some cardboard and add red, yellow, and blue colors to it. The popsicle stick can be colored green to represent the stem. The yarn can be wrapped around the tulip head to give it texture.
2. Paper plate spring scenery
Your child can draw some flowers, clouds and the sun on a paper plate with a slit at the bottom. They can make a butterfly and attach a popsicle stick at the bottom to control it. They can slide the butterfly through the slit and have it dance around the flowers in the scenery.
3. Handprint flower vase
Your kids can cut out their handprints and add stems to them to make different colored flowers. They can make a vase by rolling up a sheet of paper and coloring it brown. They can then place the flowers in the vase for this 3D spring craft idea.
4. Toilet roll froggy
Your kids can color the toilet roll cardboard green and give it some arms and legs by attaching green strips of paper. They can add googly eyes and some facial features with a marker.
5. Wooden spoon butterfly
This is one of the best spring crafts for kids as it involves making cute butterflies. You can have your children color in a wooden spoon and attach pretty wings on its sides with construction paper. They can add glitter, gems, sparkles, and other decorations.
Related Reading: 

Best Spring Poems for Kids for Creative Expression
Children in The Third Grade Can Follow These Spring Craft Ideas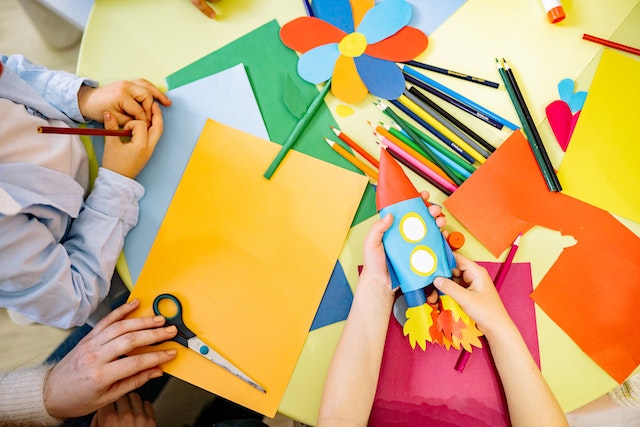 From spring tree craft for kids to more complex shapes and themes, the third grade is all about making crafts more vibrant.
1. Butterfly life cycle project
You can have your kids make the lifecycle of the butterfly on a paper plate. They can add a circle inside the plate and split it into four parts to show the eggs, caterpillar, chrysalis, and butterfly stages. This can be a great educational and simple spring craft for kids.
2. At-home rainmaker
In this spring project for kids, they can transform a cardboard tube into a rainmaker. They can add rice, flour, and some aluminum foil to create the rain sounds. They can paint the tube, add the mixture, and seal it with some glue and paper.
3. Paper plate birds
Your child can create a nest with a paper plate, some chicks, and some lace. They can thread the chicks together and add lace to create the appearance of a nest. Through slits in the plate, they can even maneuver the chicks around.
4. Painted snails
Here's another great paper plate craft involving your child cutting a spiral through the paper. They can have the thick end be the shell of the snail, and the thinner end be the head. They can add facial features, colors, and sparkles.
5. A rainbow through the cloud
Your children can bundle up some cotton and paint it white, and attach some clothespins that are painted in the colors of the rainbow. They can glue it to a sheet of paper and hang it on their walls.
Related Reading: 

Best Spring Activities for Preschoolers
Amazing Spring Craft Projects For Fourth Graders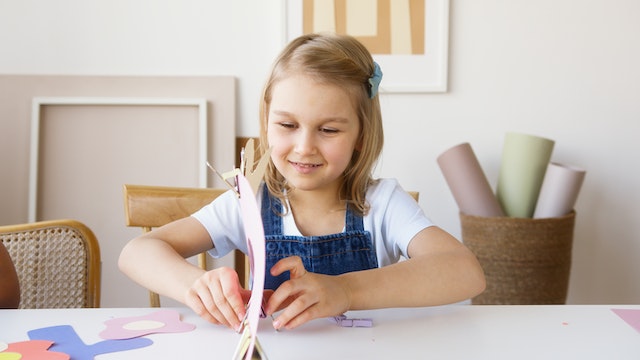 It's the fourth grade, and it's time to improve their fine motor skills further.
1. Clothespin dragonfly
Your kids can paint over clothespins, add embellishments, and attach pipe cleaners as wings. They can make a bunch of them and add them to any spring theme scenery.
2. Footprint rainbows
Your little ones can paint their feet with the different colors of the rainbow and stamp a sheet of paper while leaving some space in the middle. They can draw the body of the butterfly in the middle.
3. Flowers from liners
Your kids can take cupcake liners and fold them up to make the petals of a beautiful flower. They can paint over the liners, pin them to a center circle, and add a green stem at the bottom. They can even make leaves out of the leftover liners.
4. Cardboard roll bouquet
Your kids can stuff a cardboard roll with some colored paper and tissues to bring out the aesthetic of a bouquet of flowers. They can stack different colored paper and stuff it into the tube to make it more visually unique.
5. Parts of a flower
Your children can create a biology diagram of the different parts of a plant during the spring season. They can add real seeds, cupcake liner for petals, cardboard paper for leaves, and a tube for the stem. They can make the project their own by using different recyclable materials.
Related Reading: 

Awesome Ideas for Summer Craft for Preschool Kids
Check Out These Spring Arts and Crafts Projects for Fifth Graders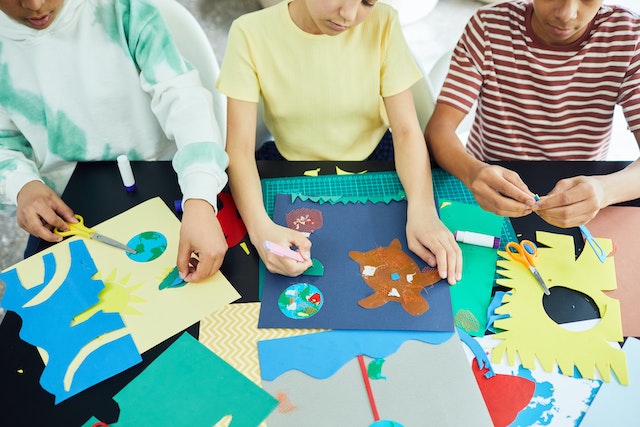 In the fifth grade, it's all about how to include science experiments for kids to make spring projects come to life.
1. Eggshell plant life
In eggshells, your kids can plant seeds in cotton balls of different types. You can also place the eggshells in different areas of the house to understand the role of seasons, sunshine, and water in germination.
2. Cloud painting activity
Young ones can get scientific by painting different types of clouds on a blue chart paper. They can clump cotton balls together and glue them to form clouds of different types. They can also add raindrops with blue beads.
3. Lego spring themes
In the 5th grade, your kids should be agile enough to create sceneries with Lego blocks. You can have them follow a reference picture and create a spring-themed landscape that best reflects their feelings.
4. Flower bracelets
Young ones can make bracelets out of chart paper by cutting a ring, some flowers, and adding gems. They can also make the bracelet thicker by rolling up paper sheets to add dimension. Flower bracelets can also be shared with friends and family members to bring out the spring theme.
5. Pasta flower crafts
With pasta coming in different shapes and sizes, you can have your child create a pasta garden. They can glue circular pasta pieces to make petals and straight spaghetti lines to make stems. They can make butterflies, bees, and other spring elements with pasta pieces.
Related Reading: 

Easy Activities for Preschoolers [With Tutorials]
Top Benefits of Early Introduction of Arts & Crafts for Kids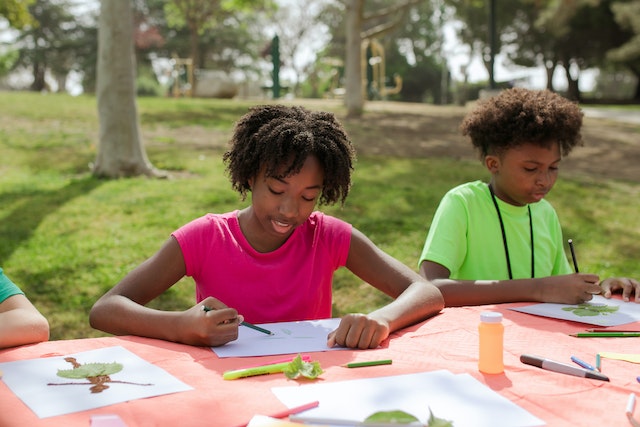 There are many benefits of opting for the best spring crafts for kids. Your children can emerge more confident about their abilities to solve complex problems, and get a sense of accomplishment by completing projects.
You can also improve their hand-eye coordination, reading skills, and application skills, through the right spring craft projects for kids. You can start with easy spring craft for kids and then progress gradually as your child shows more interest and becomes more aware of their own abilities.
You also get to marvel at the ingenuity of your children's creative expressions through different mediums. They gain more confidence in achieving their goals, especially if the project is larger in scope.
Arts and crafts activities also improve visual learning strategy and overall processing, which is a key component of overall cognitive development. Your kids will be able to understand the world around them better, and acquire finer details through their visual cortex system.
Conclusion: Get Designing With These Amazing Arts & Crafts Ideas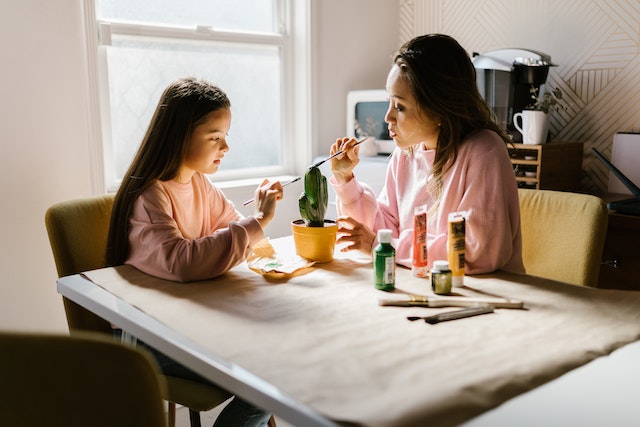 Now that you have all the necessary craft ideas, it's time to get started. The best spring crafts for kids can lead to endless hours of fun, excitement, and skills development. Your young ones can also get excited about creating something unique and interesting out of just paper and glue.
These craft spring activities for kids can also be done in groups, allowing for different versions of the same project. You can use different colors, techniques and approaches to have each child develop their own way of expressing themselves through crafts.
Explore more online educational resources and printable worksheets for kids that will help with their learning experience and make them smarter.
Frequently Asked Questions (FAQs)
What supplies do I need for spring craft projects for kids?
You would need scissors, paint, colors, construction paper, chart paper, glue, and tape, as preliminary supplies for spring craft ideas.
How do I improve participation in spring craft projects?
You can improve participation in spring craft projects by following along with your child. You can also let them choose craft ideas based on their favorite aspects of spring.
Can I use one spring project idea for another one?
Yes, the objective of performing multiple crafts is to become more confident with learning new techniques.
What skills are necessary for spring craft activities?
Your little ones should be adept at cutting, pasting, and using simple tools. They should also have an eye for colors and painting as instructed.