As your precious little one grows, so does their amazing brain! At three years old, their brain is like a sponge, soaking up everything around them. It's a fascinating time for their development, and the games you play with them can have a big impact.
SplashLearn: Most Comprehensive Learning Program for PreK-5

SplashLearn inspires lifelong curiosity with its game-based PreK-5 learning program loved by over 40 million children. With over 4,000 fun games and activities, it's the perfect balance of learning and play for your little one.
Try for free
Did you know that during these early years, their brain is forming connections at an incredible pace? Did you know that 80% of a child's brain develops during the first three years of his life? When your child's brain produces excess synapses during the first three years, it becomes more responsive in later life. So it is important to stimulate the 3 year old's brain as much as possible. And there is nothing better than games for 3 year olds to develop their mental and physical strength.
This article will take you on a stroll through the best 25 games for three year olds to improve their mental and physical abilities while keeping them fruitfully engaged.
Related Reading: Best Fun Games for Toddlers
25 Fun Learning Games for 3 Year Olds for Learning and Entertainment
It is difficult to grab a three year old's attention for a long time. They have the shortest attention span with interest in everything bright on Earth. Games for three year olds have to be fun yet educational. Here are the best games for 3 year olds:
5 Online Games for 3 Year Olds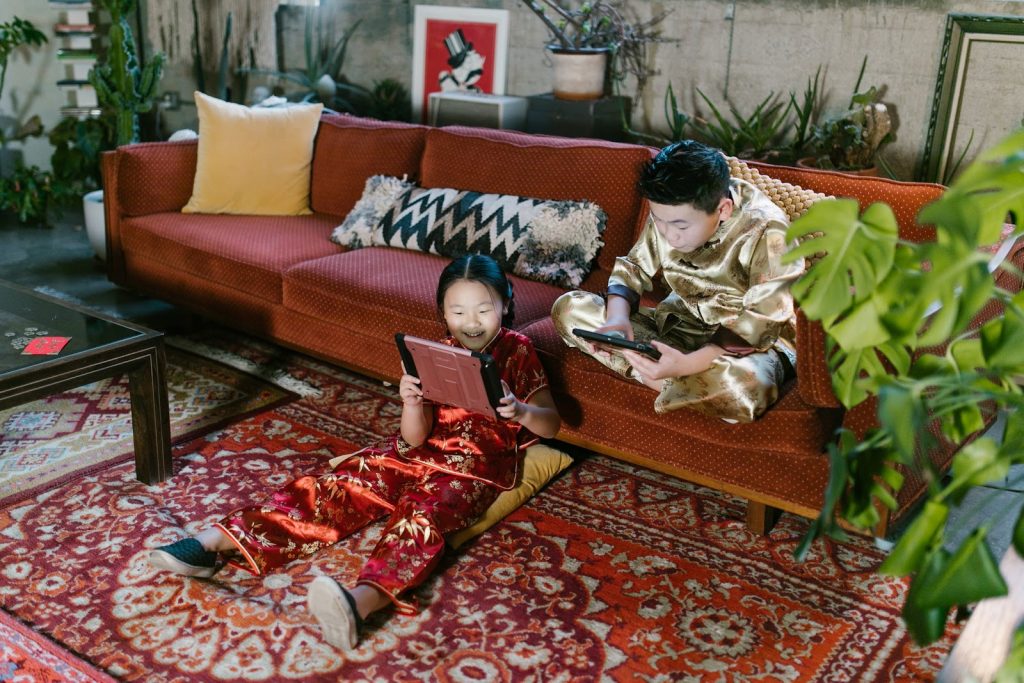 We all love playing online games and so do our kids. Online games are not just another reason for screen exposure for our kids but also an opportunity for them to learn from it if we as informed parents choose the right games for our children. So, it is a wise decision to allocate a portion of whatever screen time we have allotted for our kids to online learning games. Take a look at some of the best games available online.
1. SplashLearn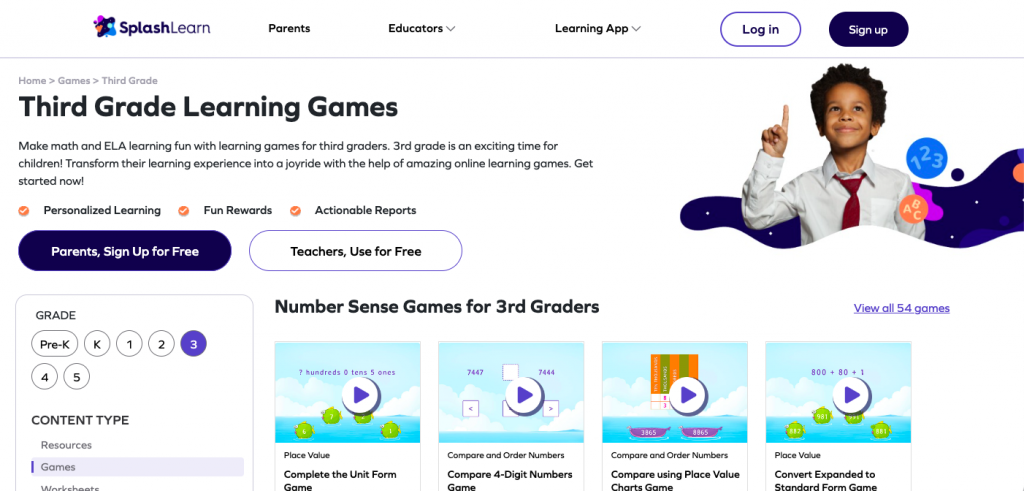 Skill: Math and reading skills
Price: Free for teachers and a 7-day free trial for parents. Subscription starts at $4.99 per month
SplashLearn is one of the best games for 3 year olds to improve their math and language skills. This platform has interactive visuals, sound quality, and a storyline to engage young children. All the games have a simple interface and language that toddlers can easily understand. In addition, this platform has several helpful resources for parents and teachers to educate young students, like blogs, research notes, curriculums, etc.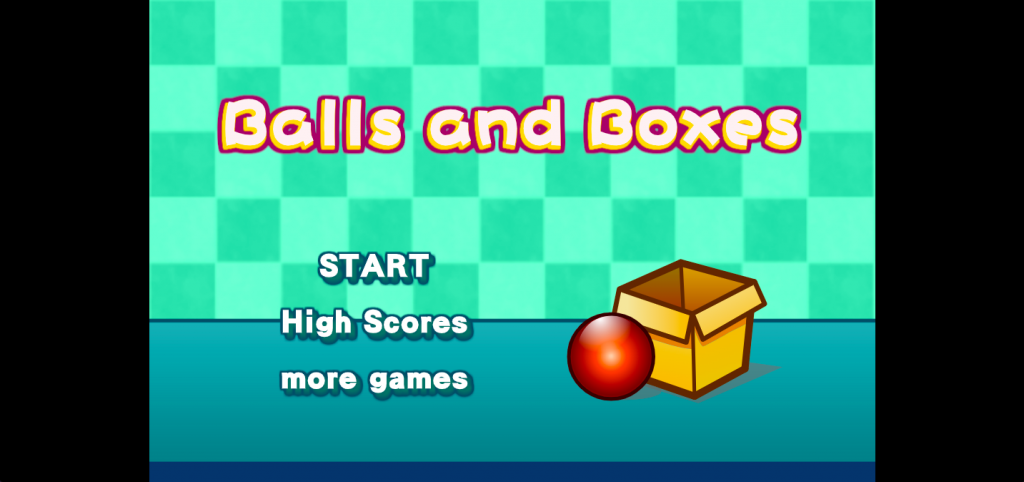 Skill: Memory improvement
Price: Free
Balls and Boxes is a challenging and one of the many free games for 3 year olds available online. It is an award-winning educational game that is easy to play but hard to get right. It has three boxes, and each box has a ball. At each level, the balls get shuffled, and players have to remember which ball belongs to which box. It is a great brain teasing game to improve your toddlers' memory and overall brain development.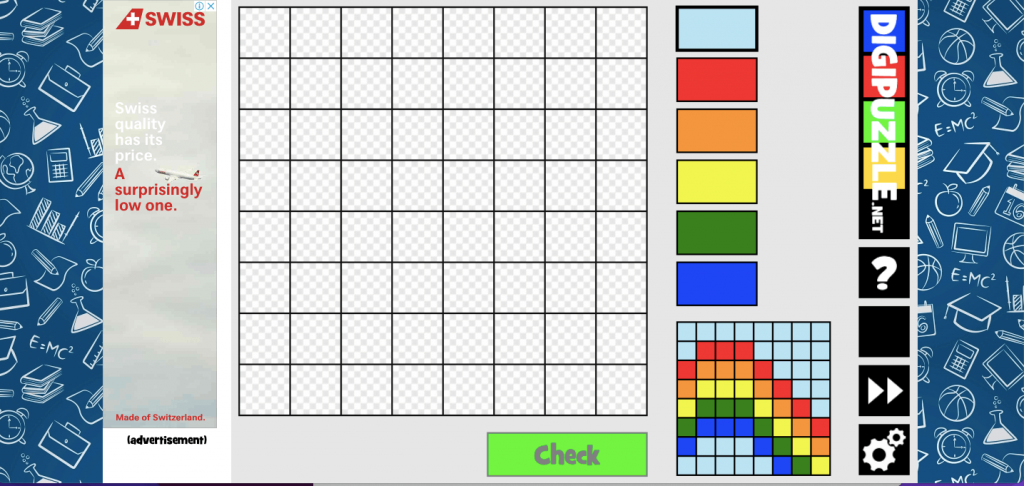 Skill: Memory and logical reasoning skills
Price: Free
This free game for 3 year olds online can help them learn colors and improve their logical skills. It is a simple grid of four and six different colors. Children simply have to follow the color grid and fill the right colors in the large blank grid in the center of the screen.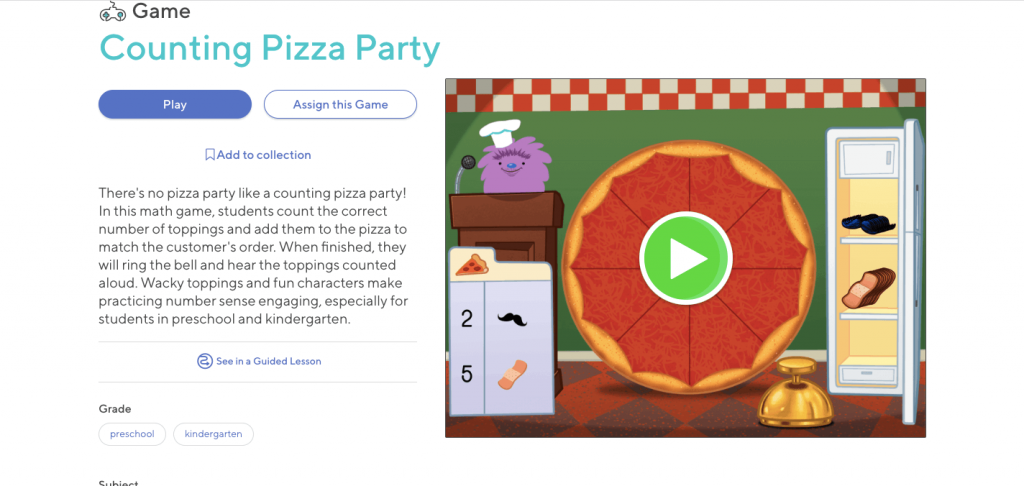 Skill: Counting skills
Price: Monthly subscription starts at $8.00 per month
Counting Pizza Party is a fun game in which kids make pizzas and improve their counting skills. They get to decide what type of pizza they want to make and select its topping as well. When the customers make a request, it is up to your child how to get the correct amount for topping on their pizza.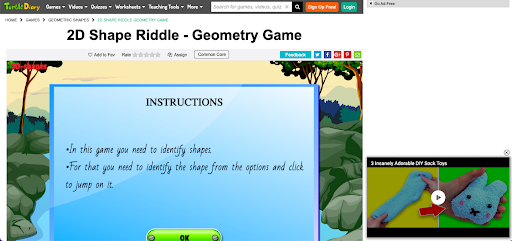 Skill: Shapes
Price: Free
By playing this game, 3 year olds can learn basic shapes with the help of animated characters such as squares, rectangles, circles, hearts, and so on. The game has two types of exercises – coloring and shape-recognising activities.
Related Reading: Fun Free Games for Kids to Play Online
After online games, let's explore kids' very first and favorite love, toys, and learning toy games for them.
5 Toy Games for 3 year olds
A 3 year old kid is exploring their world curiously. Everything from insects to planes piques their curiosity. In this arena, toys cater to their developmental needs and natural curiosity. Toy games provide them sensory experiences, encourage imaginative play, and offer them a sense of control and mastery. They allow kids to mimic real-life situations, experiment, and create, fostering enjoyment and a sense of accomplishment. Following are some of the most amazing toy games filtered from a whole lot just for you!

6. Toddler Chicken Egg Toys
Skill: Color matching and motor skills
Price: $18.99
It is one of the top educational games for 3 year olds and is perfect for stimulating their color senses and motor skills. This game is also ideal for children suffering from sensory disorders. With this simple game, they can enhance their contextual understanding and color-matching skills.
7. The Sneaky, Snacky Squirrel Game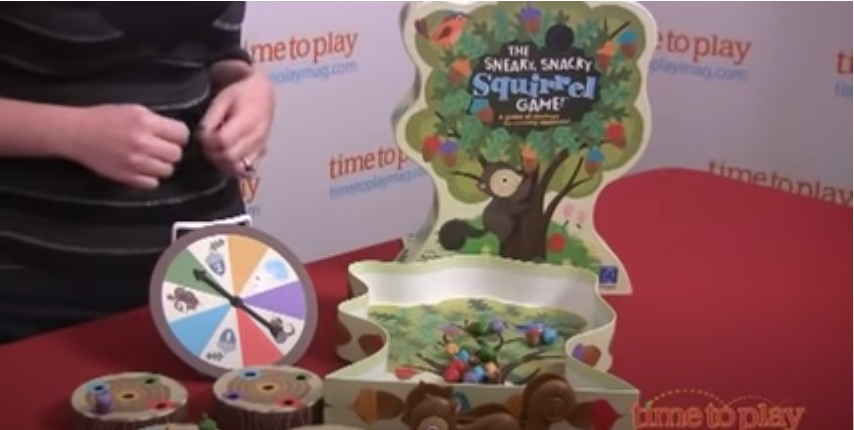 Skill: Math skills, social and strategic planning
Price: $15.79
A family of four can enjoy this strategic game and improve the mathematical skills of their toddlers. In this game, 3 year olds will learn to win a game by feeding their squirrels first. The gameplay is simple — spin the spinner, squeeze the matching colored acorn with the squirrel squeezer, and place it into a log. This game involves multiple elements, perfect to entertain your toddler.
8. The Honey Bee Tree
Skill: Hand-eye coordination, strategic thinking, and dexterity
Price: $17.97
This honey bee game is not only educational but also fun for a 3 year old. Your toddler will experience thrill and excitement while removing leaves from the tree without disturbing the honey bees. Players who have fewer honey bees in their trays at the end will win this game. It is a strategic and sensory game that can develop your child's brain and keep them entertained at the same time.
9. WinkleStar Dartboard
Skill: Motor skills, color matching, and identifying fishes
Price: $12.59
Unlike the traditional dart boards with sharp darts, this is a unique kids-friendly dartboard with round balls as darts. So, it is a completely safe and educational game for young children. The dartboard contains different colors, fish images, and patterns to improve the color and shape and print recognition skills in toddlers. It is a perfect classroom and party learning game for 3 year olds.
10. Cootie Bug Building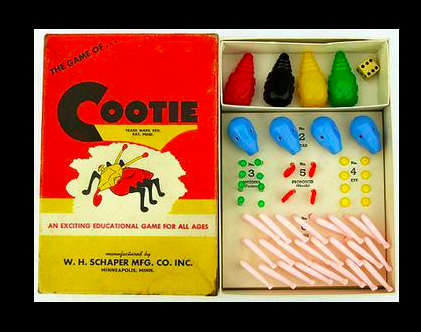 Skill: Color matching and motor skills
Price: $8.99
Cootie is a classic educational game for three year olds. This is a fun party activity for toddlers to learn color-matching skills and improve their hand-eye coordination. Players have to spin the spinner and hope to land on the bug part they need to complete their Cootie bug. The player who builds the bug first wins the game.
Related Reading: Best Educational Toys for Kids That All Parents Need To Know About
5 Board Games for 3-Year-olds
Everyone has fond memories of playing board games as kids. Their popularity lies in their ability to create suspense and happy feelings in moments of victory. Board games enhance childrens' strategic thinking and problem-solving skills. Through them, kids also learn qualities like teamwork and sportsmanship. Now that we know how important board games are for children let's see a few best ones around.
11. Candy Land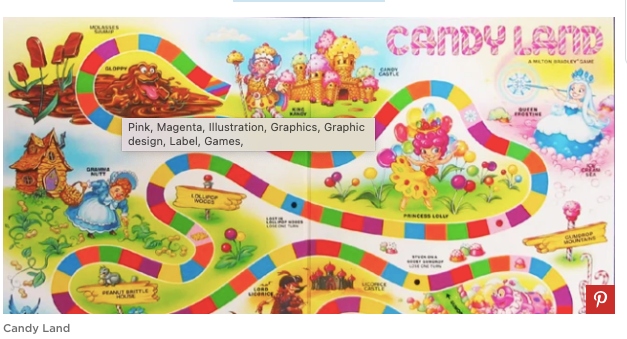 Skill: Color matching and strategies
Price: $12.99
Candy Land must have brought your childhood's nostalgic memories back. It is a classic board game that every child has played. Over the years, different versions of the game have been created. But the traditional version with colored cards, sweet illustrations, and four gingerbread players is the best. Children must pick the cards and move their plastic players on the board to explore different landscapes and mountains while targeting the castle.
12. Chutes and Ladders: Peppa Pig Edition
Skill: Counting, addition and color recognition
Price: $9.99
Chutes and Ladders is the best party game for three year olds. Four players can play this game at one time. There are multiple versions of this game available today. So, based on your child's interest, you can get the game. This game helps toddlers improve their counting and number-adding skills. Children have to spin the spinner and count numbers to move their player on the board squares and aim to reach the 100th square. This way, Chutes and Ladders injects a dose of thrill and excitement into the gameplay.
13. Magnetic Maze
Skill: Creativity, imagination, and motor skills
Price: $22.99
As the name suggests, it is a magnetic board with vibrant images and graphics. Your child has to use a magnetic ball to move it from point A to B while crossing a maze. Children will use their imagination and strategic skills to move balls in the magnetic maze. It is a simple game to stimulate imagination and creativity among toddlers.
14. Hi, Ho! Cherry-O
Skill: Math Skills
Price: $11.99
Hi Ho! Cherry-O is yet another classic board game for three year olds. In this game, children have to spin the wheel and pick cherries from the tree based on their instructions, like 1, 2, 3, etc. They will learn to read, count, add, and subtract while picking the cherries.
15. Disney Classic Characters Matching
Skill: Identify similarities and differences
Price: $14.39
If your child is a big fan of Disney movies, this game is perfect for them. You will get 72 tiles with Disney character pictures like Mickey Mouse, Minnie, Dumbo, The Incredibles, Donald Duck, Goofy, etc. Children simply have to pick the matching photos and name the Disney character. You can also make this game fun by giving a time limit for finding the right Disney character match.
Related Reading: Best Board Games for Kids to Keep Them Entertained
5 Card Games for 3-Year-olds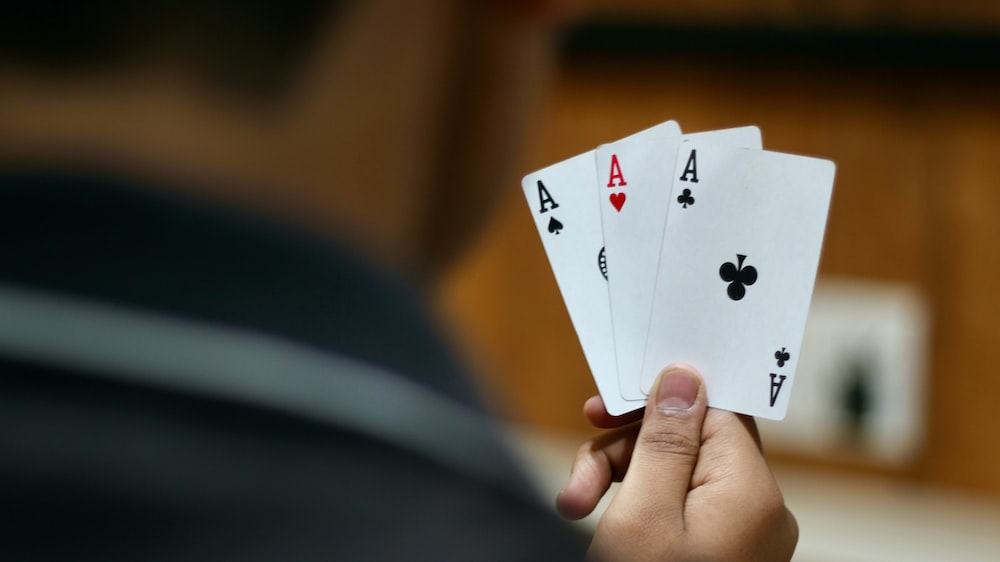 Card games are ageless as much as they are entertaining. It is a perfect way to spend quality time with your friends and family. A session of card games builds memories you cherish for years to come. Kids can also be introduced to card games as per their age and understanding. Card games often involve memory, math, and critical thinking, enhancing cognitive skills in an entertaining manner. Let's take a look at a few superb card games we have put together below!
16. Lingo Cards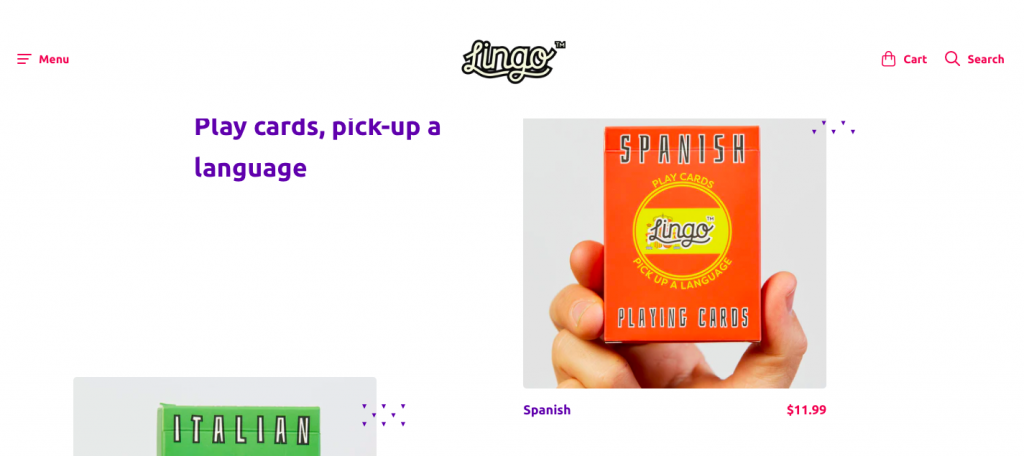 Skill: Language and memory skills
Price: $14.99
Do you want to teach your mother tongue to your toddlers? If so, you can play lingo cards with them. These are regular 52 cards with two jokers. However, a phrase from your selected language will be printed on each card. So, you can show different cards to your children and teach them words with phonetic pronunciation. These lingo cards are available in various languages like Italian, Spanish, Chinese, Japanese, etc.
17. Smack It!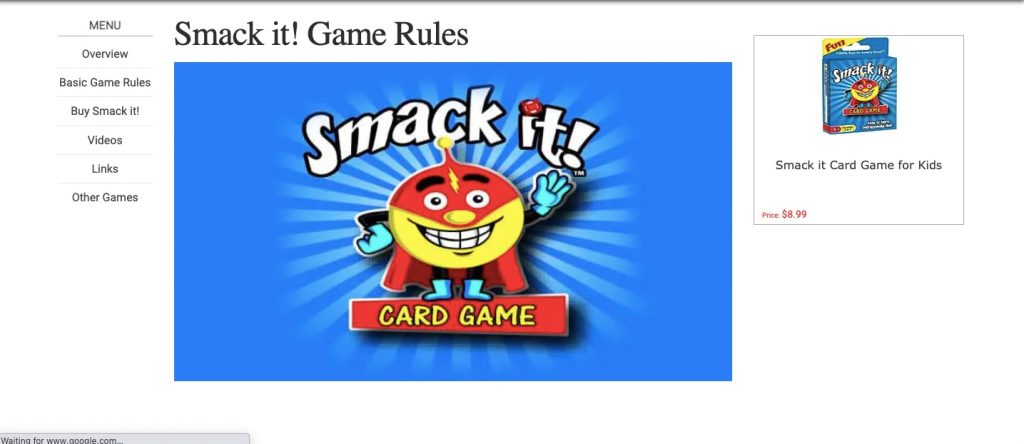 Skill: Memory and motor skills
Price: $6.99
It is a fast-paced and rowdy card game for three year olds. Your entire family can play this game together and spend some quality time. Players simply have to sit in a circle and swiftly swipe cards in the center. But they must remember when to say smack it and win the game. These cards are also perfect for playing classic games like wars and slapjack.
18. Gimme 5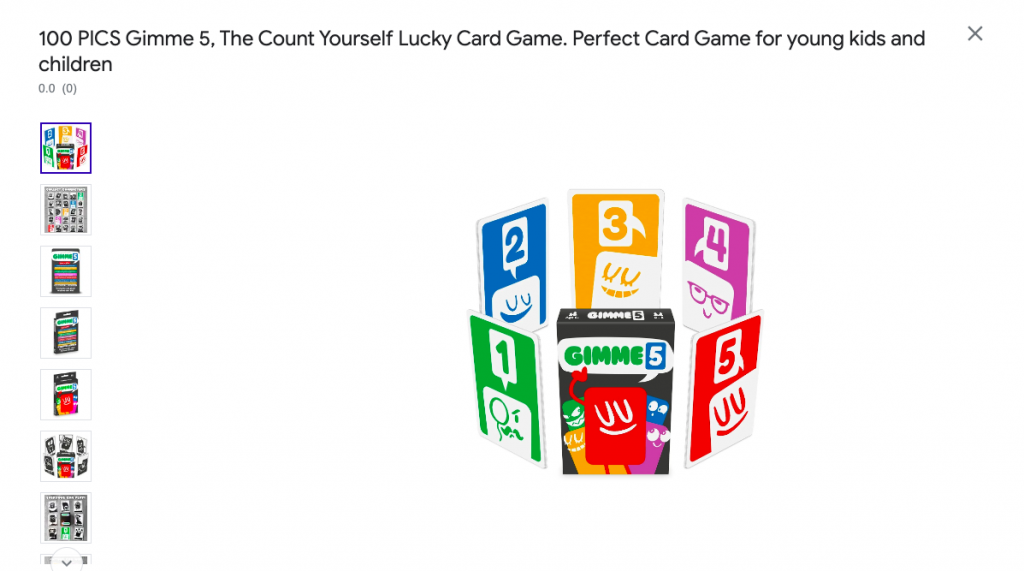 Skill: Counting and patterns
Price: $4.99
This game is a toddler version of snap. It has a hundred colorful cards that you can divide equally among your toddlers and let them put cards one by one in the center pile. However, they will try to use their power cards to make their opponent give away their card as a punishment. It is the perfect classroom card game you can play with more than ten kids.
19. Steal The Bacon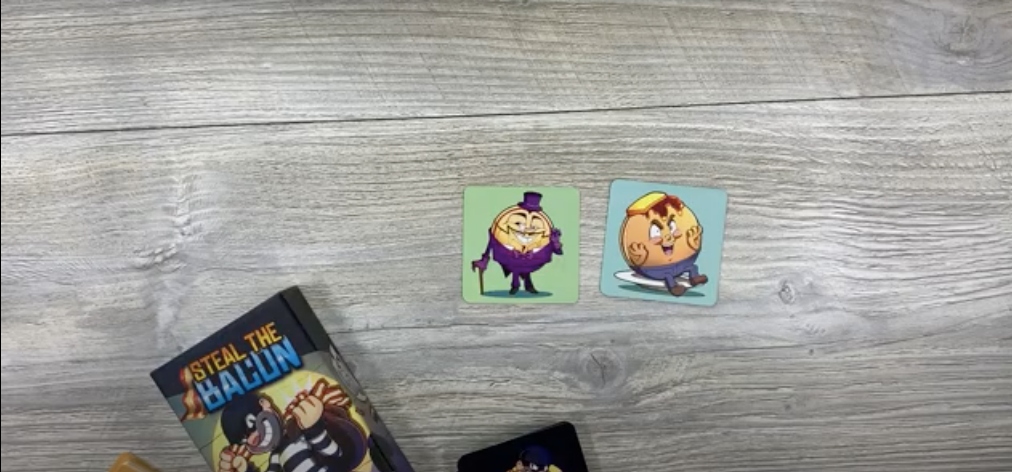 Skill: Matching skills
Price: $9.99
Steal The Bacon is the tastiest fun game for 3 year olds. This card game contains delicious breakfast cards like pancakes, bacon, and so on. Players simply have to match breakfast cards, and when their breakfast plate matches their opponent, they rush to steal the bacon from their plate. The player who steals the bacon first obviously wins the game.
20. BLINK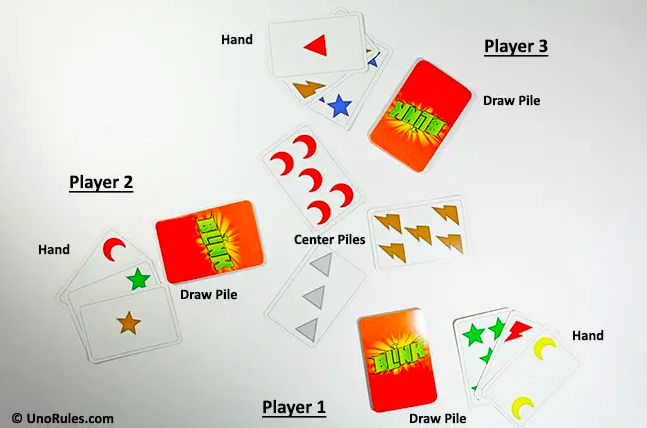 Skill: Matching and memory skills
Price: $9.94
BLINK is a fast-paced family card game. In this game, two players race against one another and try to match different colors, shapes, and counts of two cards. You can play a card with four yellow stars on any card with yellow symbols (color), on a card with any number of stars (shape), or on a card with four symbols of any kind (count).
It's a game of speed & focus with no reading or counting, so it's perfect for young children.
5 Active Games for 3-Year-olds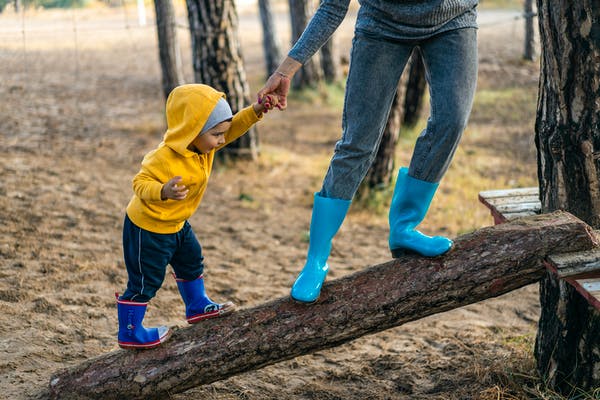 "All work and no play makes Jack a dull boy"
Yes, active games make children anything but dull. When children involve themselves in active play, they experience an adrenaline rush that makes them more robust, confident and intelligent. Therefore, there should be no undermining of physically active play for children. The qualities a child does not learn in the physical constraints of a classroom, he learns it effortlessly in the playground. Following are a few great active games for 3 year olds:
21. Elefun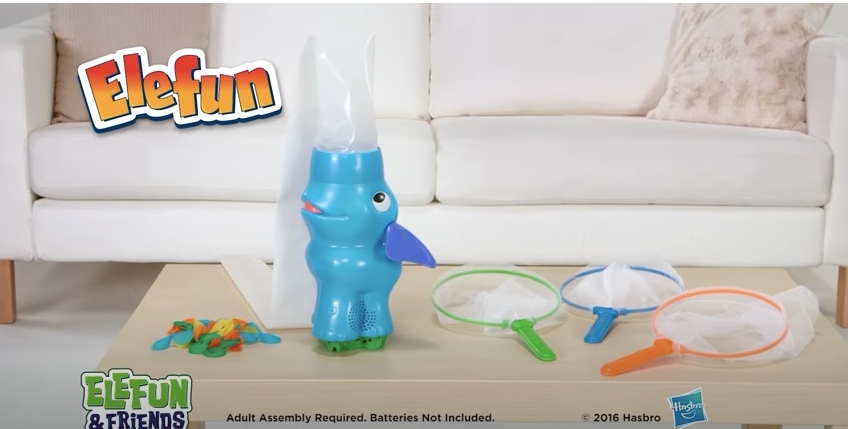 Skill: Color matching and motor skills
Price: $26.99
Elefun is a cute elephant that produces butterflies from its trunk. It is the best activity game for toddlers. The game is pretty simple, you have to plugin the Elefun, and it will first produce a trumpet sound before throwing butterflies out of its trunk. After that, children can use a net to catch butterflies, and the one who catches the most butterflies will win the game. With this game, you will get 20 butterflies and three nets. So, three year olds can play this game with their friends and do some physical activity.
22. Toy Rocket Launcher
Skill: STEM skills
Price: $19.99
For unlimited outdoor entertainment, you can give this toy rocket launcher to your toddler. It is not only a fun toy to create foam rockets. It is a scientific and technical toy that teaches children how to apply the right amount of pressure at the right angle to fly a rocket. Also, assembling this toy rocket requires some basic engineering skills. So, if you have a little engineer or scientist in your family, you should definitely play this activity game with them.
23. RaboSky Bean Bag Toss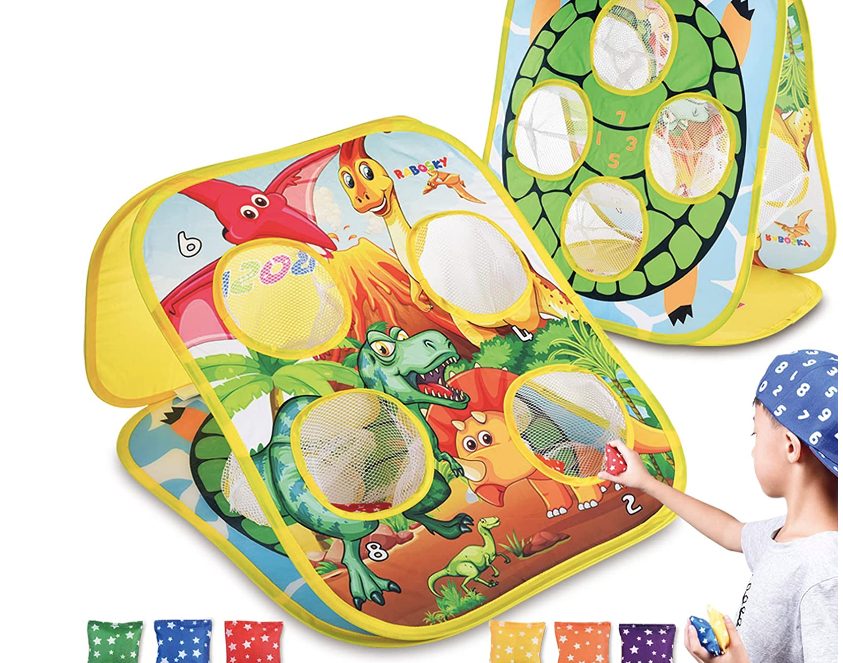 Skill: Motor skills and important sensory development
Price: $24.99
When toddlers toss bean bags into the interactive holes, this will not only improve their motor skills. But, it will also improve their tracking, visual, coordination, and aiming skills. It is a perfect party and classroom game to keep energetic three year olds active all day.
24. Whack A Mole Game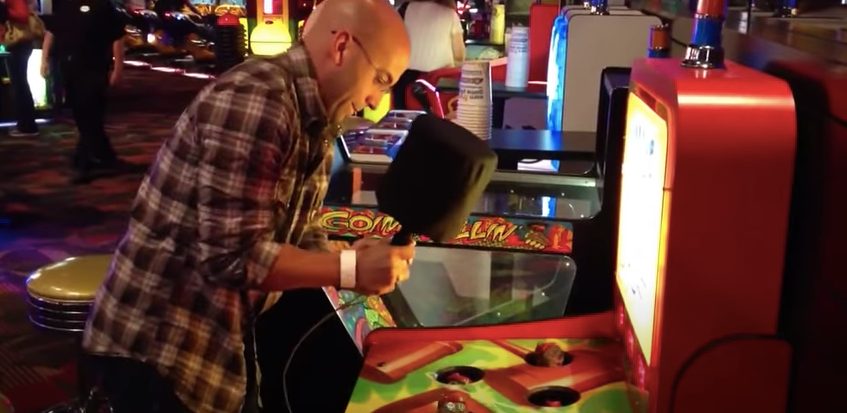 Skill: Motor skills
Price: $38.99
Whack A Mole Game is the best educational and entertaining game for 3 year olds. It is an electronic game that automatically pop-up moles and children have to use hammers to whack them all. You can set the game's speed based on your child's ability. It is also available in eight languages that help improve language skills among children. With hand and eye coordination improvement, this game is excellent for improving visual and tactical senses in young children.
25. Hover Ball
Skill: Motor skills
Price: $45.95
To tire out energetic toddlers, this is the perfect indoor soccer game. It is a football, but it is made of foam and travels in the air. Kids will have a blast kicking around this hover ball. The best thing about this ball is that it travels in the air. Therefore, it is perfect for playing indoors without breaking anything.
"Play is the primary way children were designed to learn" – Kathy Hersh-Pasek and Roberta Golinkoff
Related Reading: Top 15 Fun Learning Activities to Energize and Encourage 3 Year Olds
Conclusion
These captivating learning games are tailored for the enjoyment of 3-year-olds. They effectively blend education with entertainment, spanning a range from engaging board games to interactive online experiences. With a variety of options available, some offered at no cost while others require a fee, you can immerse your toddlers in these games and witness their developmental progress firsthand
Frequently Asked Questions (FAQs)
How can I pick the best games for my three year olds?
While selecting the best games for three year olds, check the educational and entertainment levels in the game. The game should teach a skill or value to children. In addition, it is an advantage to have some entertainment value in the game because it is hard to retain the attention of young children.
Should I allow my kids to play online games?
Online games are helpful to entertain and educate children when parents are busy with other errands. Having said that, monitoring your child's screen time is equally essential.
How many hours of play does a 3 year old need?
Toddlers should be allowed at least one hour of free unstructured play and at least half an hour of structured adult-led structured play.