Kids love trying new activities, and including cooking sessions in their activities can be highly educational as well as entertaining for them! Preschooler cooking activities help kids develop their cognitive and motor skills and offer a great chance for parents to spend some memorable time with their little ones.
From making pancakes to filling ice-cream cones with toppings, the colors of different foods and the desire to try something tasty keeps them interested in these cooking sessions. They also learn basic concepts such as measuring, counting, cause and effect, and so on.
In this article, we will help you with food activities for your preschoolers that are easy and exciting with detailed instructions. Read on to find out!
10 Best Recipes for Cooking Activities
1. Scrambled Eggs
Simple and delicious, making scrambled eggs are fun and great food activity for preschoolers. You need to make sure that your toddler is making it in the oven only under your supervision. You can begin by teaching them how to break the eggs and beat them carefully without any spills and observe the change in consistency as it gets heated in the oven.
SplashLearn: Most Comprehensive Learning Program for PreK-5

SplashLearn inspires lifelong curiosity with its game-based PreK-5 learning program loved by over 40 million children. With over 4,000 fun games and activities, it's the perfect balance of learning and play for your little one.
Try for free
Here's how you can make scrambled eggs:
Ingredients:
Method:
Break the egg and beat it thoroughly in a container.
Add some milk to the container and beat for a few more seconds.
Put some butter in a pan and pour the egg mixture into the pan.
Keep stirring until the egg is properly cooked and scrambled.
Top it with some salt and pepper.
Related Reading: 

Tasty Yet Healthy Lunch Ideas for Kids That Kids Will Love
2. Dipped Strawberries
Who doesn't love dipped strawberries? Regarded as one of the best cooking activities for toddlers, dipped strawberries are safe and easy desserts that your kids are going to love to make.
Here's how you can instruct your kids to make dipped strawberries:
Ingredients:
Strawberries
Chocolate chips
Method:
Melt chocolate chips in a bowl in a microwave-safe container. Stir them every fifteen seconds to ensure they melt completely.
Once the chocolate is melted, you can dip the strawberries in such a way that they are half covered in chocolate.
Lay them on a clean baking sheet and put them in the fridge for half an hour.
After half an hour, take them out and enjoy!
3. Peanut Butter Cookies
The best part about fun food activities preschool is that the texture and patterns of food while cooking them also creates enjoyable activity for kids, as they like to experience how the dough feels while kneading it or the way cookies fluff up once baked. The whole process creates a learning experience in a playful, joyous manner.
Making peanut butter cookies offer a similar experience, where kids love to mold the cookie dough into small balls. It improves their motor skills as they learn to roll the dough and manipulate the shape through the rolling technique.
Here's how you can make simple peanut butter cookies:
Ingredients:
1 cup of peanut butter
1 cup of brown sugar
1 egg
Method
Make a mixture of peanut butter, eggs, and brown sugar in a container.
Once mixed thoroughly, roll the dough into small balls.
Place them on a clean baking sheet with enough gaps between them.
You can make patterns on the dough with a fork.
Bake the mixture at 180 degrees for six to eight minutes.
4. Frost Cookies
Preschool baking activities are messy and fun, and your toddlers are never going to get bored of the experience. You can try including frost cookie making in these activities that will help them learn how to spread icing onto cookies and acts as a great motor skill practice.
Here's how you can make frost cookies:
Ingredients
Any pack of cookies or biscuits
Frosting
Food dye
Method:
Take a pack of fresh cookies or biscuits.
Mix the frosting with some food dye to change the color of the frosting into your kid's favorite color.
Spread the frosting generously on the biscuits or cookies with the help of a small spatula or knife.
You can also sprinkle sweets on the icing.
5. Rice Krispies
Kids love marshmallows and making rice Krispies will help them learn how the consistency of marshmallows and butter changes when heated. Let's find out how you can make these:
Ingredients
5 Cups of Rice Krispies
2 Tbsp butter
1 Packet of Marshmallows
Method
Begin with melting the butter in a saucepan.
Add marshmallows and keep stirring until they melt completely.
Now you can slowly add the rice Krispies evenly and stir until they are evenly coated.
Turn off the heat and transfer the entire mixture into a pan.
Cut the mixture into a circle or square (this is the fun part!) and let it cool.
Related Reading: 

Fun Things for Kids to Do in the US
6. Fruit Salad
Making colorful and healthy fruit salads can be an incredible cooking activity for kids. You can give a blunt knife and fruits like grapes or bananas that are easy to chop and supervise as they are doing it!
You can include this activity into their routine, which would make for good practice and a healthy meal as well. Let's learn how to make a fruit salad:
Ingredients
Pick any fruits such as grapes, cherries, bananas, oranges and so on. Start with fruits that can be cut with a blunt knife, ensuring safety.
Method
Cut the fruits into small pieces.
Mix all the fruits together with your hands or spoon in a bowl, and they are ready to eat!
7. Mug Cake
Interesting and incredibly easy to make, your kids are going to love this one. This recipe should be on every preschool cooking project because kids love chocolate and cake. Try this easy recipe where the magic happens on a coffee mug:
Ingredients:
1 tbsp of melted butter
1 tbsp of white sugar
1 tbsp of brown sugar
1 egg yolk
Pinch of salt
¼ cup of flour
Chocolate chips
Method
Mix the butter, sugar and egg thoroughly at first in the mug.
Now add the flour and mix it with the mixture.
Add the chocolate chips and stir a bit, and put the mug in the microwave for one minute. Check the consistency and heat longer if required.
8. Mini Pizza
Kids love pizzas and enjoy making them just as much. It involves a lot of rolling, spreading and grading, and the whole process is a visual treat as well. Making mini pizzas can be one of the best cooking activities for kindergarten, where they can make different shapes of pizzas and have fun!
Here's how you can make mini pizzas with kindergartners:
Ingredients:
Ready-mixed pizza dough
Grated cheese
Tomato sauce
Toppings such as spinach, mushrooms, olives and so on.
Method:
Roll out the pizza dough with the help of a rolling pin.
Make different-shaped pizzas such as mini-circles or heart-shaped pizzas.
Spread a generous amount of pizza sauce on the pizza.
Sprinkle cheese followed by the other toppings of choice.
Bake the pizza according to the instructions provided on the dough pack.
9. Sandwiches
Sandwiches are easy to make and are tasty as well. They can be made with different fillings and is an easy cooking activity for preschoolers. You can assemble the ingredients and ask your kids to make the sandwiches on their own, and with some guidance, they would do great!
Let's see how you can prep a sandwich:
Ingredients:
Tortillas or breads
Meat of your choice
Condiments and sauces such as butter, mayo and mustard sauce.
Toppings of your choice (pickles, lettuce, cheese, etc.)
Methods:
Spread the condiment of choice on the bread with a spatula or butter knife.
Add meat or other toppings.
Cut the sandwich diagonally into halves or quarters.
10. Popsicles
Fruit juice popsicles are favorite amongst kids, and they would love to make them on a hot summer day. They are healthy and tasty, and can be made quickly! Let's see how you can make popsicles:
Ingredients:
Any flavor of fruit juice (mango, orange, pineapple, and so on)
Methods:
Pour the juice slowly into a popsicle maker and place wooden sticks in the open end, and put it in the freezer for three to four hours.
Take it out once frozen and eat.
From preschool baking activities to making colorful popsicles, cooking activities are fun and offer developmentally appropriate learning opportunities that can help your kids grow. Now that we have learnt a few amazing recipes you can include in preschoolers' cooking activities, let's understand what preschoolers can learn from cooking activities.
Related Reading: 

Creative Indoor Activities for Kids to Have Some No-Screen Fun
How do preschoolers learn from cooking activities?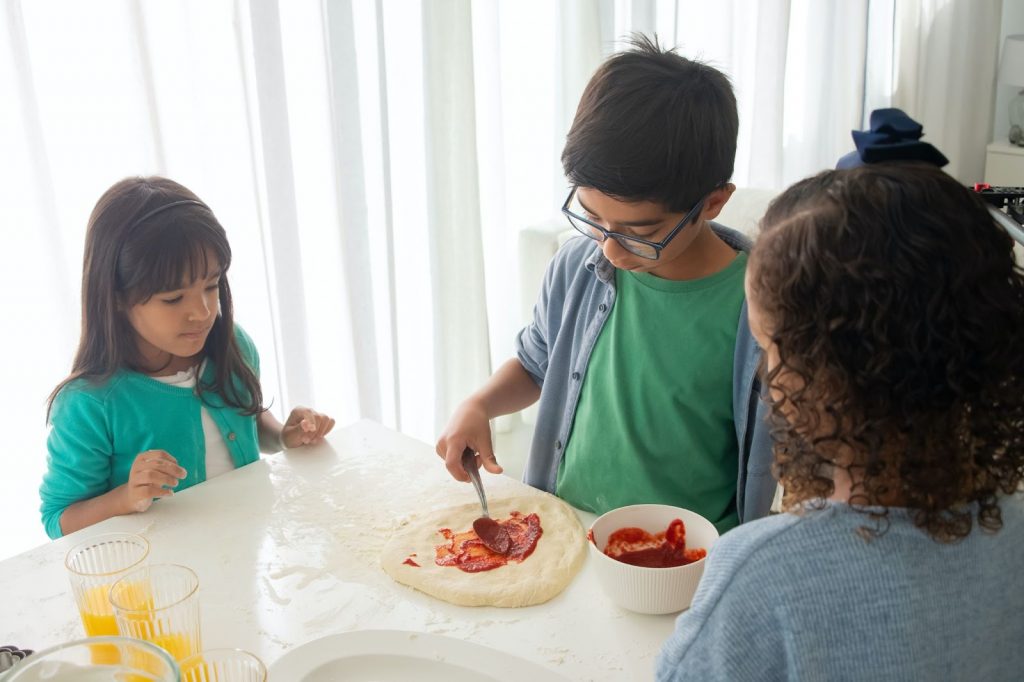 While the process of cooking can be enjoyable and bonding, the whole idea is to help them pick up certain skills in a playful manner. Here are some of the skills preschool cooking activities can help kids build:
1. Language and Communication Skills
The whole act of learning how to cook introduces kids to newer methods of cooking, such as rolling, kneading and mixing. They are also introduced to new vegetables and cooking ingredients. This significantly increases their vocabulary and helps kids in learning English. Moreover, if you are reading out the instructions for them to follow, they engage in an interactive activity which also improves their communication skills and the ability to follow instructions with sincerity.
2. Improve Motor Skills
Certain cooking techniques such as pressing, molding, rolling, kneading, stirring and spreading improves motor skills greatly. These help kids to have ease at controlling their finger motions, holding pencils, or having better control while writing. Therefore, cooking activities are also a form of practice that helps kids to work on their motor skills and get better at hand motions.
3. Mathematical Skills
Cooking activities make math fun! These activities offer great opportunities to improve mathematical skills that children would otherwise not find interesting in maths class. When they are required to measure and take one spoon of something, or a cup of flour, they learn faster and pick up measurement concepts right away!
If you can get them to cut the fruits for a salad into five pieces or ask them to pass you two onions, they will automatically enjoy the counting process and learn numbers quickly.
Related Reading: 

Why Math Is Important in Real Life
4. Critical Thinking Skills
Cooking helps toddlers to develop critical thinking and problem-solving skills. When you leave it to them to decide when the cake has baked completely or when the scrambled eggs are done, they start to solve these situations, laying the foundation for solving real-world problems.
5. Social Skills
Last but not least, cooking helps as one of the best activities for improving social learning in kids. If you encourage group activity in kids, they begin to interact with each other and learn how to socialize and take responsibility.
Help your kids develop cognitive skills and finesse with these recipes. They will learn to measure, bake, put the icing on a cake, and create magic with their little fingers. However, it is important that toddlers participate in cooking activities under strict adult supervision, and they are near the oven only when an adult is present watch them.
Sometimes cooking involves dangerous methods that are not advisable for children. Therefore, you must only involve your toddler in cooking activities that are safe. You can chop the fruits or work in the oven while they help you knead the dough or roll mixtures into small balls. Remember that their safety is the first priority; keep this in mind while planning any cooking activity.
Related Reading: 

Must-Try Activities for 5 Year Olds to Boost Their Holistic Development
Help Your Toddlers Adopt the Right Skills With Cooking Activities for Preschoolers!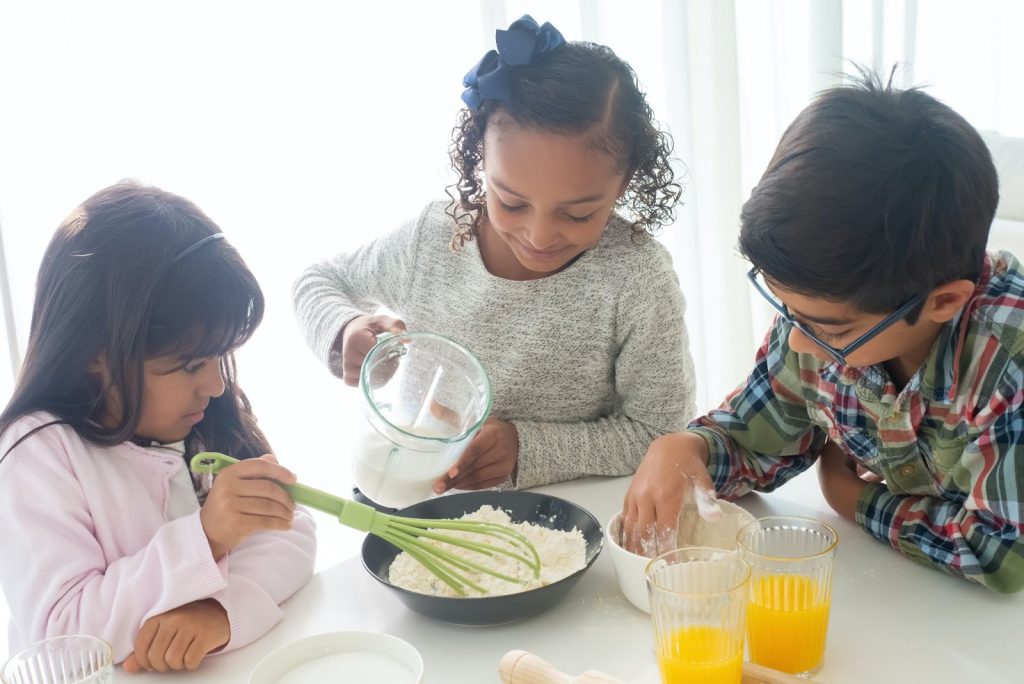 Cooking is an art, and from kids to older ones, everyone cherishes the act of cooking. It requires discipline and commitment. Indulge your toddler in preschool cooking activities, and who knows, you might tap into the little chef inside them.
Frequently Asked Questions (FAQs)
What kind of cooking activities can a four-year-old perform?
A four-year-old can indulge in cooking activities such as peeling eggshells from boiled eggs and mashing bananas or sweet potatoes. They can also put icing on cakes or decorate them, and perform activities that do not require them to use oven or sharp objects.
How can cooking activities help kids learn better habits?
Participating in cooking activities teaches them new recipes and family traditions, how to keep the kitchen clean once the food is cooked, and develop healthy cooking habits.
How do you get a child not interested in participating in cooking activities to cook?
As preschoolers have a broader range of interests, you can start small if children resist participating in cooking activities. You can ask them to sort the vegetables according to colors or help cleaning the kitchen space after the food has been cooked. These small acts will eventually bring their interest in cooking.
How do I ensure that the recipes I include in cooking activities are safe and that the children are not allergic to them?
The best way to create a planner for the recipes you wish to make in the cooking activities for preschoolers is by talking to the parents of each child and knowing if they have any allergic conditions related to food that you should know about.
Which is the best age to introduce a child to coking activity?
The best age to introduce a child to cooking activities is when they are four years old and start acknowledging colors, shapes, and textures.