With Father's Day just around the corner, it's time to start thinking about the perfect gift for the special man in your life. It can be challenging to come up with unique and thoughtful gift ideas year after year, but we've got you covered. In this blog, we've compiled a list of 50 of the best Father's Day gift ideas that are sure to impress any dad. From practical gadgets to sentimental keepsakes, there's something for every type of father.
"A dad is someone who wants to catch you before you fall but instead picks you up, brushes you off, and lets you try again." – John Sinor
Father's Day is an excellent opportunity to show our love and appreciation for all that fathers do for us. So scroll down and take a look at a wide range of gift ideas so you can find the perfect Father's Day gift for your dad. Let's get started and explore the best Father's Day gift ideas out there!
Related Reading: DIY Father's Day Crafts: Ideas for Kids to Show Their Love
50 Best Father's Day Gift Ideas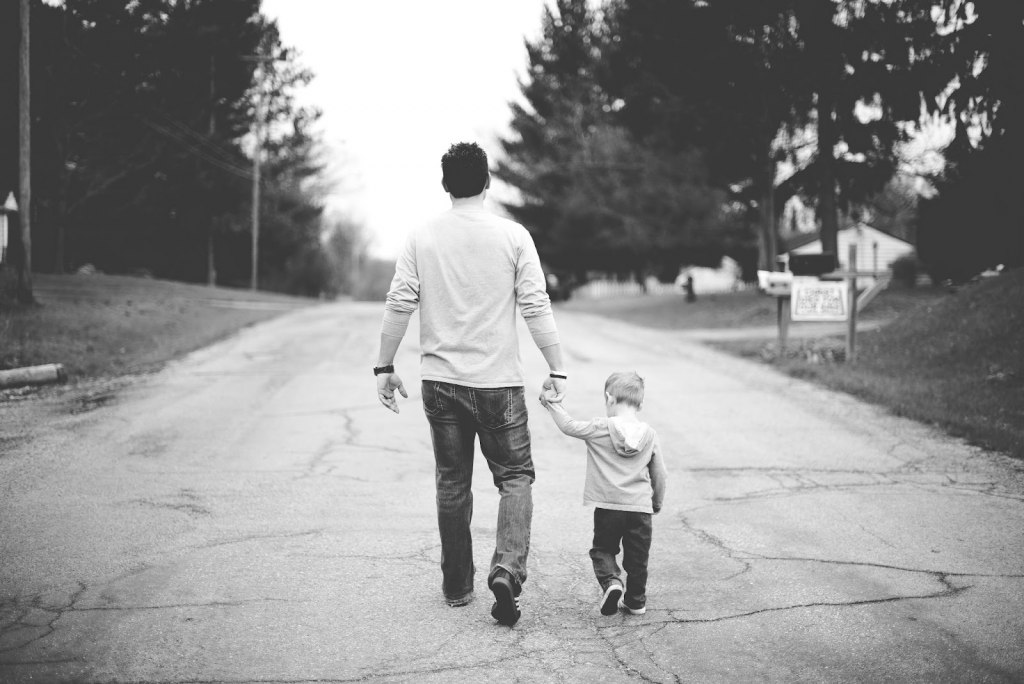 1. Handmade Card
Get creative and make one of the best Father's Day gifts by crafting a personalized card for your dad. Use colorful markers, stickers, and glitter to decorate it, adding a touch of your unique style. Take the time to write a heartfelt message inside, expressing how much he means to you.
2. Breakfast in Bed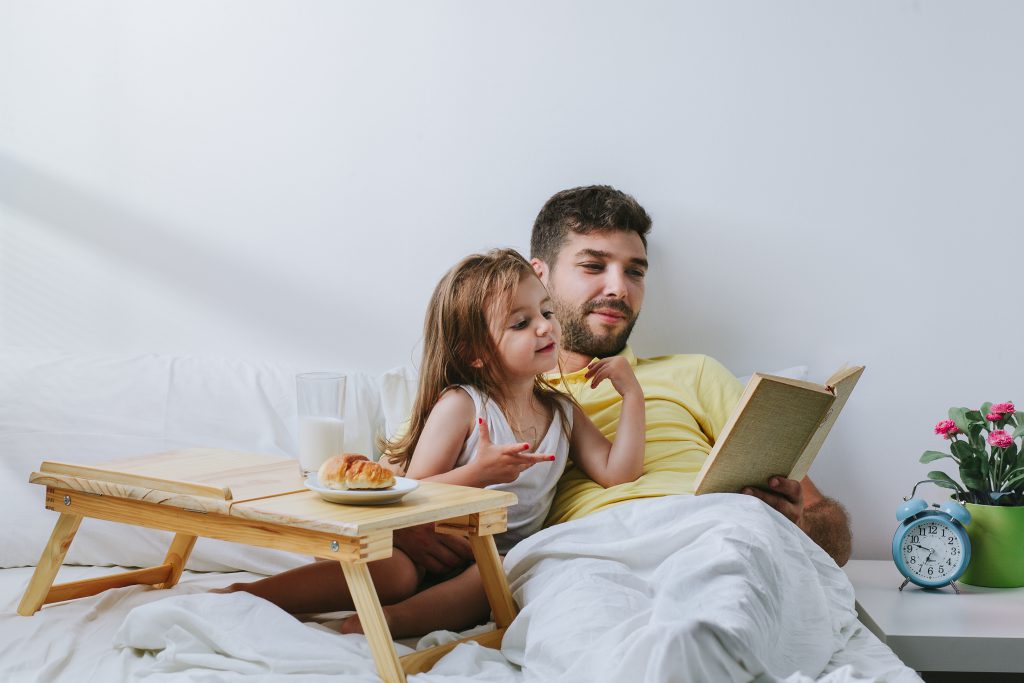 One of the top father's day gifts in surprising your dad with a delicio. us homemade breakfast in bed. Help your mom or a family member prepare his favorite breakfast treats, like pancakes, scrambled eggs, or fresh fruit salad.
3. DIY Photo Album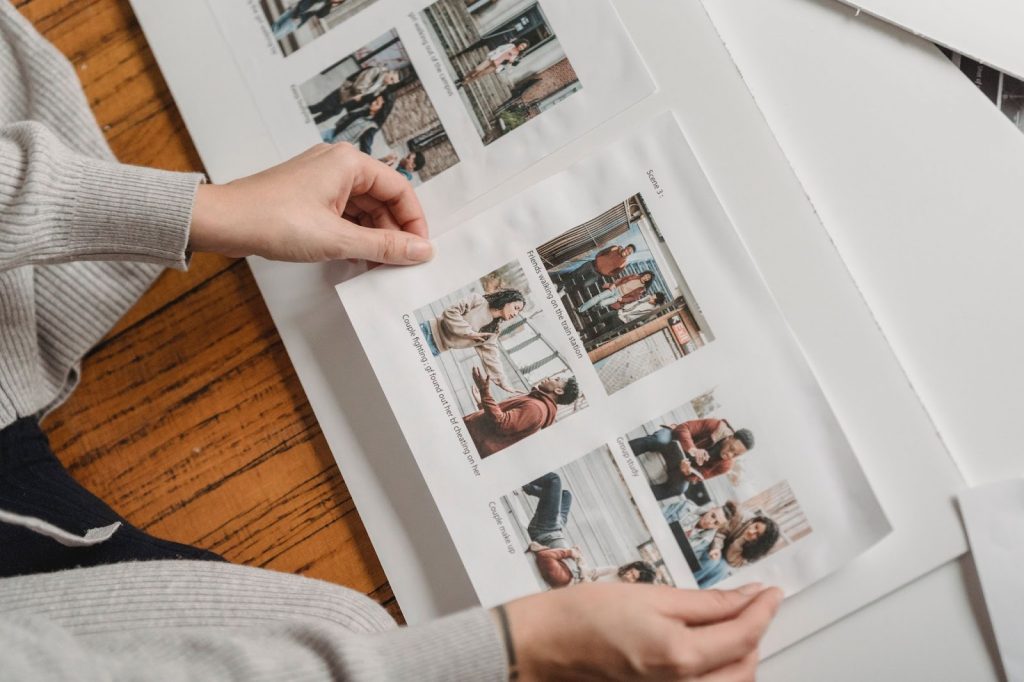 Collect your favorite family photos and create a DIY photo album for your dad, one of the most heartfelt Father's Day gifts. Decorate each page with drawings and captions, reminiscing about the fun times you've shared together. This personalized photo album is a perfect way to show your love and appreciation for your dad on Father's Day.
4. "Best Dad" Trophy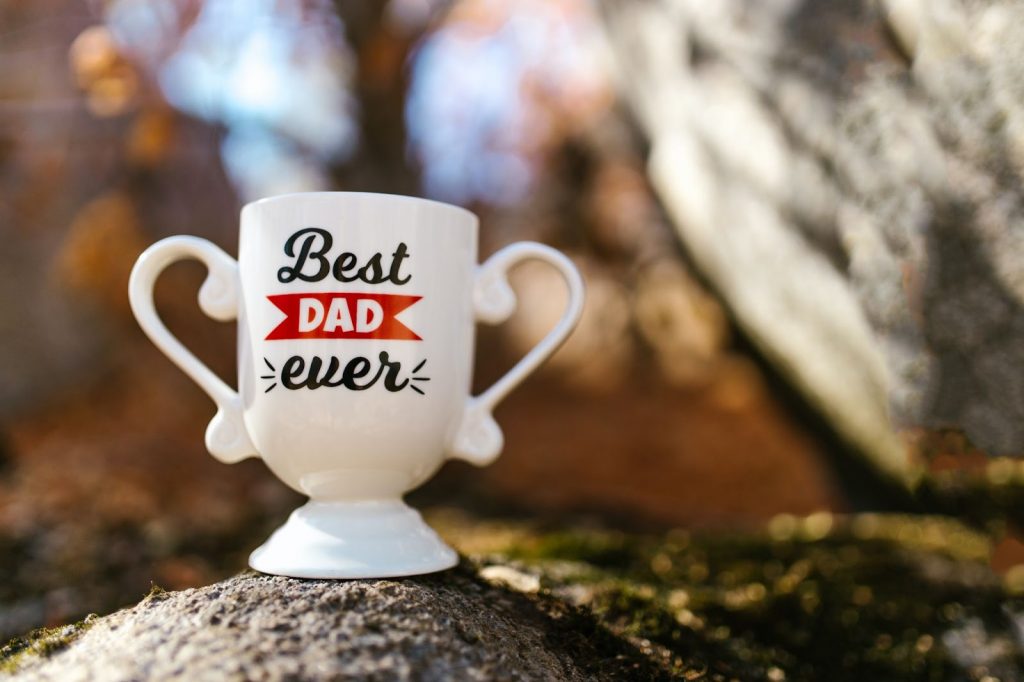 This is one of the best father's day gift ideas if you want to make your dad feel like a champion. Craft a "Best Dad" trophy using materials like clay or cardboard. Personalize it with his name and decorate it with paint and glitter.
5. Daddy and Me Artwork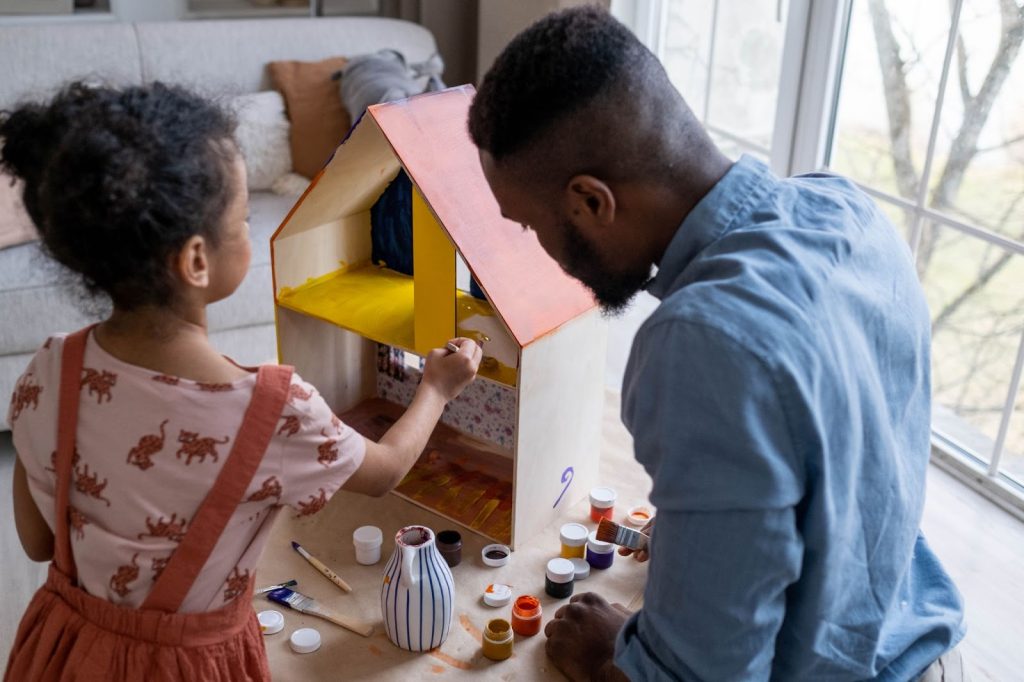 Create a special artwork that represents you and your dad. Use paints, crayons, or colored pencils to draw a picture of the two of you engaged in an activity you love doing together.
6. Storytime Coupon
Design a coupon that entitles your dad to a special storytime session. Choose his favorite book or pick a new one to read aloud together, snuggled up on the couch.
Related Reading: Funny Children's Books to Read With Your Kids That Will Have Them ROFL
7. Homemade Trail Mix
Prepare a personalized trail mix for your dad. Mix together his favorite nuts, dried fruits, and a sprinkle of chocolate chips for a tasty and healthy snack.
8. Family Puzzle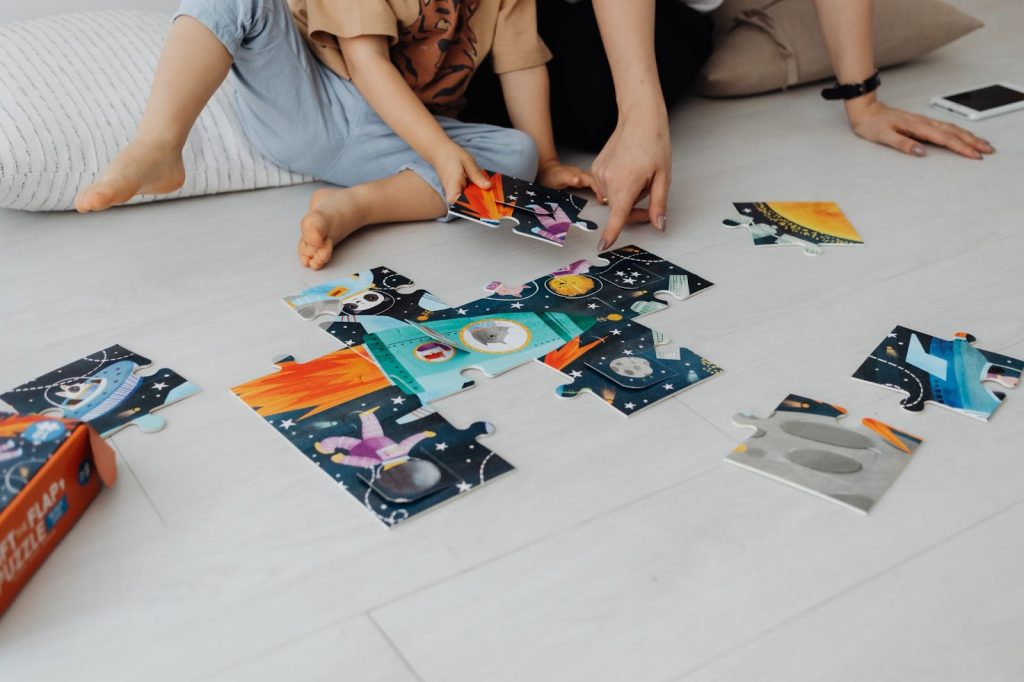 Find a family-friendly puzzle with a fun and colorful design. Spend quality time with your dad putting the pieces together and enjoy the sense of accomplishment when it's completed.
9. DIY Desk Organizer
Create a desk organizer using recycled materials like empty cardboard boxes or toilet paper rolls. Decorate it with paint, stickers, and glitter to make it a unique gift for your dad's workspace.
10. Handprint Art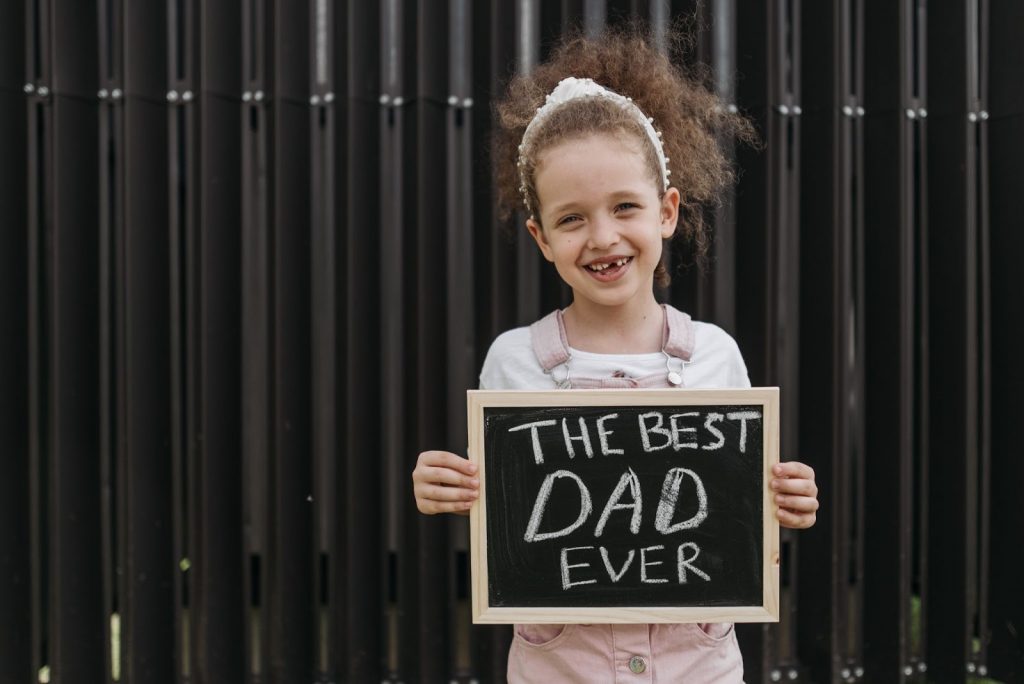 Create cute Father's Day gifts by using non-toxic paint to make a handprint artwork on canvas or paper. Capture your handprint as a precious keepsake and write a sweet message alongside it, such as "Hands Down, Best Dad Ever!" This heartfelt and personalized artwork will surely melt your dad's heart and serve as a lasting reminder of your love and appreciation.
11. Customized Mug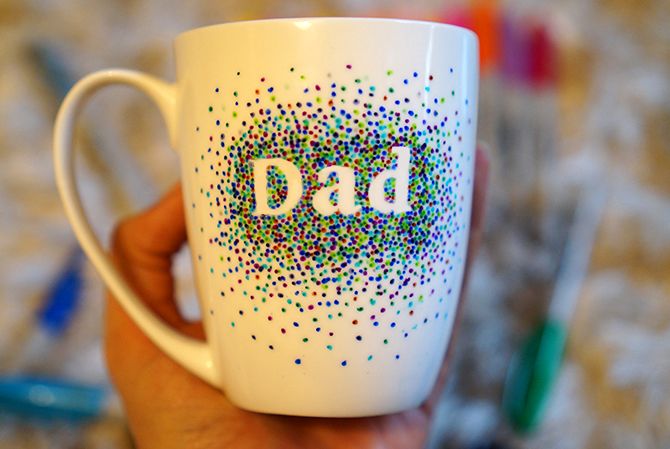 Decorate a plain white mug with permanent markers or paint pens. Write a loving message or draw a picture that represents your dad's interests, like a football or a guitar.
12. Backyard Campout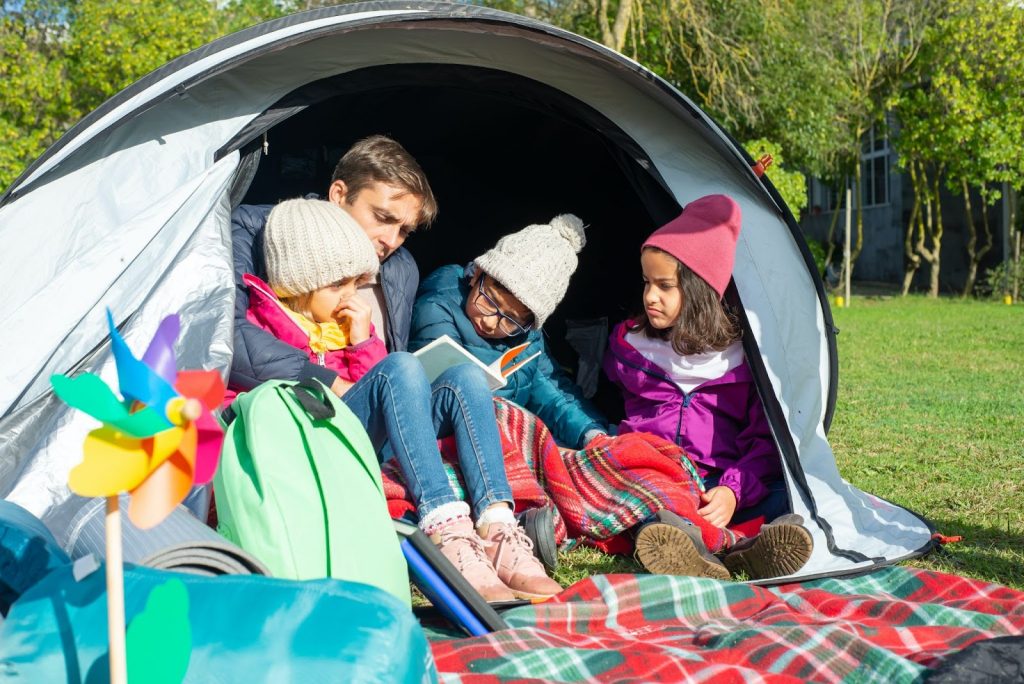 Set up a cozy campsite in your backyard and invite your dad for a camping adventure. Pitch a tent, roast marshmallows, and tell stories under the stars.
13. Fishing Kit
If your dad enjoys fishing, put together a fishing kit with a fishing rod, hooks, and bait. Plan a fishing trip together and create lasting memories by the water.
14. Memory Box
Find a small wooden box and decorate it with paint, stickers, and glitter. Fill it with small mementos that remind you of special moments you've shared with your dad, such as concert tickets, seashells, or handwritten notes.
15. Dad's Day Off Coupons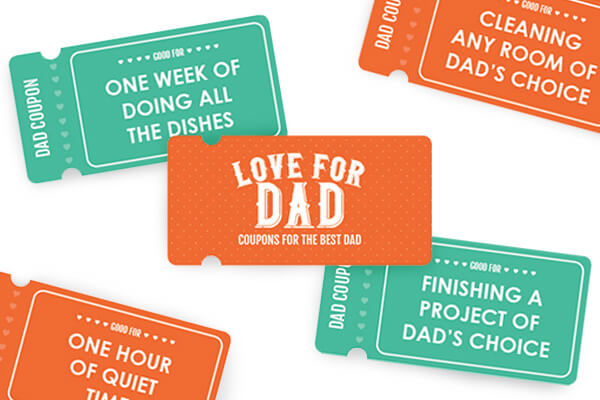 Create unique Father's Day gifts by making a booklet of "Dad's Day Off" coupons, where your dad can redeem vouchers for a day of relaxation. Include activities like a nap, watching his favorite movie, or having a massage.
16. Birdhouse Building Kit
Assemble a birdhouse building kit for your dad using pre-cut wooden pieces. Paint it together and hang it in the backyard, attracting colorful birds to your dad's outdoor space.
Related Reading: Best End of Year Teacher Gifts to Thank Your Educators
17. Personalized Keychain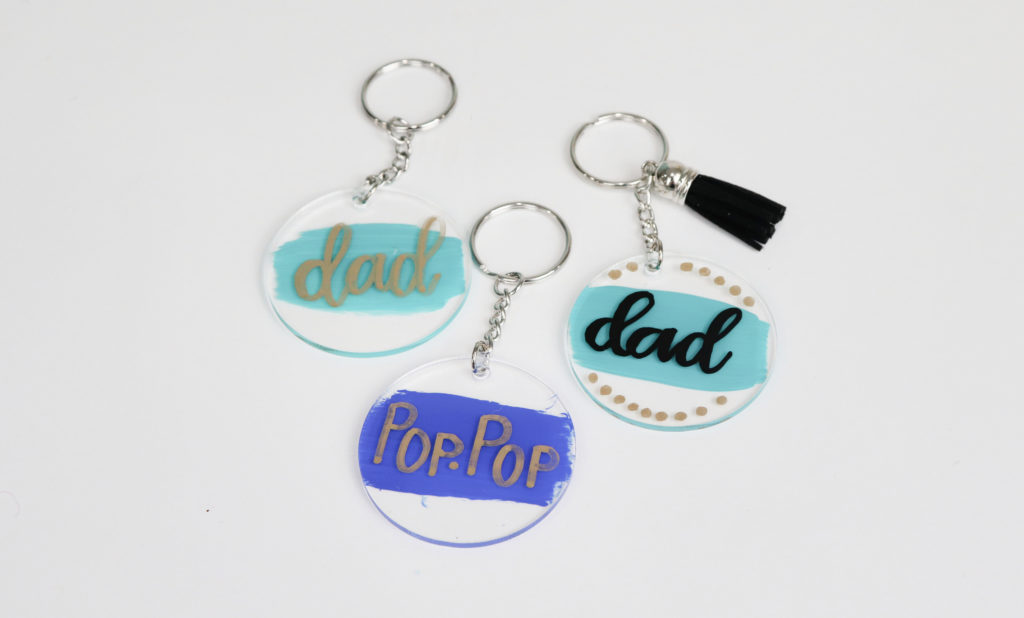 Make a personalized keychain using colorful beads and letter beads. Spell out your dad's name or a special message, and attach it to a keyring for him to carry around.
18. Indoor Treasure Hunt
Create a fun treasure hunt for your dad inside your home. Write clues and hide small surprises or treats in different spots, leading him to the final treasure.
19. Create a Family Recipe Book
Gather your family's favorite recipes and compile them into a homemade recipe book. Decorate it with drawings or photos of your family enjoying the dishes.
20. All About Dad" Questionnaire
Create a questionnaire about your dad and ask him fun questions. Write down his answers and present it to him as a keepsake.
21. LEGO Building Challenge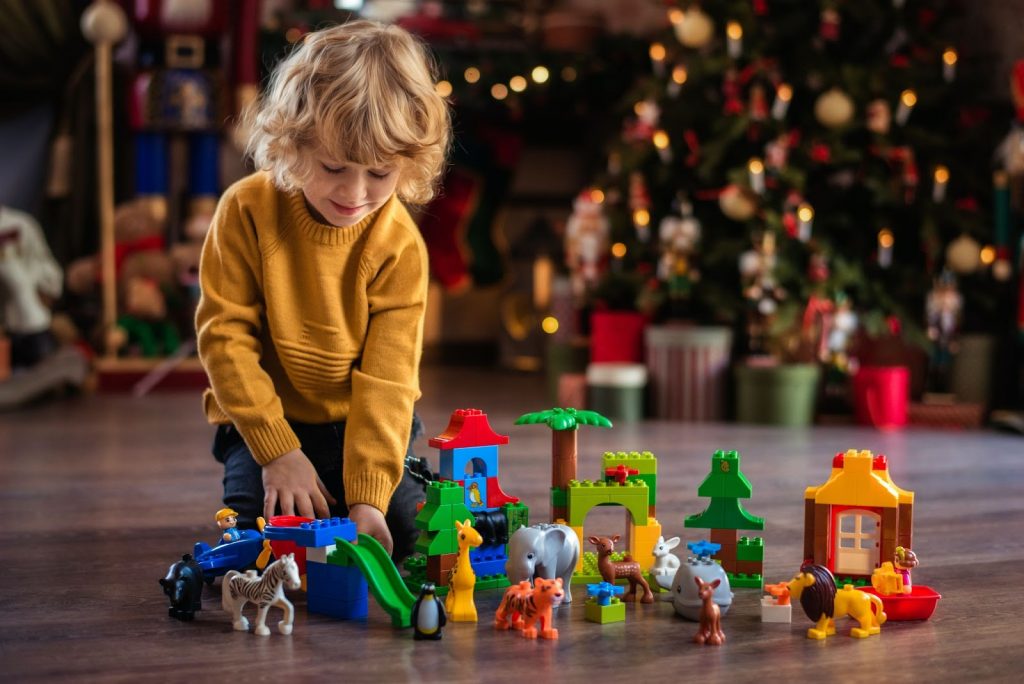 Challenge your dad to a LEGO building competition. Set a timer, gather your bricks, and see who can create the most impressive structure.
22. Personalized Bookmark
Design and decorate a personalized bookmark for your dad. Add his name, draw his favorite hobbies, or write a short poem to make reading extra special for him.
23. Adventure Scrapbook
Document your favorite adventures and outings with your dad in a scrapbook. Include photos, ticket stubs, and write short captions to capture the memories.
24. Personalized Photo Frame
Capture a cherished memory with your dad and put it in a personalized photo frame. Add your hand-drawn picture or a heartfelt message to make it extra special. It's a heartwarming gift he'll treasure forever.
25. Storybook Adventure
Write and illustrate a short story starring your dad as the hero. Let your imagination run wild and create an exciting adventure he'll love reading.
26. DIY "Dad Rocks" Coasters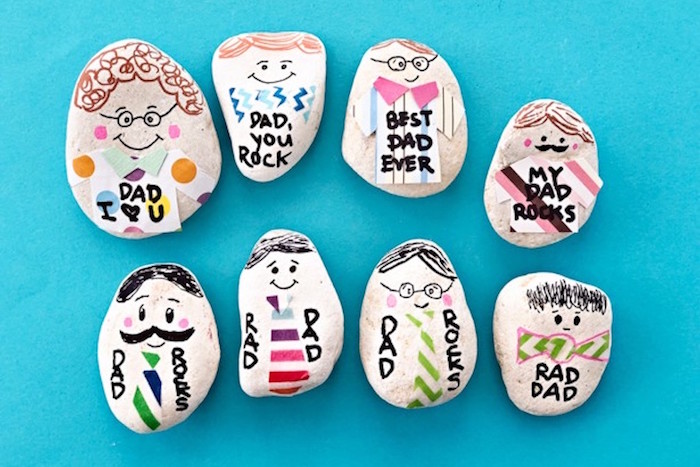 Collect small rocks and decorate them with paint or markers. Glue them onto cork or felt to make unique coasters for your dad's favorite drink.
27. Photo Collage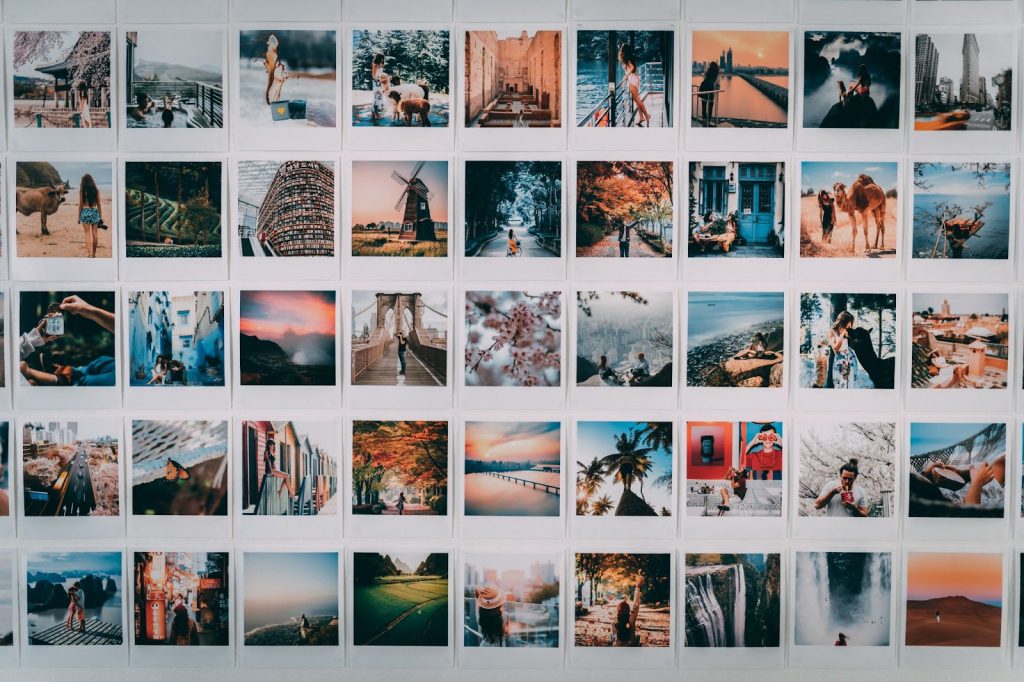 Print out your favorite photos with your dad and create a collage. Stick them onto a poster board and add captions or doodles for a personal touch.
28. Personalized Water Bottle
Decorate a reusable water bottle with stickers, paint, or markers. Add your dad's name or a special message to make it one-of-a-kind.
29. DIY Mini Golf Course
If your dad enjoys playing golf, this could be one of the best father's day gift ideas. Design a mini golf course in your backyard using household objects and creative obstacles. Challenge your dad to a friendly golf competition.
30. Dad's Adventure Map
Design cool Father's Day gifts by creating a treasure map that leads to special places around your neighborhood or house. Let your dad embark on an exciting and adventurous treasure hunt, following the clues to discover hidden surprises along the way. This interactive and imaginative gift idea will provide your dad with a memorable experience and bring out his inner explorer.
31. Dad's Movie Marathon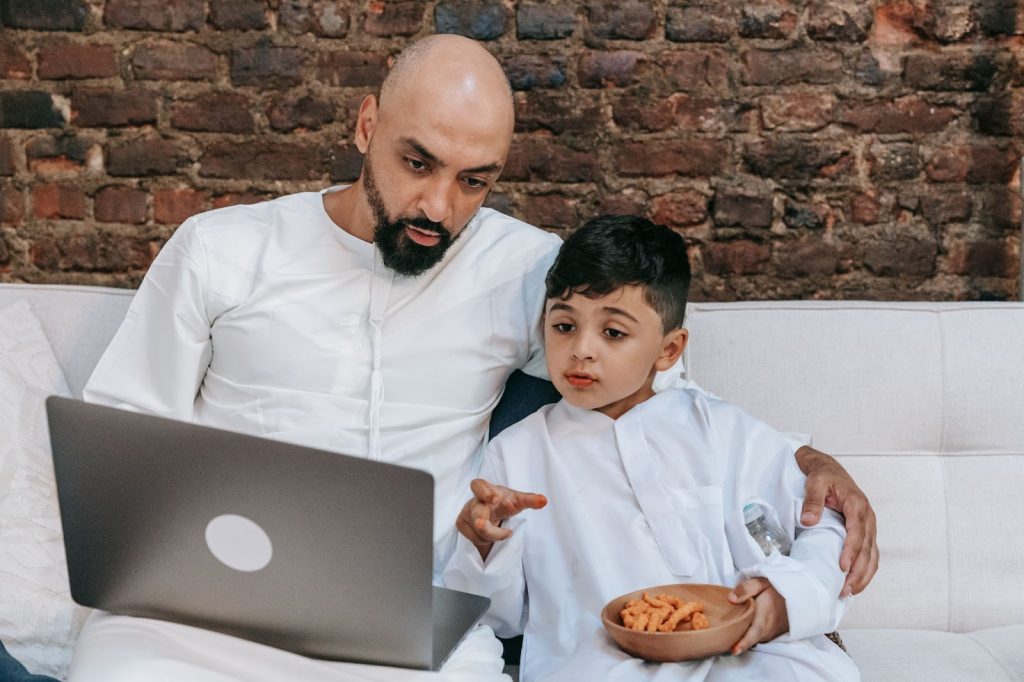 Set up a cozy movie night for your dad by curating a selection of his favorite movies. Don't forget the popcorn and snacks!
32. Dad's Art Studio
Set up a small art studio for your dad with an easel, paints, brushes, and canvases. Encourage his artistic side to flourish.
33. Dad's Custom Playlist
Curate a special playlist for your dad on a music streaming platform, featuring songs that remind you of him or songs he loves.
34. Dad's Superhero Cape
Design a personalized superhero cape for your dad using fabric, markers, and glitter. Let him know he's your real-life hero.
Related Reading: Best Indoor and Outdoor Team Building Activities for Kids
35. Dad's Appreciation Journal
Decorate a notebook or journal and write down reasons why you appreciate and love your dad. He can read it whenever he needs a boost of love.
36. A Kebab Grilling Basket
If your dad gets frustrated when his kabobs fall apart while grilling, this Father's Day gift will be a memorable one for him. This grilling basket is designed to hold perfectly stacked kabobs like puzzle pieces, so he won't have to worry about them falling apart. He can focus on seasoning, saucing, and turning the kabobs until they're cooked to perfection.
37. Customized Wooden Hammer
Dads always hold their tools close to their heart, but this one will be extra special. You will find various online shops that allow you to customize tools like wooden hammers with engravings. Get a personal one-liner or a nice quote to express your gratitude for having him as a dad in your life, and thank us later for giving you one of the best Father's Day gift ideas!
38. An Apron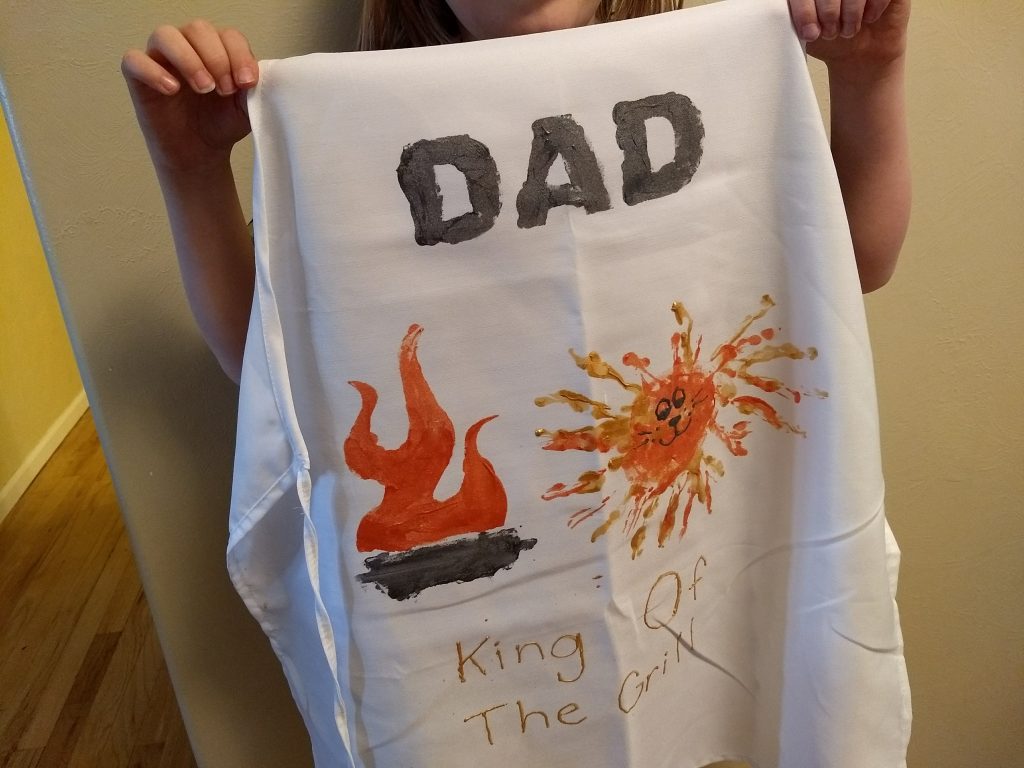 If your dad loves cooking and grilling, he will love this Father's Day gift. When you look for an apron, look for one that has adjustable neck straps, waist straps, and tons of pockets for him to keep utensils in them when he's cooking.
39. Personalized Golf Balls
If your dad loves playing golf, this is one of the best Father's Day present ideas for you! You can get a set of golf balls personalized and write a small message on them to gift to your dad and we're sure he'll love the surprise.
40. Customized Cutting Board
Gift your dad a customized cutting board with a message, quote, or image that he loves. It will add a personalized touch to his kitchen and make him feel special.
Related Reading: Best Parenting Quotes That Are Funny, Witty & Inspiring
41. Handmade Tie-Dye T-shirt
Use tie-dye techniques to create a one-of-a-kind T-shirt for your dad. Choose his favorite colors or experiment with vibrant patterns.

42. Dad's Gardening Set
Gift your dad a set of gardening tools, gloves, and seeds to nurture his green thumb.
43. Handmade Greeting Cards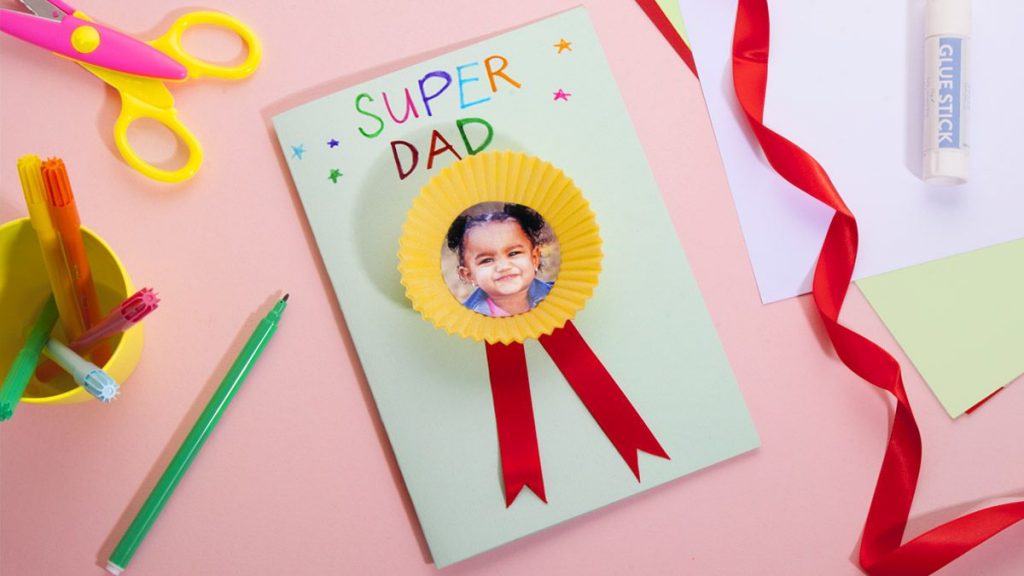 Create unique and personalized greeting cards for your dad using colored paper, markers, and your own heartfelt messages.
44. DIY Personalized Pencil Holder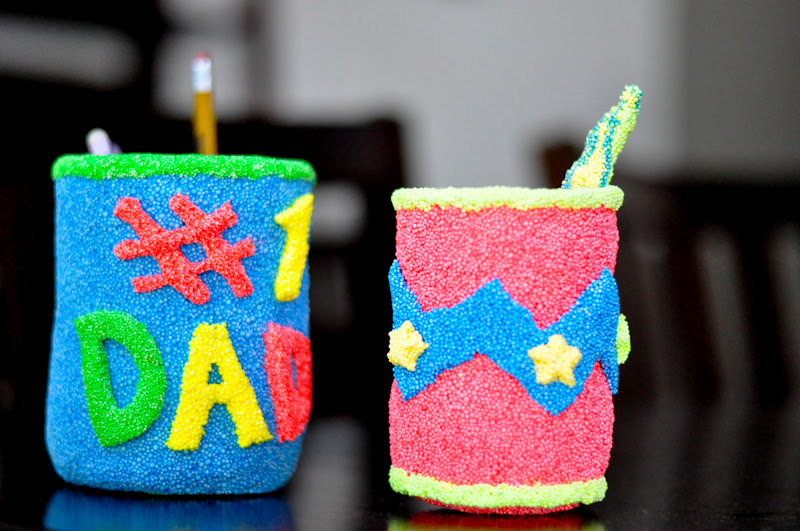 Decorate a container or tin can to serve as a personalized pencil holder for your dad's desk.
45. DIY Personalized Chess Set
Paint or carve chess pieces in unique designs or themes that are meaningful to your dad. Transform a plain chessboard into a personalized game set.
46. Dad's Custom Wall Clock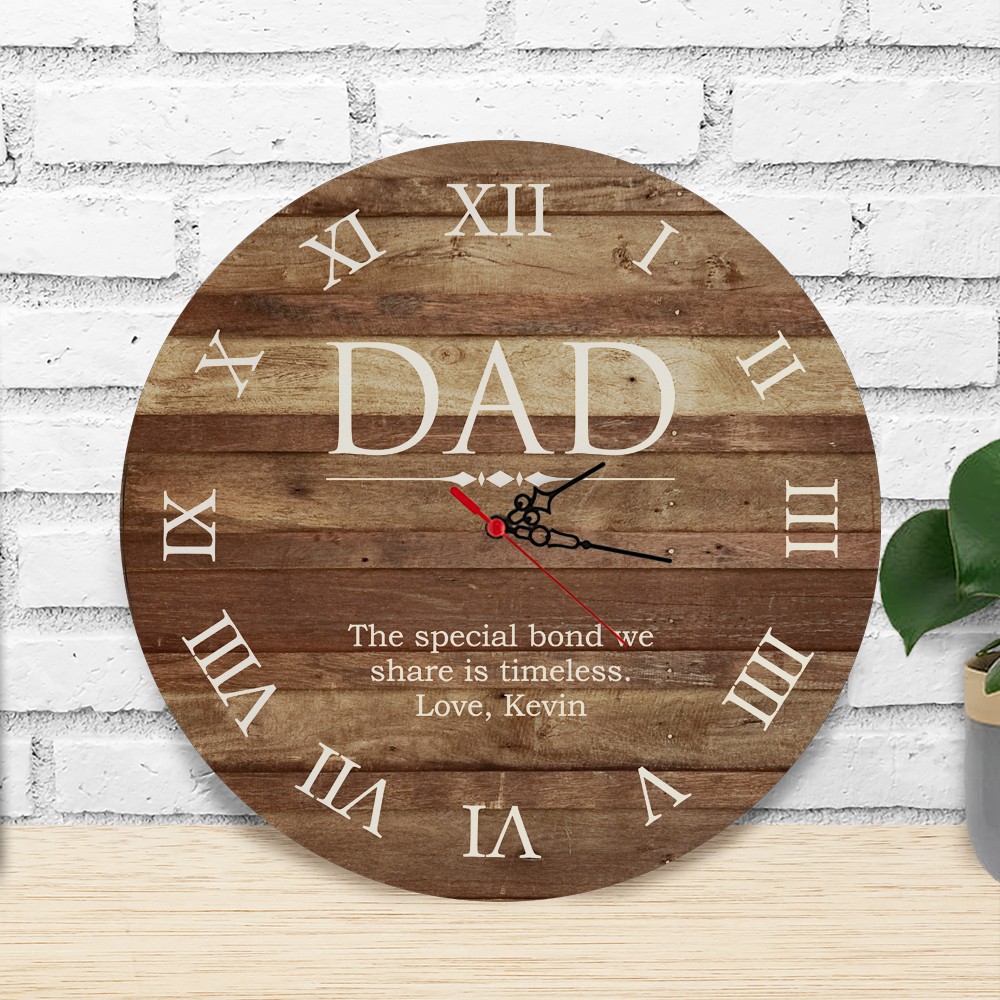 Decorate a plain wall clock with buttons, small trinkets, or family photos to create a unique timepiece that reflects your dad's personality.
Related Reading: Best Outdoor Games for Kids of All Ages
47. DIY Personalized Desk Nameplate
Create a customized nameplate for your dad's desk using wood, paint, or clay. Include his name, title, or a fun slogan that represents him.
48. Dad's Gratitude Jar
Decorate a jar and encourage your dad to write down things he's grateful for each day. It's a wonderful way to foster positivity and reflection.
49. Dad's DIY Fitness Challenge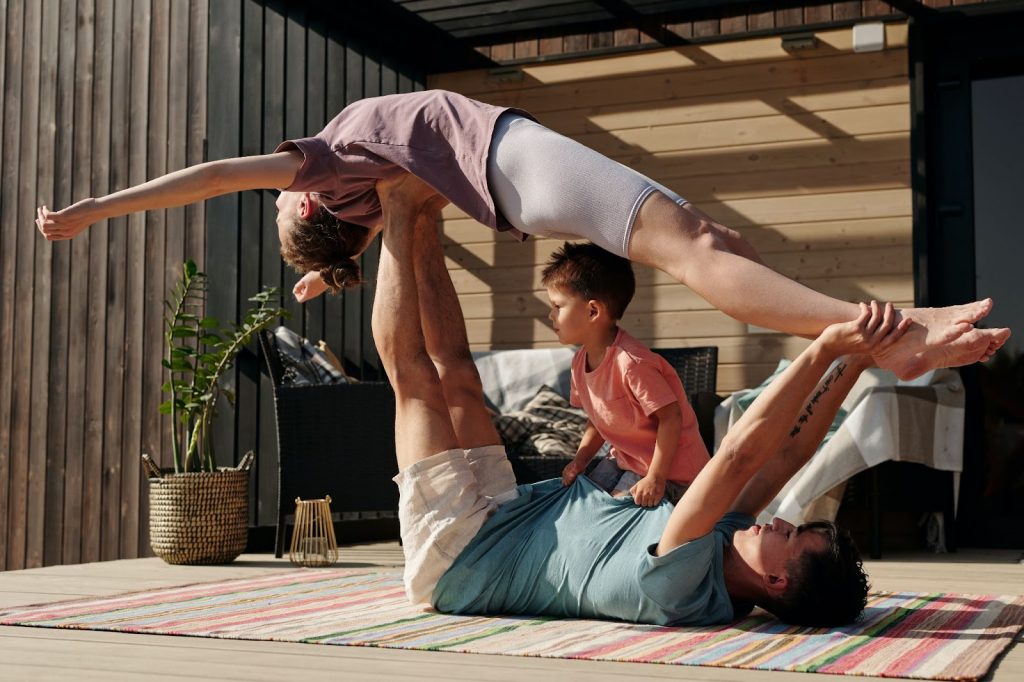 Design a personalized fitness challenge for your dad, complete with different exercises, goals, and rewards for achieving milestones.
50. Dad's Personalized Audio Message
Record a heartfelt audio message for your dad, sharing your love, gratitude, and favorite memories together.
Conclusion
Father's Day is a special occasion to celebrate and appreciate the fathers and father figures in our lives. With these gift ideas, there's something for every type of dad out there, whether he's into tech, sports, cooking, or relaxation. Remember, the best gift you can give your dad is your time and attention, so don't forget to spend quality time with him on this special day. Use this list as a starting point to find the perfect gift for your dad or your kids' dad and make this Father's Day a memorable one for him. Happy Father's Day!
Related Reading: Dad Jokes for Kids that Are Actually Funny
Frequently Asked Questions (FAQs)
What is the most popular gift on Father's Day?
Some of the most popular Father's Day gifts have been a day with the family, cash, dinner at a restaurant, gift cards, and clothes.
How much time does it take to personalize a gift?
If you're looking to personalize a gift for Father's Day, make sure to palace the order at least a week back to give the store enough time to customize the gift and send it to you.
What is a good budget for a Father's Day gift?
It really depends on your personal budget and relationship with your father. Our list includes gifts at various price points, so you can find something within your budget.