Mathematics, often regarded as a complex and intimidating subject, has been beautifully woven into the fabric of cinema to inspire, educate, and entertain. From the whimsical adventures of beloved cartoon characters to the real-life struggles and triumphs of mathematical geniuses, films have a unique way of making math accessible and engaging for all, especially the young minds.
SplashLearn: Most Comprehensive Learning Program for PreK-5

SplashLearn inspires lifelong curiosity with its game-based PreK-5 learning program loved by over 40 million children. With over 4,000 fun games and activities, it's the perfect balance of learning and play for your little one.
Try for free
Whether it's diving into a two-dimensional world, soaring to the moon, or battling digital villains using mathematical strategies, these math movies and TV shows not only entertain but also ignite a passion for numbers, patterns, and problem-solving. In this blog, we'll journey through a curated list of math movies and series that are perfect for kids, ensuring that they see math not as a tedious subject but as a magical tool that shapes our world.
1. Donald in Mathmagic Land (1959)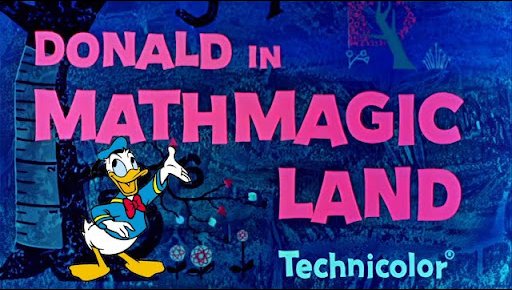 Among the movies about math that have captured the imagination of young audiences, "Donald in Mathmagic Land" stands out as a timeless classic.  As he navigates through a world filled with mathematical wonders, Donald discovers the profound connections between math and everyday experiences, from the rhythmic patterns in music to the intricate designs in architecture. It's one of the best math movies that showcases how mathematics is deeply intertwined with nature, sports, and the arts.
Genre: Animation, Family, Fantasy
IMDb Rating: 7.8
Where to Watch: Amazon
2. Flatland (2007)
"Flatland" is a unique cinematic experience among movies about mathematics. Based on the thought-provoking novella by Edwin A. Abbott, this animated film introduces young viewers to a two-dimensional universe, offering a deep dive into the world of geometry and dimensions. As characters navigate the challenges of their flat existence, the story unravels deeper philosophical and mathematical concepts, making it one of the best mathematics movies that's both entertaining and enlightening.
Genre: Animation, Sci-Fi, Drama
IMDb Rating: 6.7
Where to Watch: Amazon
3. The Man Who Knew Infinity (2015)
When it comes to math-related movies that tell the real-life stories of mathematical prodigies, "The Man Who Knew Infinity" is a must-watch. This biographical drama chronicles the life of Srinivasa Ramanujan, a self-taught Indian mathematician. His journey from the streets of Madras to the esteemed corridors of Cambridge University is nothing short of inspiring. The film beautifully captures Ramanujan's passion for numbers, his groundbreaking discoveries, and the challenges he faced, making it a testament to the universal language of mathematics and the resilience of the human spirit.
Genre: Biography, Drama, History
IMDb Rating: 7.2
Where to Watch: Amazon
Related Reading: How To Raise Resilient Kids Who Never Give Up
"Hidden Figures" is a poignant and inspiring film that delves into the untold story of African-American women mathematicians at NASA. These brilliant women played a crucial role in some of the most significant achievements in space exploration, breaking barriers in a male-dominated field. Their determination, intelligence, and resilience make this one of the movies that involve math and also highlight the importance of diversity and inclusion in STEM fields. It's a must-watch for students and educators alike, shedding light on the unsung heroes of mathematics and space science.
Genre: Biography, Drama, History
IMDb Rating: 7.8
Where to Watch: Apple TV, YouTube
5. LeapFrog: Math Circus (2004)
Step right up to the "LeapFrog: Math Circus," a delightful and educational film that makes learning math concepts a fun-filled experience. As viewers join their favorite LeapFrog characters in a circus setting, they are introduced to essential math skills through entertaining performances and activities. It's an excellent pick for movies for math class, ensuring that young learners are both entertained and educated, making math a captivating subject to explore.
Genre: Animation, Family, Educational
IMDb Rating: 8.3
Where to Watch: Amazon
Related Reading: Best Christmas Movies for Kids
6. Math Adventure to the Moon (2010)
"Math Adventure to the Moon" offers a delightful blend of space exploration and mathematics. Kids embark on an unforgettable journey to the moon, but there's a catch: they must solve intriguing math problems to progress in their adventure. As they navigate through space, they encounter various challenges that test their mathematical skills. This movie is a perfect example of fun math movies for kids that engage young minds, making them realize that math isn't just about numbers on paper; it's a key that unlocks exciting adventures and mysteries of the universe.
Genre: Animation, Adventure, Educational
IMDb Rating: 7.4
Where to Watch: Amazon
7. Stand and Deliver (1988)
Set in a school where students face numerous challenges, "Stand and Deliver" showcases the true story of Jaime Escalante, a dedicated math teacher. He believes in the potential of every student and challenges the status quo by teaching them advanced calculus. As Escalante pushes his students beyond what anyone expects, the movie delves deep into themes of trust, determination, and breaking societal barriers. It's a testament to the idea that with passion and the right guidance, anyone can rise above their circumstances and achieve greatness.
Genre: Drama, Biography
IMDb Rating: 7.3
Where to Watch: Amazon
8. A Brilliant Young Mind (2014)
Nathan is not like other kids. Living with autism, he often finds the world around him confusing and overwhelming. However, in the realm of mathematics, he's unparalleled. "A Brilliant Young Mind" takes us on Nathan's journey as he prepares for an international math competition. Alongside the challenges of numbers and equations, Nathan also navigates the complexities of emotions, friendships, and human connections. The film beautifully juxtaposes the precision of math with the unpredictability of human relationships, making it a deeply moving experience.
Genre: Drama, Romance
IMDb Rating: 7.1
Where to Watch: Amazon
9. Queen of Katwe
"Queen of Katwe" is an uplifting tale set in the slums of Uganda. It follows the life of Phiona, a young girl with a challenging life but an indomitable spirit. When she stumbles upon the game of chess, it becomes a turning point in her life. With each move on the chessboard, she strategizes her way out of poverty and adversity. Guided by a dedicated coach and her own determination, Phiona pursues her dream of becoming an international chess champion. The movie beautifully captures the essence of hope, resilience, and the idea that brilliance can be found in the most unexpected places.
Genre: Biography, Drama, Sport
IMDb Rating: 7.4
Where to Watch: Amazon, Youtube
10. October Sky
Based on a true story, "October Sky" transports us to a small coal-mining town in the 1950s. Here, we meet Homer Hickam, a teenager inspired by the launch of the first satellite, Sputnik. Despite the town's expectations for him to follow in his father's footsteps as a coal miner, Homer dreams of building rockets. With the help of his friends and a supportive teacher, he embarks on a journey of discovery, experimentation, and determination. The movie is a heartwarming reminder that with passion and perseverance, one can reach for the stars, no matter where they come from.
Genre: Biography, Drama, Family
IMDb Rating: 7.8
Where to Watch: Amazon
Related Reading: Best Animated Movies for Kids
Conclusion
As our cinematic journey through these math movies for kids concludes, it's evident that the world of numbers is much more than equations and textbooks. These movies, ranging from animated adventures to real-life inspirations, highlight the beauty, challenges, and triumphs associated with mathematics. They not only entertain but also inspire young minds to view math as a tool for understanding the world and shaping their dreams. For parents and educators, these films offer a unique way to ignite curiosity and foster a love for learning. So, the next time you're looking for a movie that both educates and entertains, remember this list and let the magic of math unfold on screen.
Concerned about finding the right math resources for your kids? SplashLearn offers a treasure trove of math games and activities that are perfect for young learners. Start your free trial and make math learning a joyous part of your child's daily routine!
Related Reading: Amazing Thanksgiving Movies for Kids
Frequently Asked Questions (FAQs)
Why are movies a good way to introduce kids to math?
Movies combine visual storytelling with engaging narratives, making complex math concepts more relatable and understandable for kids, thus sparking their interest.
Are these math movies suitable for classroom viewing?
Yes, many of these movies are not only entertaining but also educational, making them perfect for classroom settings to complement traditional math lessons.
Can parents without a strong math background enjoy these math movies with their kids?
Absolutely! These movies are designed to be universally appealing, telling human stories intertwined with math, ensuring enjoyment for both kids and adults.
What are some good math movies to watch in the classroom for kids?
Some math-related movies that are both educational and entertaining for kids are Matilda, Donald in Mathmagic Land and Stand and Deliver.