Halloween is that spooky-fun time when we all explore our creativity and transform our homes into haunted wonderlands. What makes it even more thrilling? Doing it all yourself! That's right, DIY Halloween decorations are like a ticket to a crafting adventure.
SplashLearn: Most Comprehensive Learning Program for PreK-5

SplashLearn inspires lifelong curiosity with its game-based PreK-5 learning program loved by over 40 million children. With over 4,000 fun games and activities, it's the perfect balance of learning and play for your little one.
Try for free
You don't need a wizard's hat or a witch's broomstick to make your home look eerily awesome. All you need are a few simple materials, a dash of imagination, and the excitement that comes with crafting your very own Halloween decor.
In this blog, we'll take you on a tour of simple Halloween decorations that will send shivers down your spine (the good kind, of course).
Related Reading:  Best DIY Halloween Craft Ideas for Kids
5 Outdoor DIY Halloween Decorations
When Halloween comes around, it's not just about dressing up in costumes – it's also the perfect time to transform your outdoor space into a spooky wonderland. Let's dive into some simple and eerie outdoor DIY Halloween decorations that will make your home the talk of the neighborhood.
1. Pumpkin Porch Lanterns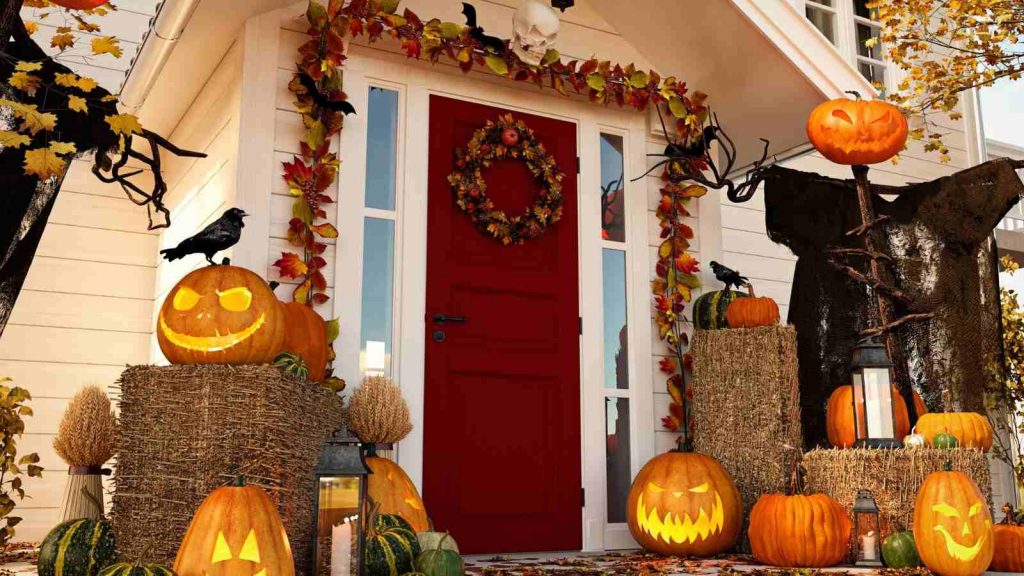 These lanterns will light up your porch with a warm and eerie glow, giving a welcoming yet spooky vibe to your home.
Things Needed:
Pumpkins (real or fake)
Carving tools or a drill
LED candles or string lights
How to Make:
Carve spooky faces or patterns into your pumpkins.
Place LED candles or string lights inside each pumpkin.
Arrange them on your porch or along your walkway for a magical effect.
2. Spooky Yard Signs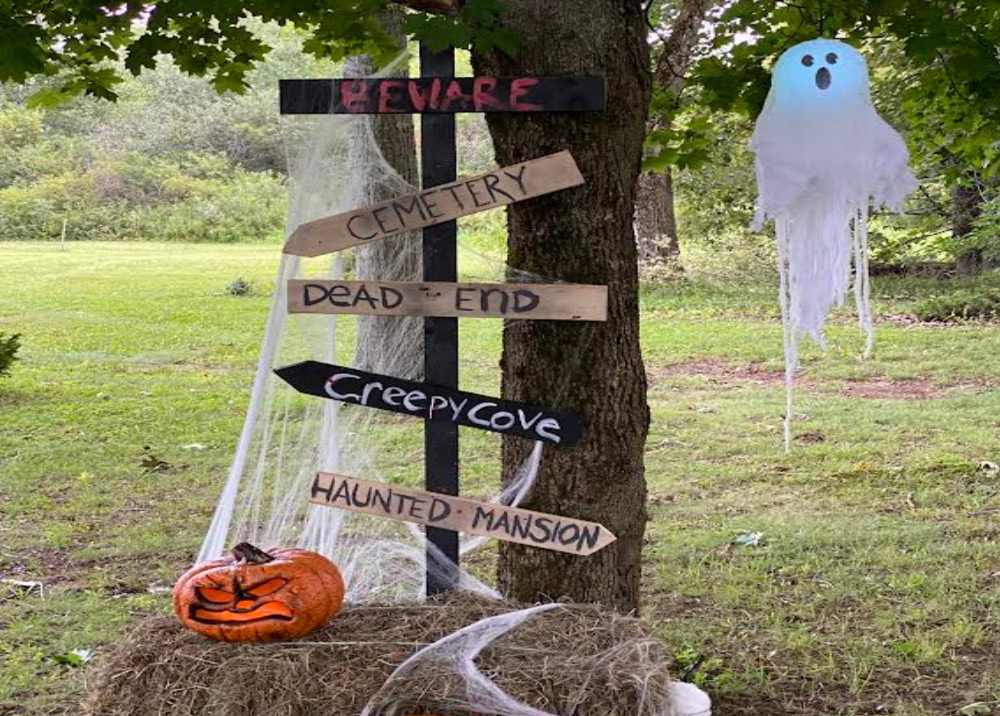 Yard signs are one of the easiest spooky decorations for Halloween. Guide trick-or-treaters to your door with these homemade spooky yard signs, adding a hint of mystery to your outdoor decor.
Things Needed:
Wooden boards or cardboard
Paints in Halloween colors
Brushes
Stencils (optional)
Wooden stakes
How to Make:
Paint eerie messages like "Beware!" or "Haunted House" on the boards.
Attach wooden stakes to the back of the boards for easy placement in your yard.
3. Ghostly Graveyard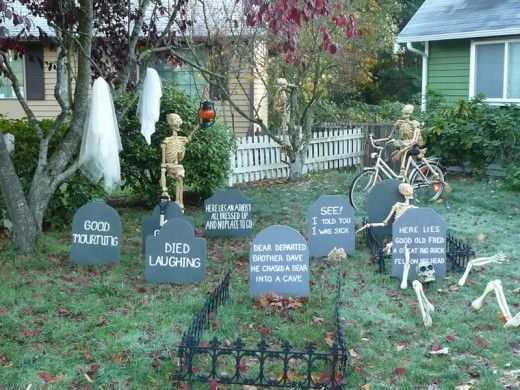 Turn your front yard into a creepy cemetery with these easy-to-make ghostly tombstones.
Things Needed:
Foam board or cardboard
Gray and black paints
Brushes
Wooden stakes
How to Make:
Cut the foam board or cardboard into tombstone shapes.
Paint them gray and add spooky epitaphs with black paint.
Attach wooden stakes to the back and place them in your yard to create a haunted graveyard.
4. Wicked Witch Legs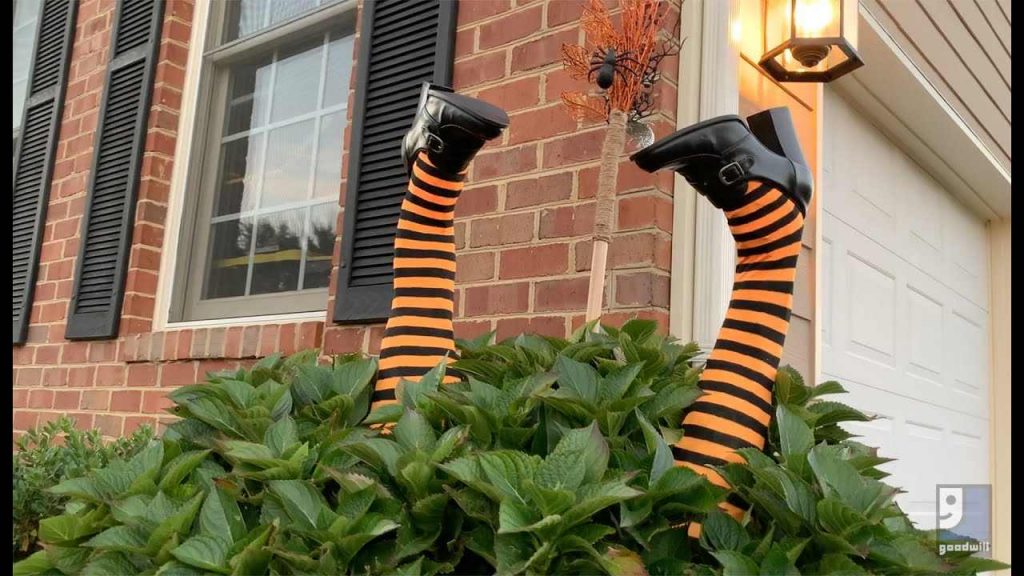 Give your front porch a wickedly fun look with the illusion of witch legs sticking out from underneath your house or a planter. It's a humorous and easy DIY Halloween decoration.
Materials Needed:
Striped witch stockings
Old shoes or boots
Stuffing material (e.g., newspaper or pillows)
Wire coat hangers or garden stakes
How to Make It:
Stuff the stockings with the filling material to create the shape of legs.
Attach old shoes or boots to the stuffed stockings.
Use wire coat hangers or garden stakes to secure the legs into the ground or a planter.
It looks like a witch got stuck under your porch or planter!
5. Creepy Crawling Spider Webs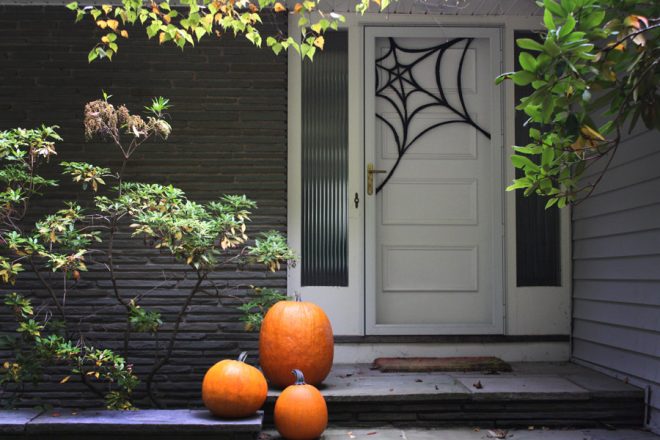 Cover your bushes, trees, or porch with giant spider webs for a spine-tingling Halloween look.
Materials Needed:
White or silver trash bags
Scissors
Tape or adhesive
How to Make It:
Cut the trash bags into long strips.
Twist and stretch each strip to create a spider web-like texture.
Attach the strips to your chosen outdoor surfaces using tape or adhesive.
Scatter some plastic spiders on the webs for an extra creepy effect.
Related Reading: Best Halloween Activities for Kids to Get Their Spook On
5 Indoor DIY Halloween Decorations
In this section, we'll guide you through a collection of DIY indoor Halloween decorations that are easy to make and will add a bewitching charm to your living space. From eerie potion bottles to haunted mirrors, these Halloween DIY decor ideas are designed to bring the essence of Halloween into every corner of your home.
6. Witch's Brew Potion Bottles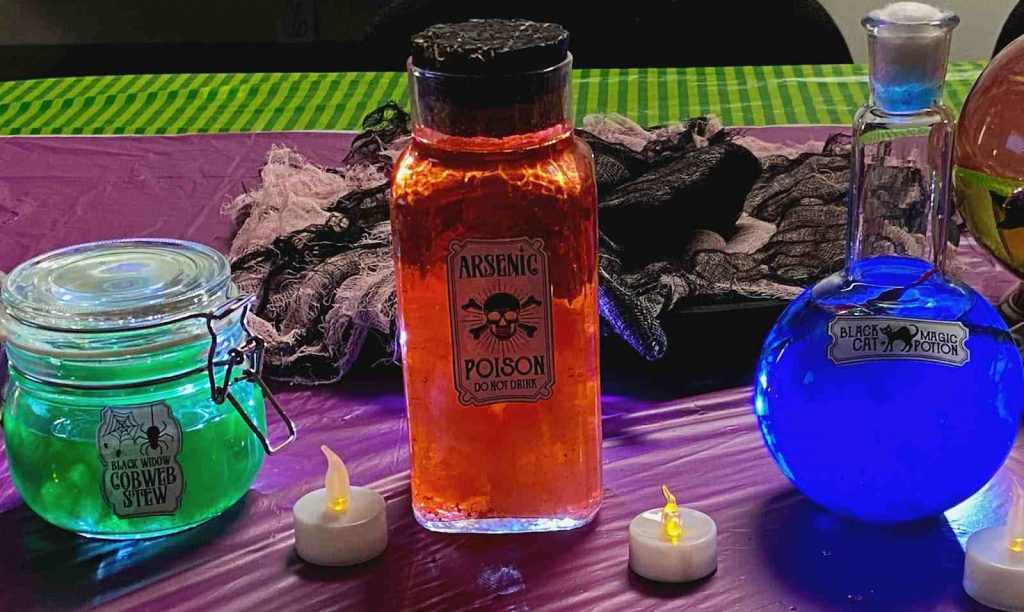 If you are looking for simple halloween designs, these DIY brew potions are one of the best option. Transform your kitchen into a witch's lair with these spooky potion bottles. They're easy to make and will add a touch of magic to your indoor Halloween decor.
Materials Needed:
Empty glass bottles or jars
Labels or printed potion labels
Glue or adhesive
Food coloring (optional)
Water
How to Make It:
Clean and dry the empty glass bottles or jars.
Fill them with water.
Add a few drops of food coloring for an eerie effect (optional).
Attach the labels to the bottles using glue or adhesive.
Arrange them on shelves or your kitchen countertop.
Your witch's brew is ready to enchant your guests!
7. Haunted Mirror
Turn your everyday mirror into a haunted one. This spooky DIY decoration is sure to give everyone a frightful surprise.
Materials Needed:
An old mirror
Black craft paper or contact paper
Scissors
How to Make It:
Cut out creepy shapes (like silhouettes of bats, spiders, or ghosts) from the black craft paper or contact paper.
Stick these shapes onto the mirror's surface.
When the lights are dim, the spooky shapes will appear to float in the mirror.
Your haunted mirror is ready to spook!
8. Glowing Eyes in the Dark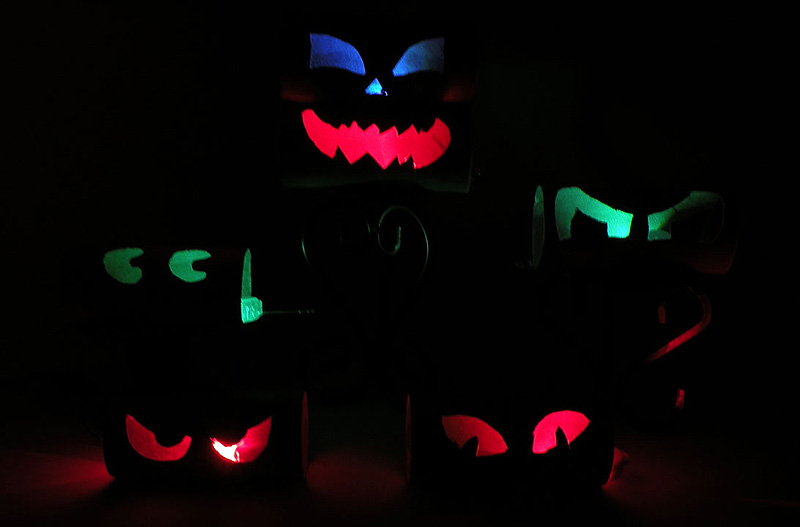 Create an eerie atmosphere in your home with these glowing eyes peering at you from the darkness.
Materials Needed:
Toilet paper rolls or paper towel rolls
Glow sticks
Scissors
Tape
How to Make It:
Cut out eye shapes from the toilet paper rolls or paper towel rolls.
Activate the glow sticks and place them inside the rolls.
Seal the ends with tape to keep the glow sticks secure.
Hide these glowing eyes around your home in dark corners.
They'll give your place a hauntingly fun feel!
9. Halloween Window Silhouettes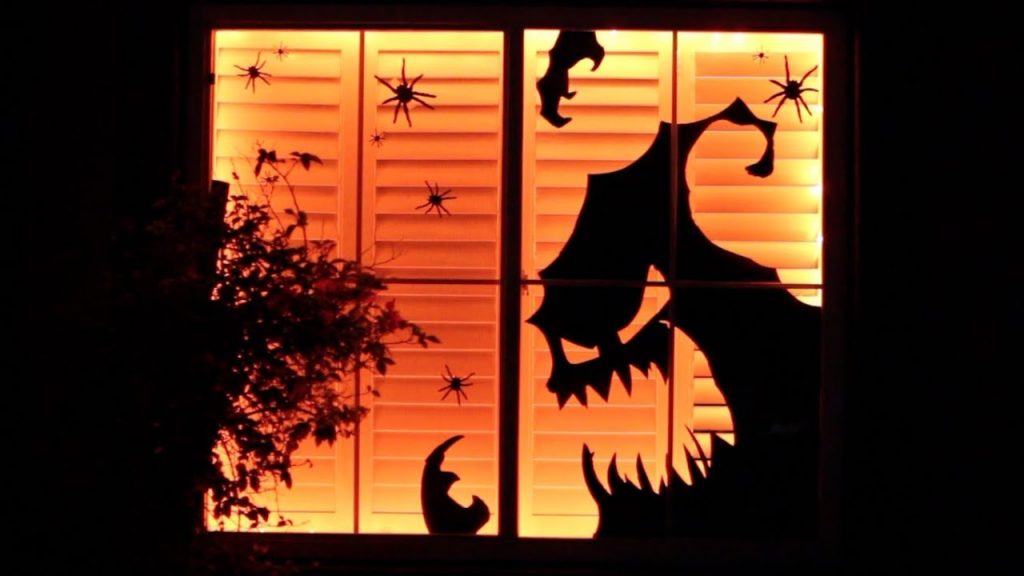 Turn your windows into spooky scenes with these easy DIY silhouettes.
Materials Needed:
Black construction paper or black garbage bags
Scissors
Tape
How to Make It:
Cut out eerie shapes like bats, witches, or cats from the black construction paper or garbage bags.
Tape the silhouettes to your windows.
During the day, they'll create a mysterious ambiance inside your home.
At night, they'll be visible from the outside too, adding to the Halloween spirit!
10. Floating Ghosts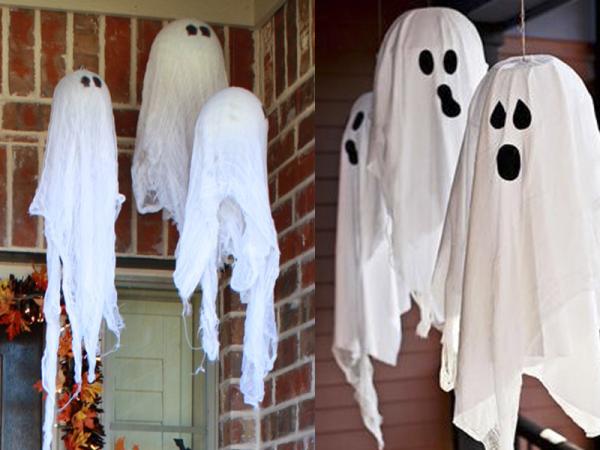 These floating ghosts are a simple yet spooky addition to your indoor Halloween decor.
Materials Needed:
White balloons
White bed sheets or cheesecloth
String or fishing line
How to Make It:
Blow up the white balloons.
Drape white bed sheets or cheesecloth over the balloons to create ghost shapes.
Attach string or fishing line to the top of each ghost.
Hang them from your ceiling with tape or hooks.
The floating ghosts will give your room a haunting touch!
Related Reading: Best Kids Halloween Movies That Ensure A Boo-tiful Family Time
5 Table DIY Halloween Decorations
Make your Halloween dinner extra special with decorations you can create yourself. This section will show you some simple ideas to decorate your table. These DIY decorations are easy to make, making your Halloween meal even more fun. These ideas will make your dinner table look fantastic, from spooky centerpieces to cool table settings.
11. Eerie Halloween Centerpieces
Description: Make your dining table the centerpiece of your Halloween gathering with these eerie decorations.
Materials Needed:
A large glass vase or jar
Plastic spiders or insects
Black ribbon or string
How to Make It:
Fill the glass vase or jar with plastic spiders or insects.
Tie black ribbon or string around the neck of the vase or jar.
Place it in the center of your table.
The creepy crawlies inside will give your table an eerie touch.
12. Jack-O'-Lantern Candle Holders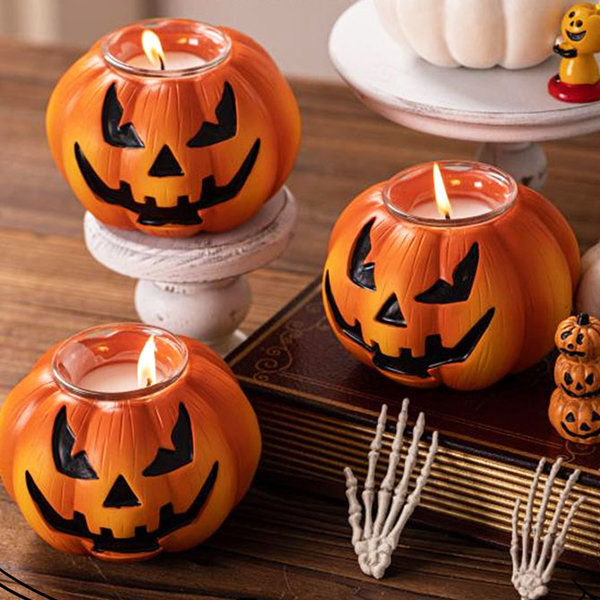 Add a warm and spooky glow to your table with these jack-o'-lantern candle holders.
Materials Needed:
Small pumpkins or gourds
Tea light candles
A sharp knife or pumpkin carving tools
How to Make It:
Cut off the top of each small pumpkin or gourd.
Scoop out the insides.
Place a tea light candle inside each one.
Light the candles, and your jack-o'-lantern candle holders are ready to light up your table.
13. Spiderweb Tablecloth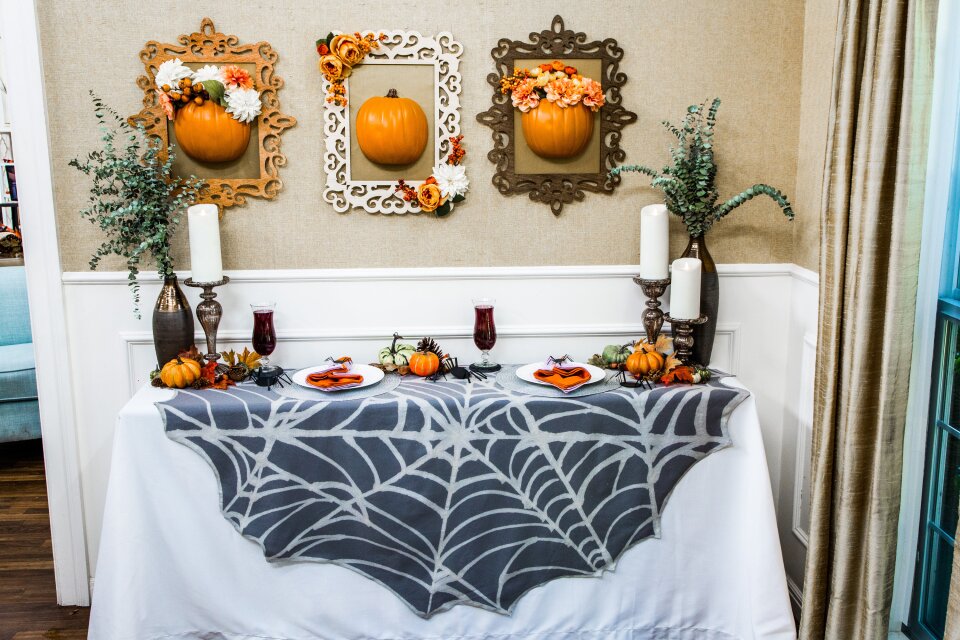 Turn your plain table into a spooky surface with this spiderweb tablecloth.
Materials Needed:
A plain white tablecloth
Black fabric paint or a black permanent marker
A spider web stencil (optional)
How to Make It:
Lay the plain white tablecloth flat.
Using black fabric paint or a marker, draw spiderwebs all over it.
If you have a spider web stencil, it can be helpful for creating neat designs.
Let it dry, and your spiderweb tablecloth is ready to set the eerie mood.
14. Skull and Bone Cutlery
Give your dining utensils a bone-chilling makeover for Halloween.
Materials Needed:
Plastic or wooden utensils (forks, knives, and spoons)
White paint or white permanent marker
How to Make It:
Paint or draw skull and bone designs on the handles of your utensils.
Let them dry completely before using them.
Your spooky cutlery is ready to set the table for Halloween.
15. Witch Hat Snack Cones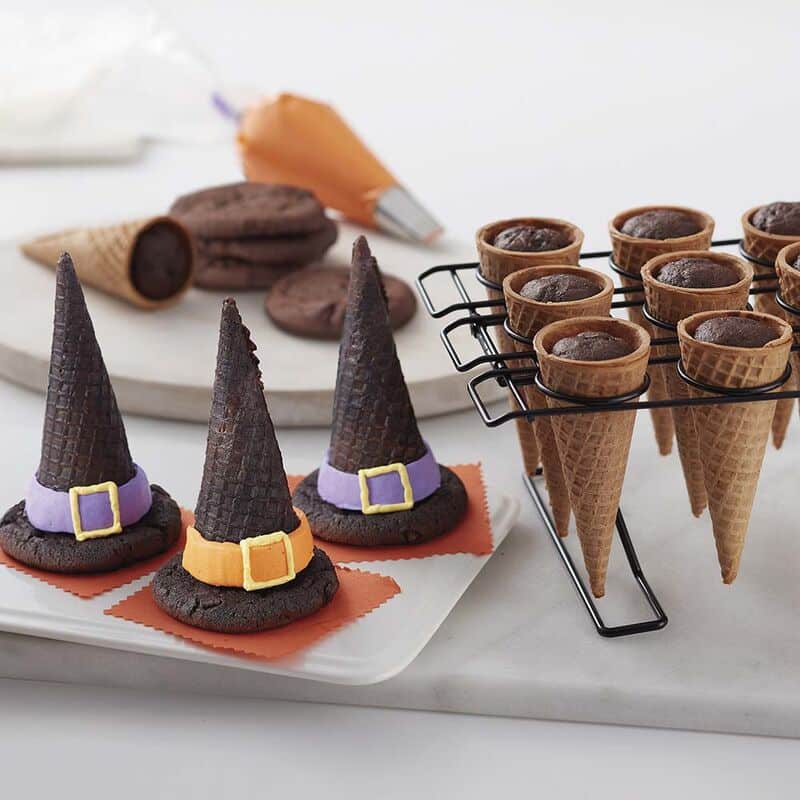 Turn ordinary snack cones into witchy treats for your Halloween party.
Materials Needed:
Black sugar cones or ice cream cones
Black construction paper
Green ribbon
Tape or glue
How to Make It:
Cut a circle of black construction paper to fit the top of each cone.
Attach the circle to the top to create the witch hat.
Tie a green ribbon around the base of each cone.
Fill them with your favorite snacks.
These witch hat snack cones will be a hit on your Halloween table.
5 DIY Halloween Wall Decorations
When it comes to setting the stage for Halloween, don't overlook the power of your walls. They offer a canvas ready to be transformed into a spooky masterpiece, adding an eerie and enchanting atmosphere to your home. Whether you're looking to give your guests a chilling welcome or simply want to immerse yourself in the Halloween spirit, these DIY wall decorations are just the trick.
16. Floating Witch Hats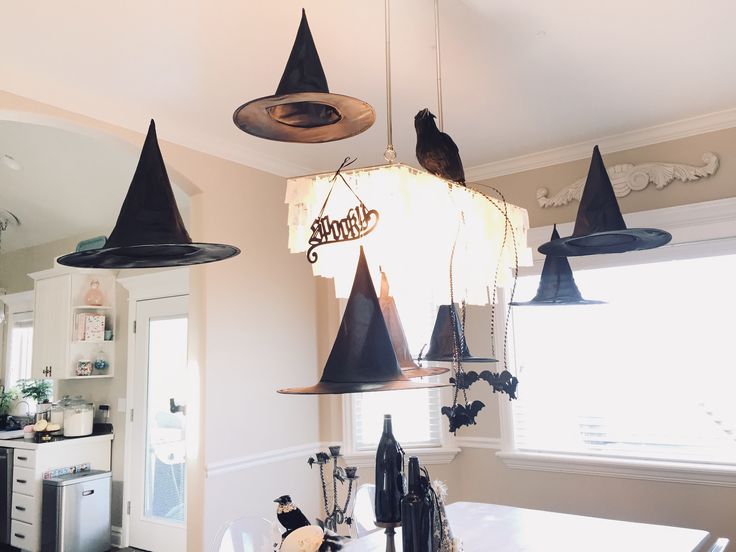 Make your walls come alive with floating witch hats, adding a whimsical and eerie touch to your Halloween decor.
Materials Needed:
Black witch hats
Clear fishing line or string
Tape or removable wall hooks
How to Make It:
Attach a clear fishing line or string to the tip of each witch hat.
Use tape or removable wall hooks to secure the other end of the string to your ceiling.
Hang the witch hats at varying heights.
They'll appear to float and cast a spell on your walls.
17. DIY Halloween Wall Art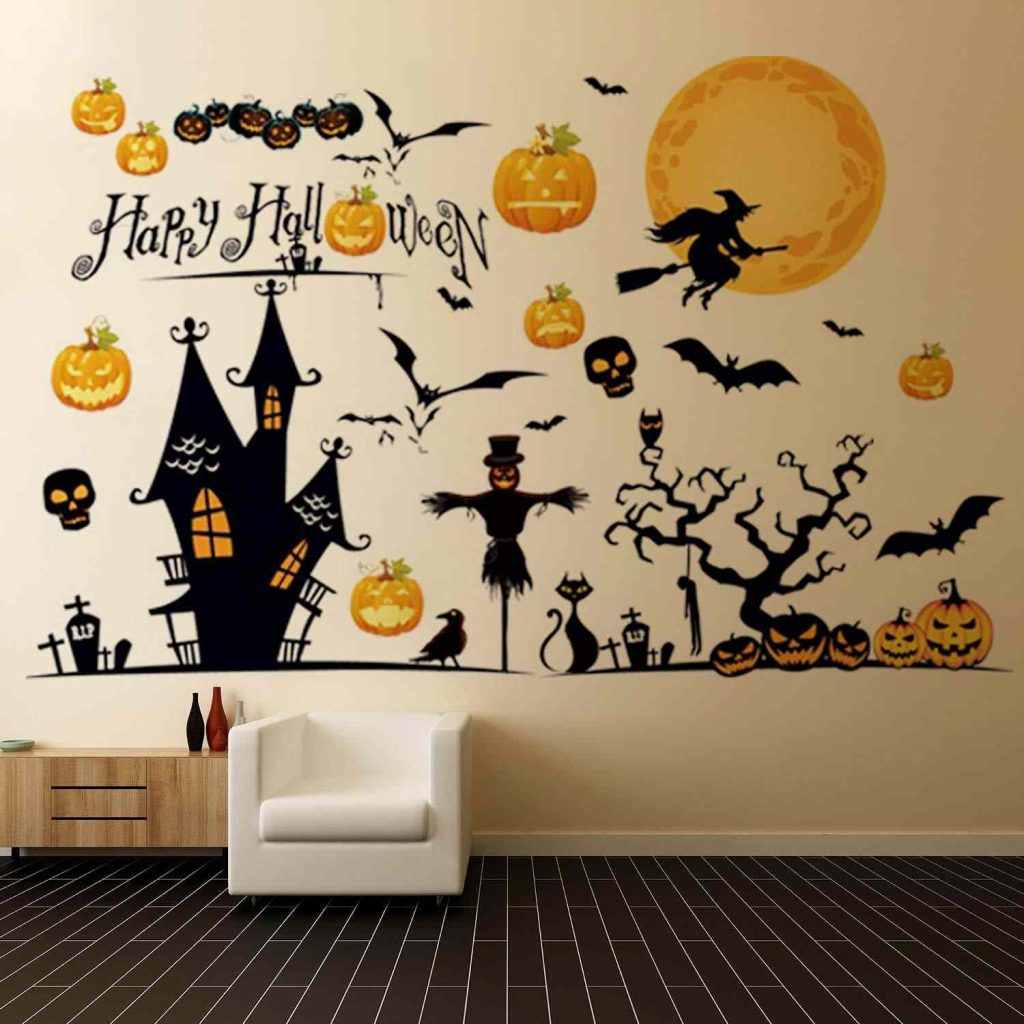 Get creative and decorate your walls with homemade Halloween-themed artwork.
Materials Needed:
Blank canvases or heavy paper
Acrylic paints in Halloween colors (black, orange, purple)
Paintbrushes
Stencils or freehand design
How to Make It:
Paint spooky scenes, witches, pumpkins, or bats on the canvases.
You can use stencils or create your own designs.
Let them dry completely.
Hang your Halloween artwork on the walls using nails or hooks.
Your DIY wall art adds a personal touch to your decor.
18. Bat Swarm Wall Decals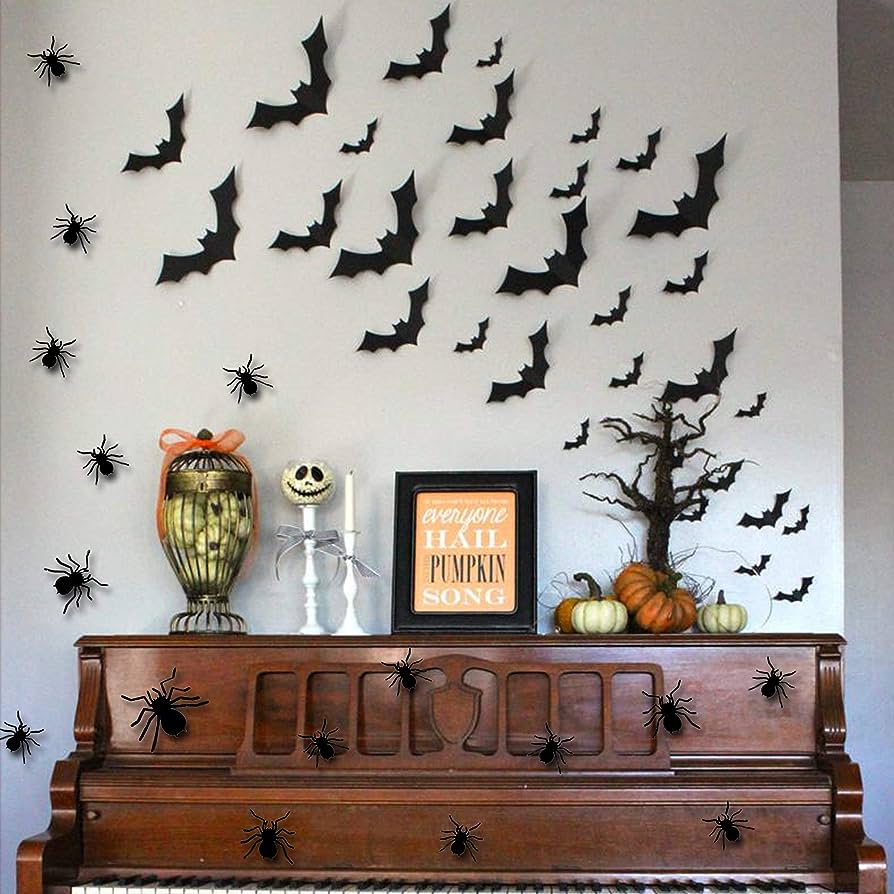 Transform your walls into a bat cave with these simple and striking wall decals.
Materials Needed:
Black construction paper or black removable wall decals
Scissors
Tape or adhesive
How to Make It:
Cut out bat shapes from the black construction paper.
Use tape or adhesive to attach them to your walls in a swarm pattern.
They'll create a spooky effect, as if bats are flying through your room.
19. Mummy Door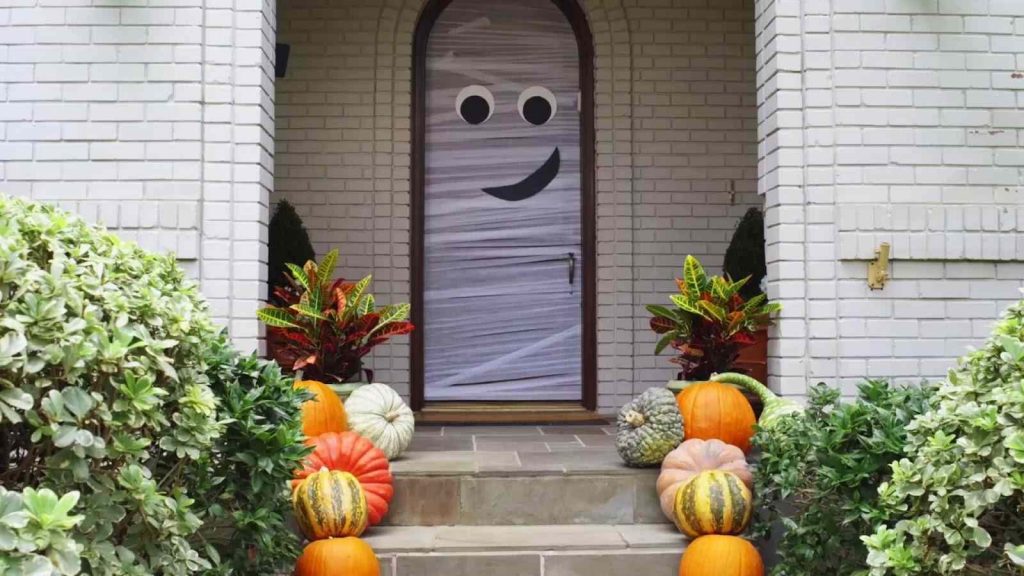 Give your door a mummified makeover that welcomes guests with a touch of Halloween humor.
Materials Needed:
White streamers or toilet paper
Large googly eyes
Double-sided tape or adhesive
How to Make It:
Wrap white streamers or toilet paper around your door, crisscrossing to create the mummy's bandages.
Attach googly eyes near the top to make it look like the mummy is peeking out.
Your mummy door is ready to greet visitors with a smile.
20. Creepy Crawling Shadow Figures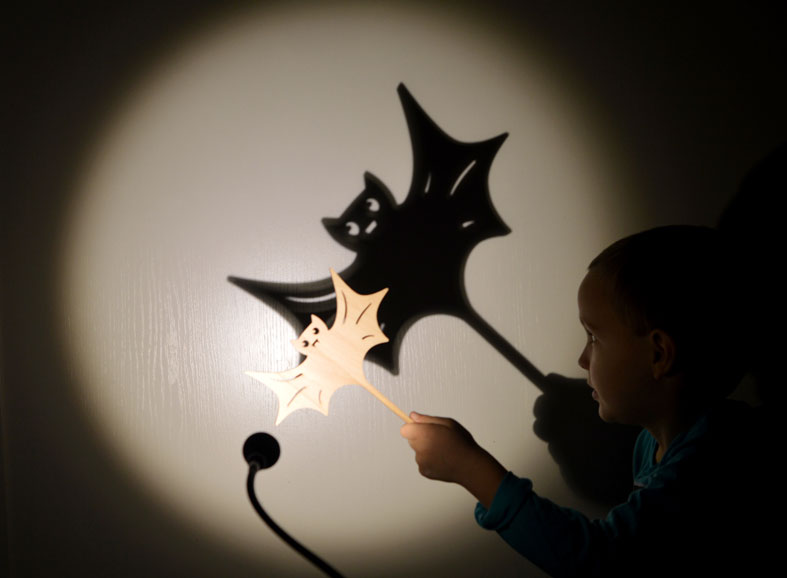 Cast eerie shadow figures on your walls for a haunting ambiance.
Materials Needed:
Cardboard or black construction paper
Scissors
Flashlight or candles (for backlighting)
How to Make It:
Cut out spooky shapes from cardboard or black construction paper.
Place them in front of a flashlight or candles.
The shadows they cast on the wall will create a chilling effect.
Related Reading: Best DIY Halloween Games For Kids
5 Budget-Friendly DIY Halloween Ideas
Halloween is the time to let your creativity run wild, but it shouldn't drain your wallet. Decorating your home for this spooky season doesn't have to come with a scary price tag. In this section, we'll delve into a world of Halloween magic on a budget, where ingenuity and resourcefulness are your best friends.
21. Recycled Ghost Bottles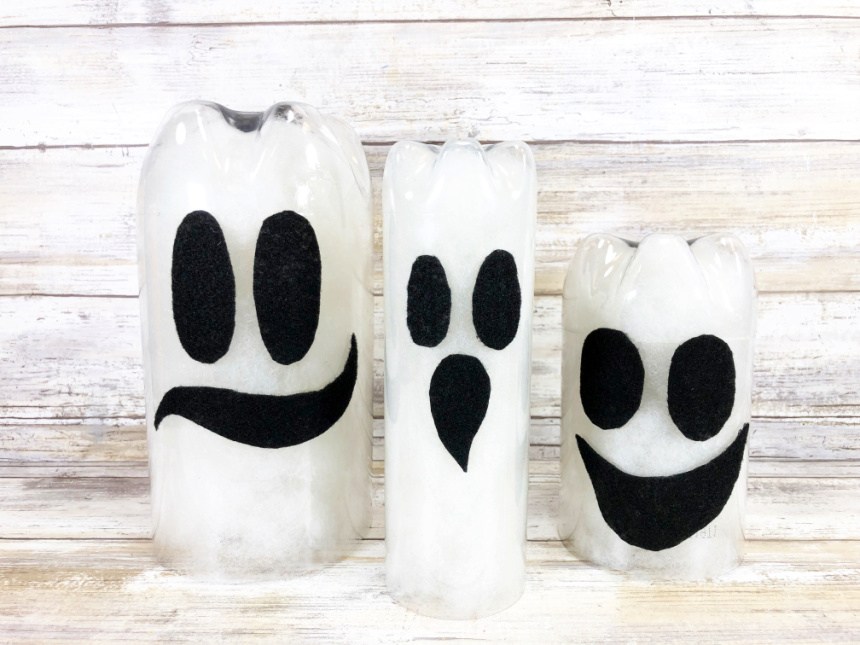 Turn old glass bottles into friendly ghostly decorations that won't haunt your wallet.
Materials Needed:
Empty glass bottles
White tissue paper or cheesecloth
Glue
Black marker
How to Make It:
Clean the glass bottles thoroughly.
Cut white tissue paper or cheesecloth into squares big enough to cover the bottles.
Glue the tissue paper or cheesecloth onto the bottles, creating ghostly drapes.
Use a black marker to draw friendly ghost faces.
Place them around your home for a budget-friendly boo-tiful touch.
22. Candy Corn Vases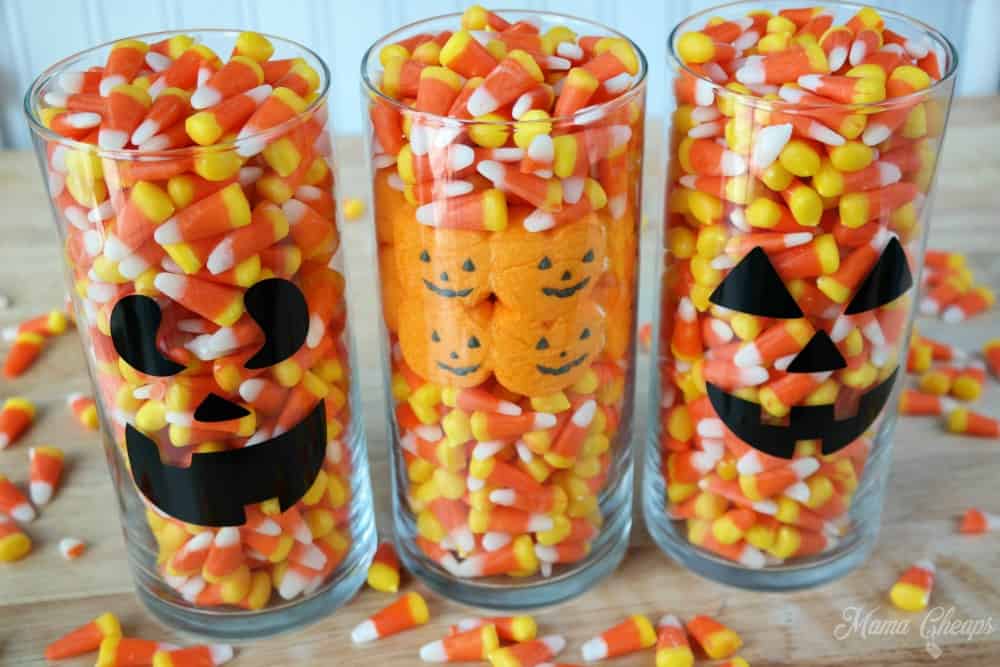 Give plain glass vases a candy corn-inspired makeover for a sweet Halloween look.
Materials Needed:
Glass vases
Acrylic paint in orange, yellow, and white
Paintbrushes
How to Make It:
Paint the bottom third of the vases with orange paint.
Paint the middle third with yellow paint.
Paint the top third with white paint.
Let them dry completely.
Fill the vases with Halloween flowers or candy for a colorful display.
23. Creepy Cloth Curtains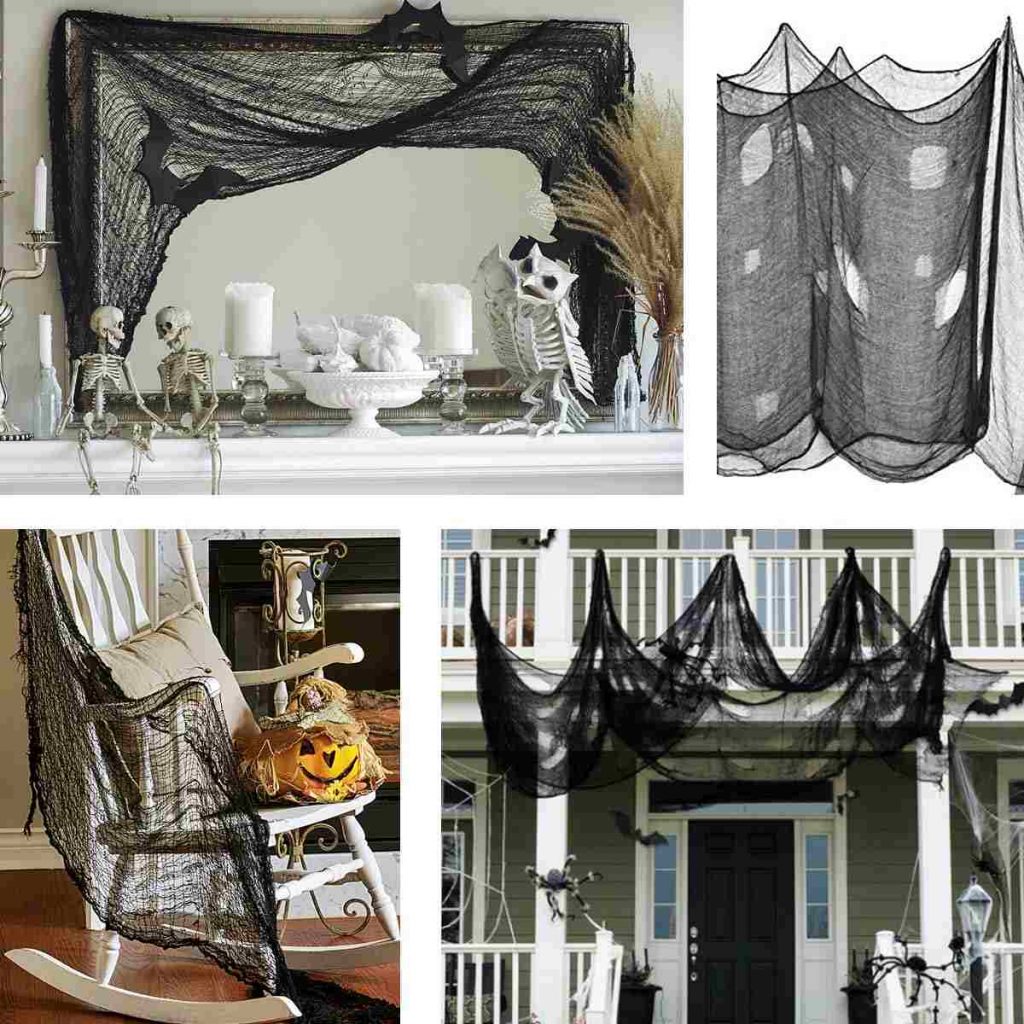 Create spooky, tattered curtains to give your windows a haunted house vibe.
Materials Needed:
White or light-colored sheer curtains
Scissors
Tea bags
How to Make It:
Rip and cut small holes and fringes in the curtains to make them look aged and tattered.
Brew some strong tea and let it cool.
Dip the curtains in the cooled tea to give them an antique, weathered appearance.
Hang them up, and your windows will look like they're from a haunted mansion.
24. Dollar Store Halloween Decor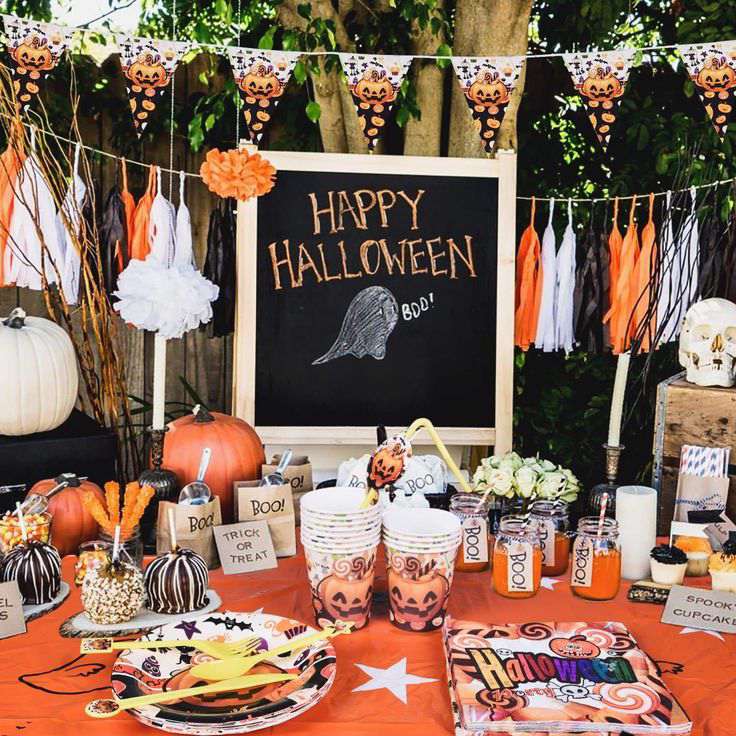 Making a Dollar Store is one of the best halloween party decorations. Find affordable Halloween decorations and accessories at your local dollar store and create one dollar store of your own.
Materials Needed:
Visit your nearest dollar store
Explore their Halloween aisle
Purchase a variety of decorations and accessories
How to Use It:
Visit your local dollar store during the Halloween season.
Explore their selection of decorations, candles, tableware, and more.
Purchase a range of items that fit your Halloween theme.
Decorate your home with these budget-friendly finds.
25. Cardboard Tombstones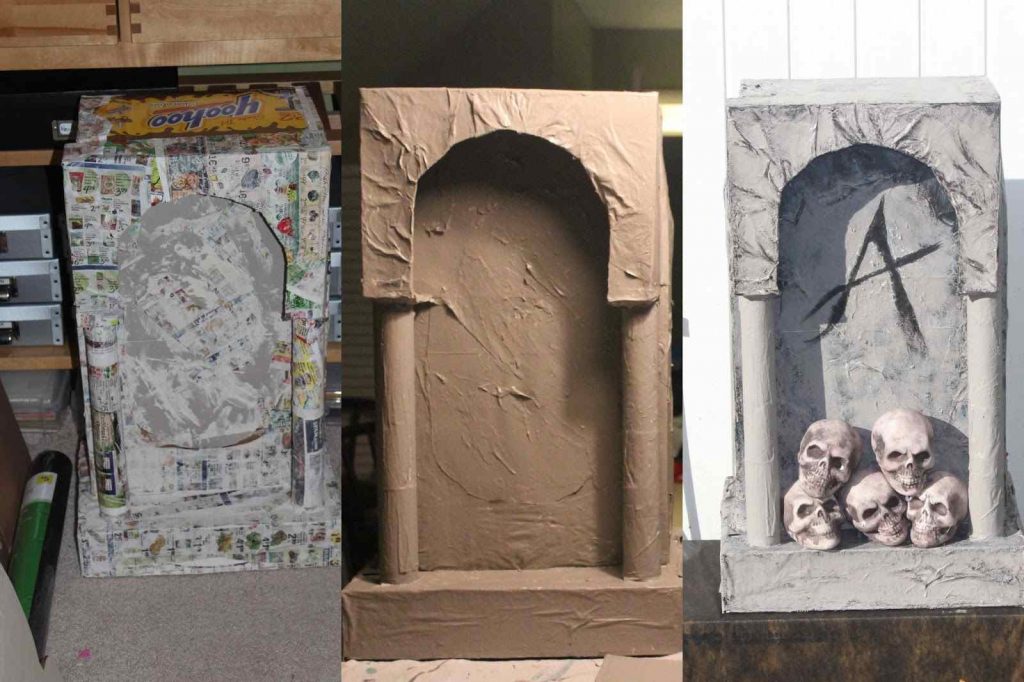 Create spooky tombstones from cardboard to give your yard a cemetery-inspired look.
Materials Needed:
Cardboard sheets or boxes
Craft knife or scissors
Gray and black paint
Paintbrushes
How to Make It:
Cut out tombstone shapes from cardboard sheets or boxes.
Paint them gray and add details like names and dates with black paint.
Let them dry and place them in your yard to create a DIY graveyard.
Conclusion
As we wrap up our Halloween journey filled with creative and budget-friendly DIY decorations, remember that Halloween is all about the fun of making your home a bit spookier and more magical. You don't need to break the bank to create an enchanting atmosphere.
From recycled ghost bottles to dollar store treasures, these ideas prove that with a little imagination and resourcefulness, you can transform your space into a haunted haven that will leave your guests in awe. So, gather your supplies, embrace your inner DIY spirit, and get ready for a hauntingly good time this Halloween. After all, it's not about how much you spend but the memories you create that make this holiday truly bewitching. Happy Halloween!
Related Reading: Best Halloween Trivia Questions for Kids [With Answers]
Frequently Asked Questions (FAQs)
Are these easy homemade Halloween decorations suitable for beginners?
Absolutely! The homemade Halloween decorations featured in this blog are designed with simplicity in mind. Even if you're new to crafting, you'll find these projects approachable and perfect for getting started on your Halloween decorating journey.
Can I use these homemade Halloween decorations for a Halloween party?
Yes, you can! Many of these DIY decorations are not only budget-friendly but also ideal for creating a spooky and festive atmosphere at your Halloween party.
Where can I find the materials needed for Halloween DIY?
You can easily find the materials for these DIY Halloween decorations at your local craft stores, dollar stores, or even around your home.
Are cheap Halloween decorations as effective as expensive ones in creating a spooky atmosphere?
Absolutely! Cheap and easy Halloween decorations can be just as effective in creating a spooky and festive atmosphere as their expensive counterparts. With a bit of creativity and resourcefulness, you can transform everyday items into haunting decor that adds character and charm to your space.