With Halloween right around the corner, it's time to bring the spook on! With all the great Halloween activities out there to choose from, it can be scary to narrow down the ones you want to give your time come Halloween. Whether you're looking for something to scare your peers at school or something to bond over with your friends and family at home, these activities promise to bring out the spirit of Halloween for everyone to enjoy!
Fun Halloween Activities to Make the Holidays More Spooky!
1. Popping Crafted Pumpkins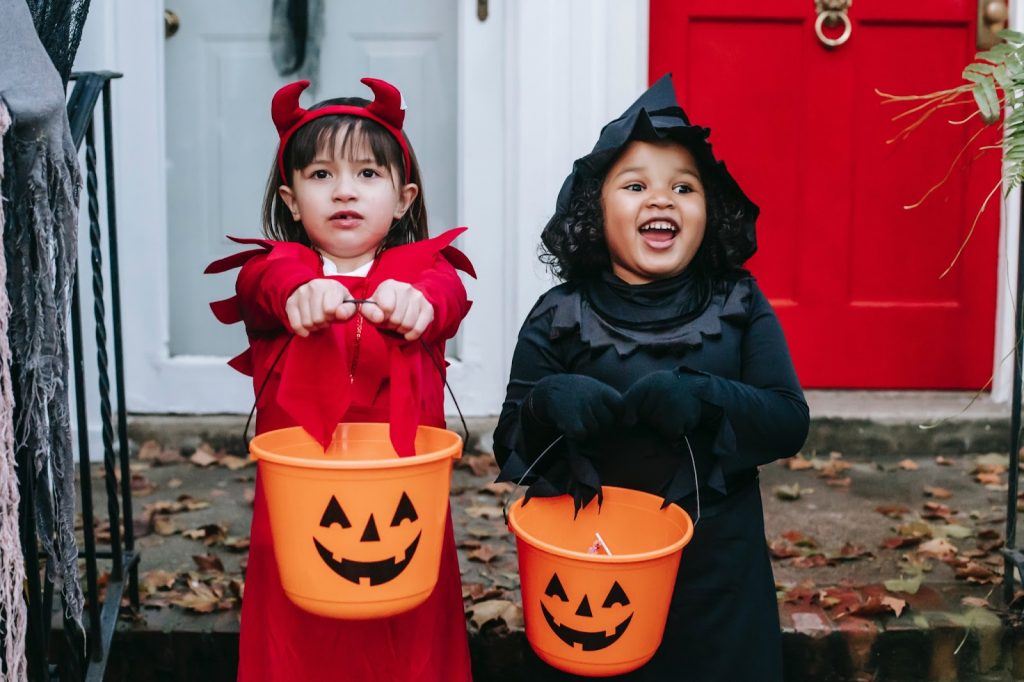 Most kids are probably too young to safely carve pumpkins on their own, so how about popping them instead? All you need to do is place candies and Halloween goodies inside orange balloons and blow them up. This is where kids can join in. They can use a marker or black colored paper to bring the pumpkin to life! Once you've got the balloons (or pumpkins? ready), kids can take turns trying to pop them and claim the goodies inside! Perfect for all ages, start getting your crafted pumpkin balloons ready today!
2. Designing Your Own Costumes
With so many fantastic ready-made costumes for kids to choose from at stores and on the internet, it may be fun to take a step back and think about helping kids make their own costumes this year! There is nothing wrong with a store-bought costume for Halloween, but the fun that comes with piecing together the costume of your favorite fairy tale character or superhero is something every kid should experience in the days leading up to Halloween!
If your kid needs some inspiration to get started on their Halloween costume, you can walk them through simple DIY Halloween costumes and let them decide whether they'd like to dawn a cape or a cloak this Hallow's eve!
3. Playing Mummy
If you're having a hard time convincing your child to try their hand at making their own Halloween costume this year, worry not! Hand them a bunch of toilet paper rolls, and watch the magic unfold! A few toilet paper rolls are all you need to let kids wrap themselves up from head to toe like mummies!
Halloween costumes and activities can sometimes feel repetitive for some kids, but playing with a bunch of toilet paper rolls certainly is too fun to be mundane. This activity invites a whole lot of fun, and lets kids show off an amazing Halloween costume by the time they're done with the fun!
4. Washing Pumpkins
Most kids that get really excited about Halloween are probably still too young to handle a knife and start carving spooky faces into pumpkins. What you can do in this case, is spend time with the kids and reel them in as you wash and rinse pumpkins before you prepare to carve them!
This can be a great way to bond as a family, and younger kids would especially love to get their hands moving as they scrape the dirt off of pumpkins to get them ready for Halloween! If you're looking for Halloween activities that are safe for younger kids, this one's not for you.
5. Origami Jack O'Lanterns
Jack O'Lanterns are a staple of Halloween and it's difficult to imagine this special day without them. When carving pumpkins isn't an option for reasons that can vary, you can always count on some orange paper to save the day!
All you need to create origami Jack O'Lanterns are some orange paper, a glue stick, clear tape, and a pair of scissors. A few simple steps are all it takes to complete this inventive approach to a Halloween staple, so what are you waiting for? Get folding!
6. Donut Bobbing
A popular Halloween pastime, bobbing for donuts is a delicious delight that's sure to please kids of all ages! You can even try this with apples and get the same results. All you have to do is tie donuts with some string and let them hang from tree branches. Do make sure that they're not too difficult to reach!
Once you've done that, invite the kids over, tie their hands behind their back with some strings and let them have at it! Donut bobbing provides a great way to let kids binge on their favorite Halloween donuts. If you're looking for Halloween activities for schools, then add this to your cauldron!
7. Halloween Musical Chairs
What do you get when you mix musical chairs with some spooky horror music? Halloween musical chairs is here to bring a season-appropriate twist to an already popular group activity. All you need to get this game going are chairs, some spooky music, and for everyone to bring their best Halloween costume to the game, of course!
If you'd like a little more information about how to set up this game, you can head right over to our selection of the best music games for kids that dives into the details! Don't be afraid to adapt some of the other offerings to make them appropriate for Halloween!
8. Halloween Scavenger Hunt
Perfect for schools, a Halloween-styled scavenger hunt is sure to get kids excited! The hallways, playgrounds, classrooms, gymnasiums, and cafeterias that schools provide make excellent, spacious areas to hide chocolates, toys, and other Halloween-appropriate goodies! When it comes to the exciting Halloween activities, this one takes the prize (pun intended)!
9. Visit a Haunted House
You don't actually need to find a real haunted house for this one, but feel free to try! You'd be pleased to know that kids should have just as great a time visiting the house down the block that's rumored to be cursed by an evil spirit! Don't be surprised if the spirit turns out to be your friendly neighbor in costume!
A walk through your neighborhood with your child is all you need to do to discover the latest haunted houses that have cropped up this Halloween season that are ready to get hearts racing!
10. Gather Around for Scary Stories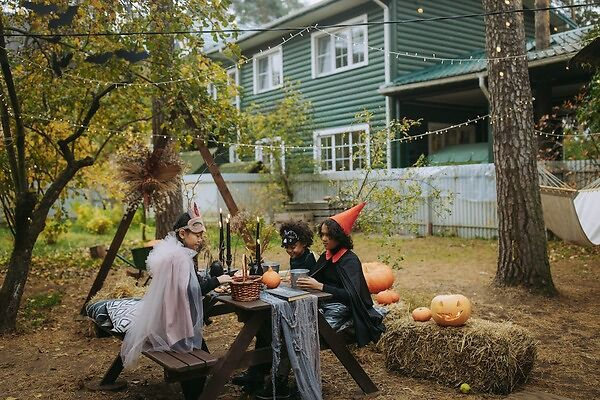 Gather around the fireplace with the kids to recite the spookiest, tried-and-tested age-appropriate Halloween tales! Whether it's a story about a scary scarecrow or a haunted ship, there's no shortage of campfire-perfect tales to make kids shiver on Halloween night. Feel free to play around with the details to make them extra spooky!
Happy Halloween Activities at Home
11. Candy Bag Race
Candies are a Halloween staple. What's Halloween without candies? Preparing your front door for trick-or-treaters can become a breeze with this game! All you have to do is lay out some empty ziplock bags (or any kind that works for you) and have kids race to fill each bag with one piece of a specific candy. Before you know you, you should have dozens of candy bags with an assortment of evenly distributed candies. If you want to combine fun and productivity this holiday season, get the tracks ready for a thrilling candy bag race!
12. Pumpkin Slime
The cold and gooey texture of slime is fascinating enough to keep kids kneading and poking around endlessly! Slime is easy enough to find in stores, but why not use some Elmer's glue to create Halloween-appropriate pumpkin slime this season! All you need to get your pumpkin slime ready, is mix orange food coloring, unscented shaving cream, saline solution, baking soda, and of course, some Elmer's glue in a mason jar! Sprinkling a little bit of pumpkin-scented oil into the mix shouldn't hurt. If you'd like a more detailed recipe, you can check out the ingredients and steps right here.
13. Painting Pumpkins
Carving scary faces into pumpkins is a Halloween staple, but some kids may still be too young to work with sharp tools and indulge in this craft. Painting pumpkins, on the other hand, is a safer and more inclusive alternative that kids of all ages can take on! All you need are some acrylic paints and brushes that stand out against the color of pumpkins well.
Black, green, blue, and red make great shades to work with! You can have kids push their imagination with this great activity. They can paint scary faces, Halloween motifs, interesting patterns, or just about anything else that helps them get into the spirit of this holiday!
14. Pumpkin Golf
You're going to need a bigger knife for this one! Get yourself a pumpkin. The larger the better. Carve out a jack-o'-lantern that's big enough for golf balls to pass through. Don't have a golf set at home that the kids can fool around with? You can pick up some cheap table tennis balls and let them use a baseball bat instead. This is the perfect mini-golf experience for Halloween. If you want to go the extra mile, you can even think about using a marker to make spiders on the balls that you decide to go with. You can't go wrong with this, so get creative!
15. Have a 'Glow in the Dark' Party
Gather all the glow-in-the-dark decor you can find! Stickers, glow sticks, balloons, hangings, and anything else that glows in the dark! Glow-in-the-dark decor is just what you need to get your home Halloween-ready! When it comes to Halloween activities at home, it doesn't get better than having your kids help you decorate your home with glow-in-the-dark decor! But that's not all! They can invite their friends over, turn off the lights and treat them to a spooky time!
16. Spider Web Maze
If you're tired of navigating all the Halloween activities for kids to try out this Halloween, worry not! We're here to help you get out of this maze! Ever consider Halloween-themed puzzles? Kids love a good puzzle! Especially if it's one they're already familiar with, so why not take something they already love and give it a Halloween spin!
Try using painter's tape to lay out a spider maze with a start and finish point! If you need more room, you can even take this outside and use some string instead of tape. You can even head on over to these amazing spider mazes and decide which one you'd like to recreate!
17. Picking Apples
Here's a fun fact to share with your kids! The tradition of Halloween actually dates back to the Celtic tradition of picking and putting out fruits and nuts for gods around the end of October to mark the end of the season! Going apple picking is a great way to return to the roots of Halloween and help kids appreciate the history behind this fun holiday! You can take the apples you've picked home and have your kids give you a hand in preparing some warm apple cider out of them! Warm apple ciders go great with the chill that the season brings!
18. Trip to a Pumpkin Patch
A Halloween staple, kids love a spooky jack-o'-lantern! If you'd like your kid to know where pumpkins come from and how they're harvested, a trip to a pumpkin patch might be the perfect Halloween excursion that combines the season's best with a bit of learning!
While most Halloween activities for children are centered around crafts and playtime, this alternative departs from convention by pitching something a little more grounded. But we're getting ahead of ourselves! Who knows what your kids will see and discover once they're there? It is Halloween, after all!
19. Laundry Basket Spider Web
If you're on the prowl for Halloween activities ideas for toddlers, be sure to give this a spin! All you have to do is fill a laundry basket with paper spiders or just about any spooky trinkets you can gather. Once you've done that, find some yarn and weave it in and out through the basket's holes. You should have what looks like a basket that's covered in cobwebs by the time you've run out of yarn! Toddlers should have a great time poking through the web of yarn and trying to pull out the Halloween goodies you've left on the other side!
Related Reading: 

Funny and Horror-ious Halloween Jokes for Kids to Get Into the Holiday Spirit
Halloween Activities for Schools To Have Fun
20. Life-Sized Spider Webs
Cobweb fun isn't just for toddlers! You can take yarn outdoors to lay out giant, life-sized spider webs across your lawn or your backyard! Kids should have a great time pulling out a chair and tossing balls of yarns through the branches of trees and watching them drop back down!
You can guide kids to tie lateral threads of yarn across the yarn hanging from trees and hook them up to other objects nearby to give the yarn the appearance of cobwebs. The process of setting this up should excite kids! And what's more? Having your house look like it was taken over by a giant spider is just the payoff kids expect for their effort!
21. Host a Halloween Costume Party
This is a Halloween favorite that lets everyone in on the fun, old and young alike! Halloween costume parties are the perfect setting to show off your costumes (and to leave friends and family wondering what you've dressed up as)! Have your kids give you a helping hand in getting the house Halloween-ready. Invite their friends over (and your own, too!) for a spooktacular evening!
Related Reading: 

Easy Halloween Party Ideas for Kids to Throw a Spooky Soiree
22. Halloween Movie Marathon
What's a movie marathon without some great snacks? All you need to set up a Halloween movie marathon are some mummy meatballs, ghost pizza bagels, and witch finger cookies! These inventive snacks are the perfect fit for a Halloween movie marathon. Whether you decide to put on Ghostbusters, Gremlins, or The Nightmare Before Christmas, you can count on cheesy witch brooms and mummy brie to make this a memorable movie night for kids. If you'd like to explore some kid-friendly Halloween movies this season, you know what to do!
23. Halloween Movie Trivia
Done with your Halloween movie marathon? Why not follow it up with some Halloween movie trivia? You can ask your kids questions based on the movies you just watched, and even offer a prize for every question they get right (maybe their favorite candy?). The questions can be really simple, or you can make them as tricky as you like, depending on your kid's age. This is a great follow-up to a movie marathon and lets you find out whether kids actually paid attention to the movies, or had their eyes and hands on cheesy witch brooms and ghost pizza bagels the whole time.
24. Paper Bag Jack-o'-lanterns
We've still got more interesting takes on the traditional, pumpkin-carved, jack-o'-lantern Halloween staple. Ever thinking about stuffing orange paper bags with newspapers and using black paper to give them a spooky face? Well, that's really all there is to it! This DIY approach to jack-o'-lanterns is the perfect way to let kids help out with Halloween decor, and promises exciting results.
Kids can add other touches to their paper bag jack-o'-lanterns, like using green pipe cleaners to give them a vine, and a dry stick for the stem! Let kids get creative with their paper bag jack-o'-lanterns and tape together the perfect Halloween decor!
25. Halloween Makeup
Sure, you could just take your kid shopping and let them pick out a mask and a costume for Halloween night. But wouldn't it be more fun if you helped them use some makeup to make a mask themself? If you want to take this a step further, feel free to pick up some face paint and let your kid uncage their creativity!
Face paint is easy to take off, so if their first attempt doesn't go quite as planned, you can help them out with their next one. If you'd like to check out some makeup and face paint ideas to try with your kid, let these inspire you:
(Embed video)
Link
26. Zombie Rocks
Ever thought about using a bit of paint to turn harmless rocks into brain-eating zombies? No? Well, given how easy it is, you should be! This is a great way to get kids involved in preparing spooky trinkets to use as Halloween decor, and doesn't require much! All you have to do is use some green acrylic paint as a base color to paint small rocks. The green paint shouldn't take long to dry, after which you start adding eyes and faces with black and white paint. If you'd like an idea of what kind of faces you can make, here's a tutorial that can help.
27. Halloween Treats
Mummy pumpkin hand pies or marshmallow ghost brownies? How about spider cookie truffles and coffin sandwich cookies? Maybe spiced chocolate bat cookies with spooky forest pudding cups instead? We can keep going! Poison candy apples and meringue ghost tartlets? Count us in! Have your kids help you prepare these frighteningly simple desserts to make this Halloween the most memorable (and delicious) one yet for your friends and families!
28. Neighborhood Candy Drops
Have your kids prepare a bag of Halloween goodies and drop them off at your neighbors' places with a note celebrating the season! A small note inside that reads, "you've been spooked!" is the perfect way to spread and share the Halloween spirit with your neighbors. Once you get the trend going, expect a few friendly neighbors to sneak by your front door and spook you and your family with some delicious Halloween goodies!
29. Candy Hunt
What do you get when you combine an Easter favorite with the spirit of Halloween? A candy hunt! You can have your kids invite their friends over to find all the Halloween candies and goodies you've neatly hidden around the house! Try to get creative with how you're hiding the goods! Orange Reese's peanut butter chocolates should blend in well inside carved pumpkins! The more difficult you make it, the more exciting it should be!
30. Trick-or-Treat!
We've saved the best (and most obvious) for last! Central to the Halloween experience is the ritual of trick-or-treating. Kids dress up on Halloween night, so they collect their favorite candy (and just about anything with sugar they can get their hands on). Once you've had a chance to shuffle through some fun activities with your kids, you can take them on a stroll through the neighborhood for this Halloween essential!
Related Reading: 

Spooky Halloween Virtual Backgrounds for Online Classes
Happy Halloween!
We hope you have a wonderful Halloween with your kids this year, with a generous helping of delicious treats, memorable scares, and the festive spirit. Whether you make zombie faces out of rocks or indulge in some mummy brie and apple cider, this curation of the best Halloween activities is here to help you and your kids make the most of Halloween this year!
Frequently Asked Questions (FAQs)
How do I determine if a horror movie is age appropriate for my child?
The easiest way to do that is to check the parental rating awarded to a film, which is generally available on the movie's IMDB page. If you'd like to filter through scary films on the basis of the age groups they are appropriate for, head on over here!
My child isn't making their own Halloween costume this year. Is there any way I can make them reconsider this decision?
Absolutely! Instead of convincing your child to make their own Halloween costume this year, you could simply ask them to see if they can make one better than what they usually see in stores! Maybe as a challenge that comes with a reward?
Inspire them with these easy, DIY homemade Halloween costumes and watch them forget about ready-made, store bought costumes this Halloween! Happy stitching!