With Halloween right around the corner, it's time to bring the spook on! With all the great Halloween activities for kids out there to choose from, it can be scary to narrow down the ones you want to give your time come Halloween. Whether you're looking for something to scare your peers at school or something to bond over with your friends and family at home, these Halloween activities promise to bring out the spirit of Halloween for everyone to enjoy!
SplashLearn: Most Comprehensive Learning Program for PreK-5

SplashLearn inspires lifelong curiosity with its game-based PreK-5 learning program loved by over 40 million children. With over 4,000 fun games and activities, it's the perfect balance of learning and play for your little one.
Try for free
30 Fun Halloween Activities: Make Holidays Spookier!
1. Pop Crafted Pumpkins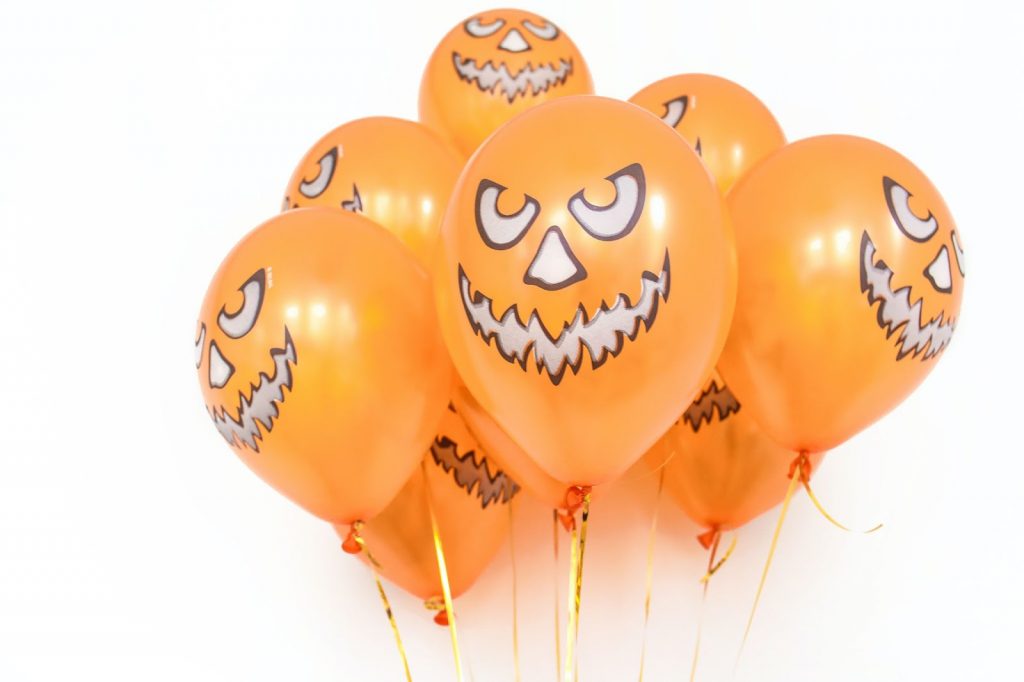 Material Required: orange balloons, candies, black markers, black craft paper
How to make it:
Place candies and Halloween goodies inside orange balloons
Blow the balloons up.
Kids can use a marker or black colored paper to bring the pumpkin to life!
Once you've got the balloons (or pumpkins ready), kids can take turns trying to pop them and claim the goodies inside!
Perfect for all ages, start getting your crafted pumpkin balloons ready today!
2. Design Your Own Costumes
Material Required: plain clothing items, fabric markers or paint, fabric glue or sewing kit, felt, pom-poms, googly eyes, ribbons, scissors, old newspapers or cardboard
How to make it:
A. Choose Your Costume Idea: Decide on the Halloween character or theme you want to embody. Look for images or drawings of your chosen character or theme to guide your costume creation.
B. Prepare Base Clothing: Start by altering or customizing the base clothing. This might involve cutting, sewing, or adding fabric to achieve the desired look.
C. Create Costume Elements: Use fabric, cardboard, foam, or other materials to create specific costume elements such as wings, tails, or armor.
D. Assemble Props: If your costume requires props, such as a wand or weapon, create or modify them using cardboard, foam, and paint.
E. Add Details: Use markers, fabric markers, or additional fabric to add details and enhance the overall look of the costume.
F. Accessorize: Complete the look with accessories like hats, wigs, masks, or makeup.
G. Try On and Adjust: Try on the costume to ensure everything fits well and make any necessary adjustments.
Remember to have fun throughout the process, and don't be afraid to get creative with your materials and design. Whether you're crafting a spooky creature, a classic character, or a unique concept, Halloween costumes offer a great opportunity for self-expression and creativity.
3. Playing Mummy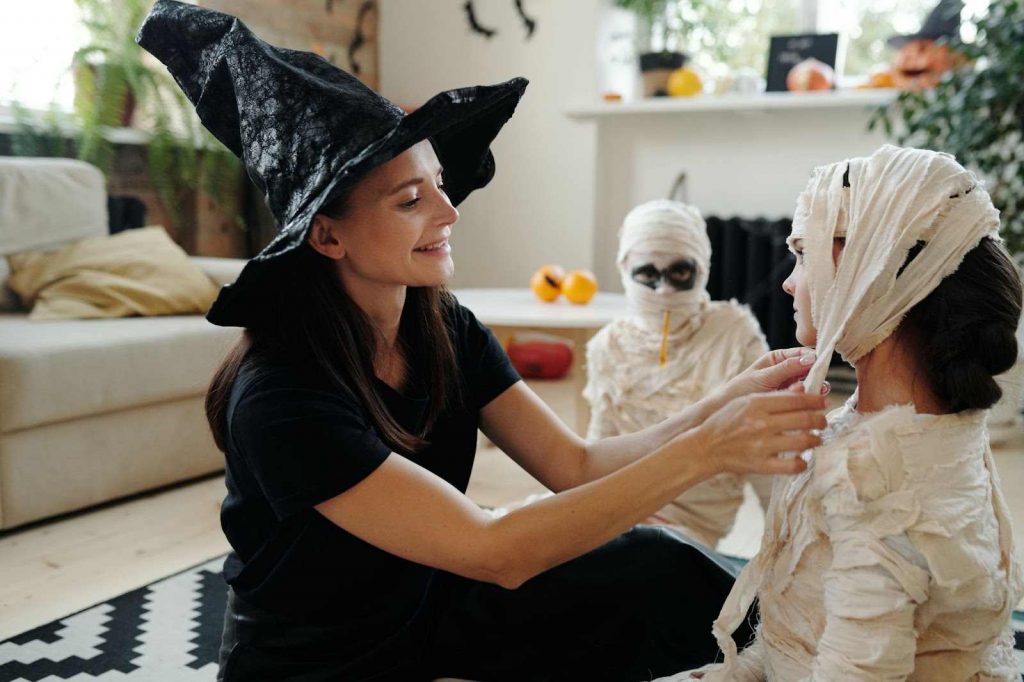 Material Required: white or beige clothing (such as a long-sleeved shirt and pants), several rolls of white medical gauze or strips of white fabric, fabric glue or safety pins, scissors, white or light-colored face paint for added effect.
How to make it:
Dress your child in a long-sleeved shirt and pants in a solid white or beige color. You can also use a white onesie for younger children.
Cut strips of white medical gauze or fabric. The strips should be long enough to wrap around parts of the body comfortably.
Wrap the strips of gauze or fabric around the clothing, starting from ankles or wrists and moving on to the whole body. Overlap the strips to create the layered mummy look. Leave some spaces between the strips to show the base clothing.
Secure the ends of the gauze or fabric strips in place with fabric glue or safety pins.
Leave openings for the eyes, and make sure that the dress is comfortable and not too tight.
For added effect, you can use white or light-colored face paint to create a mummy look on the child's face.
Your child is now ready to go trick-or-treating or attend a Halloween party as a cute and spooky mummy!
4. Washing Pumpkins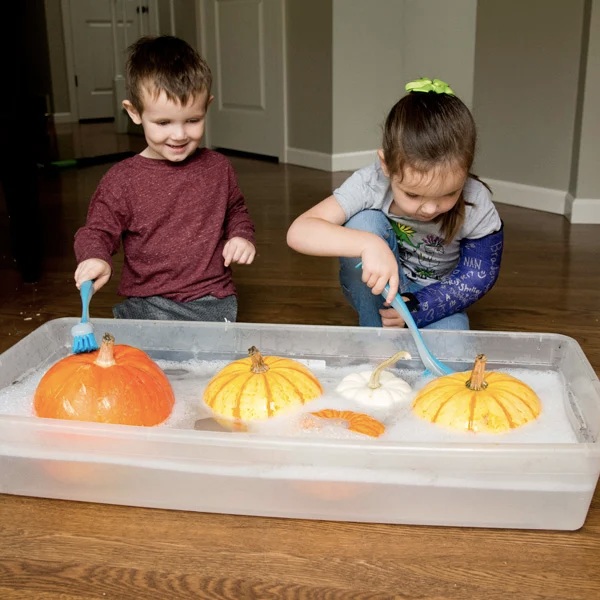 Material Required: pumpkins, a large basin or tub, water, Mild dish soap, soft sponge or cloth
How to do it:
Fill the basin or tub with water. Ensure that it's large enough to accommodate the pumpkins you'll be washing.
Gently place the pumpkins into the water.
Add a small amount of mild dish soap to the water.
Allow the pumpkins to soak for a few minutes. This helps to soften any dirt or grime on the surface.
Take a soft sponge or cloth and gently scrub the surface of the pumpkins.
Remove them from the soapy water and rinse them thoroughly under running water.
Let them air-dry for a bit.
5. Origami Jack O'Lanterns
Material Required: Orange origami paper, green origami paper, black pen or marker
How to make it:
Fold orange paper into a triangle, then a smaller triangle.
Fold up one corner, then fold it back down.
Repeat on the other side to form a diamond shape.
Fold the top flap down to create a triangle.
Open side flaps to reveal inner layers, shaping into a pumpkin.
Cut and fold a small green rectangle for the stem; glue on top.
Draw a spooky face with a black pen.
6. Halloween Scavenger Hunt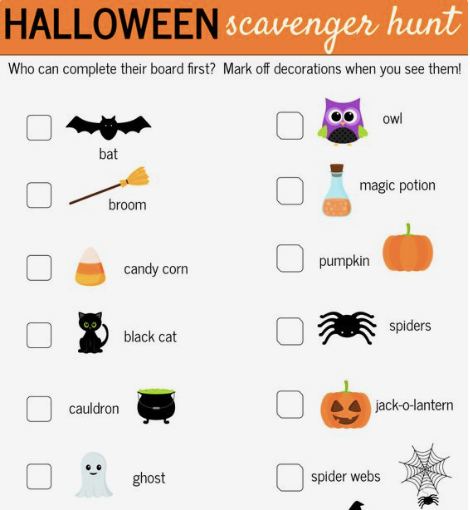 It is a perfect kids halloween activity for schools. A Halloween-themed scavenger hunt is sure to get kids excited! The hallways, playgrounds, classrooms, gymnasiums, and cafeterias that schools provide make excellent, spacious areas to hide chocolates, toys, and other Halloween-appropriate goodies! When it comes to the exciting Halloween activities for kids, this one takes the prize (pun intended)!
7. Visit a Haunted House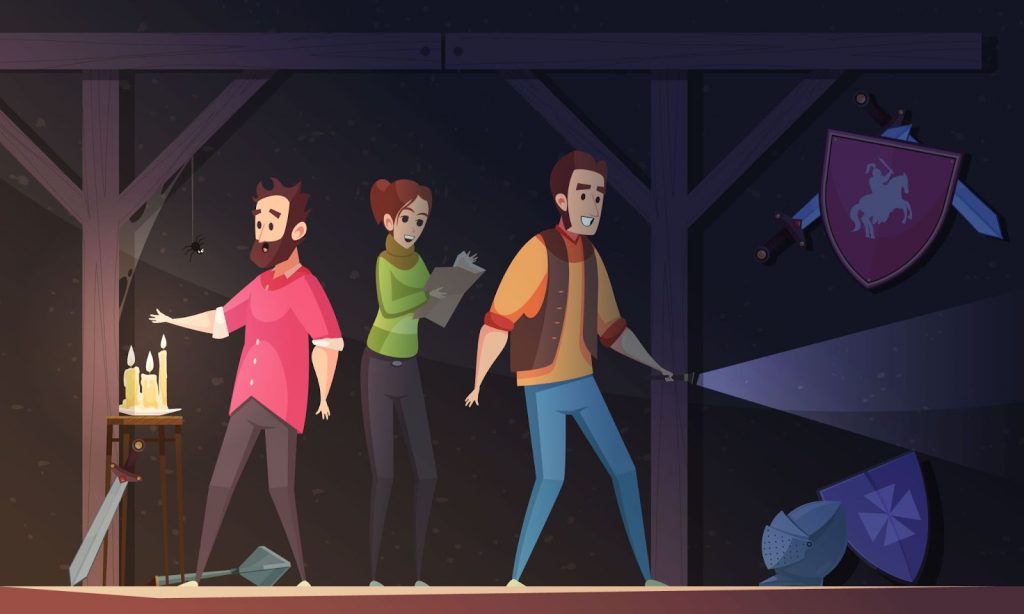 You don't actually need to find a real haunted house for this one, but feel free to try! You'd be pleased to know that kids should have just as great a time visiting the house down the block that's rumored to be cursed by an evil spirit! Don't be surprised if the spirit turns out to be your friendly neighbor in costume.
8. Gather Around for Scary Stories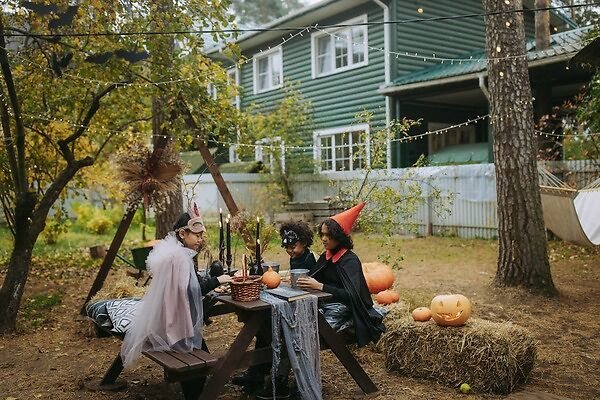 Gather around the fireplace with the kids to recite the spookiest, tried-and-tested age-appropriate Halloween tales! Whether it's a story about a scary scarecrow or a haunted ship, there's no shortage of campfire-perfect tales to make kids shiver on Halloween night. Feel free to play around with the details to make them extra spooky!
9. Monster Mash Dance Extravaganza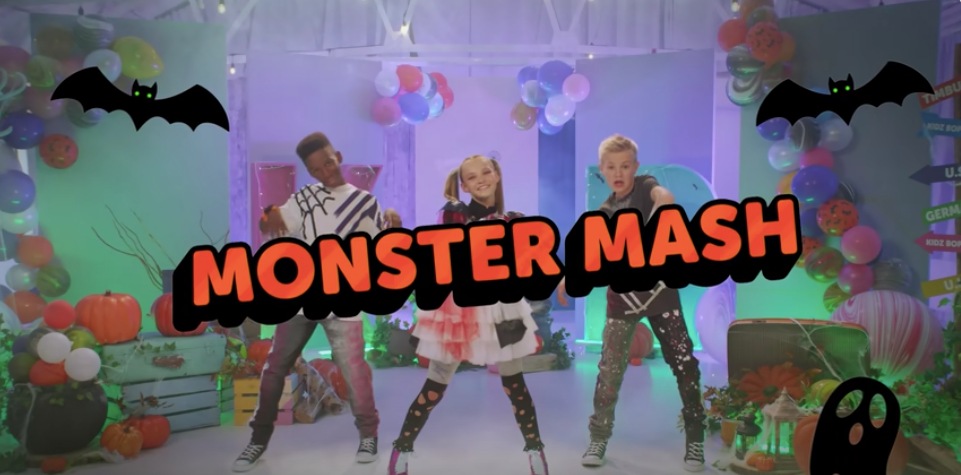 Turn your living room into a dance floor and put on some spooktacular Halloween-themed music. Encourage kids to don their favorite costumes and unleash their inner monsters on the dance floor. It's a thrilling dance party that's sure to get everyone grooving!
10. Pumpkin Slime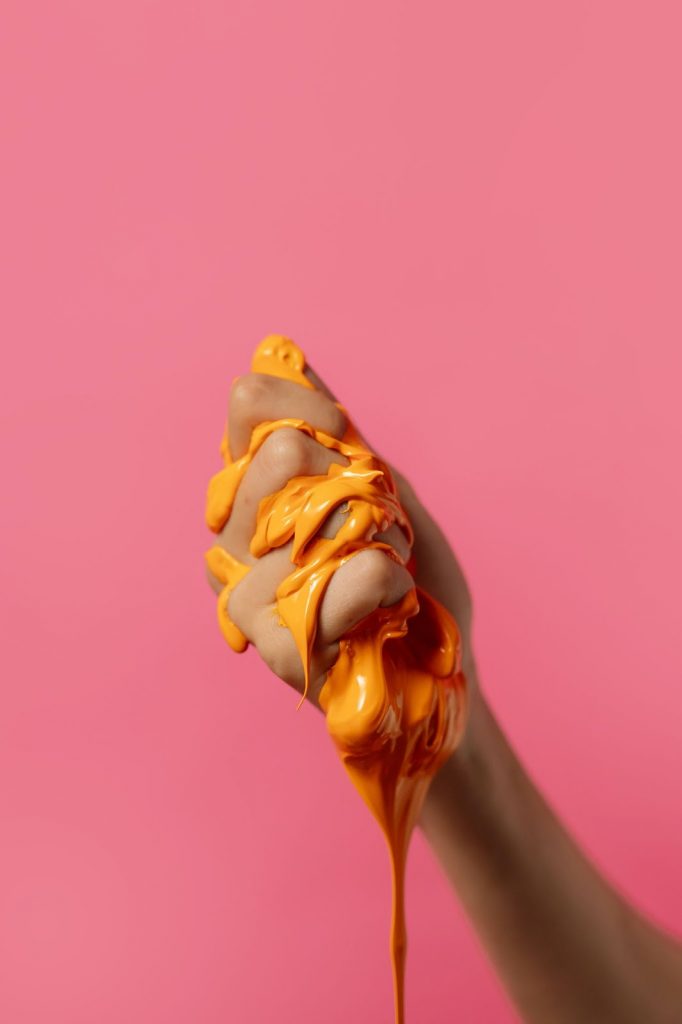 Material required: 1 cup clear school glue, 1 cup water, 1 teaspoon borax, orange food coloring, halloween-themed glitter or small plastic spiders/eyeballs for extra spookiness (Optional)
How to make it:
A. Create Borax Solution: In a bowl, mix 1 cup of water with 1 teaspoon of borax. Stir well until the borax is completely dissolved. Set this solution aside.
B. Make Colored Glue: In another bowl, pour 1 cup of clear school glue.
C. Add Orange Color: Add orange food coloring to the glue and stir well.
D. Combine Solutions: Slowly pour the borax solution into the colored glue while stirring continuously.
E. Mix Thoroughly: Keep stirring until the slime starts to come together. At this point, you can use your hands to knead and mix the slime. If it's too sticky, you can add a little more borax solution.
F. Optional: Add Glitter or Halloween Decorations: To make your slime more Halloween-themed, add glitter or small plastic spiders, eyeballs, or other spooky decorations. Mix them into the slime.
G. Store: Store the slime in an airtight container when you're not using it. This will help keep it fresh for longer.
Tips:
If the slime is too sticky, add a bit more borax solution.
If it's too firm, add a little water and knead until you achieve the desired consistency.
Remember, borax should be handled with care, and it's important to keep an eye on children during this activity. If you prefer a borax-free slime, you can explore alternative recipes using contact lens solution or liquid starch. Always ensure that the ingredients are safe for everyone involved.
11. Painting Pumpkins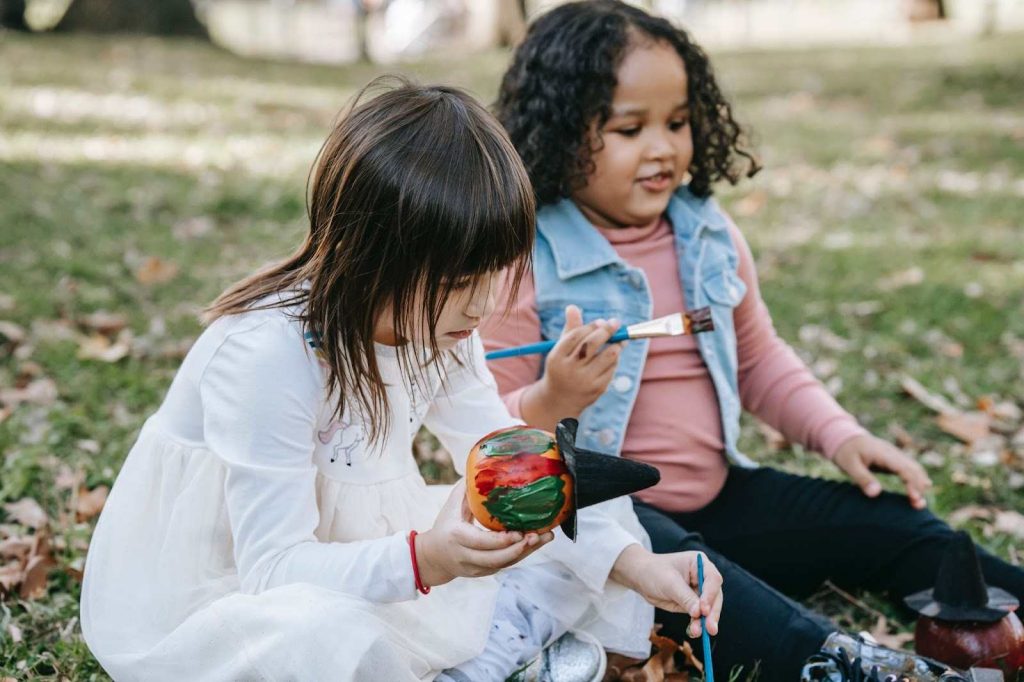 Painting pumpkins is a safe and fun activity for kids of all ages. All you need are some acrylic paints and brushes that stand out against the color of pumpkins well.
Black, green, blue, and red make great shades to work with! You can have kids push their imagination with this great activity. They can paint scary faces, Halloween motifs, interesting patterns, or just about anything else that helps them get into the spirit of this holiday!
12. Have a 'Glow in the Dark' Party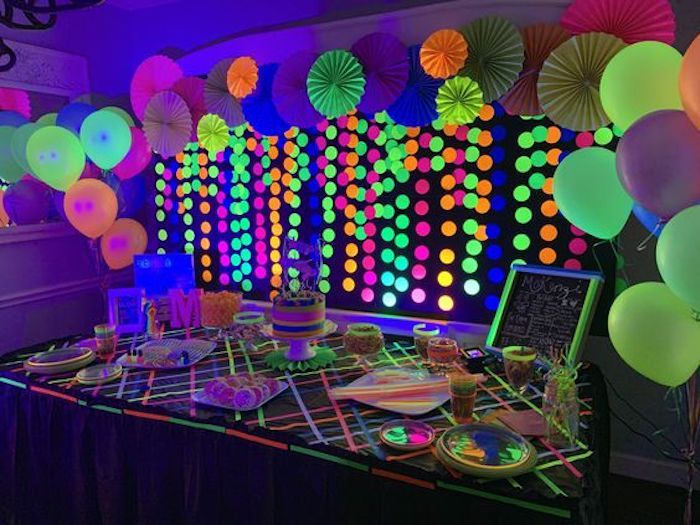 Gather all the glow-in-the-dark decor you can find! Stickers, glow sticks, balloons, hangings, and anything else that glows in the dark! Glow-in-the-dark decor is just what you need to get your home Halloween-ready! When it comes to Halloween activities at home, it doesn't get better than having your kids help you decorate your home with glow-in-the-dark decor!
13. Picking Apples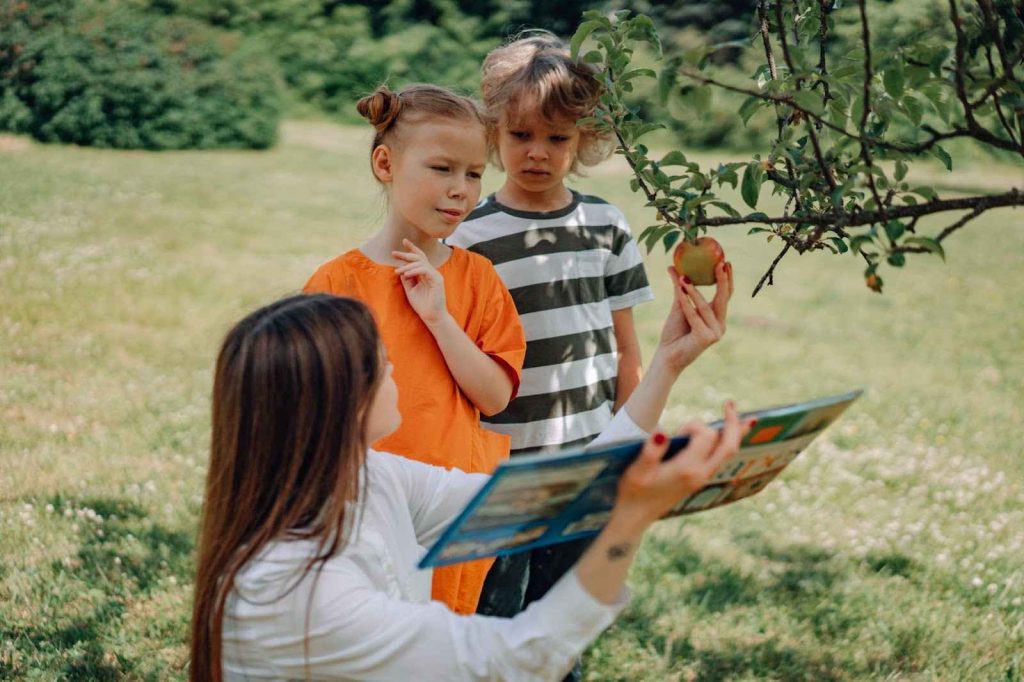 Going apple picking is a great way to return to the roots of Halloween and help kids appreciate the history behind this fun holiday! You can take the apples you've picked home and have your kids give you a hand in preparing some warm apple cider out of them! Warm apple ciders go great with the chill that the season brings!
14. Trip to a Pumpkin Patch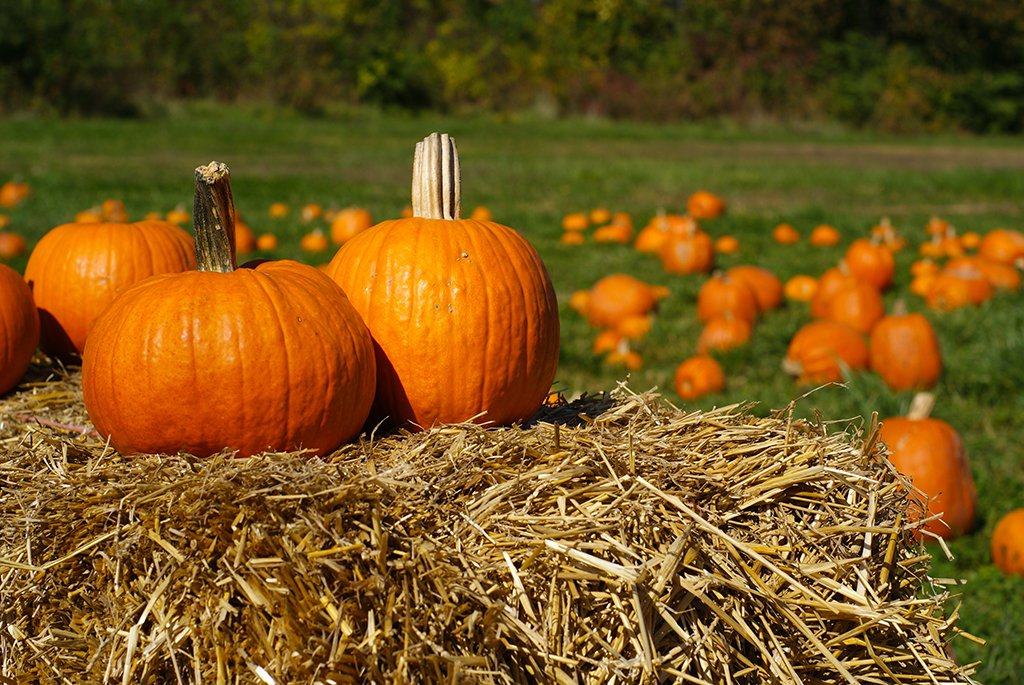 A Halloween staple, kids love a spooky jack-o'-lantern! If you'd like your kid to know where pumpkins come from and how they're harvested, a trip to a pumpkin patch might be the perfect Halloween excursion that combines the season's best with a bit of learning!
While most Halloween activities for children are centered around crafts and playtime, this alternative departs from convention by pitching something a little more grounded. But we're getting ahead of ourselves! Who knows what your kids will see and discover once they're there? It is Halloween, after all!
15. Laundry Basket Spider Web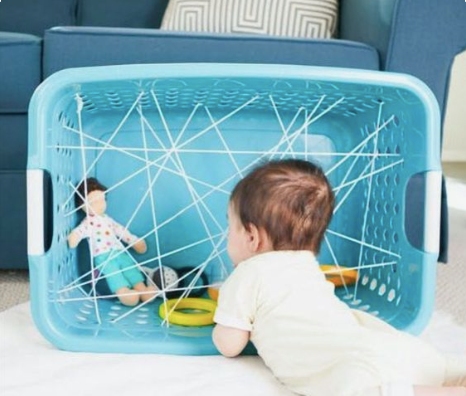 If you're on the prowl for Halloween activities ideas for toddlers, be sure to give this a spin! All you have to do is fill a laundry basket with paper spiders or just about any spooky trinkets you can gather. Once you've done that, find some yarn and weave it in and out through the basket's holes. You should have what looks like a basket that's covered in cobwebs by the time you've run out of yarn! Toddlers should have a great time poking through the web of yarn and trying to pull out the Halloween goodies you've left on the other side!
16. Kids DIY Spider Web Weaving
Material Required: black yarn (or any other Halloween-themed colors), cardboard circles or squares (pre-cut or cut by an adult), plastic spiders or spider stickers (optional), scissors, glue or tape
How to make it:
A. Prepare Cardboard Shapes: Cut cardboard into circles or squares. These will serve as the base for the spider webs.
B. Create Starting Points: Use a marker to make dots around the edge of the cardboard. These will be the starting points for weaving the yarn. Space them evenly.
C. Tie the Yarn: Tie one end of the black yarn to any of the dots on the cardboard. Make sure the knot is secure.
D. Start Weaving: Kids can now weave the yarn around the cardboard, moving from one dot to another. They can create various patterns, crisscrossing the yarn to form the spider web.
E. Secure the End: When they're satisfied with their weaving, tie off the end of the yarn at one of the dots. Ensure it's secure.
If you have plastic spiders or spider stickers, kids can add them to their spider webs for an extra spooky touch. They can glue or tape the spiders onto the yarn. Once the spider webs are complete, kids can display their creations by hanging them on walls, windows, or doors. This makes for a great Halloween decoration!
17. Haunted House Craft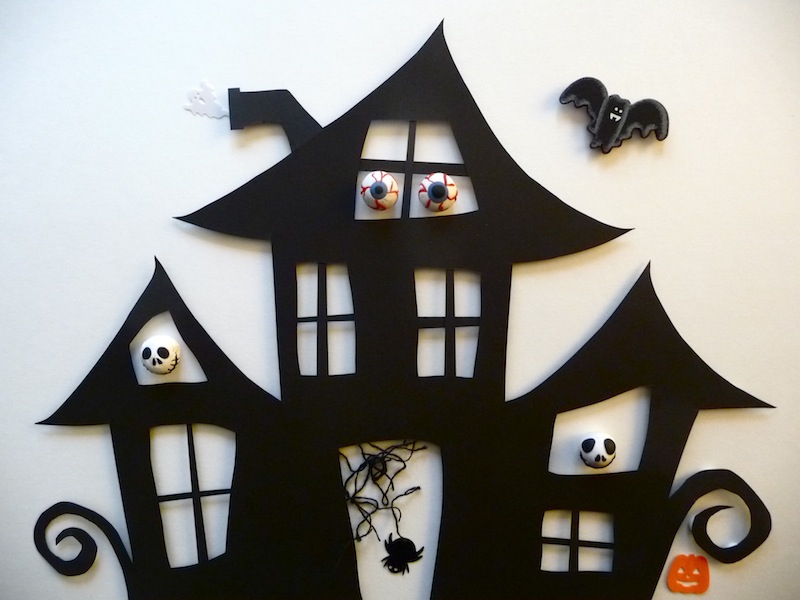 Material required: a medium sized cardboard box, acrylic paints or markers, paintbrushes or markers, scissors,construction paper or cardstock, glue or double-sided tape, small plastic spiders, cotton balls for cobwebs, googly eyes or any other spooky embellishments, LED Tea lights or string lights:
How to make it:
A. Prepare the Box: If the box has flaps, tape them shut to create a solid structure. Seal any openings with tape.
B. Paint the Exterior: Paint the entire outside of the box with your chosen spooky colors. Allow it to dry completely.
C. Cut Out Windows and Doors: Use a craft knife or scissors to carefully cut out windows and doors. Be creative with shapes and sizes.
D. Paint Details: Add details to the haunted house using paint or markers. Create creepy shingles, eerie shadows, or spooky outlines around windows and doors.
E. Decorate with Construction Paper: Cut out shapes from construction paper or cardstock to create ghosts, bats, pumpkins, and other Halloween-themed decorations. Glue or tape them onto the haunted house.
F. Create a Spooky Yard: Extend the scene by adding a spooky yard using construction paper. Include elements like a rickety fence, twisted trees, or gravestones.
G. Add 3D Elements: Glue on small plastic spiders, cotton balls for cobwebs, and any other 3D embellishments you have.
H. Insert Lights: If using LED tea lights or string lights, insert them through the windows to give the haunted house a spooky glow.
This haunted house craft is a great way to get into the Halloween spirit, and it allows for a lot of creativity and personalization. Have fun crafting your spooky masterpiece!
Related Reading: Funny and Horror-ious Halloween Jokes for Kids to Get Into the Holiday Spirit
18. Halloween Movie Marathon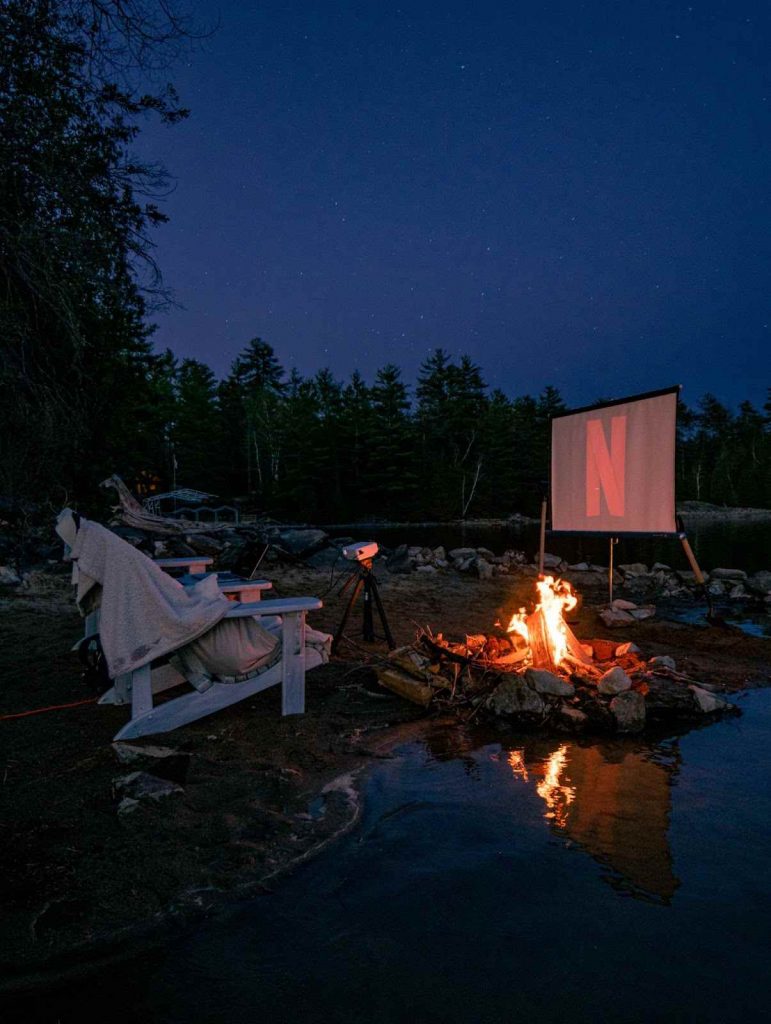 What's a movie marathon without some great snacks? All you need to set up a Halloween movie marathon are some mummy meatballs, ghost pizza bagels, and witch finger cookies! These inventive snacks are the perfect fit for a Halloween movie marathon. Whether you decide to put on Ghostbusters, Gremlins, or The Nightmare Before Christmas, you can count on cheesy witch brooms and mummy brie to make this a memorable movie night for kids. If you'd like to explore some kid-friendly Halloween movies this season, you know what to do!
19. Halloween Movie Trivia
Done with your Halloween movie marathon? Why not follow it up with some Halloween movie trivia? You can ask your kids questions based on the movies you just watched, and even offer a prize for every question they get right (maybe their favorite candy?). The questions can be really simple, or you can make them as tricky as you like, depending on your kid's age. This is a great follow-up to a movie marathon and lets you find out whether kids actually paid attention to the movies, or had their eyes and hands on cheesy witch brooms and ghost pizza bagels the whole time.
Related Reading: Best Halloween Trivia Questions with Answers 
20. Paper Bag Jack-o'-lanterns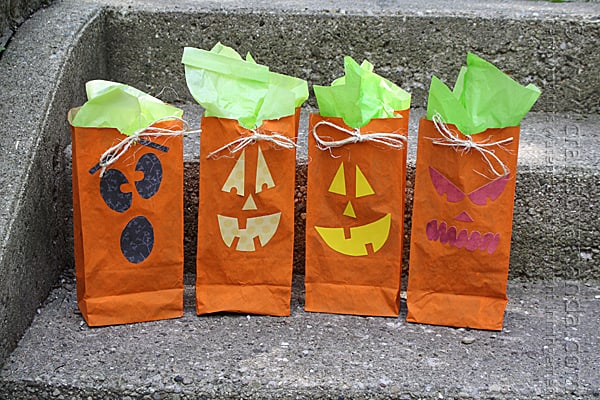 Material Required: brown paper bags, orange construction paper, black construction paper, glue, scissors, battery-operated tea lights or LED candles
How to make it:
A. Cover Orange Paper: Cut the orange construction paper into a shape that will cover the front of the paper bag. Use glue or a glue stick to attach the orange paper to the front of the paper bag. Smooth it out to remove any wrinkles.
B. Add Facial Features: Cut eyes, a nose, and a mouth from the black construction paper. These will be the features of your jack-o'-lantern. Glue the facial features onto the orange paper, creating a jack-o'-lantern face. You can get creative with the expressions!
C. Insert Tea Light or LED Candle: Place a battery-operated tea light or LED candle inside the paper bag.
Arrange your paper bag jack-o'-lanterns on a windowsill, porch, or any other place you want to add a touch of Halloween.
21. Halloween Makeup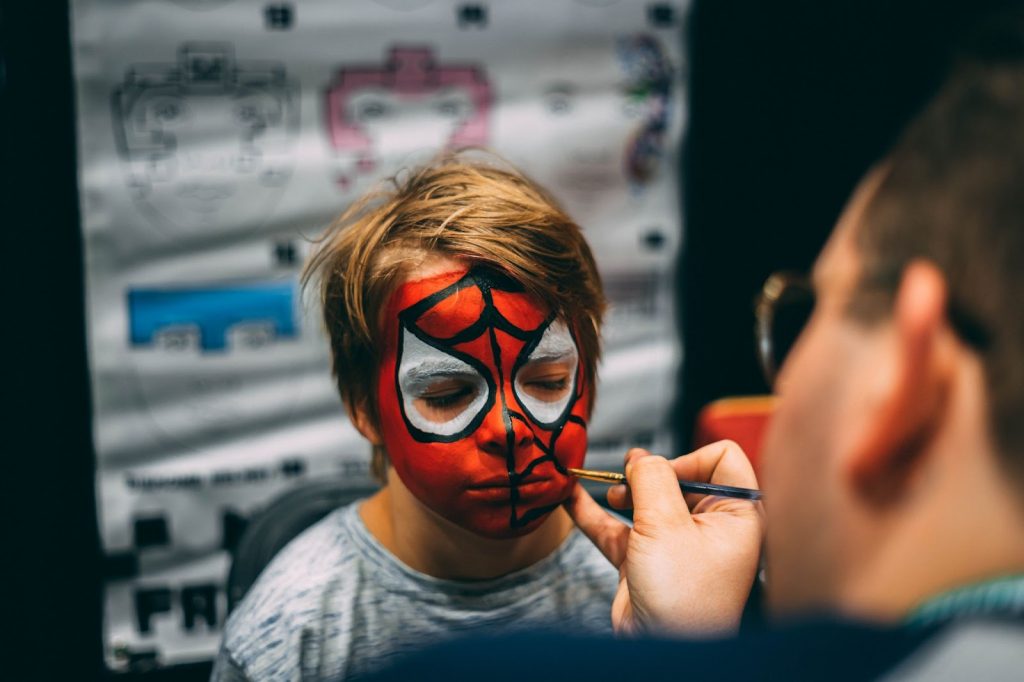 Sure, you could just take your kid shopping and let them pick out a mask and a costume for Halloween night. But wouldn't it be more fun if you helped them use some makeup to make a mask themselves? If you want to take this a step further, feel free to pick up some face paint and let your kid uncage their creativity!
Face paint is easy to take off, so if their first attempt doesn't go quite as planned, you can help them out with their next one.
22. Zombie Rocks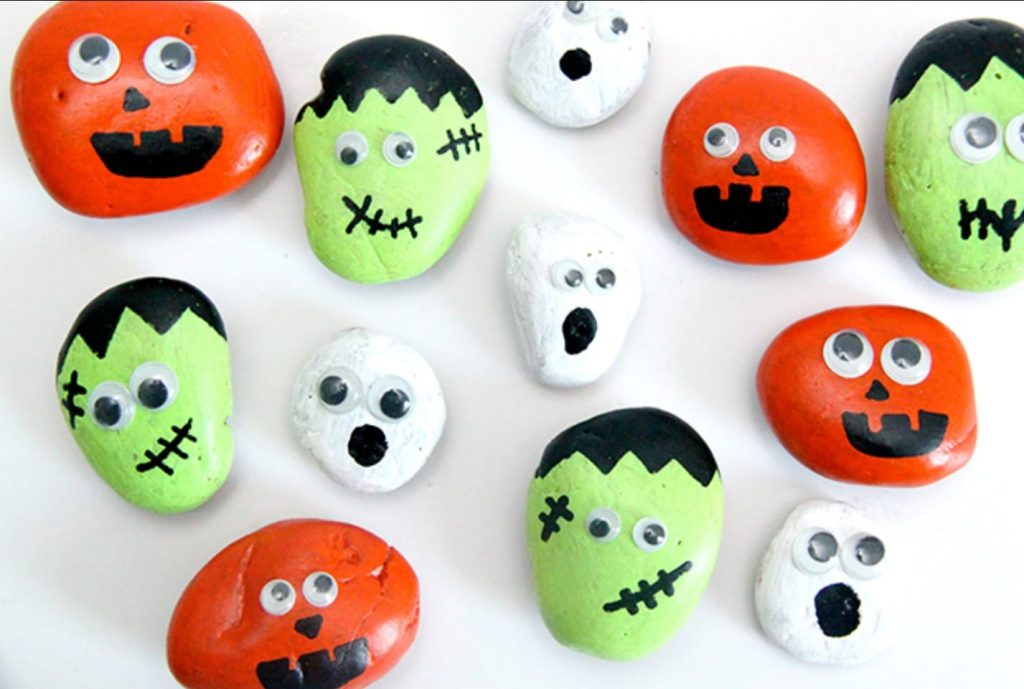 Ever thought about using a bit of paint to turn harmless rocks into brain-eating zombies? No? Well, given how easy it is, you should be! This is a great way to get kids involved in preparing spooky trinkets to use as Halloween decor, and doesn't require much! All you have to do is use some green acrylic paint as a base color to paint small rocks. The green paint shouldn't take long to dry, after which you start adding eyes and faces with black and white paint. If you'd like an idea of what kind of faces you can make, here's a tutorial that can help.
23. Halloween Treats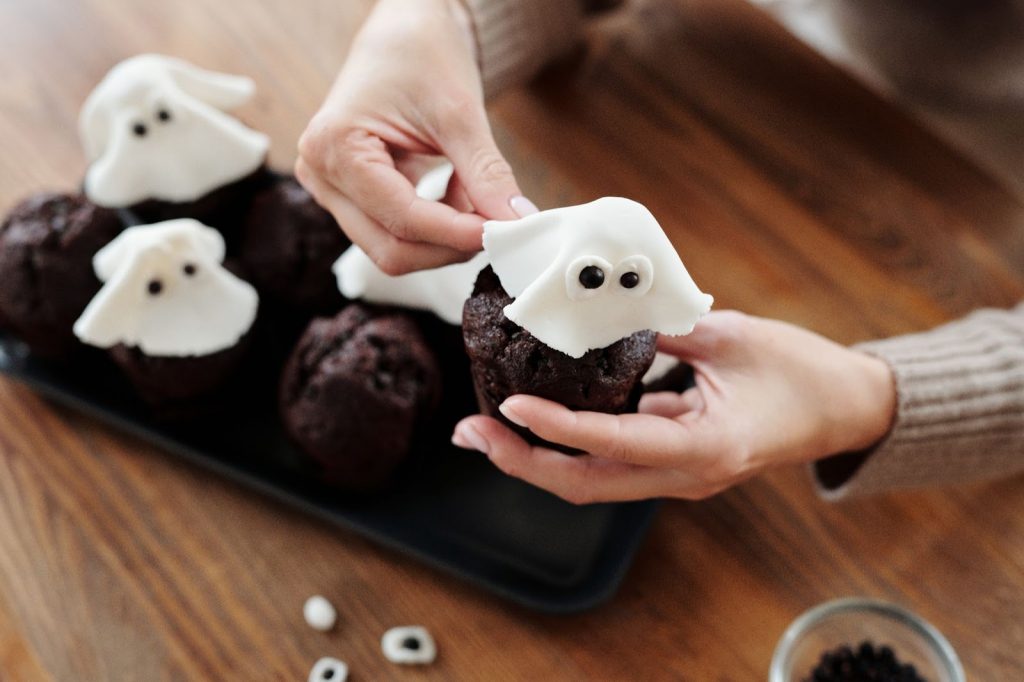 Mummy pumpkin hand pies or marshmallow ghost brownies? How about spider cookie truffles and coffin sandwich cookies? Maybe spiced chocolate bat cookies with spooky forest pudding cups instead? We can keep going! Poison candy apples and meringue ghost tartlets? Count us in! Have your kids help you prepare these frighteningly simple desserts to make this Halloween the most memorable (and delicious) one yet for your friends and families!
24. Neighborhood Candy Drops
Have your kids prepare a bag of Halloween goodies and drop them off at your neighbors' places with a note celebrating the season! A small note inside that reads, "you've been spooked!" is the perfect way to spread and share the Halloween spirit with your neighbors. Once you get the trend going, expect a few friendly neighbors to sneak by your front door and spook you and your family with some delicious Halloween goodies!
25. Candy Hunt
What do you get when you combine an Easter favorite with the spirit of Halloween? A candy hunt! You can have your kids invite their friends over to find all the Halloween candies and goodies you've neatly hidden around the house! Try to get creative with how you're hiding the goods! Orange Reese's peanut butter chocolates should blend in well inside carved pumpkins! The more difficult you make it, the more exciting it should be!
26. Leafy Ghosts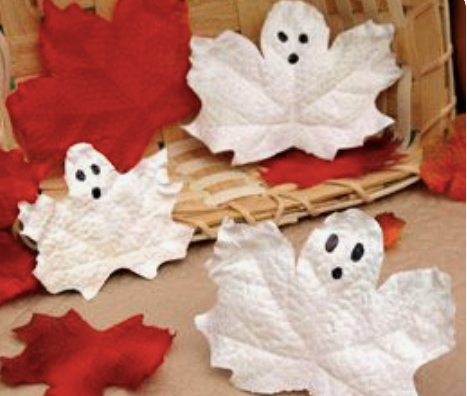 It's the season of fall and your kids will be able to gather some crisp leaves for this one. Take a stroll around the block and collect leaves to make this simple craft at home.
Material Required – Leaves, white paint, black marker
How to make it:
Paint the leaves with white paint
Draw on the eyes with black marker
String them together to make a halloween-y garland or scatter them if they are too many in number.
27. Halloween Bookmarks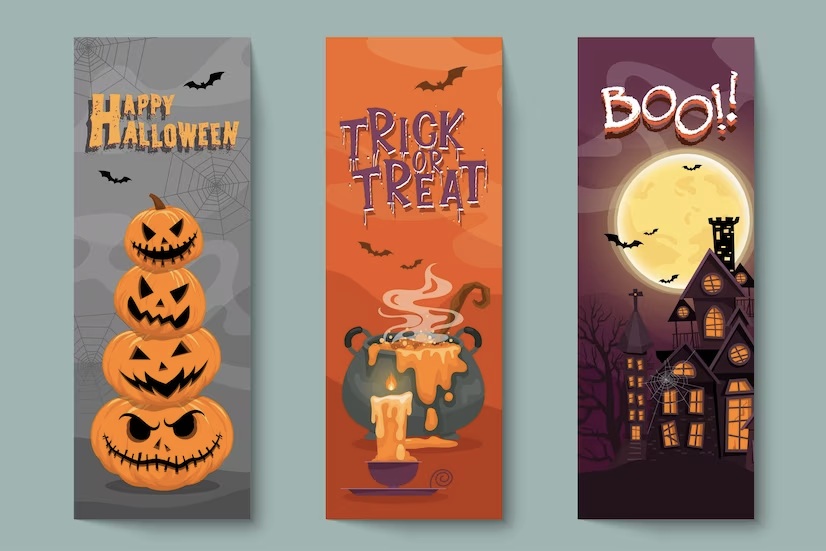 Material Required – Colored paper, scissors, glue, markers
How to make it:
Select a color for the base and a different color for the features of the bookmark (design on any element – be it a ghost, pumpkin, witch or a monster)
Cut out rectangles or different shapes according to the halloween element of your choosing
Cut out features on a different color sheet
Glue the features on the base
Use markers to create spooky elements
28. Confetti Mini Pumpkins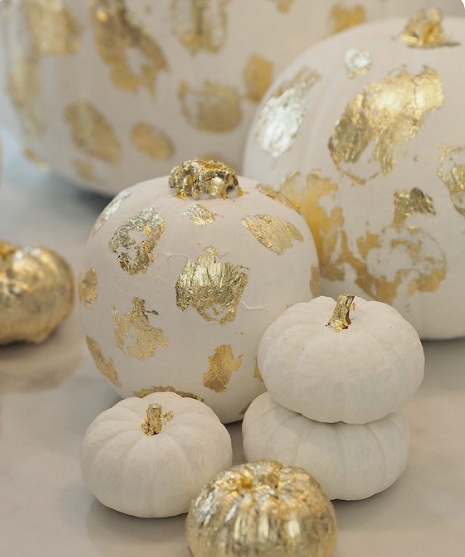 Add spark to the holiday with Halloween decoration crafts & these confetti dipped pumpkins!
Material Required – Small pumpkins, glue, confetti, paints, brushes
How to make it:
Paint the mini pumpkins in different colors for variety
Apply glue to one side of the pumpkin
Dip the pumpkin in the bowl or plate where the confetti is
Sprinkle a little more glitter to sparkle the pumpkins
29. Halloween Party Hats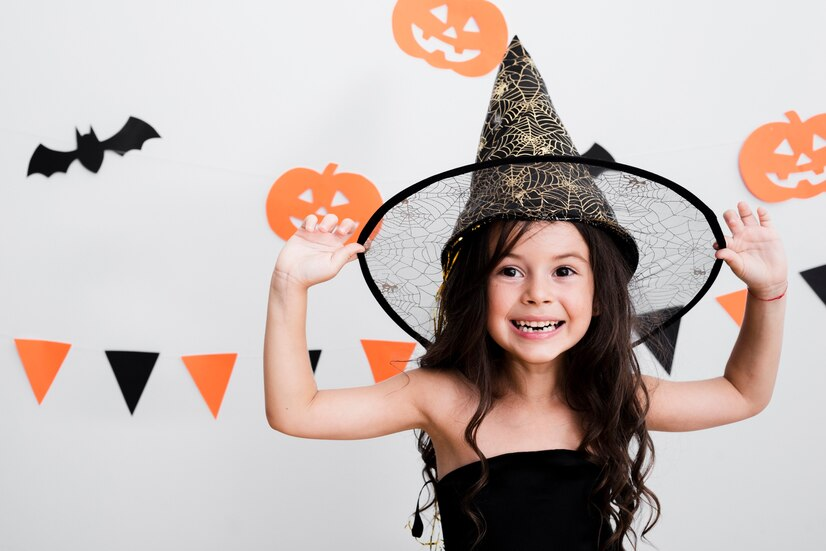 Material Required – Party Hats, paint, colored sheets, glue, scissors
Steps to Make Halloween Party Hats:
Use different colored party hats or if you have white hats, color them in different colors
Cut out features like eyes on a chart paper
Glue the features on the hats
To make hair for your monster or witch hat, just make a tassel and put it in the hat after cutting the top of the hat
30. Ghost Napkin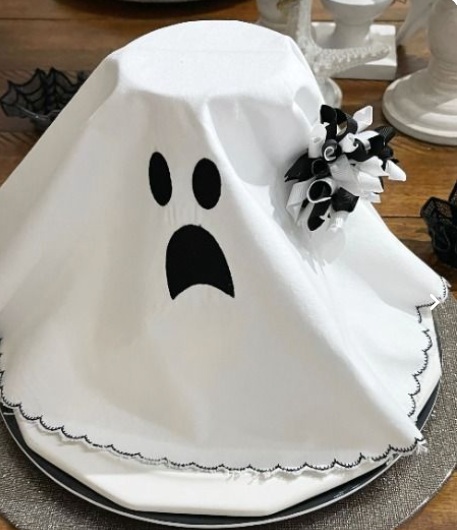 Make this DIY ghost napkin with kids and encourage them later to set up the dining table. This easy to make, halloween DIY craft will just take minutes & enforce helping habits in kids from an early age.
Material Required – White napkins, black fabric marker
How to make it:
Fold the napkin in half diagonally & create a triangle shape
Use the black fabric marker to draw a ghost face on the napkin on the side which will be facing the table
Draw two large eyes with an open mouth to give a silly halloween look to the napkin
31. Trick-or-Treat!
We've saved the best (and most obvious) for last! Central to the Halloween experience is the ritual of trick-or-treating. Kids dress up on Halloween night, so they collect their favorite candy (and just about anything with sugar they can get their hands on). Once you've had a chance to shuffle through some fun activities with your kids, you can take them on a stroll through the neighborhood for this Halloween essential!
Related Reading: Best DIY Halloween Games For Kids
Happy Halloween!
We hope you have a wonderful Halloween with your kids this year, with a generous helping of delicious treats, memorable scares, and the festive spirit. Whether you make zombie faces out of rocks or indulge in some mummy brie and apple cider, this curation of the best Halloween activities for kids is here to help you and your kids make the most of Halloween this year!
Related Reading: Spooky Halloween Virtual Backgrounds for Online Classes
Frequently Asked Questions (FAQs)
How do I determine if a horror movie is age appropriate for my child?
The easiest way to do that is to check the parental rating awarded to a film, which is generally available on the movie's IMDB page.
My child isn't making their own Halloween costume this year. Is there any way I can make them reconsider this decision?
Absolutely! Instead of convincing your child to make their own Halloween costume this year, you could simply ask them to see if they can make one better than what they usually see in stores! Maybe as a challenge that comes with a reward?
Inspire them with these easy, DIY homemade Halloween costumes and watch them forget about ready-made, store bought costumes this Halloween! Happy stitching!
What are some halloween activities for 10 year olds?
Keep 10-year-olds entertained with age-appropriate Halloween event for kids, such as scavenger hunts, spooky story readings, and creative crafts for a frightfully fun celebration.