Music brings families together. A holiday like Halloween creates shared experiences, memories, and love, and it can be made even better by the best Halloween songs for kids & families!
SplashLearn: Most Comprehensive Learning Program for PreK-5

SplashLearn inspires lifelong curiosity with its game-based PreK-5 learning program loved by over 40 million children. With over 4,000 fun games and activities, it's the perfect balance of learning and play for your little one.
Try for free
It's a moonlit Halloween night and your family is sitting together in the cozy living room with flickering fairy lights & typical spooky decorations on the walls. Dressed in creative & imaginative costumes from witches to superheroes, your kids & you are eagerly awaiting the evening's tasty food with some rhythmic Halloween kids' music. It is a moment of pure joy and togetherness.
The holiday season is here & after your kids are done with their share of Halloween activities and beautiful DIY crafts, it's music-o-clock with fun & games! Put on the best Halloween kids' songs, invite their gang for some groovy fun, and make it the best holiday ever!
Related Reading: Easy Halloween Party Ideas for Kids to Throw a Spooky Soiree
15 Best Halloween Songs For A Spook-Tacular Kids' Soiree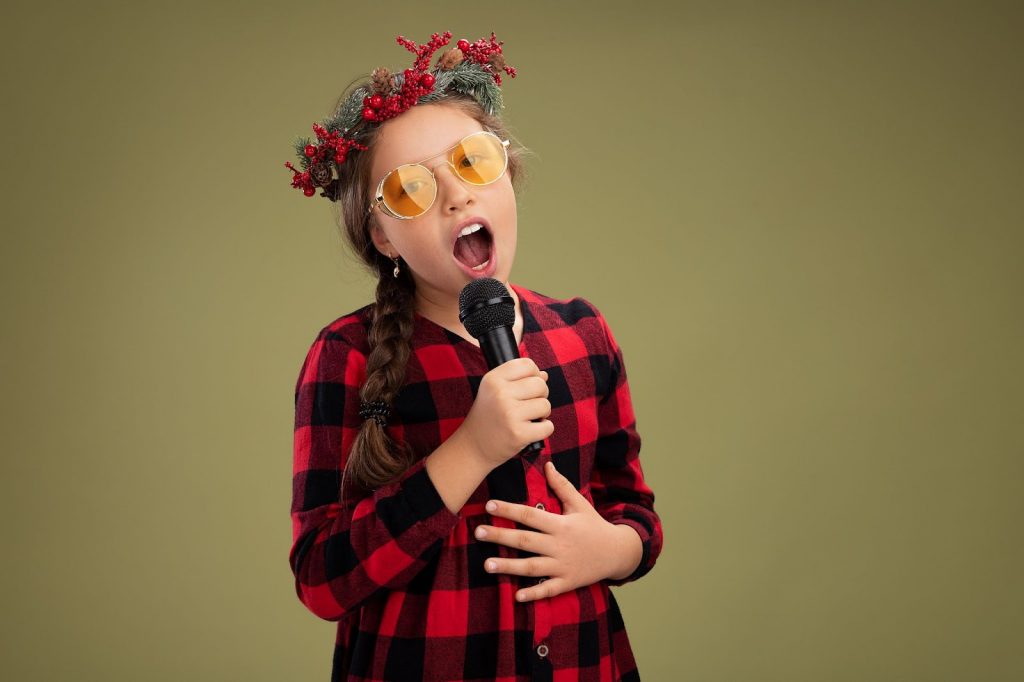 This Halloween season, add some fun halloween songs & scary songs for kids to the playlist mix from the below list. Fall is a great time to move, groove, and get in the holiday mood!
1. 'Them Bones' by Kasper Baby Pants
Caspar Babypants brings a twist to the skeleton song in this rendition of childrens' Halloween songs. Are your little skeletons ready to shake em bones? It is a great song for teaching kids a little more about the bones in their bodies, and as an overall message it encourages kids to embrace their own uniqueness.
2. '5 Little Pumpkins' by Super Simple Songs
This is one of the best halloween songs for kids and is perfect for toddlers & preschoolers to sing & dance on Halloween. 5 Little Pumpkins directly reference emotions, which assists in expanding kids' emotional vocabulary. Whether it's happy or sad, the song describes various emotional states & is definitely liked as a kid halloween song. To add cherry on the cake, this song is a great tool to teach & practice numbers!
3. 'Spooky, Scary Skeletons' by Andrew Gold
Time to get the costume party going with this upbeat kids' halloween music! This remix version is sure to entertain your kids and their friends giving them a total Halloween blast.
4. 'Monster Mash' by Bobby Boris Pickett
Loved by kids & adults alike, Moster Mash is the classic halloween sing along song without which the holiday renders incomplete. Call all the ghouls and vampires as this monster song with its catchy beats and playful lyrics entices everyone to join the dance floor.
5. 'This is Halloween' by Danny Elfman
"This is Halloween" from Tim Burton's animated masterpiece, "The Nightmare Before Christmas," takes everyone on an enchanting journey that captures the heart of Halloween. The song's catchy & dark poetic lyrics have made this spooky music for kids an iconic anthem for the season, celebrating the thrill & embracing the strange.
Related Reading: Funny and Horror-ious Halloween Jokes for Kids
6. 'Halloween Sharks' by Pinkfong
"Halloween Sharks" by Pinkfong is a family-friendly Halloween song that takes young listeners on an unconventional journey where sharks join in the festivities. With colorful animations and lively rhythm, the song engages children to learn about the spooky & fun Halloween season.
7. 'The Monsters Hop' by Bert Convy
The Monsters Hop" wouldn't completely classify as a scary song for kids but it paints the picture of a monstrous dance-off on a haunted dance floor which includes mummies, werewolves, and vampires. With charismatic vocals & a beautiful dancing beat, it is impossible to resist tapping your feet on this widely loved Halloween dance music.
8. 'ABC Halloween Song' by Bounce Patrol
Offer your young pumpkins an educational treat this Halloween season. This whimsical tune takes over the traditional alphabet song & introduces children to friendly Halloween characters from A to Z. Colorful visuals & a memorable rhythm make learning the alphabet an engaging and fun experience, all while dancing in the Halloween spirit.
9. 'The Human Bash' by Billy Kelly
"The Human Bash", by Billy Kelly is inspired by an educational adventure with melody and clever lyrics about the human body. Apart from being a Halloween delight, this song is also an incredible tool for teaching biology to children, in a fun and memorable manner.
10. 'What Am I Gonna Be (For Halloween)?' by The Laurie Berkner Band
The song by The Laurie Berkner Band is a whimsical Halloween tune capturing the excitement and anticipation that goes behind selecting a costume for the holiday. It encourages children to unleash their imaginations and serves as a reminder that Halloween is a time for self-expression, creativity, and endless possibilities when it comes to costumes.
11. 'Somebody's Watching Me' by Michael Jackson
"Michael Jackson's 'Somebody's Watching Me' is a standout addition to any kids' Halloween playlist for kids and families. This eerie yet amazingly catchy song sets the perfect spooky tone for the season. The lyrics convey a sense of paranoia, bringing an extra dose of mystery and excitement to the Halloween festivities while showcasing Michael Jackson's timeless musical talent.
12. 'I Put A Spell On You' by Hocus Pocus
With its theatrical vocals, the song casts a bewitching spell on listeners, drawing them into the mysterious world of Halloween. Along with being mischievous, the lyrics add a touch of humor to the melody. This song captures the essence of Halloween and showcases the magic and excitement of the season.
13. 'Make a Magic Potion' by Bounce Patrol

This upbeat song takes young listeners on a musical journey into the world of Halloween & encourages them to use their imaginations to create their very own magic potion.
14. 'Ding Dong The Witch Is Dead' by The Wizard of Oz
"Ding Dong the Witch Is Dead" is a whimsical and jubilant song featured in the beloved film "The Wizard of Oz." Sung by Munchkins, it celebrates the demise of the Wicked Witch of the East, adding a touch of enchantment and joy to the classic tale, making it a timeless addition to any Halloween playlist for kids.
15. 'The Addams Family' Theme Song
With Wednesday being such a huge hit on Netflix, the Addams Family theme song comes to the surface again this season & might become everyone's favorite halloween rhyme. It is a musical séance that summons the quirky and macabre charm of the Addams family household. It reminds kids and adults that it's perfectly normal to find joy in the dark and the peculiar ways of life.
Related Reading: Best Kids Halloween Movies That Ensure A Boo-tiful Family Time
How to Make a Halloween Playlist For Kids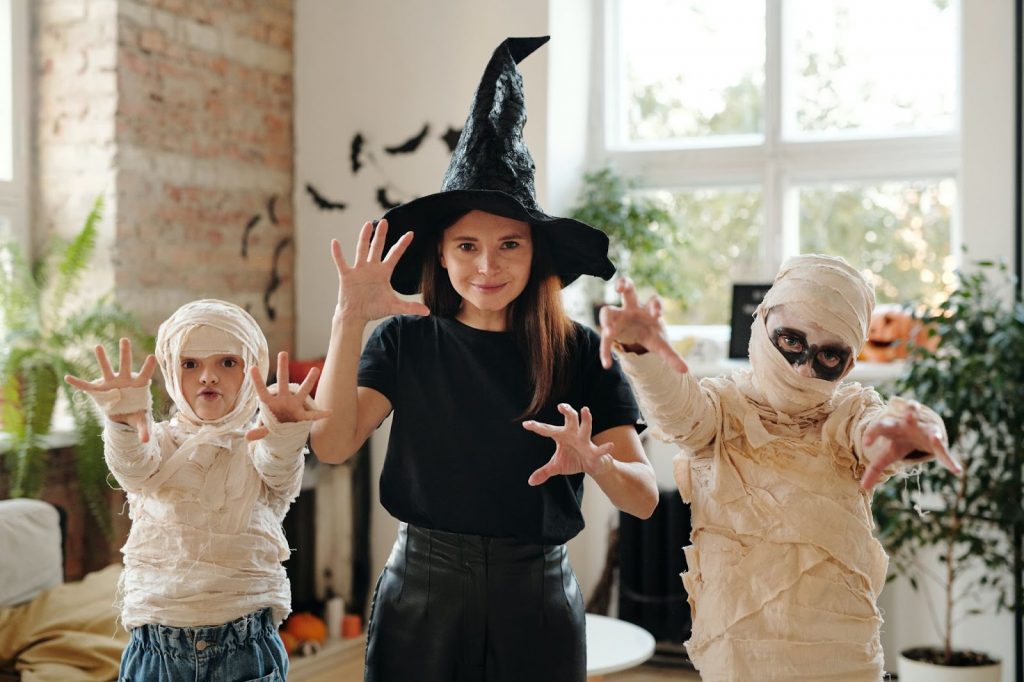 Halloween is a holiday loved by kids of all ages, and pairing it with scary music just adds to the fun times! Here's how you can easily make a playlist of all the amazing halloween songs for kids!

Research the old classics & some fun halloween songs for kids to include them in your playlist. There is plenty of free Halloween music available online.
To add a fun and spooky atmosphere, mix in some Halloween sound effects like creaking doors, howling wolves, and bubbling cauldrons between songs.
Jump on the trends & relate them to your Halloween songs (like The Addams Family theme song is currently loved by all because of the popular show 'Wednesday').
Arrange the songs in a logical order, with a catchy and energetic song at the beginning to set the tone and gradually transition to slower, moodier tracks as the playlist progresses.
Look for songs by children's artists or groups known for creating family-friendly content.
Make sure the songs are not too scary or rude & capture the Halloween essence perfectly.
Invite your kids' friends & throw a dance soiree
Tap, Tap, Dance Because It's Halloween!
Halloween is a magical time of year when imaginations run wild, and the spirit of fun, togetherness, and delicious sweets fill the air. The above list of children's Halloween songs will capture the feeling of eerie, amusement & everything Halloween-Y. Bring your family together in the spirit of the season and make way for a dancing holiday. Wishing you all a spine-tingling, pumpkin-filled, and harmoniously haunting Halloween!
Related Reading: Best Halloween Trivia Questions for Kids [With Answers]
Frequently Asked Questions (FAQs)
What is the classic Halloween song for kids?
"Monster Mash" by Bobby "Boris" Pickett is one of the most popular Halloween songs of all time.
How do you welcome Halloween for kids?
Say "Happy Halloween!" and tell them how great they look & how creative their costume is. Give them a big smile before they leave for the next house and ask them to come again the next year!
How do you set a Halloween vibe?
Lighting, scary music & decorations are some of the easiest ways to set the Halloween vibe – so spooky & mysterious.