Halloween is forthcoming and we're sure your kids already have their spooky on! With some preparations and these halloween party ideas for kids, you can throw your kids and their friends a super bone-chilling party.
SplashLearn: Most Comprehensive Learning Program for PreK-5

SplashLearn inspires lifelong curiosity with its game-based PreK-5 learning program loved by over 40 million children. With over 4,000 fun games and activities, it's the perfect balance of learning and play for your little one.
Try for free
We have listed some easy-peasy Halloween party ideas for kids to help you throw an eerie & enjoyable Halloween party that involves spooky halloween themes, music, food, DIY Halloween games and a lot more!
9 Fun Themes for Halloween Parties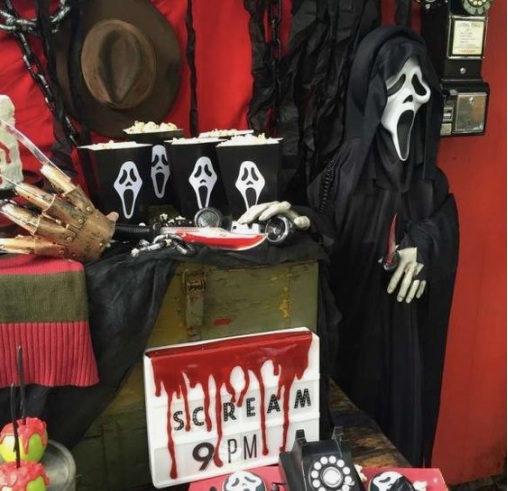 Picking the perfect Halloween theme can be complicated. There are so many factors to consider like location, space size, kid-friendliness, etc.

Whichever theme you choose, make sure that you stick with it for other elements as well like food, music, and decorations. Make sure to go all-in with the theme.
Some of the best Halloween theme party ideas are:
1. Murder Mystery Party
A Halloween Murder Mystery Party offers an immersive experience where guests become detectives, solving a thrilling murder case set in a spooky, suspenseful atmosphere.
2. Scavenger Hunt
Scavenger Hunt offers a thrilling twist on the traditional game, combining eerie clues and hidden treats to create a spine-tingling adventure that captures the spirit of the season. Participants navigate through the darkness, unraveling these mysteries. and uncovering surprises.
3. Horror Movie Night
This theme for Halloween brings spine-tingling suspense with a chilling selection of classic and contemporary horror films. Delight in a macabre atmosphere with eerie decorations, eerie lighting, and creepy snacks.
4. House Decorating Party
Invite friends and family over to transform your home into a spooky wonderland. You can provide pumpkins, ghoulish decorations, and eerie lighting for everyone to get creative with.
5. Candy Making Party
A Candy Making Party is a sweet twist on Halloween celebrations. Gather your guests for a sugary adventure, where you can whip up homemade Halloween treats like caramel apples, chocolate truffles, or spooky-shaped candies.
6. Halloween Dance Party
A Halloween Dance Party is all about letting loose and grooving to your favorite tunes in costume. Transform your space into a dance floor adorned with Halloween decorations, and encourage your guests to come dressed in their spookiest or most creative costumes. Pump up the music, and let the Halloween dance-off begin!
7. Zombie Prom
Zombie Prom is a unique and nostalgic Halloween party theme. Recreate the atmosphere of a high school prom with a ghoulish twist. Encourage attendees to dress as undead prom-goers, complete with tattered formalwear and ghostly makeup. Dance to retro tunes and enjoy a "prom" night filled with creepy charm.
8. Haunted House Party
For those who love spine-tingling thrills, a Haunted House Party is the perfect choice. Turn your home into a haunted maze with dark corners, eerie props, and costumed "haunters" to provide a scare or two.
9. Hocus Pocus Night
Channel the enchanting spirit of the movie "Hocus Pocus" with a themed night dedicated to witchcraft and magic. Encourage your guests to come dressed as witches, wizards, or other magical creatures. You can host a séance, practice some basic spells, or simply enjoy bewitching cocktails and snacks. It's a spellbinding way to celebrate Halloween with a touch of whimsy.
Each of these cool Halloween party themes offers a unique and memorable experience for you and your guests, ensuring a spooktacular celebration no matter which one you choose. Once the theme is set, it's time to choose the design for your invitation cards!
4 Creative Halloween Party Invites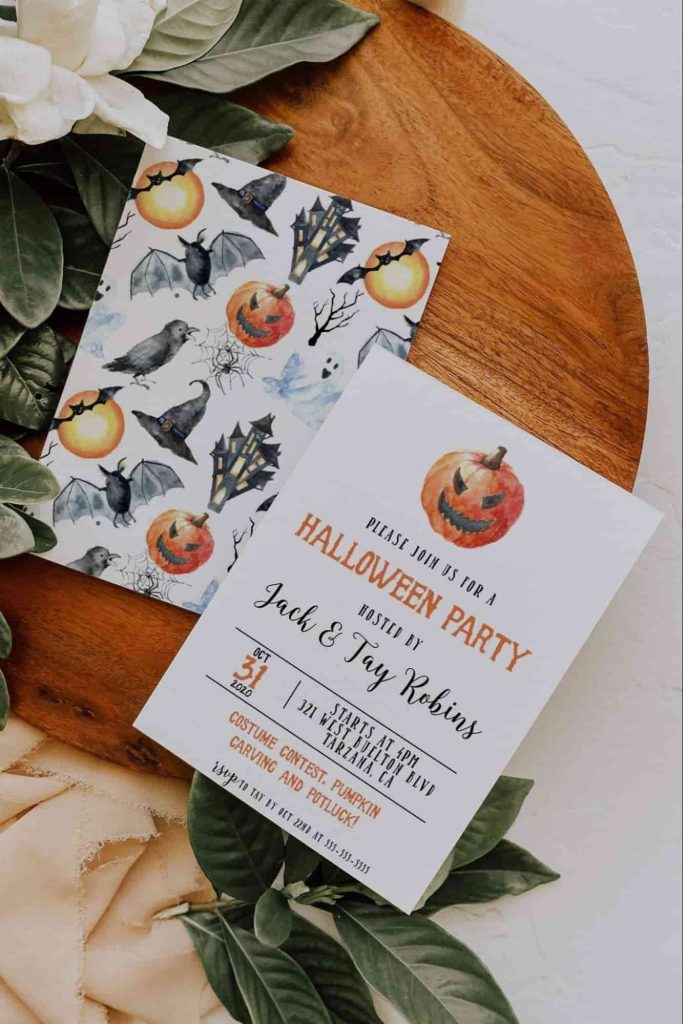 Here are some super creative Halloween invitation ideas for kids to set the spooky tone for your Halloween party:
1. Message in a Bottle
Roll up your Halloween party invitation like a scroll and place it inside a small glass bottle. Add some sand or black and orange confetti to give it an eerie touch. Seal the bottle with a cork and attach a tag with the party details. This creative invite will give your guests a mysterious and nautical vibe, making them curious about the spooky adventure that awaits.
2. Wax-Sealed Envelopes
Send your Halloween invites in envelopes sealed with black or red wax stamped with a spooky emblem or your initials. This classic and elegant touch will pique your guests' interest as they break the seal to reveal the hauntingly good news inside. You can even add a scent to the wax for an extra sensory experience, such as a hint of pumpkin spice or lavender.
3. Ghostly Video Invitation
Create a short, spooky video invitation that sets the mood for your Halloween party. Dress up in your Halloween costume and film yourself delivering the invitation details with eerie background music and special effects. Send the video to your guests through email or a social media message, adding an element of surprise and excitement to the invitation process.
4. DIY Coffin Invitations
Craft small coffin-shaped invitations out of black or brown cardstock paper. Add details about your party on the inside cover, and embellish the outside with faux cobwebs, tiny plastic spiders, or even a miniature skeleton. When your guests receive these coffin invitations in the mail, they'll be both spooked and intrigued by the unique presentation.
Remember to keep the theme and tone of your Halloween party for kids in mind when designing your invitations, and don't be afraid to get creative and playful. These unique invites will set the stage for a memorable and chilling Halloween celebration.
You can take inspiration for your invitation design and re-create it on simple designing tools like Canva or Powerpoint. Make sure to include important details in your invite like who, when, where, how, etc.
Related Reading: Best DIY Halloween Craft Ideas for Kids
6 Ghoulish-ing Halloween Party Decoration Ideas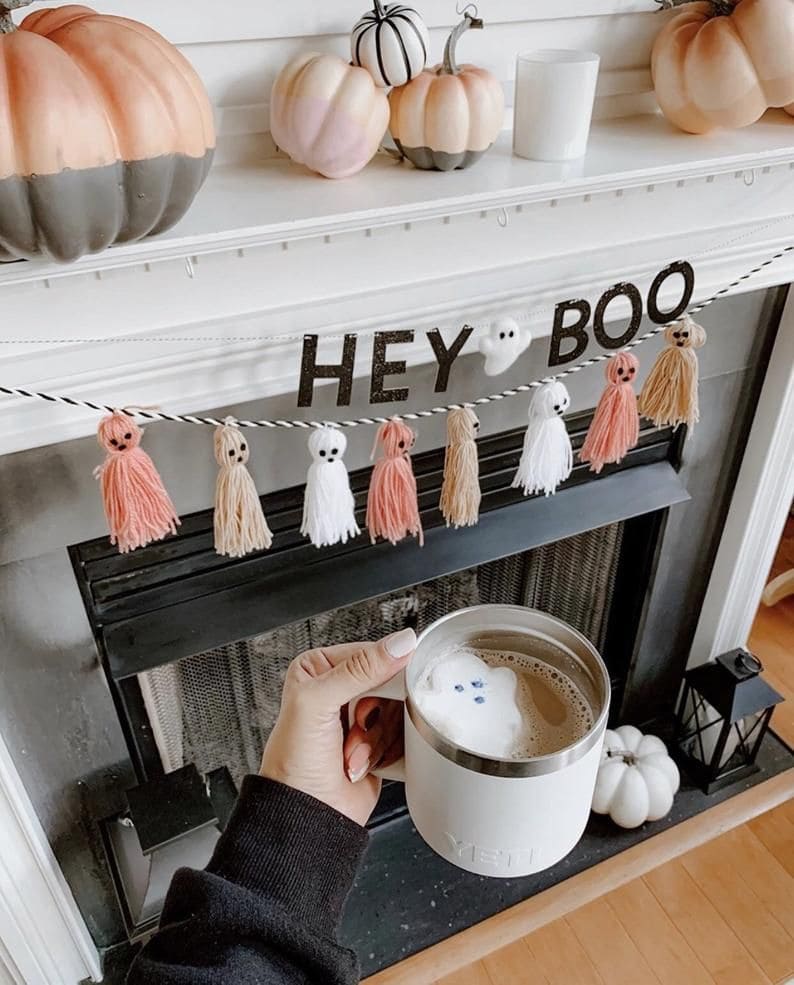 Fake blood, cobwebs, cut-out pumpkins, & bubbling cauldrons.Creating fun Decorations for a Halloween party involves kids and parents together in the holiday activities, and ensures some serious bonding time! Here are some amazing decoration ideas to transform your space into a spooky and festive Halloween haven:
1. Jack-o'-Lantern Display
Carve a variety of pumpkins with different facial expressions and designs, and place them on your doorstep, porch, or around your home. Illuminate them with battery-operated LED candles or string lights for a classic Halloween look. You can also paint pumpkins in creative patterns or colors to add a unique twist to this traditional decoration.
2. Spooky Silhouettes
Cut out spooky silhouettes of witches, bats, ghosts, and other Halloween-themed shapes from black paper or cardboard. Attach them to windows, walls, or outdoor surfaces to create eerie shadows when illuminated from behind. You can even use a projector to cast moving images onto your home's exterior for a haunting effect.
3. Creepy Cobwebs and Spiders
Stretch synthetic spiderwebs across windows, bushes, and furniture for an instant spooky atmosphere. Add plastic spiders of various sizes for a realistic touch. You can also create giant spider decorations using black balloons and black pipe cleaners to hang from the ceiling or dangle in doorways.
4. Haunted House Scene
Transform your home into a haunted house with eerie decorations like ghostly draperies, candelabras with dripping wax (battery-operated candles for safety), and creepy portraits that appear to follow you. Dim the lights and use fog machines to create an eerie atmosphere. You can even set up a DIY "haunted" maze in your backyard for a thrilling experience.
5. Glowing Eyes in the Bushes
Cut out spooky eye shapes from cardboard or glow-in-the-dark paper. Place them in your bushes and shrubs. At night, the glowing eyes will give the illusion of lurking creatures, adding an element of surprise and spookiness to your outdoor decor.
6. Floating Ghosts
Create floating ghost decorations using white balloons and white fabric or cheesecloth. Drape the fabric over the inflated balloons, leaving a gap for the "head" of the ghost. Use black markers to draw ghostly faces. Hang these ghostly figures from tree branches, ceilings, or doorways to give the impression of hovering spirits.
These theme based decorations form an important part of halloween party ideas for kids. They can be adapted to fit your space and style, whether you prefer a cute and kid-friendly Halloween or a more frightful and eerie ambiance. Remember to prioritize safety when decorating, especially if you're using candles or electrical components.
5 DIY Halloween Party Games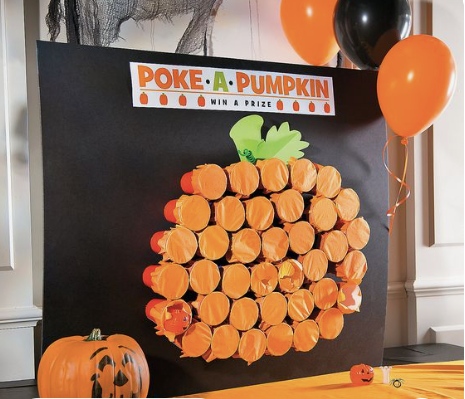 Once the mood is set, the decor is on point, the invitations are ready, it's time to decide the party games for festive halloween celebrations. Here are some amazing DIY Halloween party games that are sure to entertain your guests and add a spooky twist to your celebration:
Here are five DIY Halloween party games that are sure to entertain your guests and add a spooky twist to your celebration:
1. Mummy Wrap Relay
Create teams of two or more players and give each team a roll of toilet paper or white streamers. One player in each team will be the "mummy," and the other(s) will be the "wrappers." Set a timer and challenge the wrappers to completely wrap their mummy teammate in toilet paper within a certain time limit. The team that creates the best mummy or finishes first wins a prize.
2. Pumpkin Ring Toss
Paint or carve several mini pumpkins and place them at varying distances on the floor or in your yard. Give players a set of glow necklaces or plastic rings, and have them take turns trying to toss the rings onto the pumpkin stems. Assign different point values to pumpkins based on their difficulty level. The player or team with the maximum points wins.
3. Halloween Scavenger Hunt
Create a Halloween-themed scavenger hunt by hiding small Halloween-themed items or clues around your home or yard. Give participants a list of items to find or riddles to solve that will lead them to the next location. You can use items like plastic spiders, fake eyeballs, or even spooky decorations as the hidden objects. Provide small prizes for the winners.
4. Eyeball Pong
Transform the classic game of beer pong into a Halloween version suitable for all ages. Fill clear plastic cups with water and float plastic eyeballs in them. Set up a ping pong ball toss and challenge players to land the ping pong balls into the cups, aiming for the eerie eyeballs. Players can win prizes depending on the number of successful tosses.
5. Witch Hat Ring Toss
Stack witch hats of varying sizes on the ground or on a table. Players take turns tossing glow necklaces or plastic rings onto the pointy tips of the witch hats. Assign different point values to each hat based on their size or distance from the toss line. The player with the highest score after a set number of rounds wins a prize.
These DIY Halloween party games are a great way to keep your guests engaged and entertained during your Halloween celebration. Feel free to customize the rules and materials to suit your party's theme and age group.
DIY Halloween games are a super way to get kids excited! They are budget-friendly and are a great way for parents to bond with their children. Make sure to include games that suit your theme. And, make sure to have a gala time!
Everyone tends to feel extremely hungry after the games and so it's time to discuss some delicious food and beverage ideas for a perfect Halloween dinner!
Related Reading: Best Halloween Trivia Questions to Make the Holiday Spookier (with answers)
7 Delish & Creepy Halloween Food And Drink Ideas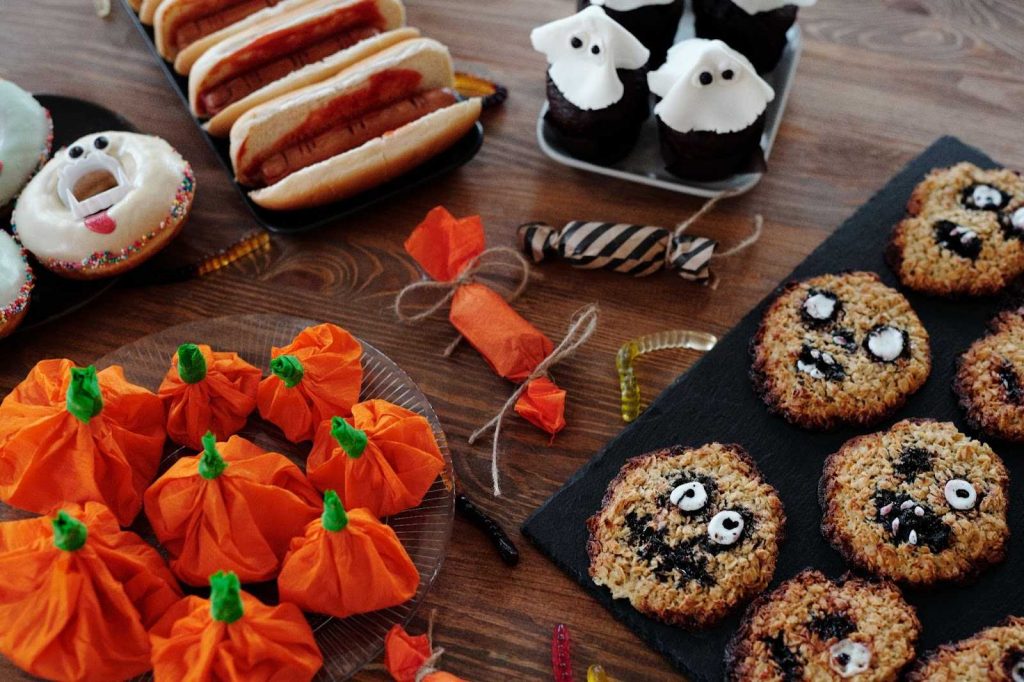 An important part of Halloween party ideas for kids is the food and beverage served in the party. Try to keep Halloween snacks and drinks tasty and simple! Make a tangy punch that kids will enjoy with some cheese sandwiches to go along with. You can also make snacks that are relevant to your theme.
Related Reading: Best Halloween Activities for Kids to Get Their Spook On
Here are some easy food and drink options that you can make in just a short span of time:
1. Pumpkin Hand Pies
Pumpkin hand pies are delightful and portable treats perfect for Halloween. These mini pies are filled with a spiced pumpkin filling and wrapped in flaky pastry, shaped like spooky or playful hands. They capture the essence of fall and are a favorite among both kids and adults at Halloween gatherings.
2. Chocolate Dipped Pretzels
Chocolate dipped pretzels are a sweet and salty Halloween snack. Pretzel rods or twists are coated in dark, milk, or white chocolate and decorated with festive Halloween sprinkles or crushed candies. They offer a satisfying crunch and a touch of decadence that's hard to resist during the holiday.
3. Monster Wraps
Monster wraps are a creative twist on traditional sandwiches. These wraps are filled with a variety of ingredients like deli meats, cheeses, and veggies, and then decorated to resemble colorful and kooky monsters. They are a hit at Halloween parties, especially with younger guests who enjoy the playful presentation.
4. Marshmallow Heads
Marshmallow heads are a whimsical and spooky dessert. Large marshmallows are transformed into eerie creatures with edible markers or icing, allowing for endless creativity. Guests can design their own spooky faces, making it an interactive and entertaining Halloween treat.
5. Halloween Cheese Balls
Halloween cheese balls are savory appetizers with a spooky twist. These creamy cheese mixtures are rolled into round shapes and coated with crushed nuts or herbs to resemble pumpkins or monsters. They pair perfectly with crackers and add a savory element to your Halloween spread.
6. Cherry Eyeball Punch
Cherry eyeball punch is a sinisterly delicious beverage for Halloween. It features a crimson-red punch made with cherry juice and lemon-lime soda, garnished with floating lychee "eyeballs" stuffed with blueberries or grapes. It's both visually striking and refreshingly spooky.
7. Purple Potion Punch
Purple potion punch is a mysterious and magical drink for your Halloween party. This fruity concoction combines different fruit juices, such as grape and cranberry, with sparkling soda. The addition of purple food coloring gives it a bewitching hue, making it a fun and flavorful drink for all ages.
These Halloween foods and drinks add a festive and flavorful touch to your spooky celebration, whether you're aiming for cute and playful or eerie and mysterious.
No party is complete without music and neither can a halloween party without its eerie music to get your heartbeats pounding.
4 Wicked Halloween Melodies to Groove On
Out of all the halloween party ideas for kids, the one that appeals most to them is the spooky eerie music. So, start your party with some spine-chilling music that gets kids into the Halloween spirit. Check out this playlist for some uncanny Halloween tunes!
1. Classic Halloween Soundtrack
Create a playlist of classic Halloween songs that have stood the test of time. This can include tracks like "Thriller" by Michael Jackson, "Monster Mash" by Bobby "Boris" Pickett, "Ghostbusters" by Ray Parker Jr., and "Time Warp" from the Rocky Horror Picture Show. These iconic tunes are sure to get everyone in the Halloween spirit.
2. Spooky Ambient Sounds
For a more atmospheric and eerie vibe, consider playing spooky ambient sounds. You can find playlists or albums featuring haunted house sounds, creaking doors, howling winds, and ghostly whispers. These background noises create a chilling atmosphere, perfect for haunted house tours or a creepy Halloween dinner.
3. Horror Movie Soundtracks
Dive into the world of horror movie soundtracks for a truly spine-tingling experience. Choose soundtracks from classic horror films like "Halloween" by John Carpenter, "The Exorcist" by Mike Oldfield, or "Psycho" by Bernard Herrmann. These compositions will add a sense of suspense and dread to your Halloween gathering.
4. Rock and Metal Halloween Hits
If you're looking for a more energetic and rockin' Halloween playlist, opt for rock and heavy metal tracks with a spooky twist. Songs like "Dragula" by Rob Zombie, "Bark at the Moon" by Ozzy Osbourne, "This Is Halloween" from The Nightmare Before Christmas, and "Black Sabbath" by Black Sabbath bring a dose of rock 'n' roll darkness to the party.
Remember to mix and match these music options based on your Halloween party's theme and the preferences of your guests. Whether you're aiming for a fun and lighthearted celebration or a hair-raising haunted house experience, the right soundtrack can enhance the Halloween atmosphere.
Get Some Cutesy Gift Bags
Create small and cute gift bags to be given to your kids' friends at the end of the party. Think of this as something that the kids will take home and remember the Halloween party by.
You don't need some fancy gift bags as homemade paper bags would do. The key is to get creative and write interesting Halloween stuff on the bags.
Tricks-or-Treating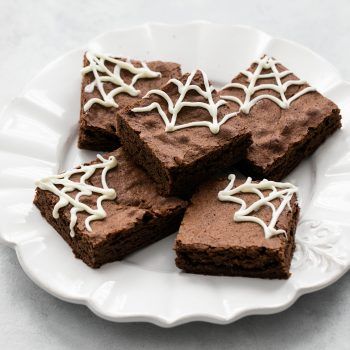 Halloween is all about candy and sweets! Decorate your food table with some spooky-looking candies and don't forget to put them in the gift bags as well. Pumpkin-shaped cookies and cupcakes are very common and you'd be able to get them at any store.
If you're not able to find any store treats, just get plain donuts or cupcakes and decorate them with icing!
Halloween is great fun but don't forget that the core purpose behind each holiday is to get in some family time. Do some activities that involve you and your kids together. Help your kids enjoy themselves to the fullest by enjoying with them!
Related Reading: Funny and Horror-ious Halloween Jokes for Kids to Get Into the Holiday Spirit