Remember those days when you were a kid eagerly waiting for Halloween? You'd dream about the perfect costume, the sweetest candy, and a little spooky surprise to make the night even more thrilling. Well, guess what? Kids today are no different! They still crave the magic of Halloween, and one fantastic way to make it extra special is Halloween gifts for kids.
SplashLearn: Most Comprehensive Learning Program for PreK-5

SplashLearn inspires lifelong curiosity with its game-based PreK-5 learning program loved by over 40 million children. With over 4,000 fun games and activities, it's the perfect balance of learning and play for your little one.
Try for free
In this blog, we'll explore some unique, kid-friendly, and fun Halloween gifts that will add creepy fun to their Halloween celebrations. These Halloween-themed gifts are about creating lasting memories and making Halloween more special.
1. Glow-in-the-Dark Stickers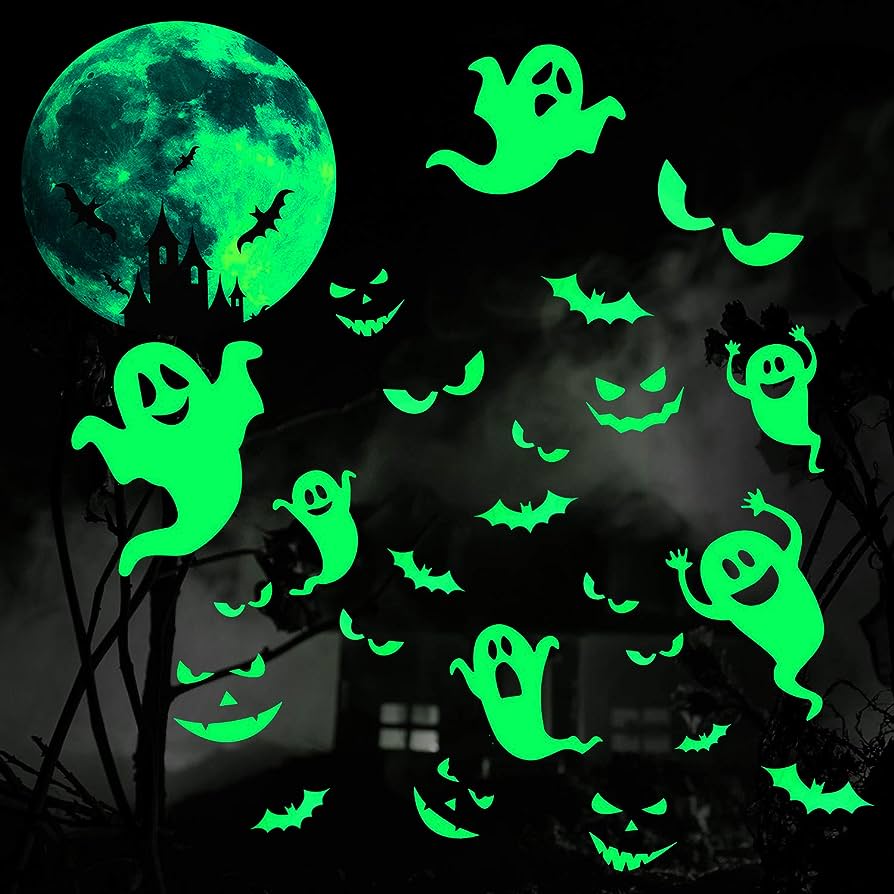 Glow-in-the-dark stickers are one of the most popular Halloween gifts for children. These special stickers magically light up in the dark, creating a spooktacular glow in your child's room. They come in various spooky designs and are easy to stick on walls, adding an extra touch of Halloween magic to bedtime.
Age: 3 and up
Price: 11.99$
2. Halloween Sticker and Coloring Book Set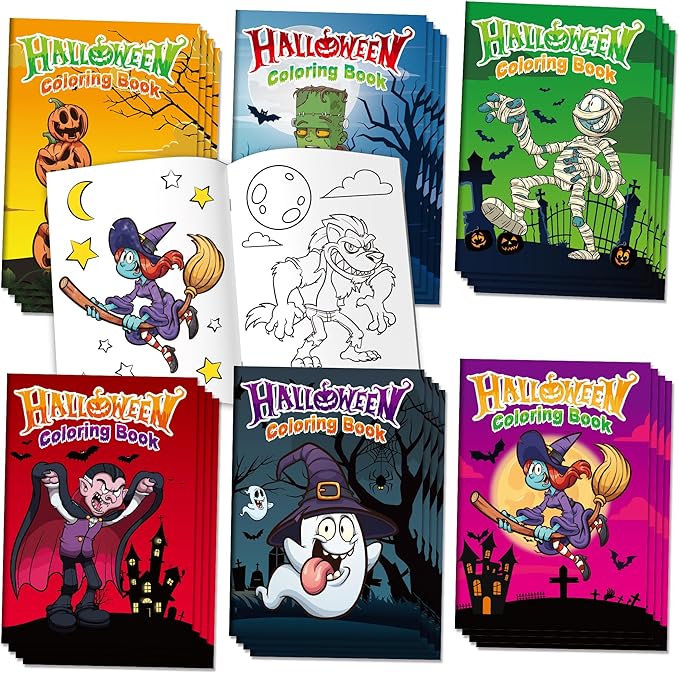 Keep kids entertained for hours with a Halloween sticker and coloring book set. The coloring book features intricate Halloween-themed designs, and the set includes a variety of stickers for kids to decorate their masterpieces. It's a great way to encourage creativity and provide a quiet activity for Halloween parties or rainy days.
Age: 3 and up
Price: 13.99$
3. Witch Hat and Broom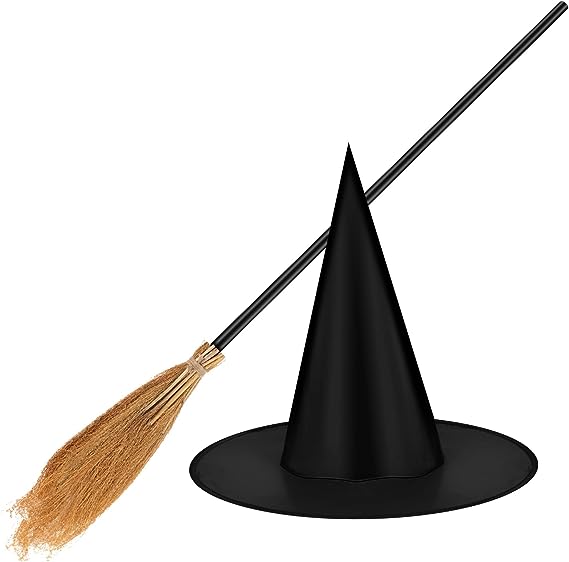 Transform any costume into a bewitching one with a classic witch hat and broom. Even the littlest trick-or-treaters (ages 3 and up) can embrace their inner spellcaster with these Halloween goodies.
Age: 3 and up
Price: 14.99$
Related Reading: Best Kids Halloween Movies That Ensure A Boo-tiful Family Time
4. Ghoulish Stationery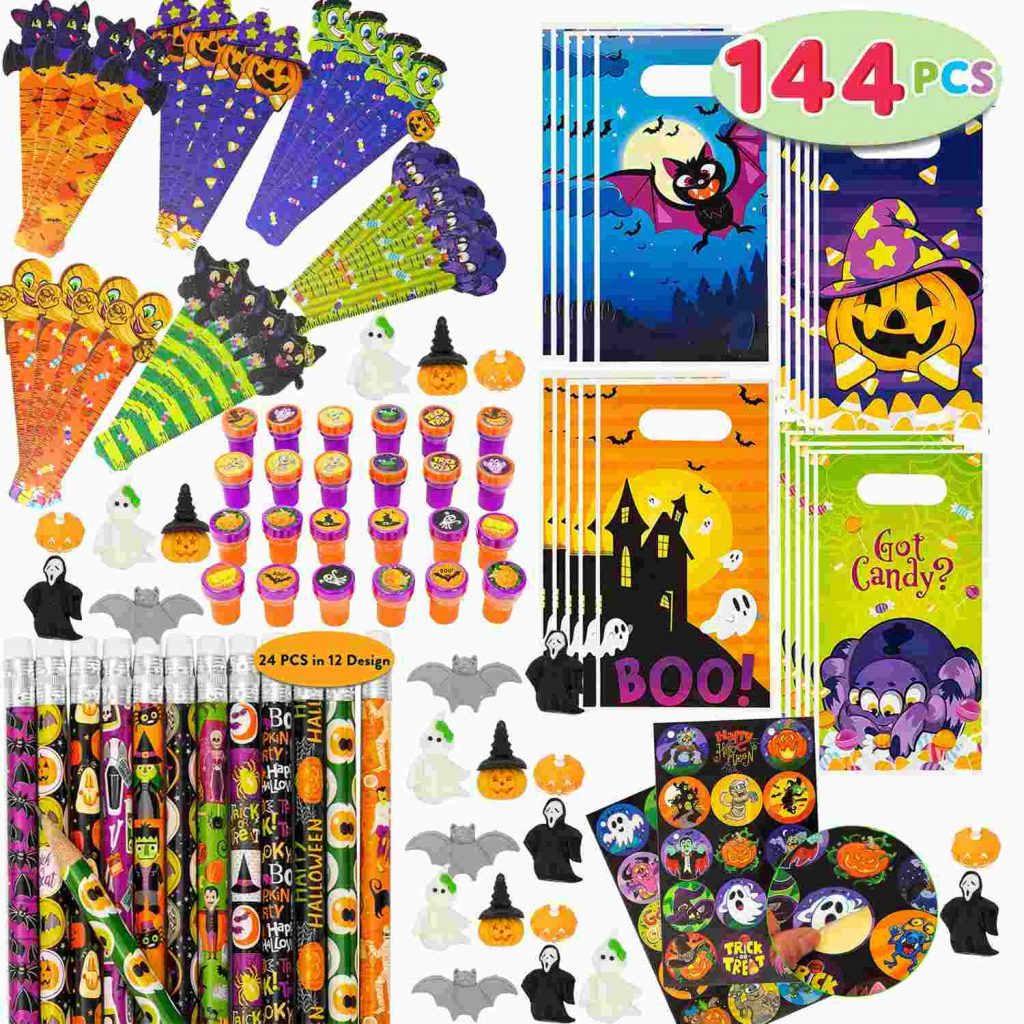 Halloween stationery is one of the best Halloween classroom gifts. Add a dash of Halloween to schoolwork or doodles with ghoulish stationery. Spooky pens, notebooks, and stickers bring a playful twist to everyday tasks.
Age: 6 and up
Price: 15.99$
5. Halloween Squishes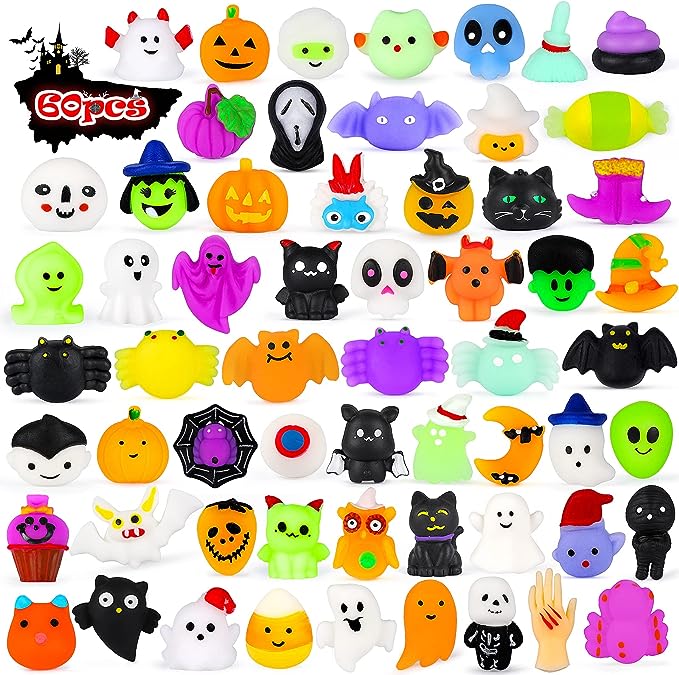 These delightful, squeezable scary Halloween toys are perfect for kids aged 3 and up who love tactile play. Each squishy is a cute and slightly eerie character that fits into the Halloween spirit. From adorable ghosties to smiling pumpkins, they're the perfect companions for young explorers of all things squishy.
Age: 3 and up
Price: 14.99$
6. Halloween-Themed Pajamas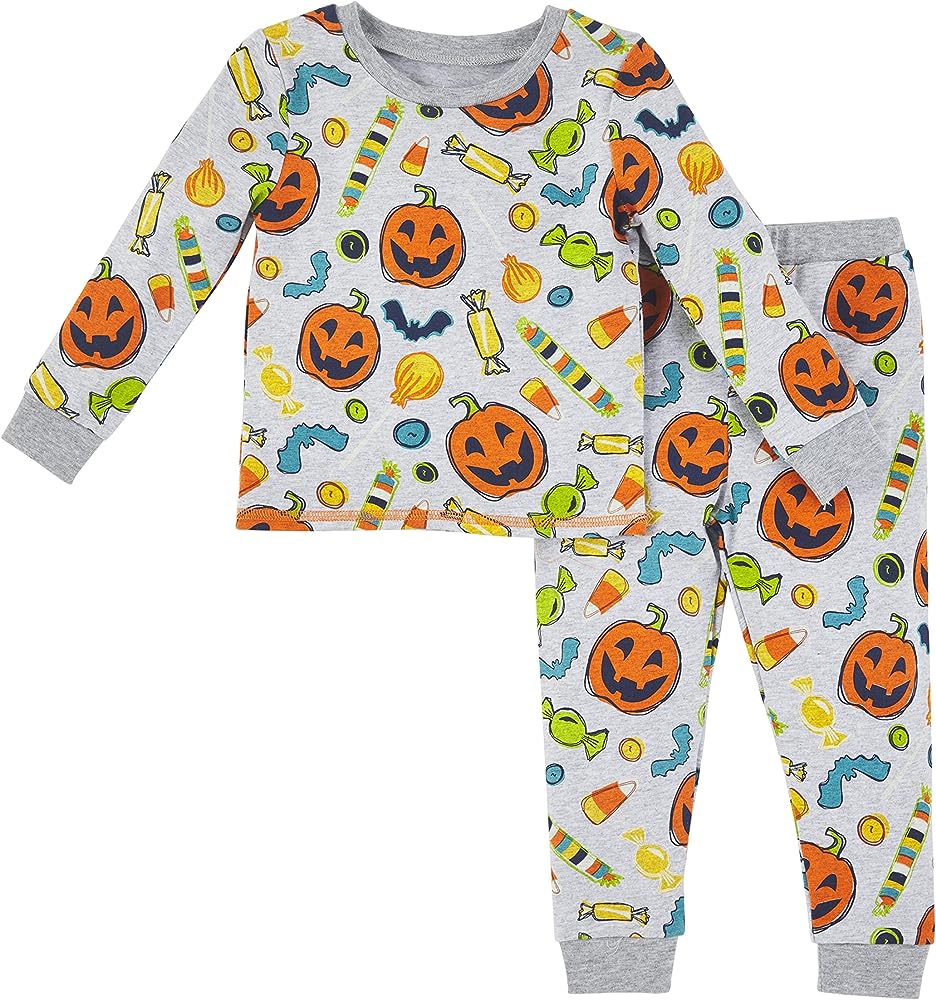 Give kids a comfy and stylish way to embrace the Halloween spirit with these Halloween-themed pajamas. Designed with adorable ghosts, pumpkins, or witches, these pyjamas are perfect for cozy nights leading up to Halloween or for wearing to a Halloween-themed sleepover. Crafted from soft, breathable fabric, they ensure a good night's sleep while keeping your little ones in spooky style.
Age: All ages
Price: 11.48$
7. Pumpkin Decorating Kit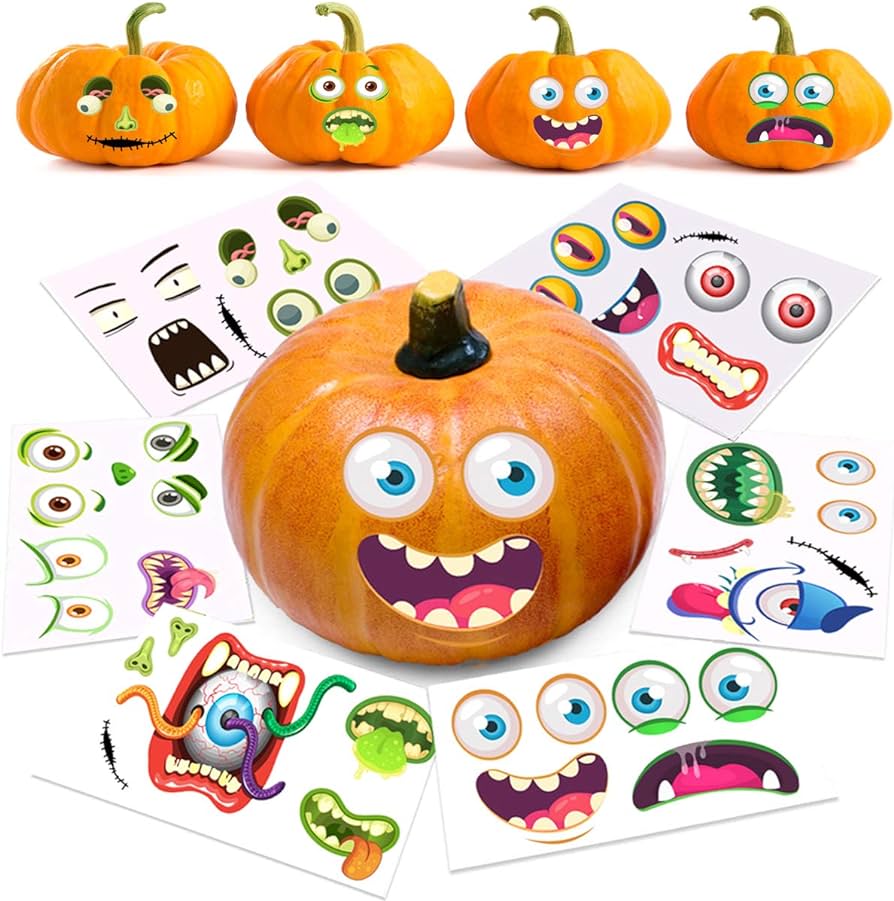 This kit comes with stickers, paints, markers, and even googly eyes, providing all the tools needed to transform ordinary pumpkins into unique Halloween characters. It's a fantastic hands-on activity for Halloween-themed parties, family gatherings, or a fun crafting day with friends.
Age: All ages
Price: 7.99$
8. Spooky Storybook Collection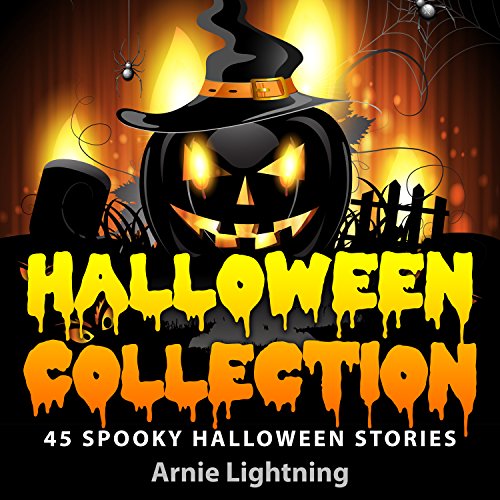 Delight them with a collection of spooky stories that capture the enchantment of Halloween. These age-appropriate tales feature friendly monsters, witches, and Halloween adventures perfect for bedtime reading. Not only do these stories encourage a love for reading, but they also help kids get into the Halloween spirit, making it an ideal Halloween gift for kids.
Age: 3 and up
Price: 14.99$
Related Reading: Funny and Horror-ious Halloween Jokes for Kids
9. Halloween Craft Kit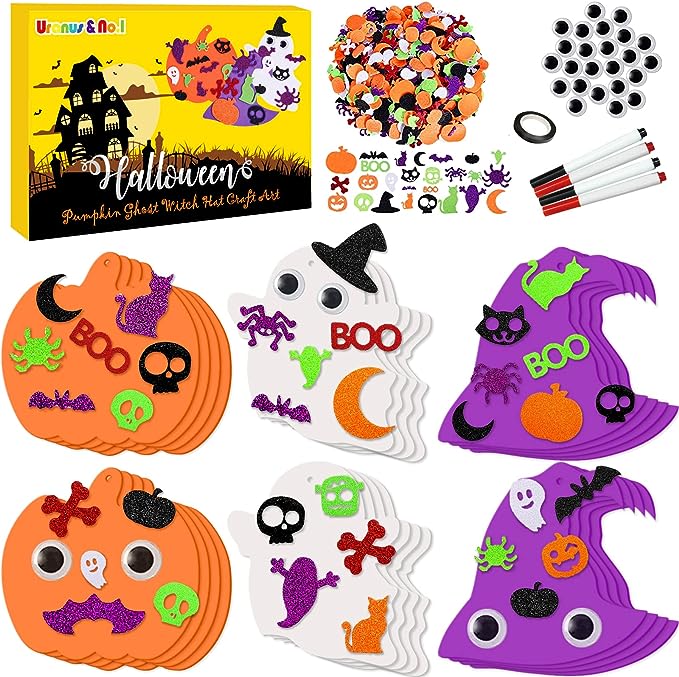 Keeps kids entertained and engaged with a craft kit that offers endless possibilities. This kit includes all the necessary supplies for making Halloween-themed crafts, such as masks, paper lanterns, and other spooky decorations. It's a creative way for children to express themselves and add a personal touch to the house's Halloween decor.
Age: 5 and up
Price: 12.97$
10. Trick-or-Treat Bag with Glow-in-the-Dark Design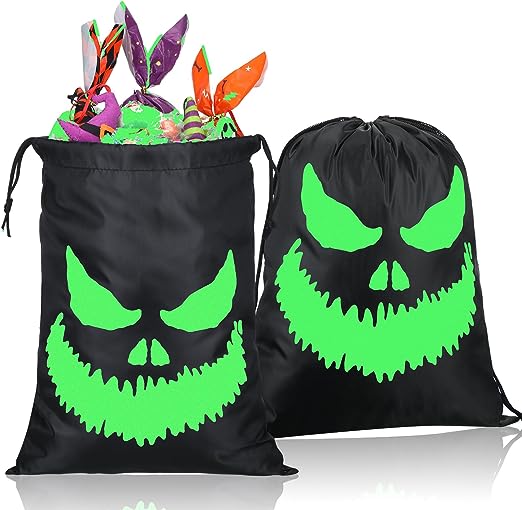 Ensure your child is well-prepared for Halloween night with a special trick-or-treat bag. This bag features a glow-in-the-dark design that adds an extra level of excitement to the festivities. With ample space for candy, it's both functional and festive, making it one of the best Halloween presents.
Age: All ages
Price: 14.99$
11. Halloween Baking Set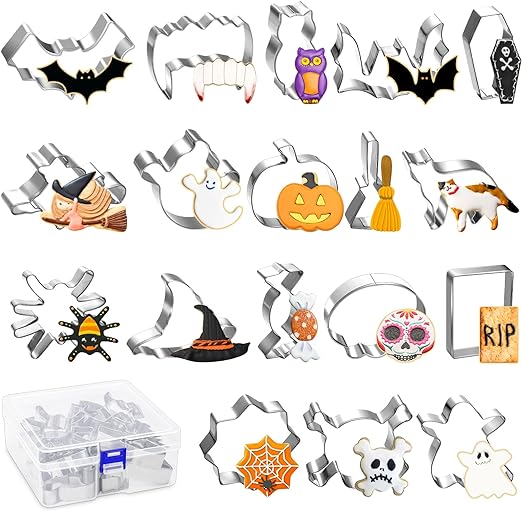 Turn your little ones into Halloween bakers with a themed baking set. This kit includes cookie cutters, cupcake liners, and spooky-shaped molds. It's a fantastic way to bond with your child in the kitchen and create delicious Halloween-themed treats for the whole family.
Age: 6 and up
Price: 9.99$
12. Halloween Science Kit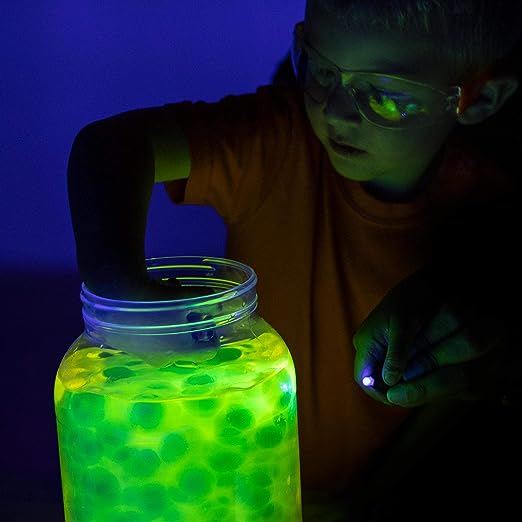 Combine education and excitement with a Halloween science kit. Packed with spooky science experiments, it allows kids to explore the mysteries of Halloween in a safe and entertaining way. From making bubbling potions to creating ghostly illusions, this kit makes learning an adventure.
Age: 4 and up
Price: 29$
13. Halloween-themed Board Games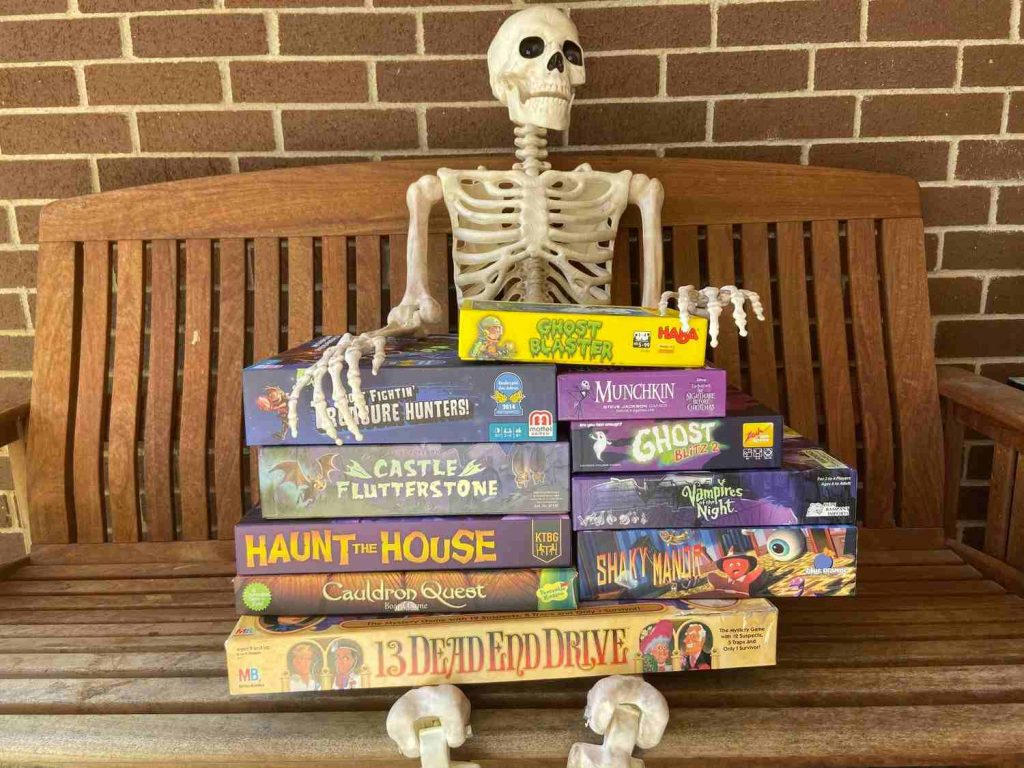 Bring the family together for some Halloween-themed fun with board games like "Spooky Bingo," "Haunted House Memory," or "Witch's Brew." These games are designed with spooky graphics and themes, making them perfect for game nights leading up to Halloween.
Age: 4 and up
Price: 34$
Related Reading: Best DIY Halloween Games For Kids
14. Halloween Puzzle Collection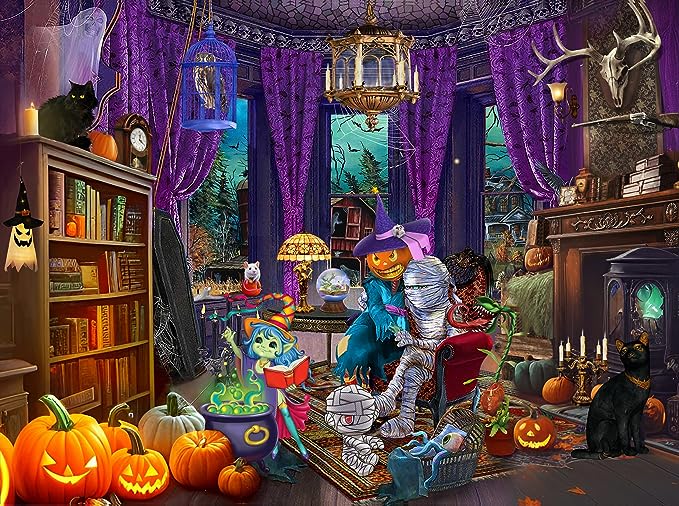 Challenge young minds with Halloween-themed puzzles. This gift includes jigsaw puzzles with various difficulty levels and spooky designs. It's a great way to keep kids entertained and mentally engaged during Halloween while fostering problem-solving skills.
Age : 4 and up
Price: 19.99$
15. Monster Plushies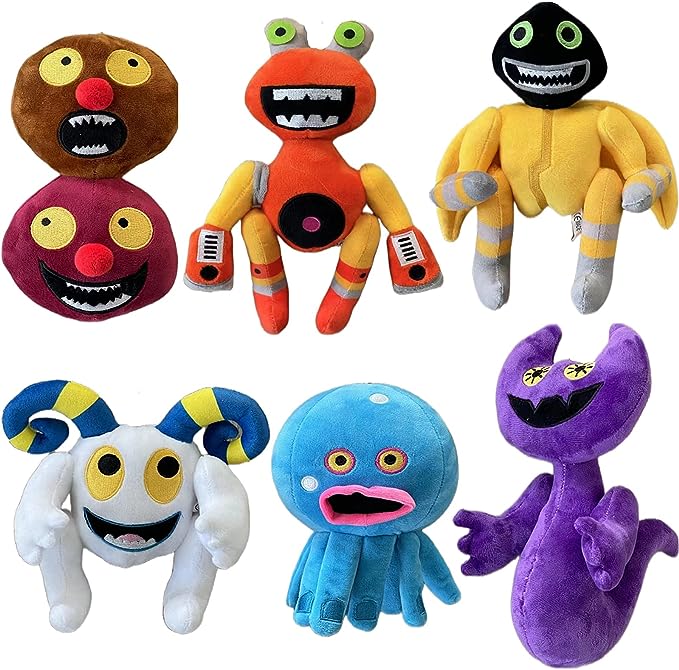 Monster plushies are soft and cuddly stuffed creatures that are not too scary but tons of fun making it one of the best Halloween gifts for kids. These colorful companions come in different monstrous styles, perfect for hugging and imaginative play. They're friendly monsters ready to be your child's spooky buddies.
Age: Suitable for kids of all ages.
Price: 37.99$
Create Lasting Memories with Halloween Gifts for Kids
Halloween is about making kids smile, and we've shown you how with our options of Halloween gifts for kids. From spooky gift ideas like glowing stickers to creative pumpkin decorating kits, these gifts are all about creating lasting memories.
Remember, Halloween isn't just about candy; it's about sharing fun moments with the kids in your life. So, whether you're a parent, grandparent, or just love Halloween, these gifts are your ticket to a happy and memorable October 31st.
This Halloween, let's make it special together with Halloween gifts for kids. Enjoy the spooky fun and make those little faces light up with joy! Happy Halloween!
Related Reading: Best Halloween Trivia Questions for Kids [With Answers]
Frequently Asked Questions (FAQs)
What should I give my toddler for Halloween?
Consider age-appropriate Halloween gifts for toddlers like cute Halloween-themed plushies or coloring books.
What should kids bring to the Halloween party?
Kids can bring small Halloween-themed items like spooky stickers or fun costume accessories to the party.
What do children ask for on Halloween?
Children often ask for exciting Halloween gifts like costumes, candy, or toys with a Halloween twist.
What are some good Halloween gifts for boys?
Consider spooky options like monster plushies that offer cuddly companionship or spooky science kits that encourage their curiosity and provide hands-on, eerie experiments.
What are some good Halloween gifts for girls?
For girls who love Halloween, thoughtful gifts include Halloween-themed books that whisk them away on enchanting adventures, or glow-in-the-dark stickers that transform their room into a magical nighttime haven.