Summer is an exciting season for preschoolers to explore and engage in various summer activities, making it a perfect time to create unforgettable memories with your little ones. Additionally, these summer activities offer preschoolers an excellent chance to develop their motor skills.
SplashLearn: Most Comprehensive Learning Program for PreK-5

SplashLearn inspires lifelong curiosity with its game-based PreK-5 learning program loved by over 40 million children. With over 4,000 fun games and activities, it's the perfect balance of learning and play for your little one.
Try for free
The American Academy of Pediatrics has highlighted that children between 2 and 5 years are motivated and develop motor skills through self-play behaviors. Hence, summer activities for preschoolers like active games and backyard play with friends or in padded rooms can provide excellent sources of exercise while nurturing the essential relationship between parent and child. However, with numerous options available, selecting fun and engaging activities for your preschooler may be challenging.
To help you with this difficulty, we have compiled a comprehensive list of summer activities for preschoolers to ensure your child will have a fun-filled summer.
Related Reading: Easy Activities for Preschoolers [With Tutorials]
40 Best Summer Activities for Preschoolers
Summer is the perfect time for preschoolers to embark on exciting adventures and create cherished memories. To ensure your child has a fun-filled summer, we have compiled a comprehensive list of the best summer activities for preschoolers. From outdoor escapades to indoor discoveries, educational pursuits to creative expressions, and social interactions, these activities cater to various interests and developmental needs.
In the following sections, we will explore each category in detail, providing you with inspiring ideas and suggestions to make this summer unforgettable for you and your little one. Let's dive into the world of summer fun for preschoolers and explore the numerous possibilities that await!
8 Summer Outdoor Adventures for Preschoolers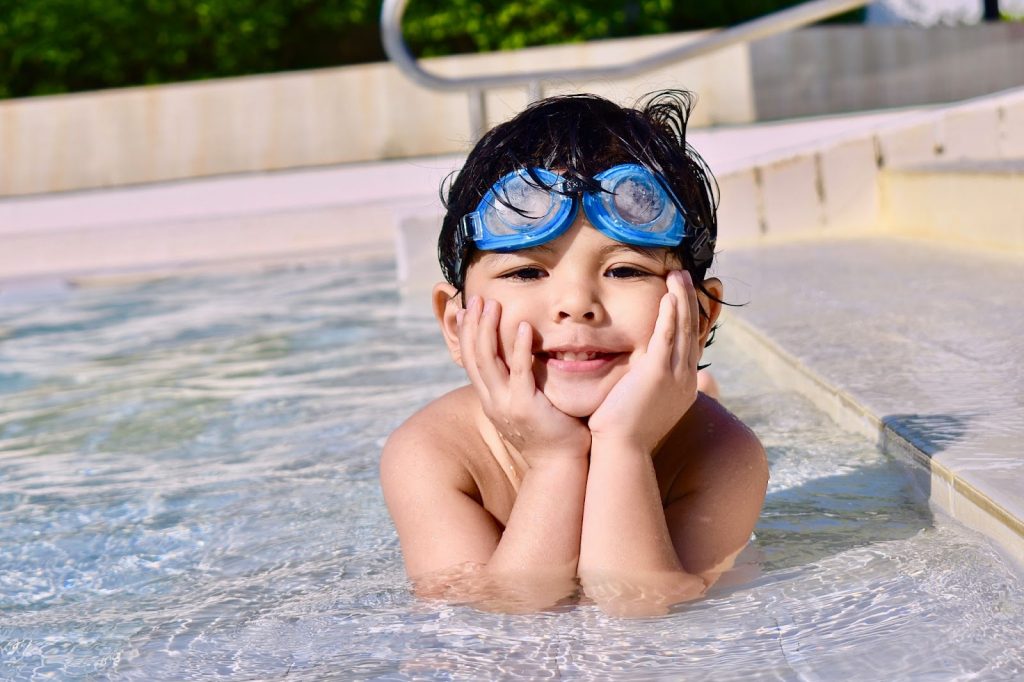 The Child Mind Institute has published an article that reveals that the average American child spends a mere 4 to 7 minutes per day engaging in outdoor play while devoting an astounding seven or more hours daily to sedentary screen time. This striking contrast between outdoor and indoor activities highlights the crucial importance of outdoor play for children's overall well-being.
Numerous studies have demonstrated that children who engage in outdoor play exhibit greater happiness, attentional capacity, and lower anxiety levels than their peers who spend more time in indoor environments. Thus, the summer season provides a prime opportunity for parents and preschoolers to venture outside and partake in various invigorating outdoor activities.
Given the numerous benefits of outdoor play, the summer presents an ideal opportunity for parents and preschoolers to explore and partake in various stimulating outdoor activities. Whether you prefer classic park trips or exciting beach days, there are countless possibilities for you and your little one to enjoy together and soak up the sunshine.
Here are eight of the best fun summer activities for preschoolers.
Park Trips: Nothing beats a day at the park with your little one. Pack a picnic lunch, bring outdoor toys and games, and let your child run free on the playground.
Nature Walks and Exploration: Stroll in nature and explore the flora and fauna around you. Point out different plants and animals, and encourage your kid to ask questions and make observations.
In every walk with nature, one receives far more than he seeks. – John Muir
Pool and Beach Days: Beat the summer heat with a refreshing pool dip or a fun beach day. Let your child splash in the water and build sandcastles on the shore.
Games and Sports: Get moving with engaging games and sports your preschooler will enjoy. Tag your child, throw a football, or even hold a small competition.
Scavenger Hunts: Hold one in your backyard or a nearby park. Give your kid a list of stuff to look for, then watch as they enthusiastically and inquisitively explore their environment.
Bike Rides: Put your helmets on and take your child biking. Enjoy the workout and fresh air while exploring your neighborhood or bike lanes.
Water Play: Cool off by engaging in some enjoyable water play activities. Install a kiddie pool, go through the sprinklers, or engage in a water balloon battle.
Camping Trips: Take your family on a weekend camping trip to show your preschooler the marvels of nature. Take treks, roast marshmallows over a campfire, and watch the stars at night.
But if the weather or other factors force you to stay inside, don't worry! You can still do many entertaining and interesting things with indoor summer activities for preschoolers.
Related Reading: Fantastic Summer Camp Kids Activities 
8 Summer Indoor Activities for Preschoolers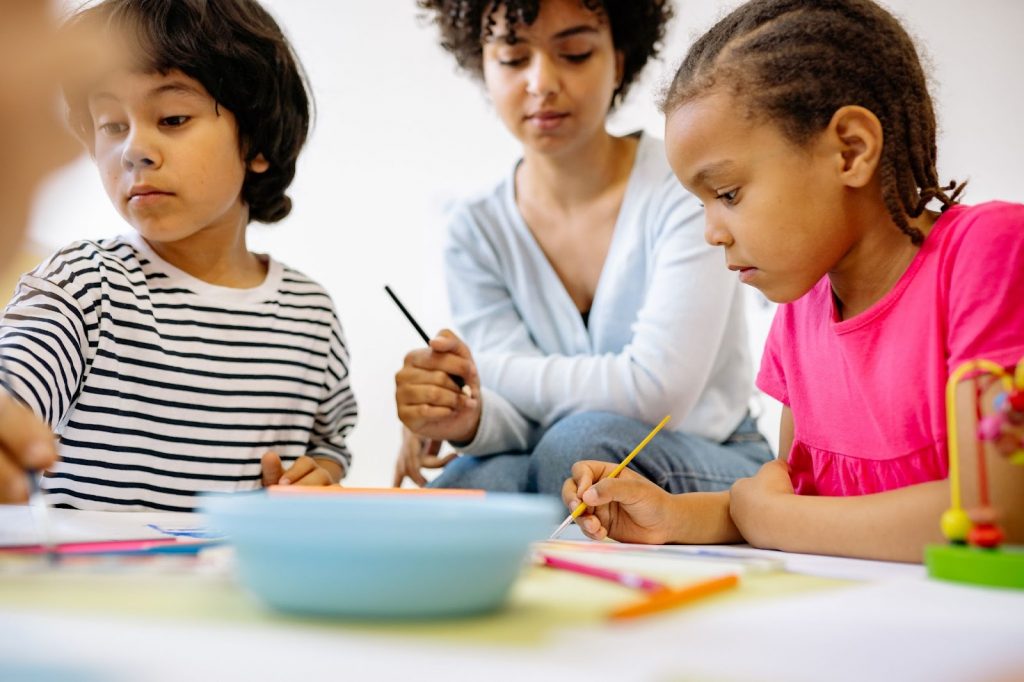 There are many interesting indoor activities to keep your preschooler entertained when it's too hot to be outside. The eight easy summer activities for preschoolers are listed below.
Cooking and Baking Together: Make tasty and entertaining snacks with your children to interest them in the kitchen. The easiest option to connect with others and do something delicious is to cook together, make homemade popsicles, or decorate cookies.
Artistic Creations: Let your preschooler's creativity soar with some creative activities. Finger painting, collages, and making homemade playdough are just a few options to spark their imagination.
Color Matching: Collect items around the house or yard and sort them by color. You can use construction paper or paint chips to make color cards for your preschooler to match.
Sensory Bins: Fill a container with rice, beans, or water and add small toys or objects for your preschooler to explore. This activity assists with fine motor skills and sensory development.
Reading and Storytelling: Reading together is a great option to encourage a love of books and stories. Make it even more engaging by using different voices for characters or acting out parts of the story.
The more that you read, the more things you will know. The more that you learn, the more places you'll go. – Dr. Seuss

Music and Dance: Put on music and have a dance party with your preschooler. This is the best choice for letting their wiggles out and having fun with each other.
Building and Construction: Preschoolers love to build and create, so give them some materials like blocks, legos, or cardboard boxes and let them go to town.
Games and Puzzles: Games on board and puzzles are the finest activities for boosting family time and problem-solving skills development. Select games that are enjoyable for players of all ages.
After looking at the finest indoor summer daycare activities to occupy and amuse your preschooler during the hot summer months, let's turn our attention to enjoyable educational activities that support your preschooler's learning and development.
Related Reading: Fun Preschoolers Cooking Activities With Recipe
8 Summer Educational Activities for Preschoolers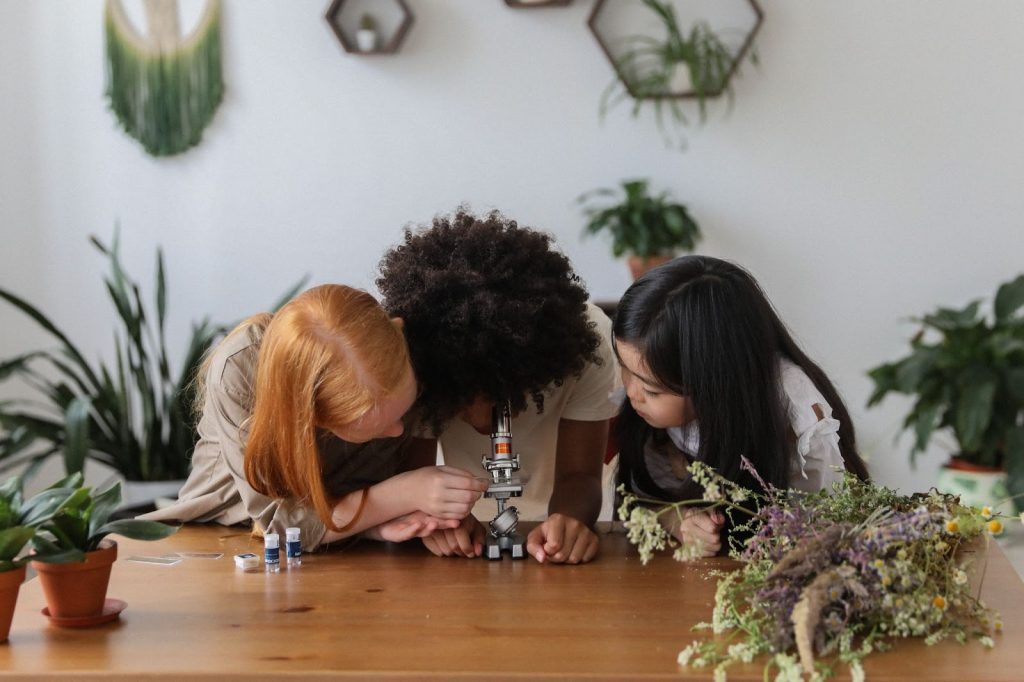 Preschoolers can continue their education and worldwide exploration during the summer. Try these eight instructional summer activities for preschoolers to keep children interested and entertained:
Science Experiments: Encourage your children to investigate the wonders of science with simple and secure exercises like creating a lava lamp or a rainbow in a container.
The best way to learn science is to do science. – Neil deGrasse Tyson
Memory Games: Play memory games using cards or other items with your preschooler. This exercise improves concentration, focus, and memory.
Letter Tracing: Engage your preschooler in a stimulating and diverse learning experience through letter tracing. By utilizing the power of tactility, you can create a sensational letter-tracing activity using various materials, such as flour, salt, or sand, catering to your child's sensory needs.
Alphabet Scavenger Hunt: Immerse your child in the alphabetic world by organizing an Alphabet Scavenger Hunt. This innovative and entertaining approach involves encouraging your little one to identify and label objects that commence with each alphabet letter.
Sink or Float Experiment: Fill a container with water and have your preschooler predict which items will sink or float. Then, test each item and see if their predictions are correct.
Counting Games: Use toys, snacks, or household items to play counting games with your preschooler. For example, have them count how many blocks they can stack or how many grapes they have on their plate.
Shape Sorting: Use household objects or cut-out shapes from construction paper to teach preschoolers about forms. Have them sort the things by shape or match them to the corresponding shape.
Name Recognition: Write your preschooler's name on the paper and let them trace it with their finger. You can also make name cards with letters and have them spell out their name.
Now that we've covered some fun and educational summer ideas for preschoolers to enjoy this summer, let's move on to creative activities that will help them explore their imagination and express themselves in new ways.
8 Summer Creative Activities for Preschoolers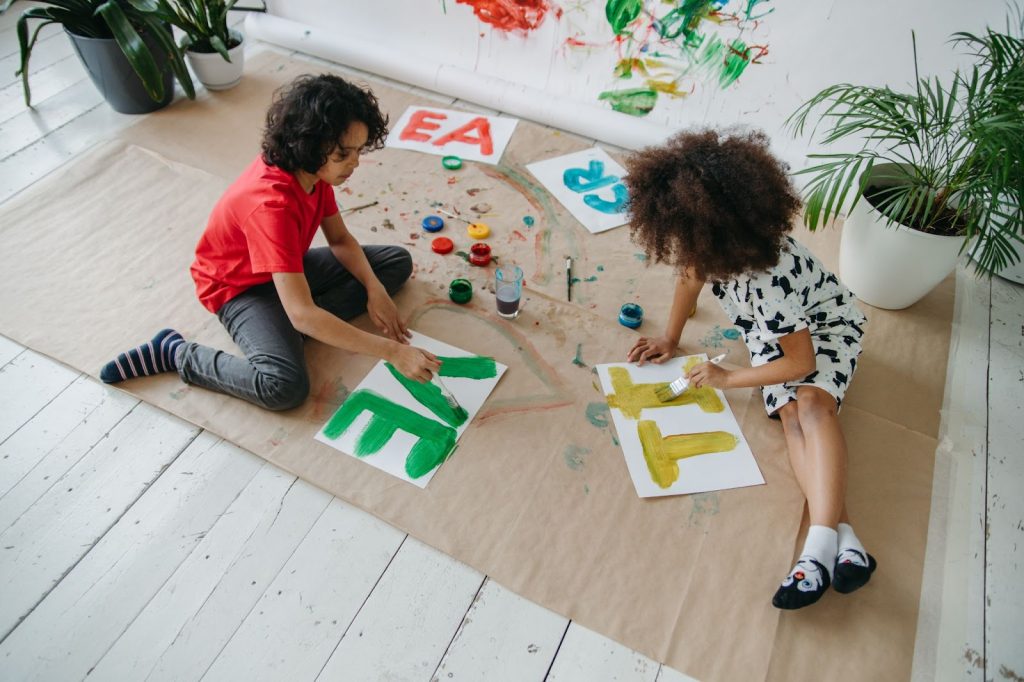 Summer is the finest time to let your child's creativity shine. Here are eight summer preschool activities to keep them entertained and enhance their creative skills.
Dress-Up and Role Play: Let your child's imagination run wild by dressing up as their favorite character and acting out scenes or stories together.
Puppet Shows: Create your puppets and perform a puppet for loved ones.
Watercolor Painting: Introduce your youngster to watercolor painting and watch as they produce stunning works of art.
Scrapbooking: Compile all of your summertime memories and images into a scrapbook.
Balloon Animals: Discover the art of balloon tying while having a good time making crazy and entertaining balloon animals.
Origami: Create amazing origami animals, flowers, and more by teaching your kid the history of paper folding.
T-Shirt Tie-Dye: Add color to your child's wardrobe by tie-dying t-shirts together.
Nature Crafts: Nature-inspired crafts can be made using organic materials like leaves, sticks, and rocks.
After exploring the many ways to spark creativity in your child, let's look at some social summer activities for preschoolers that can keep your kids entertained and help them develop important social skills.
Related Reading: Awesome Ideas for Summer Craft for Preschool Kids
8 Summer Social Activities for Preschoolers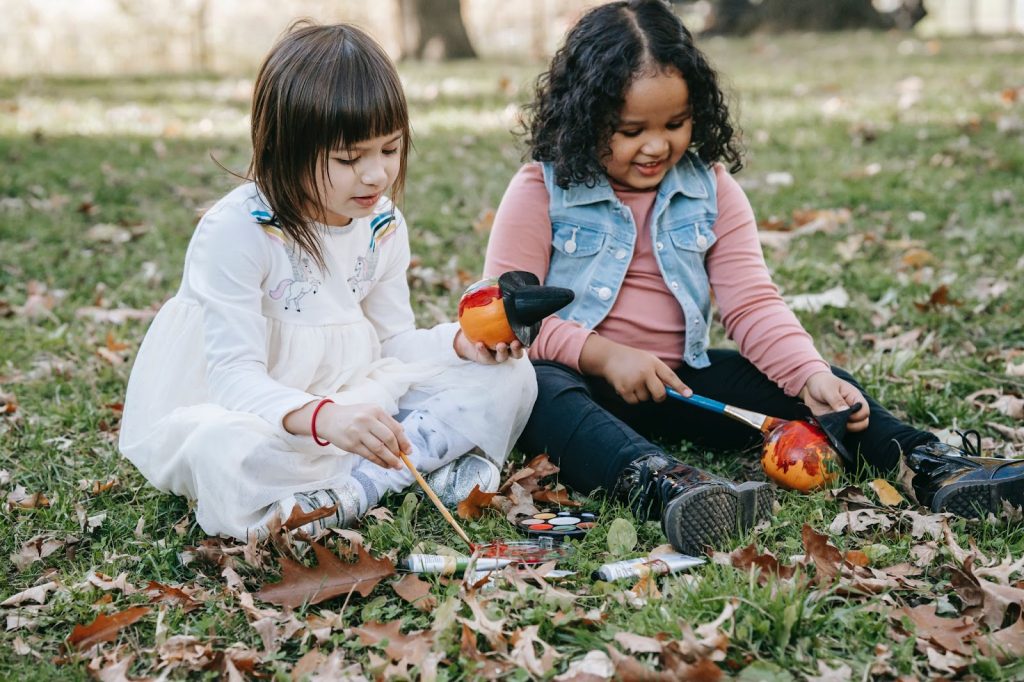 The summer is a great time for preschoolers to form and strengthen friendships because there are so many social activities they can participate in. These eight end of summer preschool activities are yours to utilize.
Neighborhood Scavenger Hunt: Organize a group of friends and embark on a scavenger hunt throughout the neighborhood. Make a list of objects to find, such as a blue automobile, a funny-shaped cloud, or a red flower.
Water Balloon Fight: A water balloon duel is a timeless summer pastime that never gets old. Fill up a lot of balloons, then let the children loose.
Storytime at the Library: Most libraries host storytimes and summer reading programs for children. Visit the library with your preschooler for an enjoyable and instructive outing.
Visit the Farmer's Market: Visit a farmer's market and take your kid around. Let them choose a few items to sample as you educate them about the various fruits and veggies.
Movie Night Under the Stars: Install a projector on your lawn and have a movie night there. Provide blankets and popcorn while inviting family and friends.
Nature Walk with Friends: Go on a nature walk with your pals, and while you're out there, encourage the kids to look at and gather objects like leaves, rocks, and pinecones.
Playground Playdate: Make plans for a playdate at the neighborhood playground. Bring snacks and beverages, then let the kids play and run as much as they love.
Volunteer as a Family: Find a local volunteer opportunity appropriate for preschoolers and make it a family outing. This is the best option to teach children about giving back and helping others.
These eight summer fun for preschool will create lasting memories and strengthen their social skills.
Conclusion
The preparation of summer activities intended for children must consider their development of social, intellectual, spiritual, physical, artistic, environmental, and cultural aptitudes, as well as the advancement of their understanding of self and their surroundings. An interview with Jim Taylor, Ph.D., published in Psychology Today, affirmed this perspective. In this regard, parents must contemplate the objectives they wish to achieve for their children during the summer season.
Therefore, he strongly suggests fostering experiences that enhance children's comprehension of themselves and their world. It is crucial to realize that numerous opportunities exist to keep your preschooler engaged and entertained during the summer. The possibilities are endless, from outdoor escapades to indoor activities, from educational pursuits to artistic endeavors. So why not explore the myriad of activities accessible to you and your child? It is the opportune time to create summer fun for preschool with unforgettable memories and moments of happiness. Furthermore, these activities can be relished by the entire family. Why delay? Grab the opportunity and enjoy this summer to the fullest with your small ones by your side!
Frequently Asked Questions (FAQs)
How can I help my preschooler enjoy learning during the summer?
By transforming educational tasks into games or challenges, like scavenger hunts, treasure hunts, or outdoor experiments, you may make learning entertaining for your preschooler.
What kind of social activities can preschoolers participate in during summer?
Preschoolers can participate in social activities like playdates, visiting the zoo or aquarium with friends, or even participating in summer camps or community programs.
How can I maximize outdoor activities with my preschooler during summer?
To maximize outdoor summer activities for preschoolers, you need to plan, stay hydrated, and bring snacks and sunscreen. You may also make it more exciting by having themed outdoor activities or setting up a backyard obstacle course.