Spring is in the air, and Easter is just around the corner, filling our hearts with joy and anticipation. As we celebrate this delightful season of new beginnings, one whimsical character takes center stage—the Easter bunny. People celebrate the spirit of the season by making Easter bunny craft decor. With its fluffy tail and boundless charm, the Easter bunny captures the imagination of children and adults alike, spreading happiness and laughter wherever it hops.
SplashLearn: Most Comprehensive Learning Program for PreK-5

SplashLearn inspires lifelong curiosity with its game-based PreK-5 learning program loved by over 40 million children. With over 4,000 fun games and activities, it's the perfect balance of learning and play for your little one.
Try for free
We have curated a captivating selection of Easter bunny crafts for kids that will engage young hearts and hands in joyful expression. So, join us as we embark on a creative quest to conjure up enchanting Easter bunnies that will inspire laughter, cherished memories, and a sprinkle of Easter magic.
55 Best Bunny Crafts for Kids to Try This Easter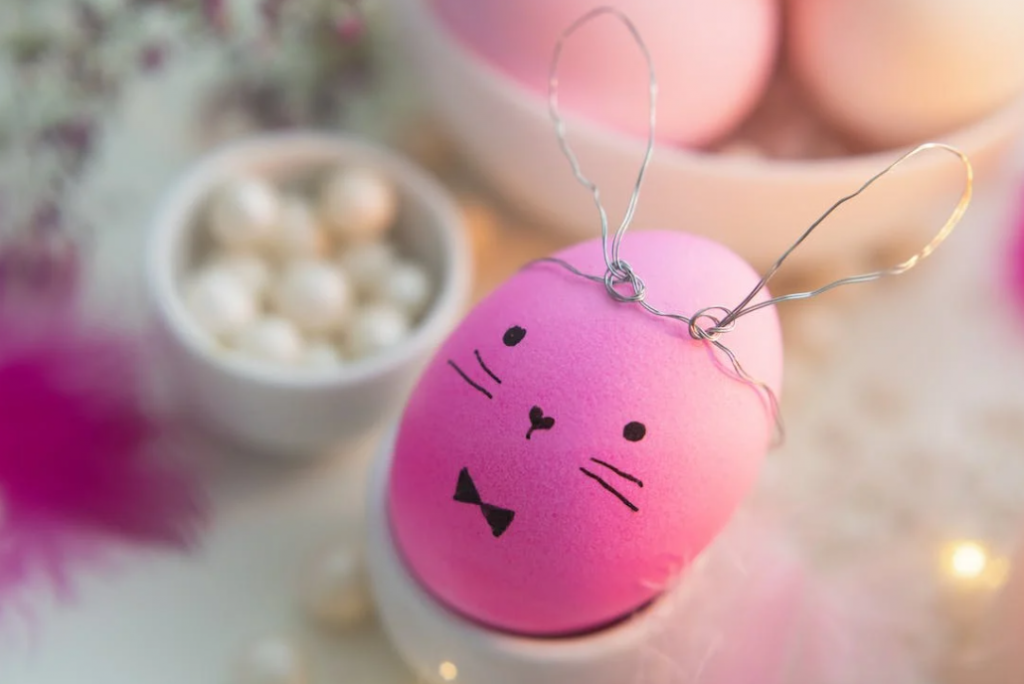 A renowned artist Pablo Picasso once said, "Every child is an artist." Here we bring to you a comprehensive list of  all the awesome easter bunny crafts ideas that will unleash the artist within, allowing kids to create their very own bunny masterpieces. 
Explore your creativity with these charming Easter bunny craft ideas. From fluffy pom-pom bunnies to adorable paper crafts, explore a variety of fun and easy projects perfect for Easter festivities. They are as follows:
1) Paper Plate Bunny
A paper plate bunny is a delightful easter bunny craft idea that involves transforming a simple paper plate into an adorable bunny face, perfect for Easter celebrations or spring-themed decorations. With just a few materials, you can create a charming bunny with floppy ears, a cute nose, and expressive eyes.
2) Bunny Finger Puppets
Bunny finger puppets are small crafts made from colored felt or construction paper. They fit on your finger and have bunny ears and a face drawn or glued on. Simply slide them onto your finger and bring the bunny to life with your movements.
3) Pom-Pom Bunnies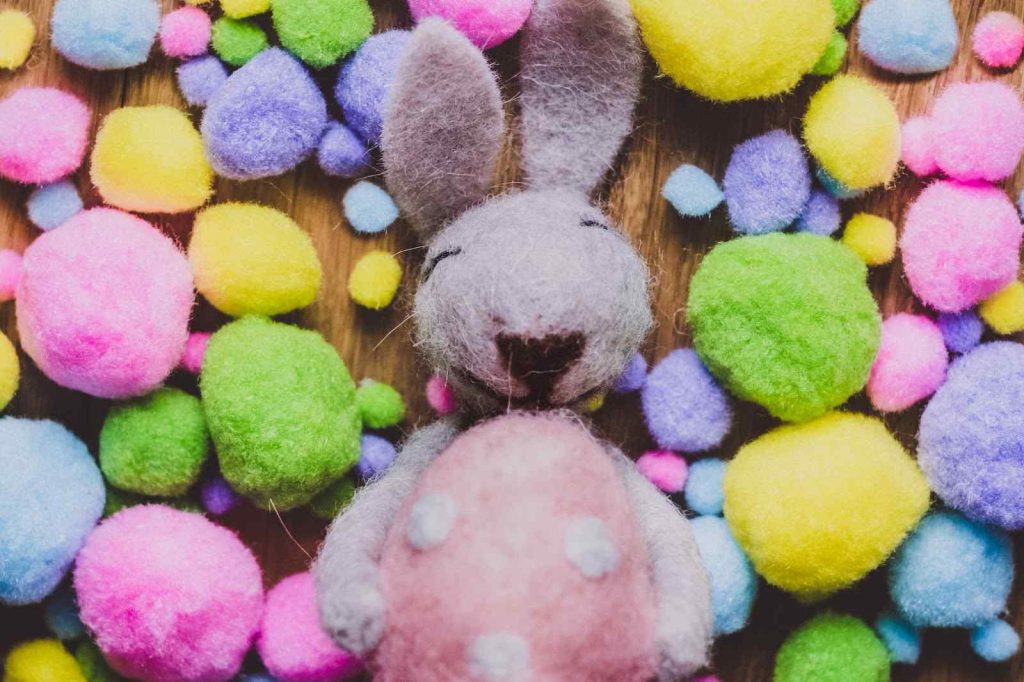 Pom-pom bunnies is one of the easiest bunny crafts made with pom-poms. Attach a smaller pom-pom to a larger one for the head and body. Add googly eyes, a nose, and a mouth for the face. Attach pipe cleaners or paper ears to the head. Personalize with a bow if desired.
Related Reading: Best Spring Crafts for Kids from KG to Grade 5
4) Bunny Mask
A bunny mask typically features a mask shape with bunny ears attached. Make a cute bunny face on a hard sheet of paper. Cut from the outlines. The mask can be decorated with facial features like eyes, nose, and whiskers. It is worn on the face using an elastic string or ribbon.
5) Bunny Ears Headband
A bunny ears headband accessory consists of a headband with bunny ear shapes attached to it. The bunny ears can be made from felt, paper, or fabric and are usually decorated with details like inner pink color or patterns.
6) Bunny Handprint Art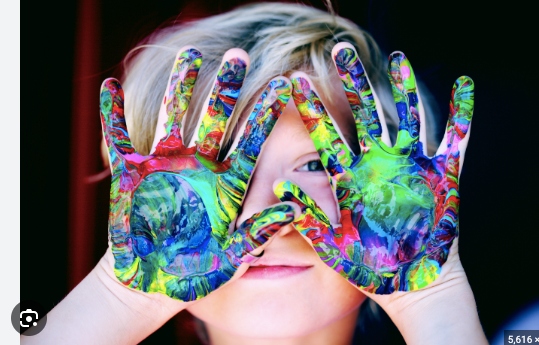 Bunny handprint art involves dipping your hand in paint and then pressing it onto paper or canvas, and repeat with the other hand to create a pair of handprints. Once dry, you can add details like bunny ears, eyes, a nose, and whiskers using markers or paint.
7) Bunny Tote Bag
Decorate a plain tote bag with a bunny face using fabric markers or paint. Add eyes, a nose, and whiskers for a cute design. Customize with additional embellishments if desired.
8) Bunny Pencil Toppers
Bunny pencil toppers are cute accessories made from craft foam or felt. Attach bunny ears to the pencil and add facial features for an adorable look.
9) Bunny Sock Puppet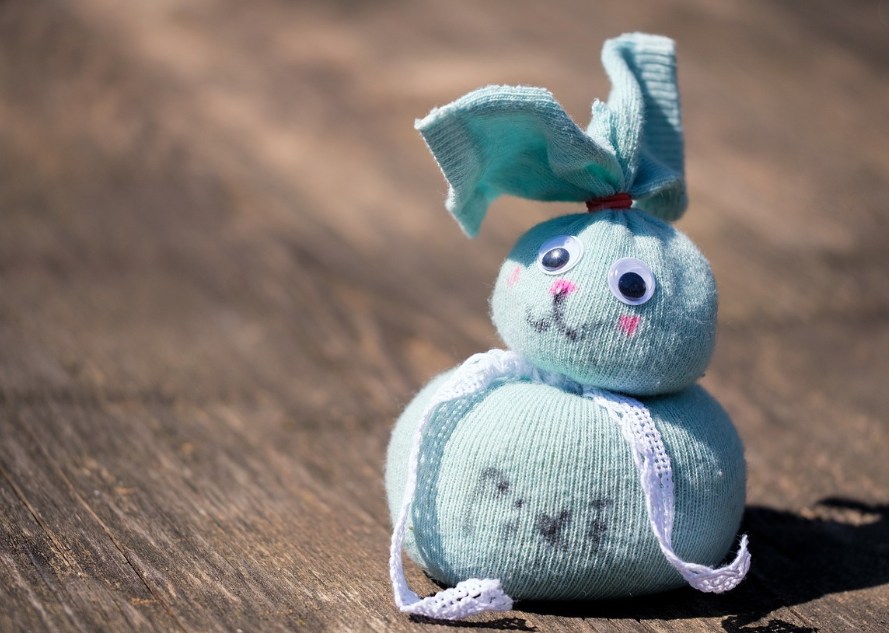 A bunny sock puppet is a playful toy made from a decorated sock. Add eyes, a nose, and whiskers to resemble a bunny. Use your hand to control its movements and have fun with imaginative play!
10) Paper Bunny Garland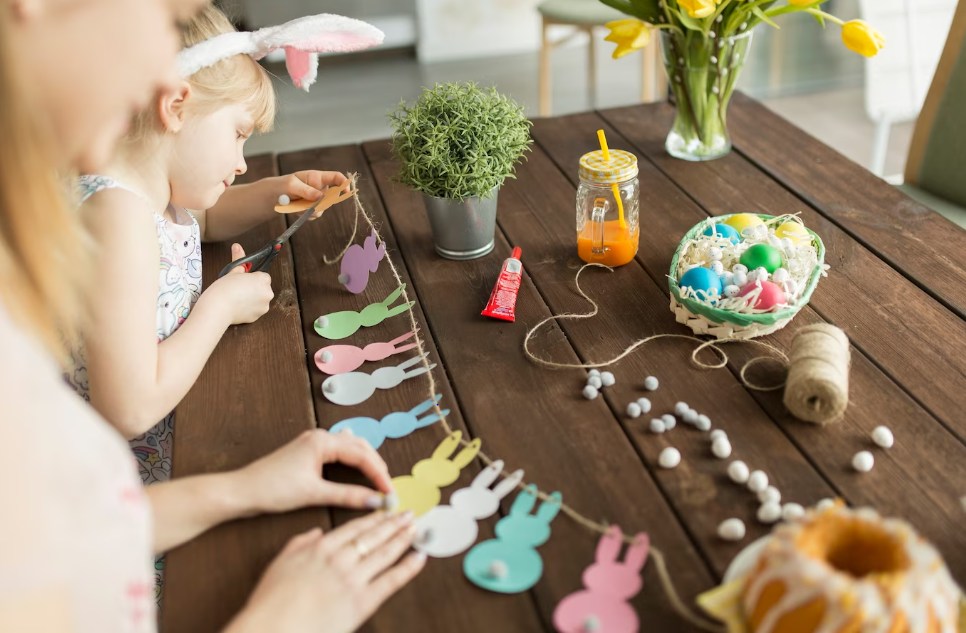 A paper bunny garland is a decorative craft made from paper bunnies strung together. Cut out bunny shapes, punch holes, and connect them with string or ribbon.
11) Bunny Paper Bag Puppet
A bunny paper bag puppet is a fun craft made from a decorated paper bag. Add bunny features to the front using markers or construction paper. Attach bunny ears to the top. Slip your hand inside to make the bunny puppet's mouth move.
12) Bunny Silhouette Art
Bunny silhouette art is a charming craft. Cut out a bunny shape from black paper and glue it onto a colorful background. Display it in a frame or on a wall for a whimsical touch.
13) Bunny Bookmarks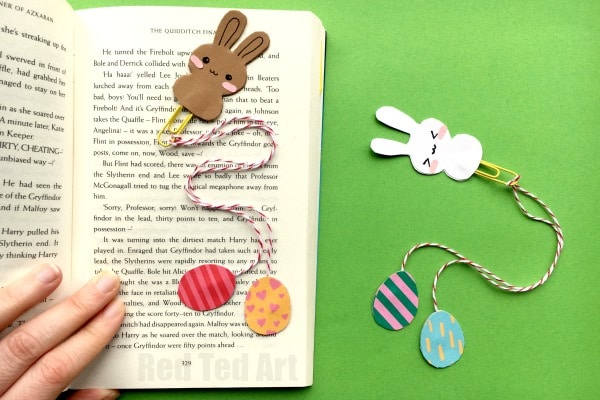 Bunny bookmarks are adorable and practical accessories. Cut out bunny shapes from colored paper, add details, and attach a pom-pom for a tail. Use the bunny's ears to clip onto book pages.
14) Bunny Bubble Wrap Printing
Bunny bubble wrap printing is a playful art technique. Cut out a bunny shape from cardboard. Dip bubble wrap in paint and press it onto the bunny shape, creating a bubble pattern. Press the bubble wrap onto paper, transferring the paint and creating a textured bunny design.
15) Bunny Origami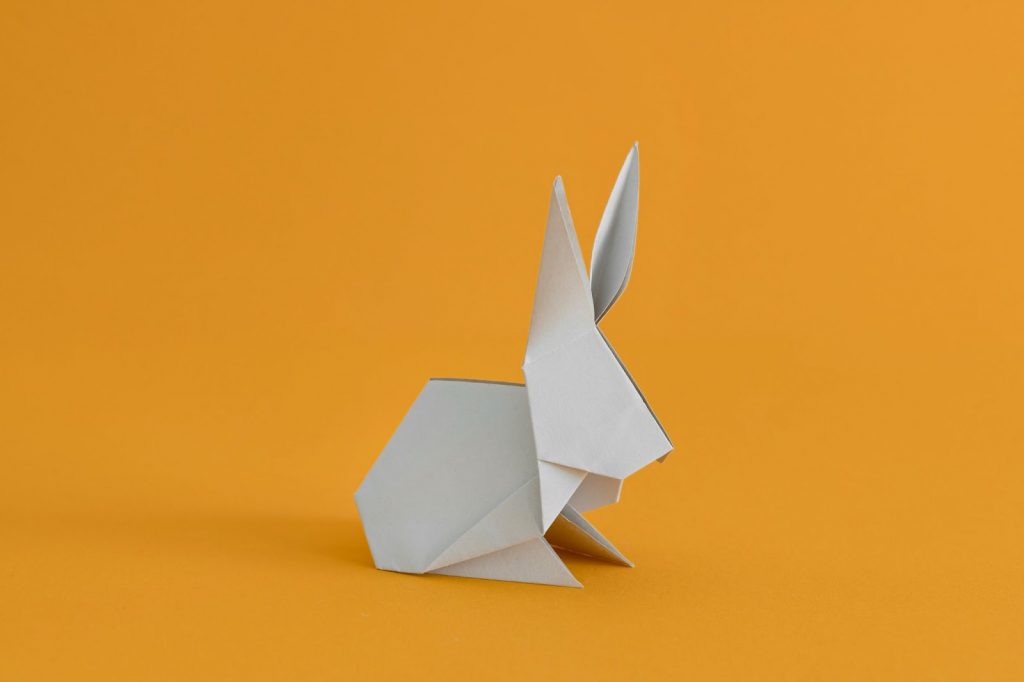 Create adorable bunny origami by folding a square sheet of origami paper. Follow the instructions to transform it into a bunny with body, head, ears, and more.
16) Bunny Egg Holders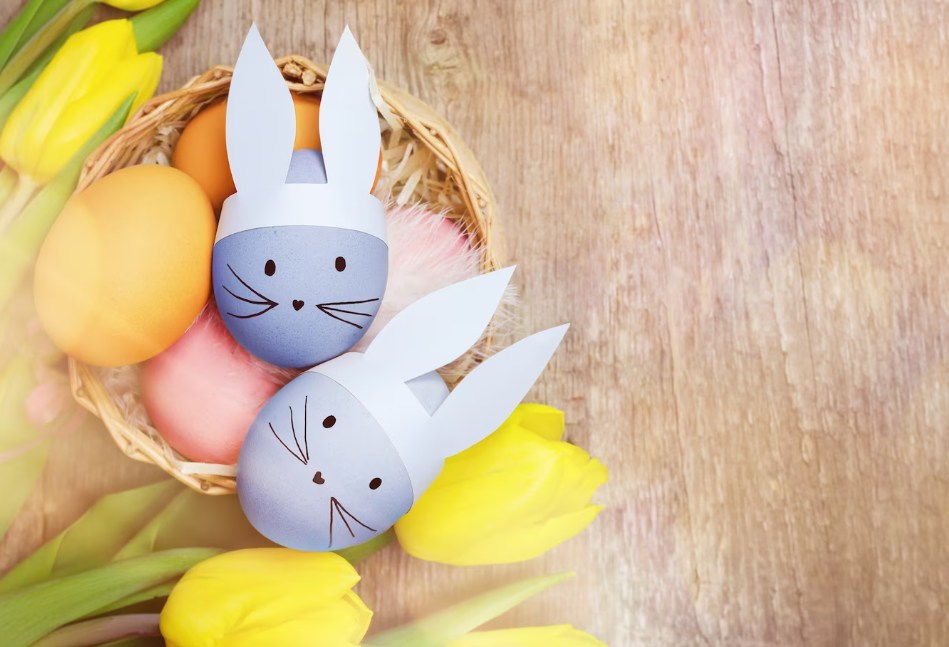 Make cute and functional bunny egg holders by cutting bunny shapes from colored paper. Fold the paper to create a stand for the eggs. Decorate the bunnies with facial features.
17) Bunny Treat Jars
Create adorable bunny treat jars using a clean glass jar. Paint it in pastel colors or cover it with patterned paper. Attach bunny ears to the lid and decorate the jar with googly eyes, a nose, and whiskers. Fill it with treats or small gifts.
18) Bunny Sun Catchers
Create delightful bunny sun catchers by cutting out bunny shapes from colorful tissue or translucent craft paper. Attach them to clear plastic or contact paper. Thread a string through a hole at the top for hanging. Place the sun catchers near a window or in a sunny spot to let the light shine through, creating a beautiful glow.
Related Reading: Best DIY Halloween Craft Ideas for Kids
19) Bunny Windsocks
Create a charming bunny windsock by cutting out a bunny shape and decorating it with facial features. Attach strings or ribbons to create flowing tails. Hang the bunny on a long string or ribbon outdoors. Watch as the wind makes it sway and dance, adding joy to your space.
20) Bunny Clay Pot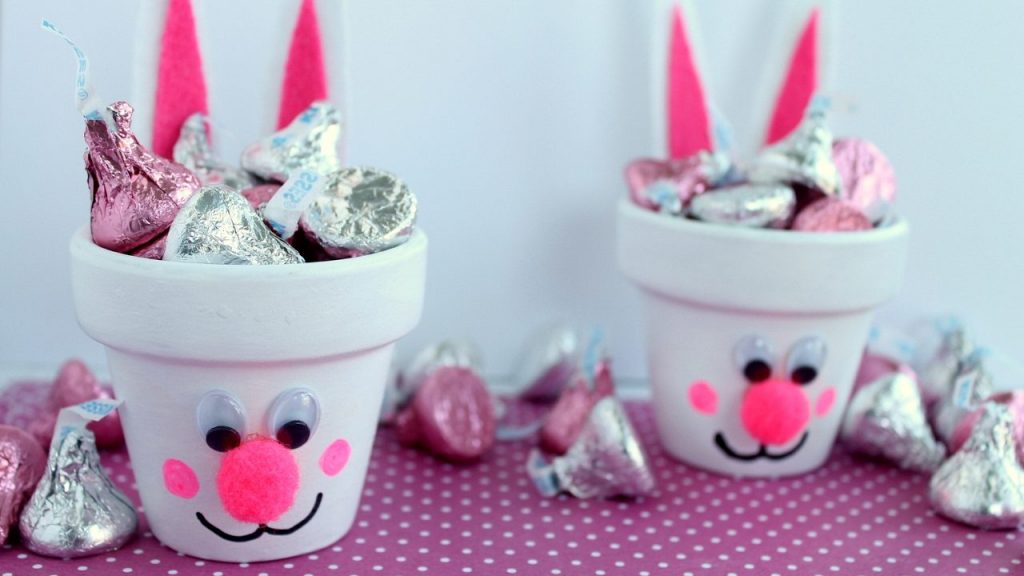 Create a charming bunny clay pot by painting it in your desired color. Once dry, add facial features like eyes, a nose, and whiskers with additional paint. Attach bunny ears made from colored paper or craft foam to the pot's rim. Add extra decorations like a bow or flowers for flair.
21) Bunny Fridge Magnets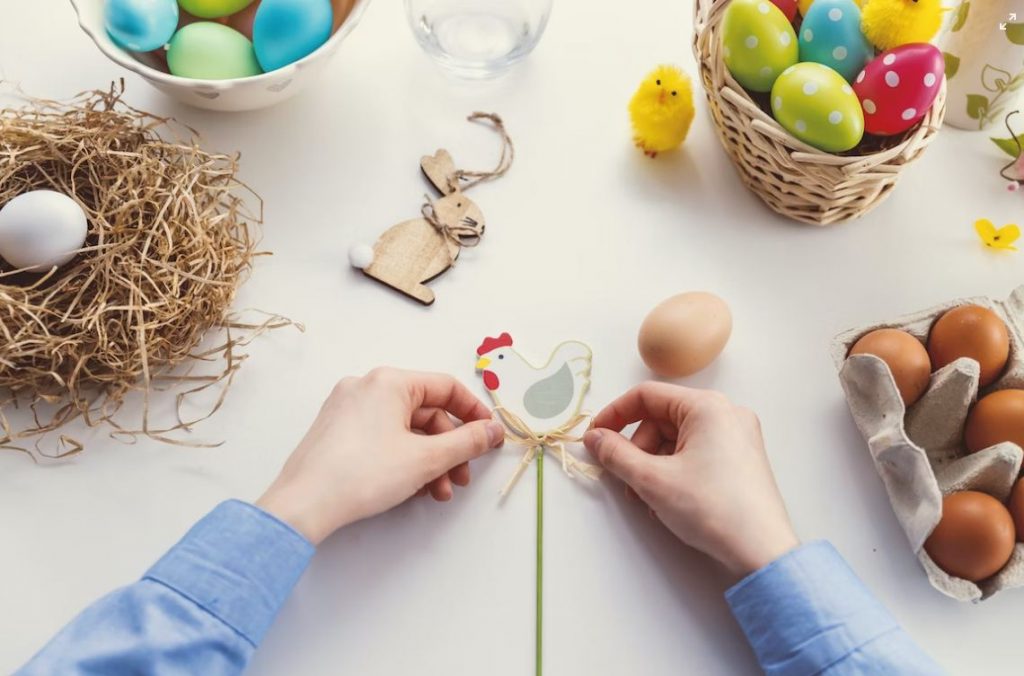 Create cute bunny fridge magnets using colored foam or felt. Decorate them with googly eyes, a nose, and whiskers. Attach magnets to the back and place them on your fridge for a whimsical touch.
22) Bunny Rock Painting
Have fun with bunny rock painting! Clean rocks and paint bunny faces or full designs on them using acrylic paint or markers. Add charming details like bows or flowers. Once dry, display them in your garden or use them as paperweights.
23) Bunny Clothespin Clips
Create cute and functional bunny clothespin clips by painting wooden clothespins in pastel colors. Add bunny features and attach bunny ears. Use them to hold notes, photos, or lightweight items.
24) Bunny Paper Fans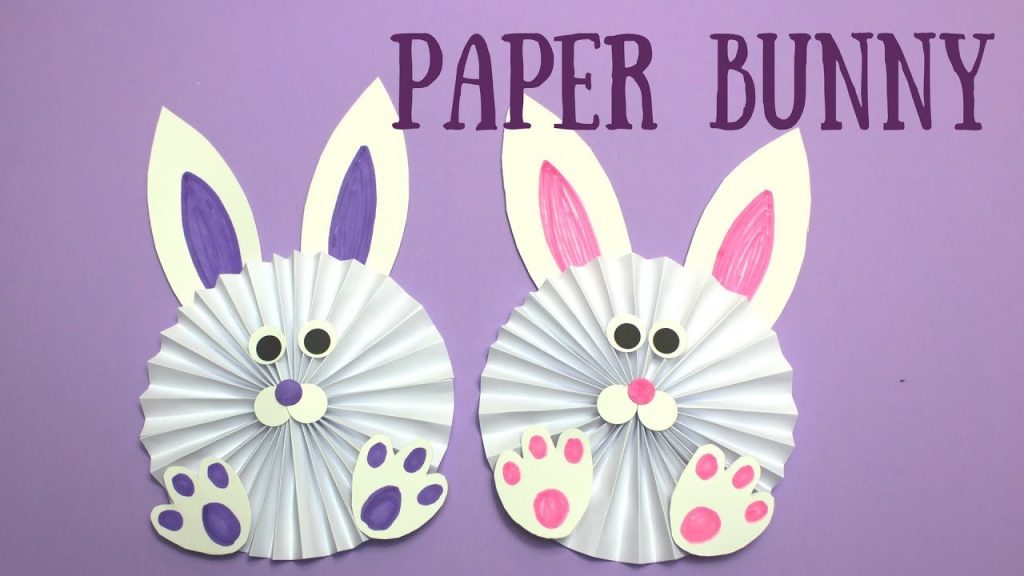 Create adorable bunny paper fans by folding paper accordion-style. Attach bunny ear shapes to one end and spread out the folds to reveal the bunny fan shape. Add facial features for a complete look.
25) Bunny Button Art
Create charming bunny button art by arranging colorful buttons on a canvas or cardstock. Draw a bunny shape as your guide and glue the buttons onto the canvas. Add details like eyes, a nose, and whiskers.
26) Bunny Straw Toppers
Create cute bunny straw toppers by cutting bunny shapes from colored paper. Add facial features using markers or cut-out pieces of paper. Make a small slit in the center to slide the straw through. Attach the bunny topper to the straw for a whimsical touch.
Related Reading: Fun & Unique Thanksgiving Crafts For Your Kids
27) Bunny Paper Weaving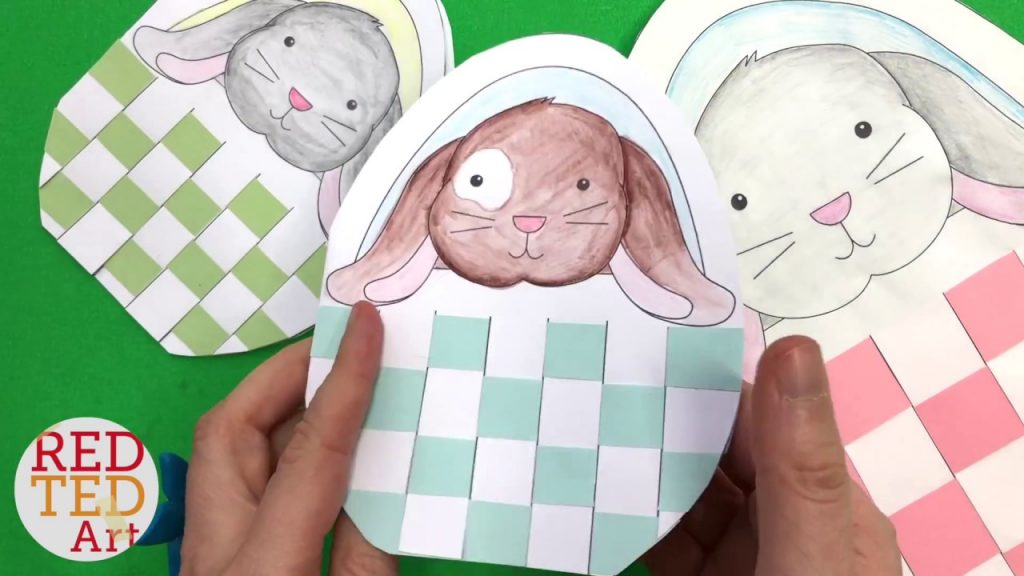 Create a fun bunny paper weaving craft by cutting out a bunny shape from cardstock. Make evenly spaced slits along the body for weaving. Cut colored paper strips and weave them through the slits, alternating colors for a pattern. Trim and secure the ends.
28) Bunny Popsicle Stick Puzzle
Create a playful bunny popsicle stick puzzle by painting or decorating popsicle sticks in various colors. Glue them together in a grid pattern to form a base. Cut a bunny image into pieces according to the grid and mix them up.
29) Bunny Mobile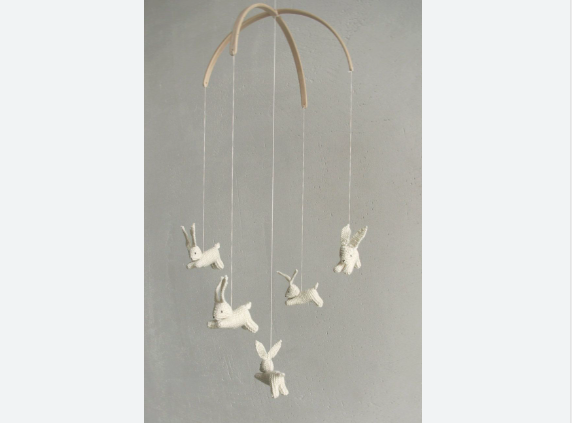 Create a charming bunny mobile by cutting bunny shapes from colored paper or cardstock. Attach the bunnies to strings or ribbons, spacing them out at different lengths. Hang them from a circular base.
30) Bunny Paper Lanterns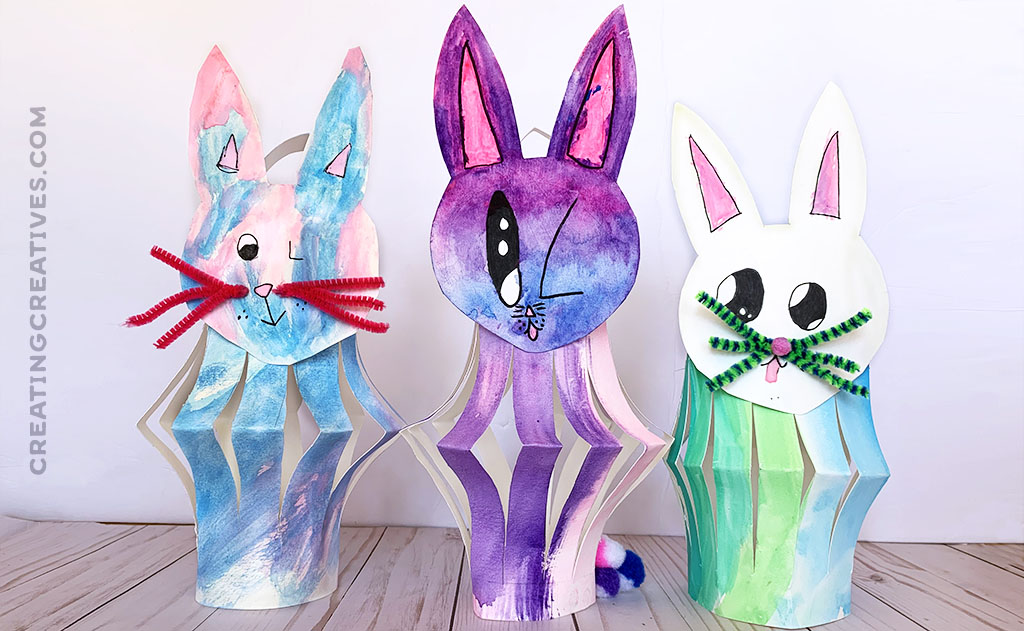 Create charming bunny paper lanterns by cutting bunny shapes from colored paper or cardstock. Attach the shapes to a paper lantern using glue or tape. Add details like eyes, a nose, and whiskers. Hang the lanterns.
31) Bunny Bookmark Corner
Create a cute bunny bookmark corner by folding colored paper. Fold a square diagonally to form a triangle, then fold the bottom edge up and the side corners inward for bunny ears. Decorate with facial features and use it to mark your spot in a book.
32) Bunny Pencil Holder
Create a cute and practical bunny pencil holder for your desk. Paint a cylindrical container in a pastel color and add bunny features like eyes, nose, and whiskers. Attach bunny ears on top. Fill it with pencils.
33) Bunny Tic-Tac-Toe
Play Bunny Tic-Tac-Toe, a cute twist on the classic game. Draw a grid and cut out bunny shapes as game pieces. Take turns placing your bunnies on the grid to get three in a row and win.
34) Bunny Button Bracelet
Create a charming Bunny Button Bracelet using colorful buttons and string. Thread buttons onto elastic or string, alternating colors and sizes to create a pattern. Tie the ends together to secure the bracelet.
35) Bunny Sensory Bin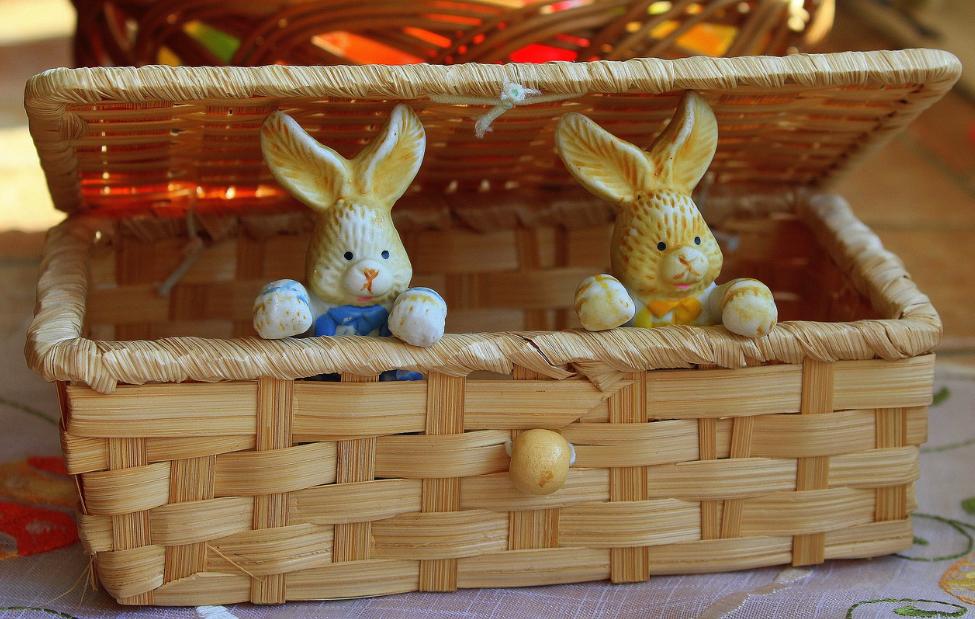 Create a delightful Bunny Sensory Bin for engaging play. Fill a shallow container with a base material like rice or sand. Add soft pom-poms, plastic eggs, textured fabric, and bunny-shaped toys
Related Reading: Best Handmade "Grandparents Day" Craft Ideas for Kids in 2023 
36) Bunny Bottle Cap Stamps
Create Bunny Bottle Cap Stamps using clean and empty bottle caps. Dip the bottom of a bottle cap into paint or an ink pad and press it firmly onto paper to create a bunny-shaped stamp. Repeat with different colors for variety. Use your bunny bottle cap stamps to decorate cards, gift wrap, or crafts.
37) Bunny Marshmallow Pops
Make Bunny Marshmallow Pops by inserting a lollipop stick into a marshmallow. Dip it in melted white chocolate or candy melts. Attach candy eyes, a pink nose, and chocolate ears.
38) Bunny Thumbprint Art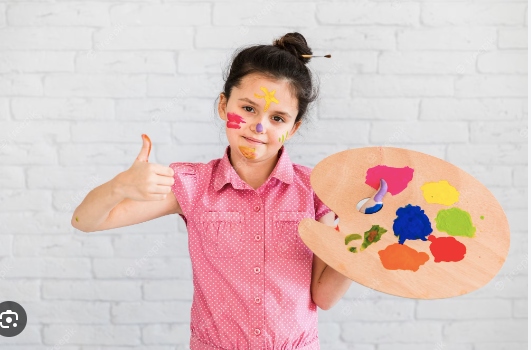 Create adorable Bunny Thumbprint Art by dipping your thumb in paint or ink. Press it on paper to make a round shape. Add bunny details with a marker.
39) Bunny Paper Bag Pinata
Create a Bunny Paper Bag Piñata for festive fun. Decorate a paper bag as a bunny face. Fill it with treats and seal it. Hang it up and take turns hitting it with a stick. Enjoy the excitement as treats are released.
40) Bunny Paper Plate Tambourine
Create a Bunny Paper Plate Tambourine for fun and music. Decorate a paper plate as a bunny face. Attach jingle bells to another plate. Secure the plates together. Shake to make rhythmic sounds.
41) Bunny Finger Painting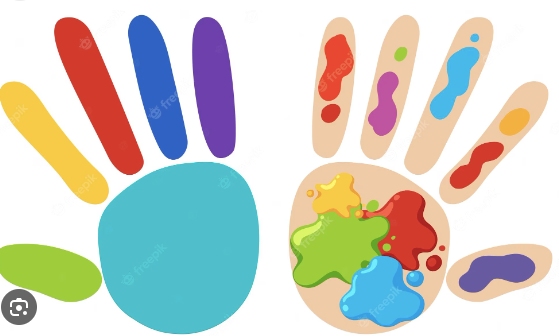 Bunny finger painting is a fun and creative activity. Lay a canvas or paper flat and pour paint onto a palette. Use your fingers to create bunny shapes and add details. Experiment with colors and techniques. Let it dry before displaying.
42) Bunny Egg Carton Garland
Bunny Egg Carton Garland is a festive and eco-friendly craft for Easter. Cut out egg carton cups, paint them, and add bunny features. String them on a twine or ribbon to create a garland.
43) Bunny Balloon Animals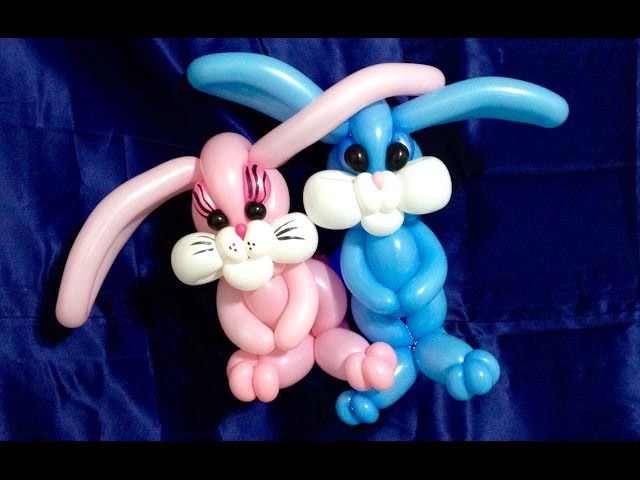 Bunny balloon animals are charming creations made by twisting and shaping balloons. Inflate a long balloon, leaving a small portion for the tail. Twist and shape the balloon to create the head and ears, adding details like eyes, nose, and mouth. Secure the tail and enjoy your adorable bunny balloon.
44) Bunny Paper Lantern Hats
Bunny paper lantern hats are whimsical accessories made from paper and craft supplies. Create a cone shape and decorate it with bunny features like ears, eyes, and nose. Attach the bunny ears securely and form the hat shape. Add a string or elastic band to secure it.
45) Bunny Egg Carton Masks
Bunny Egg Carton Masks are adorable craft projects that turn egg cartons into charming masks. Decorate them with paint and markers, adding details like bunny ears and whiskers. Attach a string or elastic band for wearing.
Related Reading: Awesome Ideas for Summer Craft for Preschool Kids
46) Bunny Egg Decoration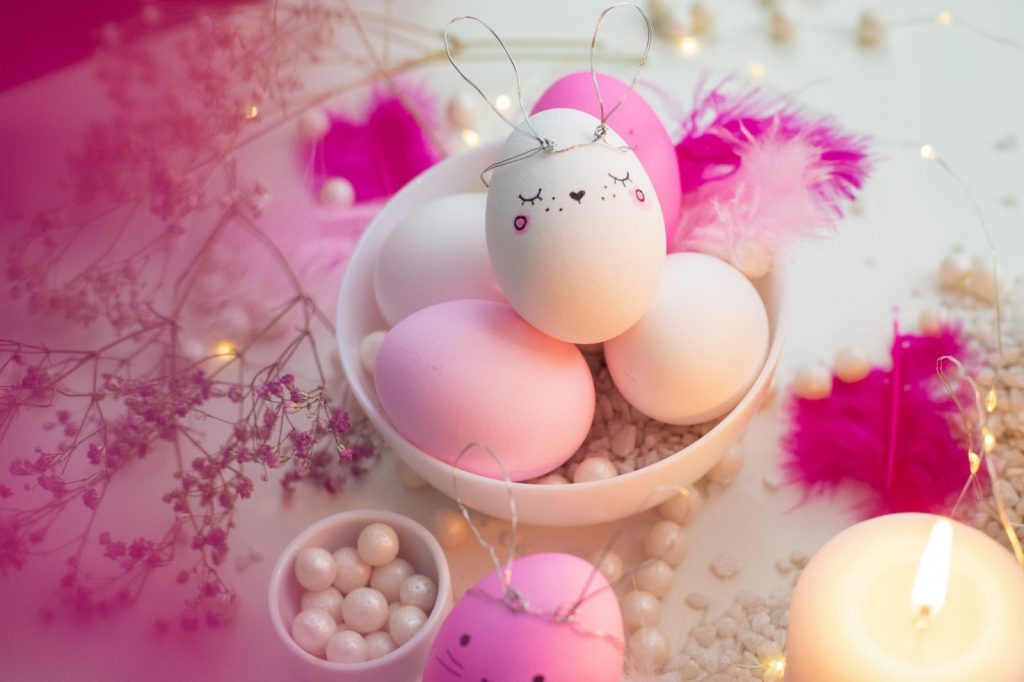 Bunny Egg Decoration is a fun Easter activity. Use paint, markers, and stickers to create adorable bunny designs on eggs. Add whiskers and bunny ears for extra cuteness.
47) Bunny Yarn Crafts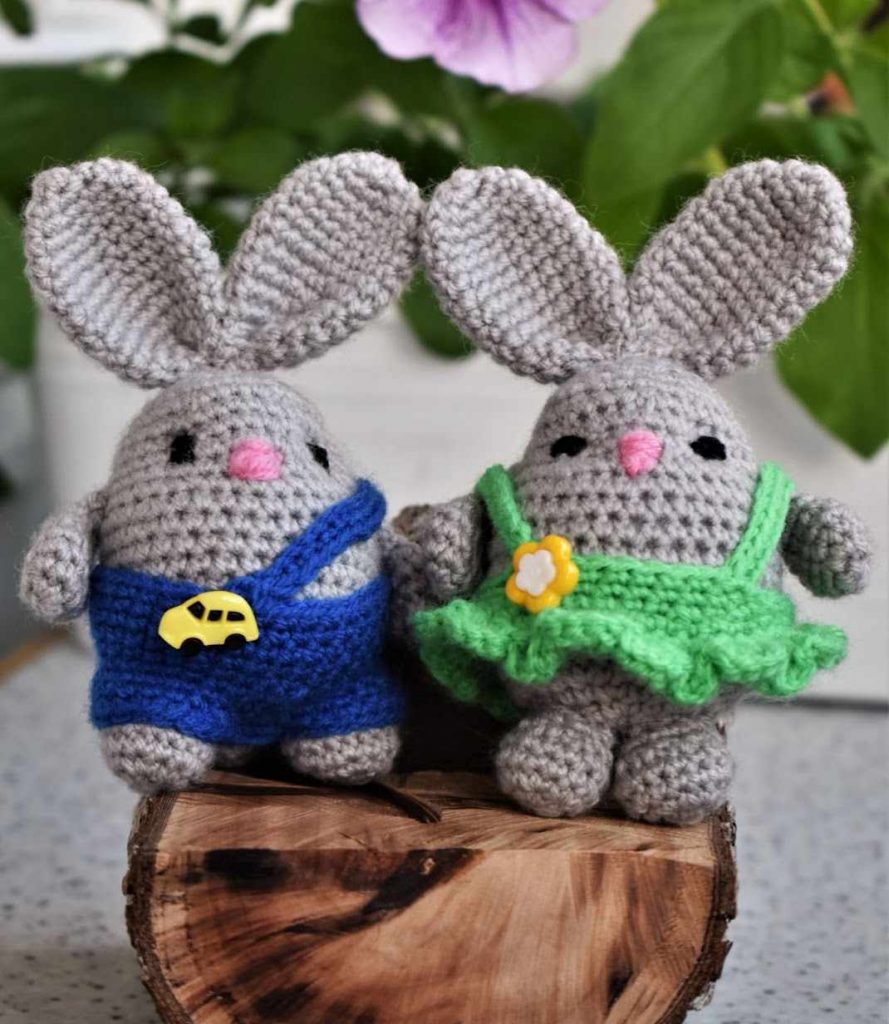 Bunny Yarn Crafts are adorable projects using yarn to make cute bunny creations. Make pom-pom bunnies or yarn-wrapped bunnies with cardboard cutouts.
48) Bunny Pom-Pom Garland
The Bunny Pom-Pom Garland is a charming decoration that adds a festive touch to any Easter celebration. It is made by creating small pom-poms using yarn in various colors, and then stringing them together to form a garland.
49) Bunny Cardboard Tube Characters
Bunny Cardboard Tube Characters are adorable crafts made from recycled materials. Decorate cardboard tubes with paper, markers, and craft materials to create cute bunnies.
50) Bunny Shaving Cream Art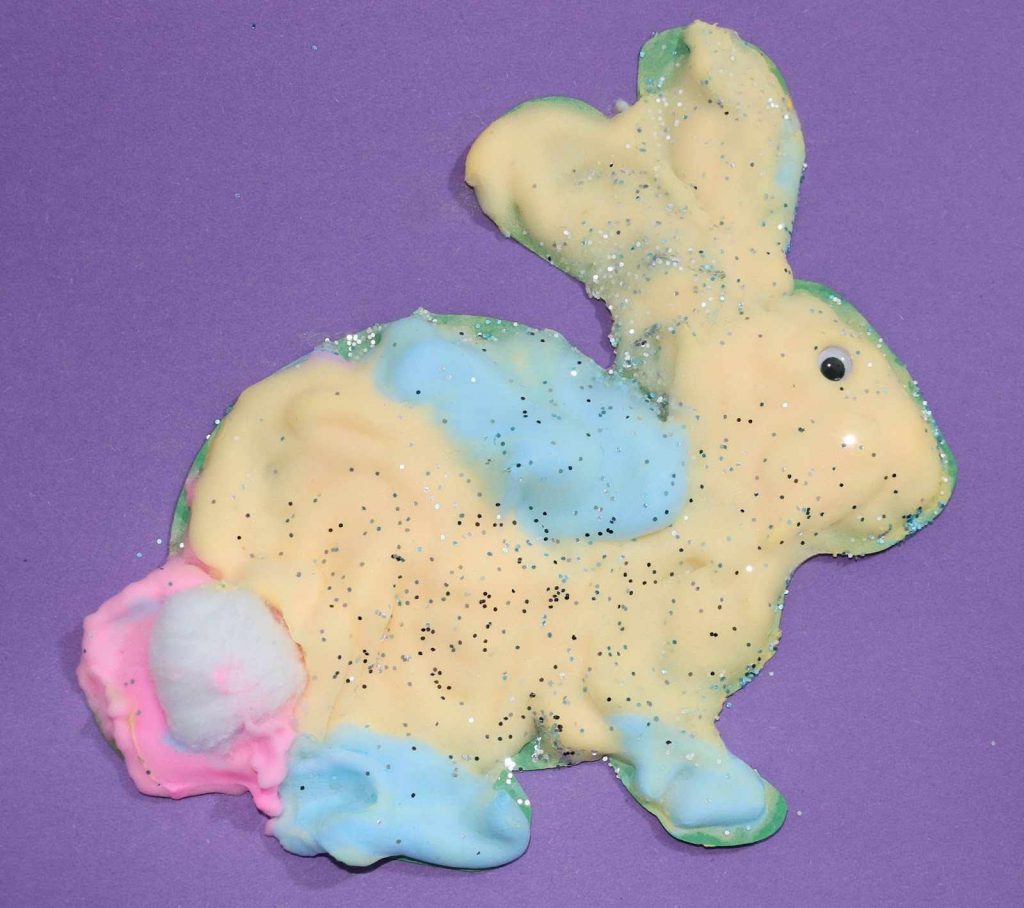 Bunny Shaving Cream Art is a fun and colorful activity for kids. Apply shaving cream, add colors, swirl them, and place a bunny-shaped template. Lift the template to reveal a vibrant bunny design.
51) Bunny Collage Eggs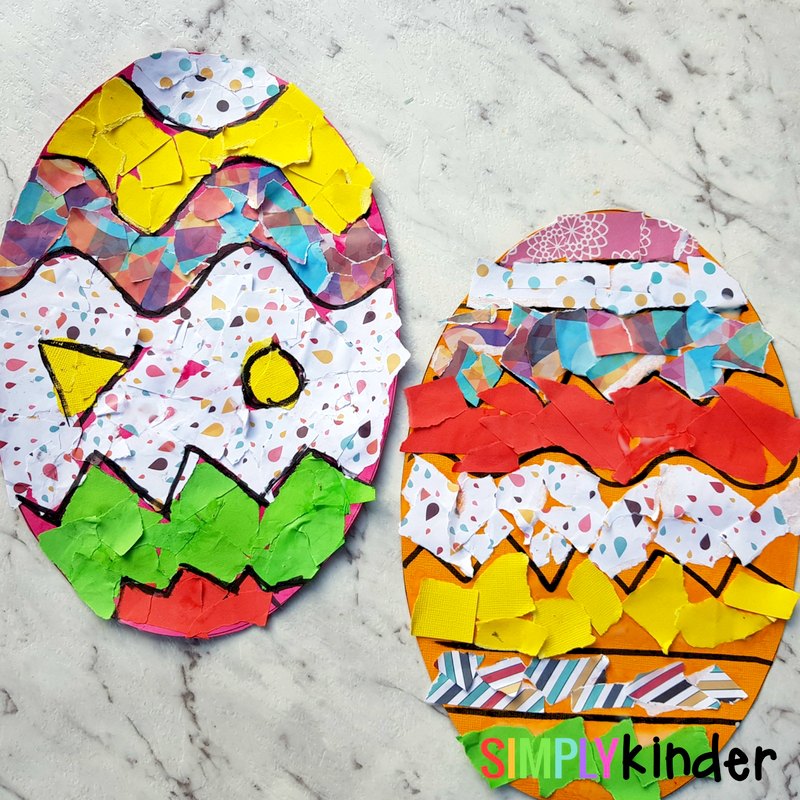 Bunny Collage Eggs are a fun Easter craft. Cut egg shapes and gather materials like tissue paper, scraps, cotton balls, and pom-poms. Glue them onto the eggs to create textured collages. Add bunny details for cute faces.
52) Bunny Hand Puppets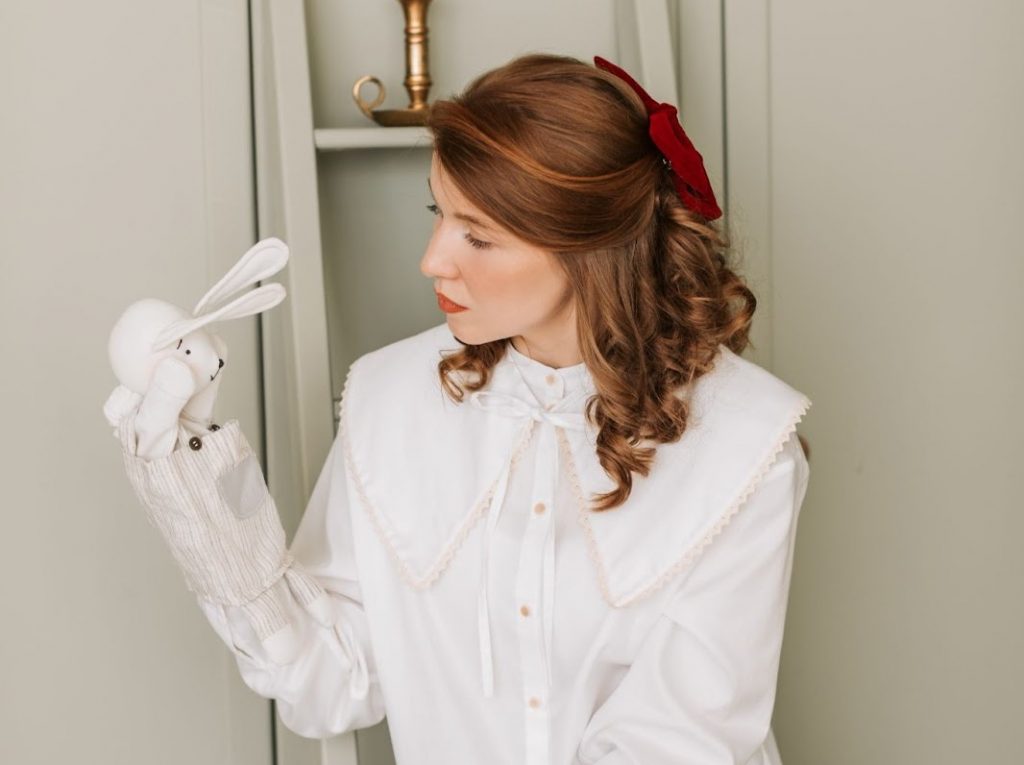 Bunny Hand Puppets are adorable and interactive toys that let children bring bunnies to life. Made from soft and colorful fabrics, these puppets feature bunny designs with ears, eyes, and a cute face. Simply slip your hand inside the puppet to control its movements and create imaginative play scenarios.
Related Reading: Christmas Crafts Ideas for Kids in 2023
53) Bunny Cupcake Toppers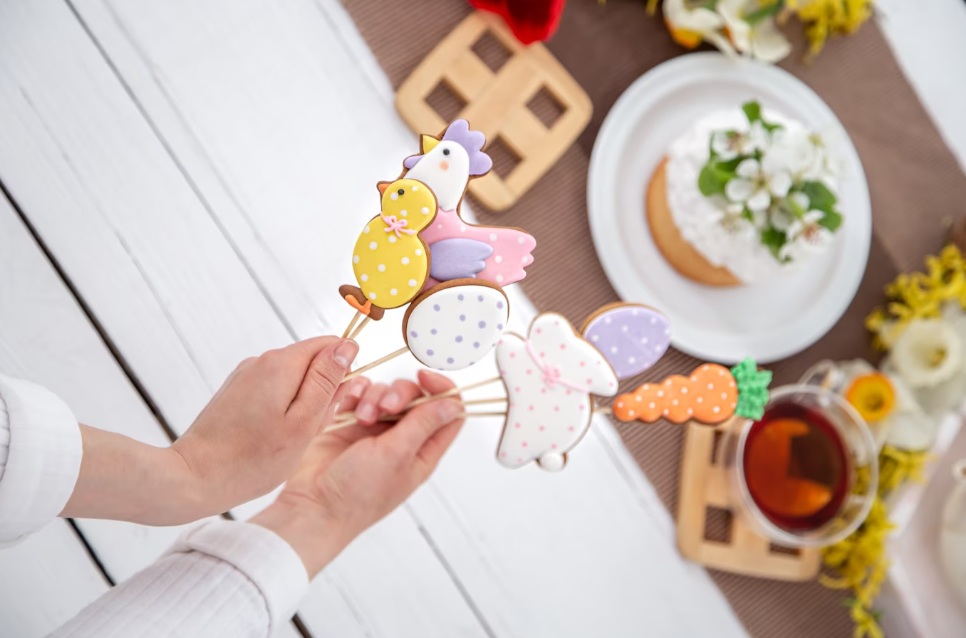 Bunny Cupcake Toppers are typically made from paper or cardstock and feature bunny shapes with details like ears, eyes, and a nose. Attach toothpicks or skewers. Simply insert them into the top of cupcakes to instantly transform them into adorable bunny themed treats.
54) Bunny Paper Cup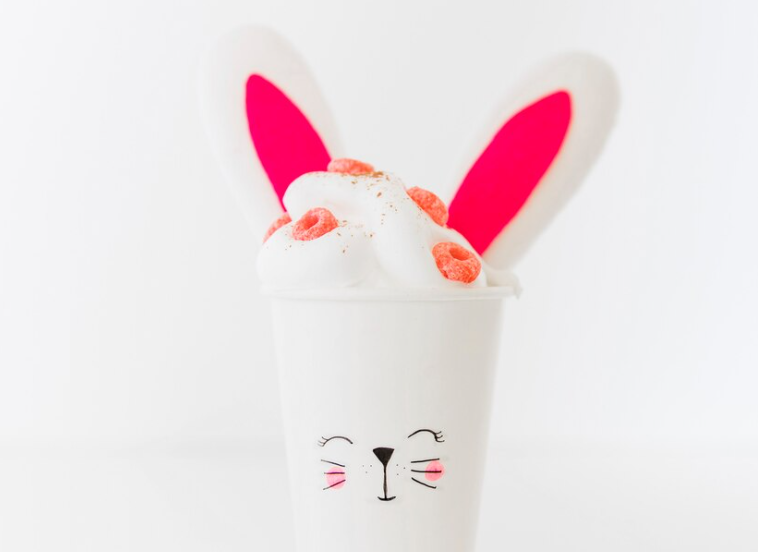 Bunny Paper Cup is made by decorating a paper cup with bunny features like ears, eyes, and a nose, it can be transformed into an adorable bunny face.
55) Bunny Easter Wreath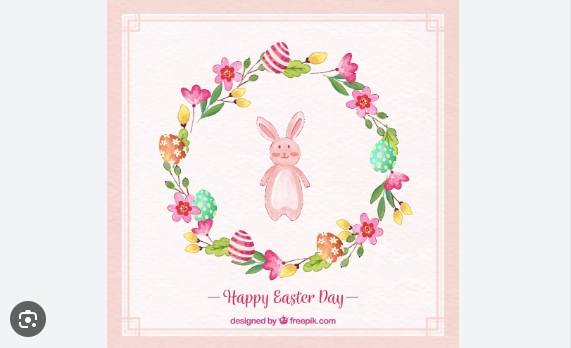 Bunny Easter Wreath involves creating a wreath using a circular base, such as a foam or wire wreath form, and decorating it with bunny-themed elements. These can include bunny cutouts, colorful Easter eggs, flowers, ribbons, and other embellishments.
Related Reading: 10-Minute Best Crafts for Kids to Make at Home
Conclusion
In a crux, these Easter bunny arts and crafts are a delightful way to celebrate the joy and magic of the holiday season. From adorable paper plate bunnies to whimsical pom-pom garlands, these crafts offer endless opportunities for creativity and fun.
Whether you're crafting with kids, looking for festive decorations, or simply wanting to embrace the spirit of Easter, these bunny-themed projects are sure to bring a smile to your face and fill your home with warmth and charm.
So gather your craft supplies, unleash your imagination, and let the Easter bunny inspire you to create beautiful, handmade treasures that will be cherished for years to come. Happy crafting and a hoppy Easter!
Frequently Asked Questions (FAQs)
Why is bunny used for Easter?
Easter is the day Jesus Christ got resurrected. Eggs and rabbits, associated with fertility, are therefore the perfect symbols for rebirth or easter resurrection.
Are there any Easter bunny crafts that can be made with recycled materials?
Yes, there are several Easter bunny crafts that can be made with recycled materials. Examples include egg carton bunnies, bunny paper bag puppets, and bunny cardboard tube characters.
Are there any Easter bunny crafts suitable for beginners?
Yes, crafts like bunny paper plate basket, bunny greeting cards making, and bunny collage eggs involve basic techniques and material and therefore are suitable for beginners.