As students enter the door of their new class after a long vacation, the welcome note on it can fill them with joy and excitement. Simple classroom door decoration ideas can make them ready for new experiences and also help them forget the pain of separating from their friends in the new session!
SplashLearn: Most Comprehensive Learning Program for PreK-5

SplashLearn inspires lifelong curiosity with its game-based PreK-5 learning program loved by over 40 million children. With over 4,000 fun games and activities, it's the perfect balance of learning and play for your little one.
Try for free
Classroom door decorations serve as visual cues to create an engaging and stimulating learning environment, fostering students' creativity and enthusiasm. They also reflect themes of study, seasons, or celebrations, enhancing a sense of belonging and community within the classroom. Overall, these decorations contribute to a positive atmosphere conducive to effective teaching and learning.
Related Reading: Best Classroom Decoration Ideas for Teachers
Why Do Classroom Door Decorations Matter?
When it comes to making an effective learning environment, every nook and cranny counts. Classroom door designs seem like a minor thing, but it leaves a great impact on students' learning experiences. From making kids feel a greater responsibility for their learning to heightening their class memory, it's our responsibility to create an environment that is warm and welcoming. It can help set a good first impression on children who will look forward to coming to school every day.
School refusal refers to a child's unwillingness to go to school. According to the National Library of Medicine, "Approximately 2% to 5% of all school-aged children experience school refusal."
With such an unpleasantly high number of children who do not want to go to school, it is our duty as parents and teachers to make school comfortable and seamless for children who are starting a new school year. The classroom is the gateway to knowledge and inspiration, and by turning it into a vibrant and creative space, teachers can make children feel welcomed alongside opening the horizons of education for them.
But how do we, as parents and teachers, make it easy for children to look forward to an exciting year filled with memories and wisdom? From adding motivational messages to creating cool DIYs, the potential for creativity is endless when it comes to decorating welcome classroom doors. This article will lead you to fun classroom door decoration ideas so you can transform the classroom into a masterpiece of education and inspiration.
Related Reading: Classroom Organization Ideas to Make Teaching Productive
50 Creative and Inspirational Classroom Door Decoration Ideas for Teachers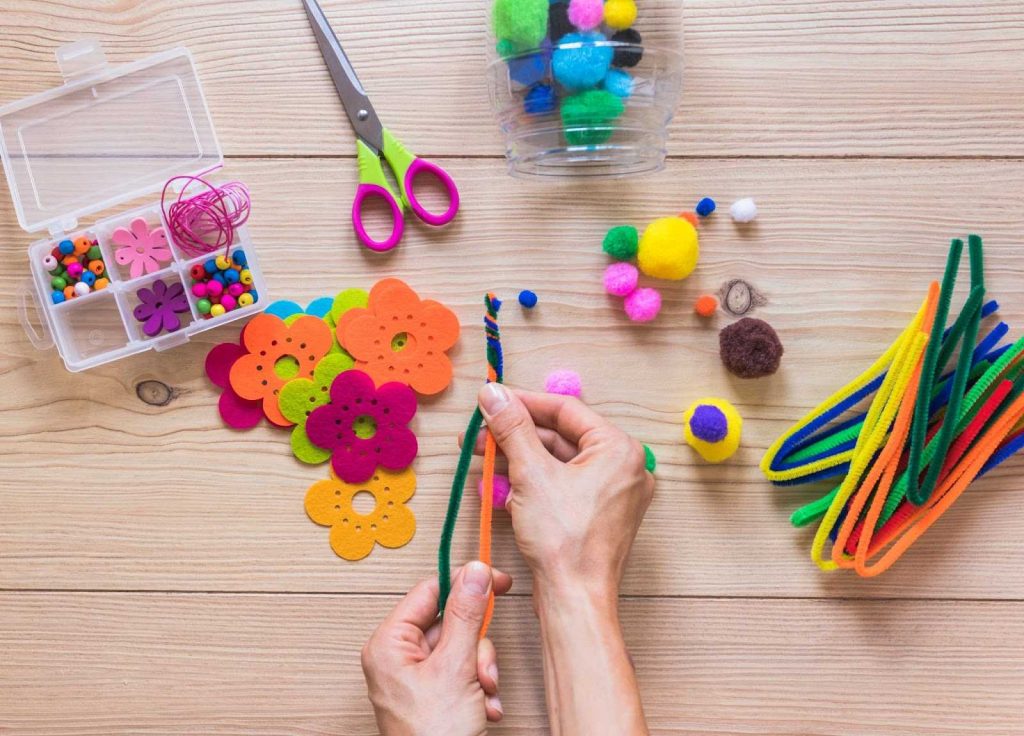 Classroom doors act as a welcoming portal and a canvas for creativity. From infusing the learning environment with warmth and excitement to offering opportunities for both students and teachers to unite and celebrate the spirit of education, it helps to kick off the year with a bang by opening doors of imagination and setting the tone for the rest of the time ahead.
Let's explore various delightful themes for your classroom door ideas for the beginning of the year!
10 Colorful and Fun Door Themes
Starting a new school year is as much fun for teachers as it is for students. With these classroom door ideas, you can surely add a bright smile to children's faces and spark creativity in the classroom. By setting a bright environment, your students will feel cheerful and welcomed. Let's jump right into the fun and colorful ideas with "back to school door decorations"!
1. 'Travel the World' Door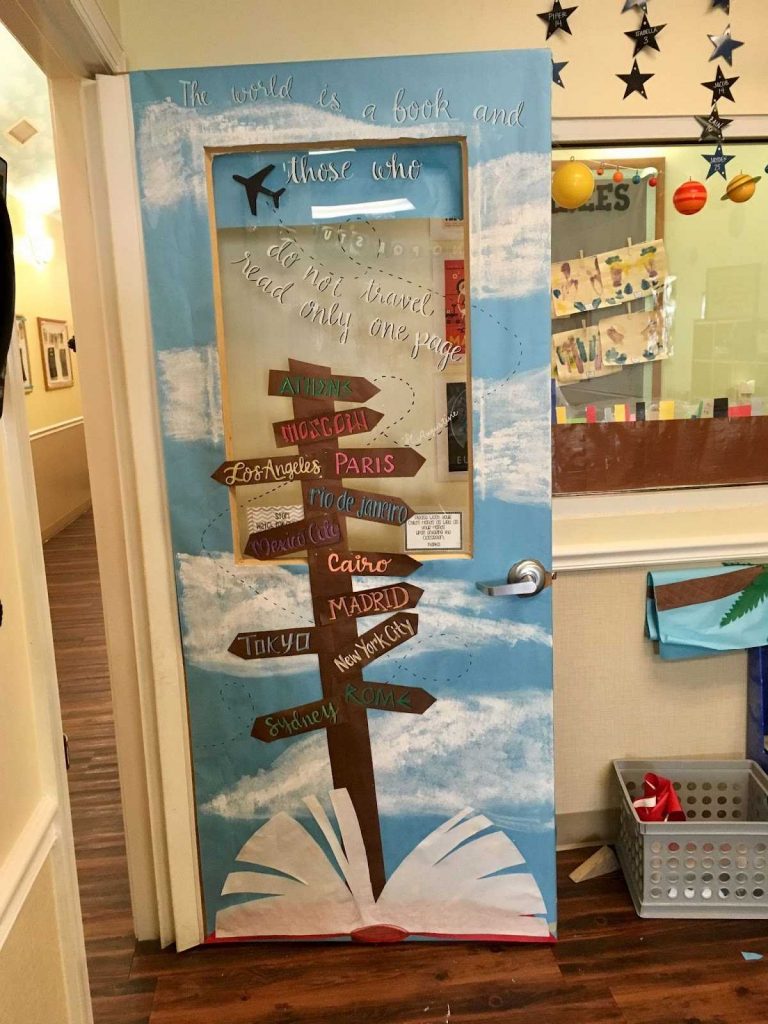 Source: @sherlockelly
2. 'Outer Space Exploration' Door
Transform your door into a world map with a travel-themed backdrop. Add mini paper suitcases, airplanes, passports, and landmarks like Eiffel Tower or pyramid cutouts sharing exciting facts or trivia about each location. Inspire students to explore different cultures and countries.
Design a door that resembles galaxies and space with mini paper rockets, astronauts, a spaceship, and fun and friendly alien cutouts. Blast into outer space with a door that displays famous constellations and their names, encouraging students to learn about the stars.
3. 'Pirate Adventure' Door
Explore the world of pirates through pictures and language. Add pirate-themed props such as an eye patch, a cutlass, a spyglass, a captain's hat, a colorful paper parrot, cannonballs, and barrels to the door.
4. 'Sports Fanatic' Door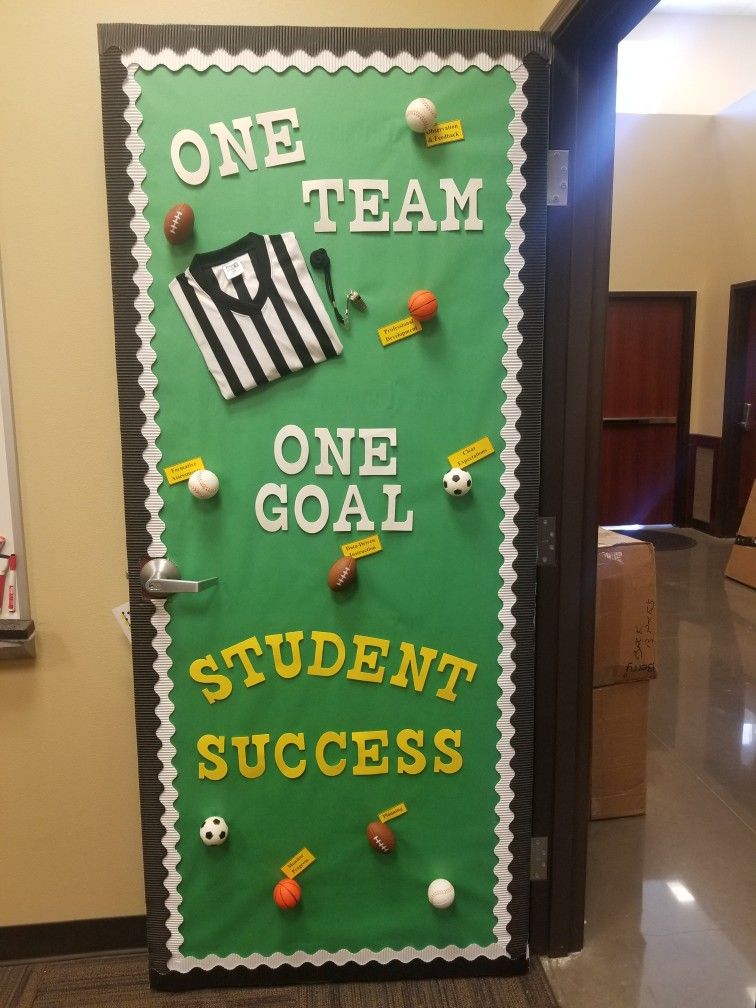 Source: @ald2840
Decorating your door with a backdrop that resembles a sports field or arena. Add mini craft sports equipment cutouts, such as balls, bats, basketball hoops, or soccer goals. Show team spirit by displaying a mini scoreboard, team names, mascots, or motivational phrases.
5. 'Magical Kingdom' Door
Create a magical door with a background that resembles a mystical sky or fairytale. Invite your students into a world of wonder with colorful magic portals with castles, swirls, stars, and mythical creatures like unicorns, dragons, and fairies.
6. 'Musical Melodies' Door
Design a door with a musical patterned or solid-colored backdrop that encourages learning, memory, and creativity. Showcase the love for music by adding musical instrument cutouts, musical symbols like treble clefs, quarter notes, and eighth notes, or mini paper instrument shapes like pianos, guitars, violins, and drums.
7. 'Carnival Fun' Door
Turn your door into a mini carnival with a bright and lively backdrop. Draw or cut out a large Ferris wheel on the door featuring colorful balloons, games, and even prizes. Encourage your students for a carnival of learning with a positive and welcoming environment that sets a joyful and festive tone for the new school year.
8. 'Robot and AI Revolution' Door
Give the doors a techie look filled with robots. Use cutouts, drawings, metallic paper or foil, and craft googly eyes on each robot's head. Go all in by setting an innovative tone for the upcoming year.
9. 'Under the Sea Adventure' Door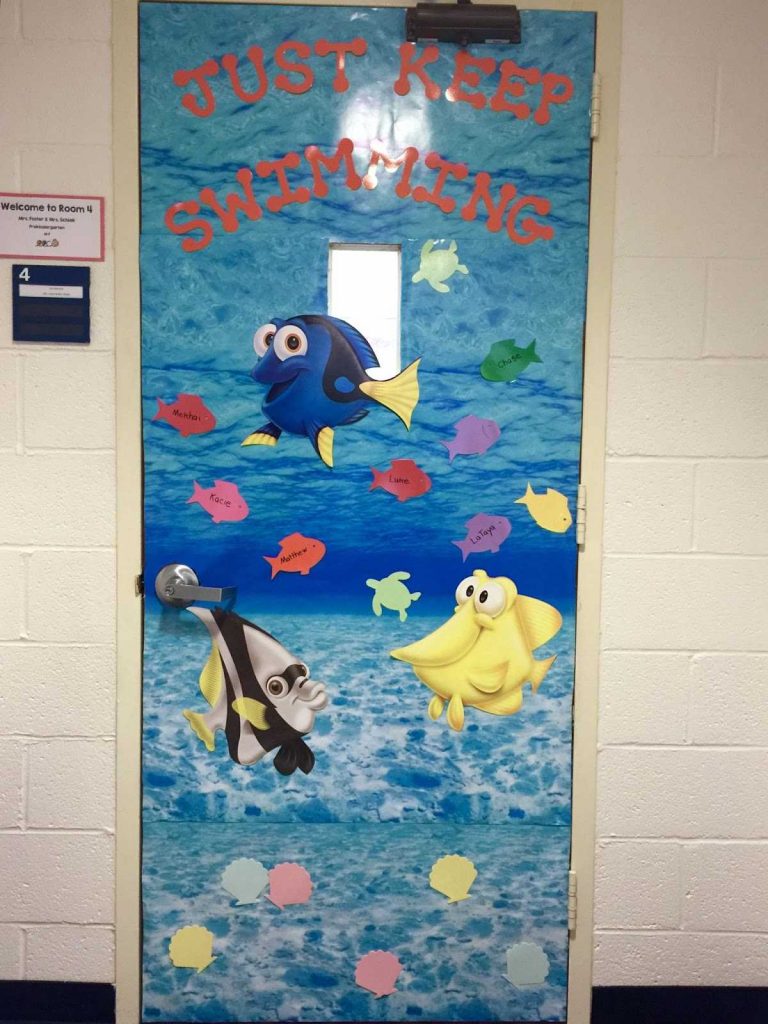 Source: @Comeawaywithmetravels
Design a door that takes the kids for an imaginative underwater dive with a deep oceanic backdrop with paper coral and seaweed cutouts that encourages imagination and curiosity. Use mini paper sea creature cutouts such as fish, dolphins, and turtles, sharing interesting facts or trivia about each species.
10. 'Time Travel Adventure' Door
With a backdrop that looks like a time machine, create a timeline that takes your students on a journey through time. Decorate your door with prints or drawings of historical events and iconic figures to engage their curiosity about the stories of the past.
After these fun learning themes, let's move on to another theme that can inspire and motivate students to never give up and keep believing in themselves.
10 Inspiring and Motivating Door Themes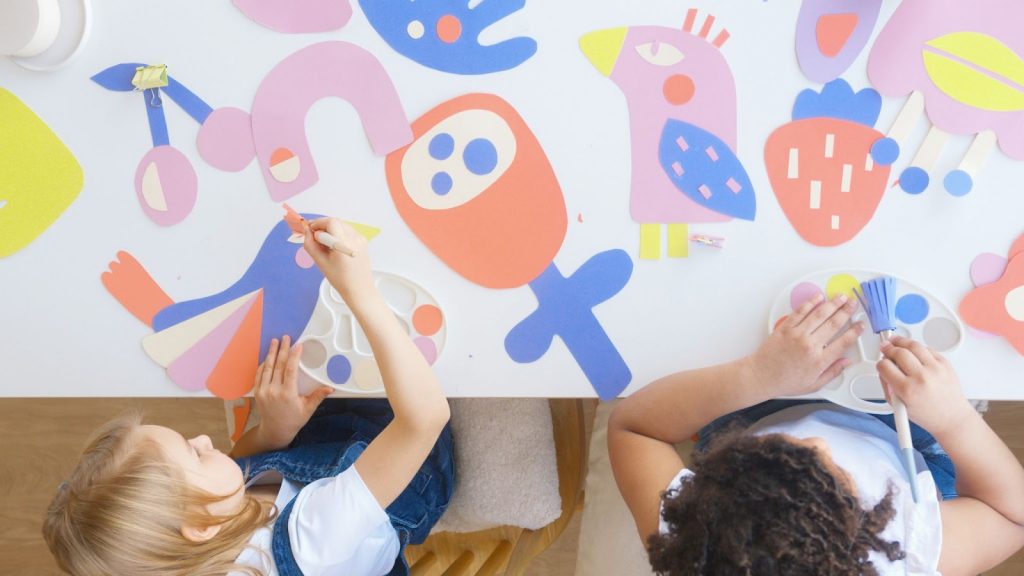 Classroom door decor is not only about aesthetics, but it is also about reaching into the hearts and minds of each student and playing a big role in shaping their attitudes, beliefs, and aspirations. Inspirational and motivational classroom door designs help in creating an uplifting environment that serves as a powerful tool and empowers students by fostering positive attitudes, perseverance, and self-belief. Here are a few teacher's door decorations ideas that are inspirational as well as motivational for each student with a unique message to instill in their young minds:
11. 'Believe in Yourself' Door
Cover the door with empowering words and phrases like "strong," "capable," and "confident, " as well as positive affirmations and quotes that encourage self-belief and confidence. Add sticky notes where students can write down things they believe in themselves and their abilities. Hang dreamcatchers, a vision board, or a journal to the door where students can write about moments they believed in themselves. It is a wonderful way to inspire and motivate students.
12. 'Be the Change You Wish to See' Door
Create a design that inspires students to act positively and make a difference. Add notes about acts of kindness they've done or plan to do. Hang cutouts of raised fists, symbolizing empowerment and activism, or clouds with students' dreams for a better world.
13. 'Spark Your Curiosity' Door
With this door display features that will ignite your students' inquisitive spirits. Invites them to dig the wonders of the unknown with a backdrop of starry night skies, nebulae, and galaxies, symbolizing the vastness of the universe. Add intriguing facts, riddles, or trivia questions with a giant magnifying glass, thought bubbles with curious expressions, colorful question marks, and puzzle pieces cutouts. Transform your classroom and create an environment that encourages students to question, explore, and cultivate their thirst for knowledge, setting them on a path of lifelong learning.
14. 'You are Capable of Amazing Things' Door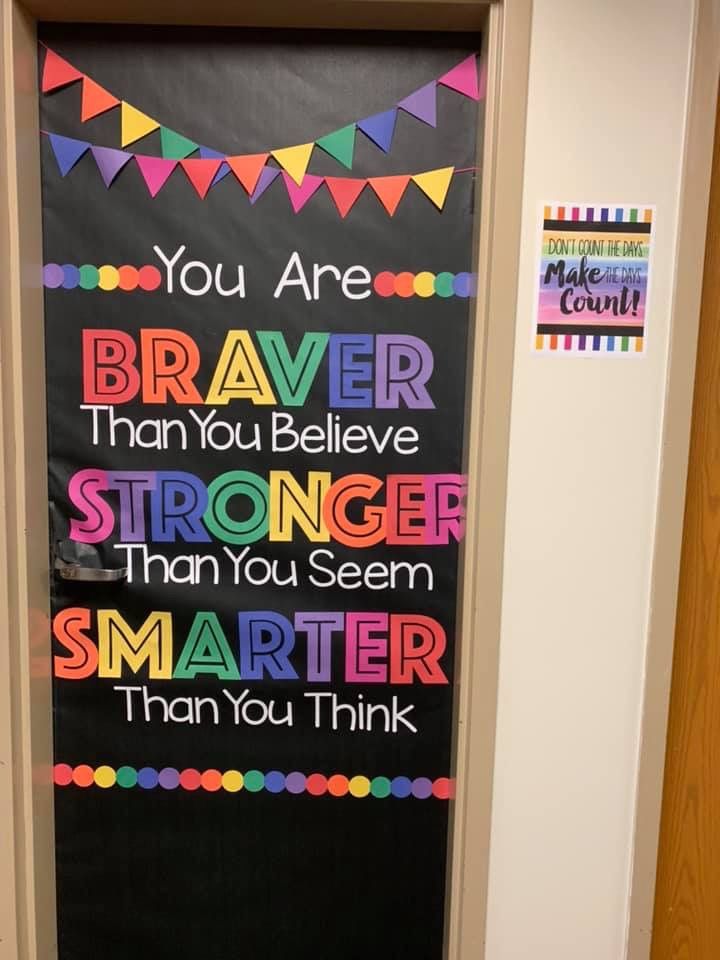 Outline the door with word clouds featuring empowering words and phrases, or add cutouts of hands holding symbols of accomplishment, like stars or diplomas. This theme can boost students' confidence on a large scale.
15. 'Pathways to Success' Door
A door that reminds students to go on a visual journey toward their goals and achievements. Each element will depict the pathways to success resembling a winding road with twists and turns. Add road signs such as "determination," "perseverance," "creativity," or "leadership". Each signifies a vital attribute or skill contributing to a path that inspires the theme to navigate challenges and strive for greatness throughout the academic year.
16. 'Dream Big, Work Hard' Door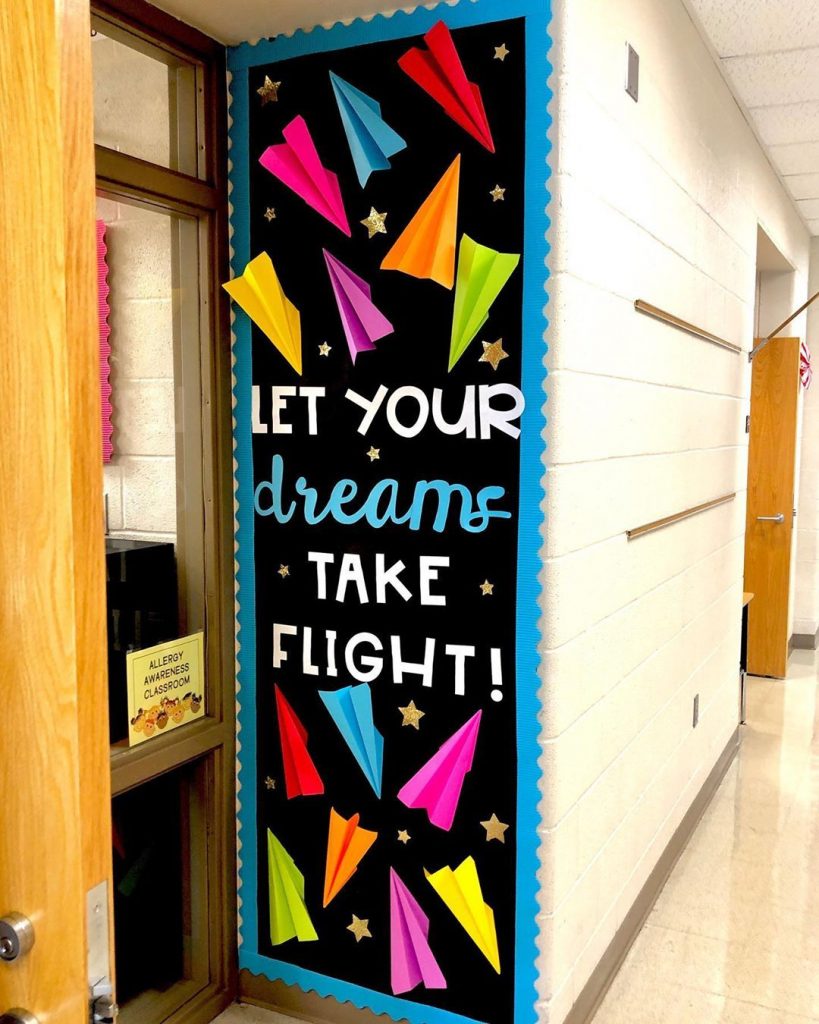 Source: @theycallmemissbear
Decorate the door that illustrates a blueprint of a student's journey from dream to achievement. Add symbols of growth, like sprouting plants or soaring birds. Hang paper stars with strings or ladder-like cutouts in the door, each representing a step toward achieving dreams.
17. 'Planting Seeds of Knowledge' Door
From seeds to blossoms, develop a sense of growth and learning in the students through the door. With a backdrop that celebrates the journey of education as a process of planting seeds that grow into a beautiful garden. Add sprouts or seeds, vibrant flowers, and green leaves to symbolize the nurturing of knowledge and exploration.
18. 'Innovate and Elevate' Door
Transform your classroom entrance that resembles innovation, creativity, and progress with modern and futuristic elements showcasing the power of thinking outside the box. Hang paper airplanes, hot air balloons, or rockets, icons of technological innovations. It celebrates the potential for growth and improvement by embracing new ideas and pushing boundaries.
19. 'Success Starts with Effort' Door
This theme inspires students to understand the significance of hard work and dedication in achieving their goals. You can create a path from the bottom to the top of the door, symbolizing the journey of effort, or illustrations of climbing a mountain, each step representing effort – like a pathway leading from doubt to the fulfillment of dreams.
20. 'Dive into Learning' Door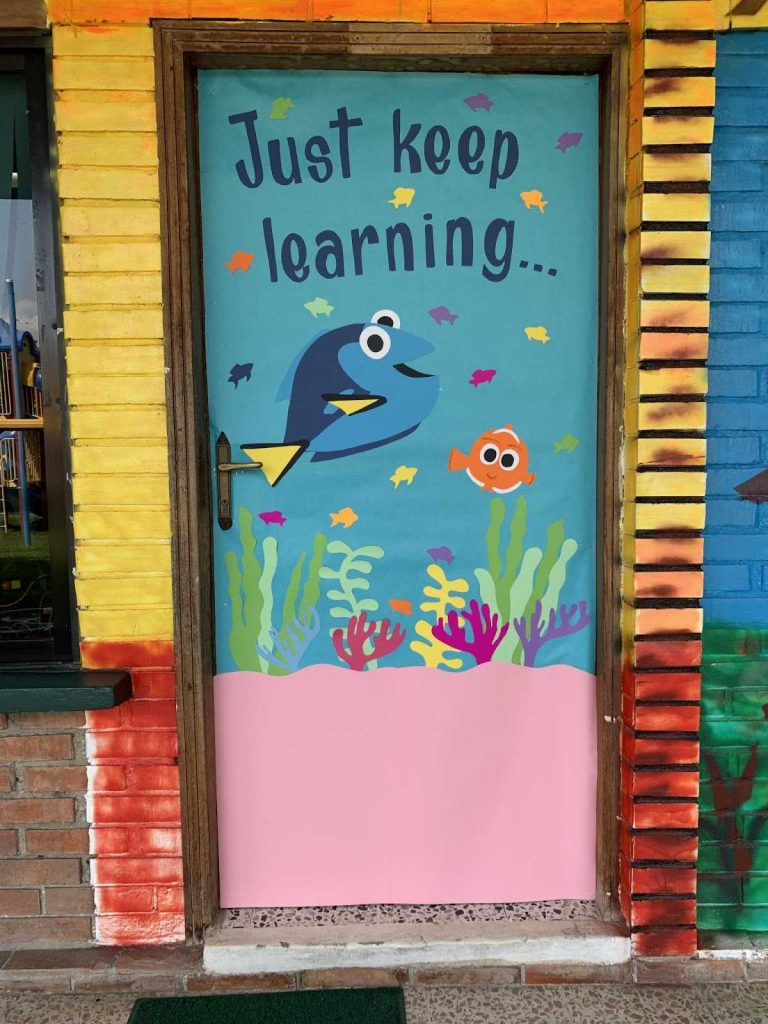 Source: @decorelover
Design the door that captures the spirit of diving into new knowledge and experiences in a world of curiosity and exploration. Transform your classroom entrance into an underwater adventure with a backdrop depicting a deep-water life scene. Attach paper cutouts of diving masks, snorkels, flippers, and marine creatures, such as dolphins, turtles, and seahorses. This door conveys the excitement of diving into new subjects, from marine life to hidden treasures.
Now let's dive into the next easy classroom door decorations that are educational and interactive to further engage students in their learning journey.
10 Educational and Playful Door Decor Ideas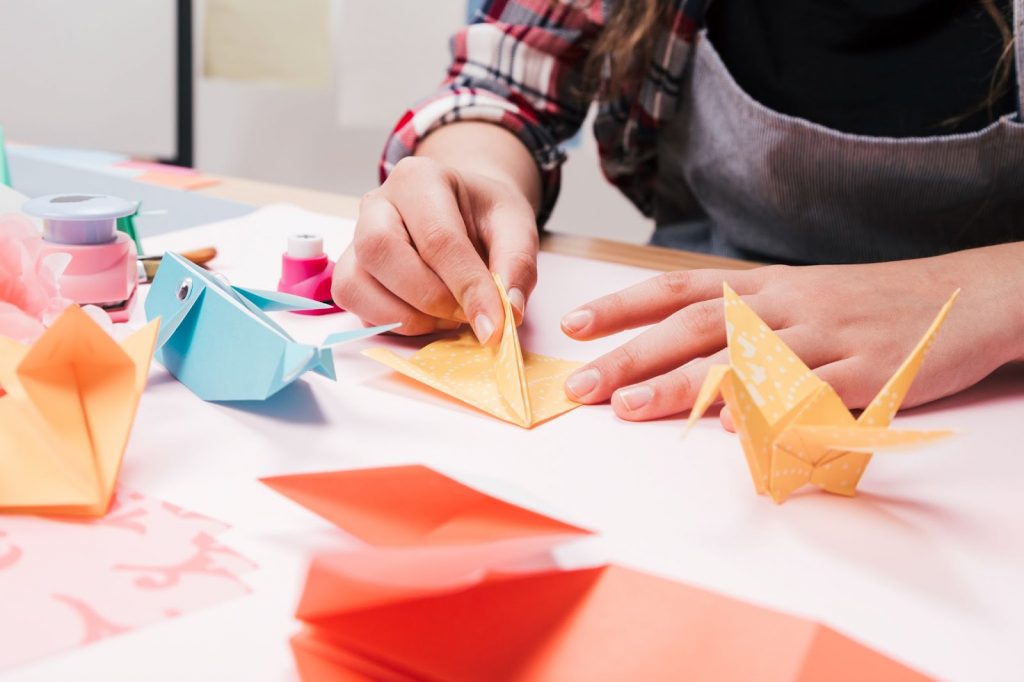 Educational and Interactive Door Decorations add an element of fun and learning to the classroom environment. These decorations engage students in interactive activities and strengthen their academic concepts. These back to school door decorations, from interactive puzzles to informative displays, make learning an exciting experience.
21. 'Math Magic' Door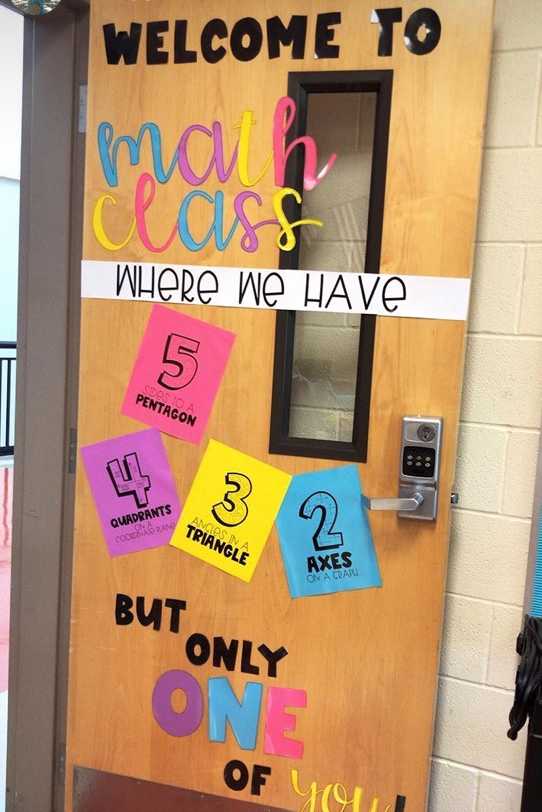 Source: @riseoverrunteacher
Utilise mathematical incidents in designs that'll make math fun and engaging and foster a deeper appreciation for problem-solving skills. Use a galaxy of equations, a labyrinth of numbers, or a chalkboard-inspired theme. To turn your classroom into a captivating Math Mysteries masterpiece, include arithmetic challenges, algebraic expressions, and geometric problems.
22. 'Literary Landmark' Door
Design the door that taps into a world where words come alive, and literature takes center stage! Pick your favorite literary theme for your door, such as a library scene, a bookshelf filled with classics, or a collage of famous literary characters. Add literary elements like quills, scrolls, typewriters, and reading glasses, as well as printed quotes from books or authors, book covers of iconic novels, and arrange.
23. 'Scientific Inquiry' Door
Decorate the classroom door with an immersive and educational environment that sparks curiosity and excitement for scientific exploration. Pick a specific scientific theme for your door, for example, the digestive system, the big-bang theory , or the water cycle. Use printed images or drawings of famous scientific discoveries, such as the double helix structure, the solar system, or the structure of the plant, that encourage students to ask questions and discuss their hypotheses.
24. 'Philosophy Quest' Door
Let the door take the kids on a philosophical journey right from your classroom! Select specific philosophical themes or questions to feature on your door, for example, ethics, existentialism, free will, knowledge, or the nature of reality. Design an immersive and thought-provoking backdrop that intrigues students to ponder life's big questions and engage in philosophical exploration.
25. 'Periodic Table' Door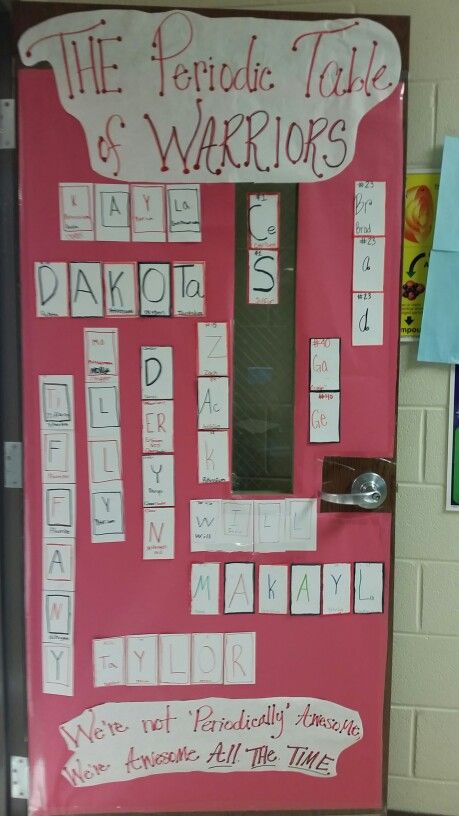 Source: @kirby1237
Creating an engaging and interactive learning experience by combining education and fun allows students to interact with periodic table elements creatively. Create individual cutouts for simple molecular structures using element symbols to illustrate compounds and molecules. Decorate with elements that represent the periodic table, with element symbols, electron configurations, atomic numbers, and atomic masses.
26. 'Geometric' Door
Create a neutral or solid-colored backdrop and add shapes like squares, triangles, circles, rectangles, hexagons, etc., to engage students in a visually stimulating and educational activity. To make the door interactive, add a small label or caption explaining the theme's educational aspect.
27. 'Eco Warriors' Door
Promote environmental awareness with a sense of responsibility among your students. Create a backdrop that represents sustainable practices. Add paper art made from recycled materials, demonstrating creativity while highlighting the importance of recycling. Attach cutouts of superheroes with eco-themed capes to the door, symbolizing students as ecological protectors.
28. 'World Landmark Quest' Door
Developing a captivating journey around the world's most famous landmarks is one of the most iconic classroom door decorating ideas. Add paper cutouts or outlines of well-known landmarks or paper stamps from different countries, and include trivia questions about famous landmarks. Introduce students to different cultures, history, and geography while igniting their curiosity about the world.
29. 'Coding Campground' Door
Create a tech-inspired, interactive learning space that blends the outdoor adventure of a campground with the excitement of coding and technology. Decorate with QR codes around the door, each leading to a coding-related challenge or activity for students to solve. Add banners with binary code patterns, paper cutouts of a campfire with "coding flames," or draw a tent with a digital screen inside. Let your creativity run wild.
30. 'Puzzle of Knowledge' Door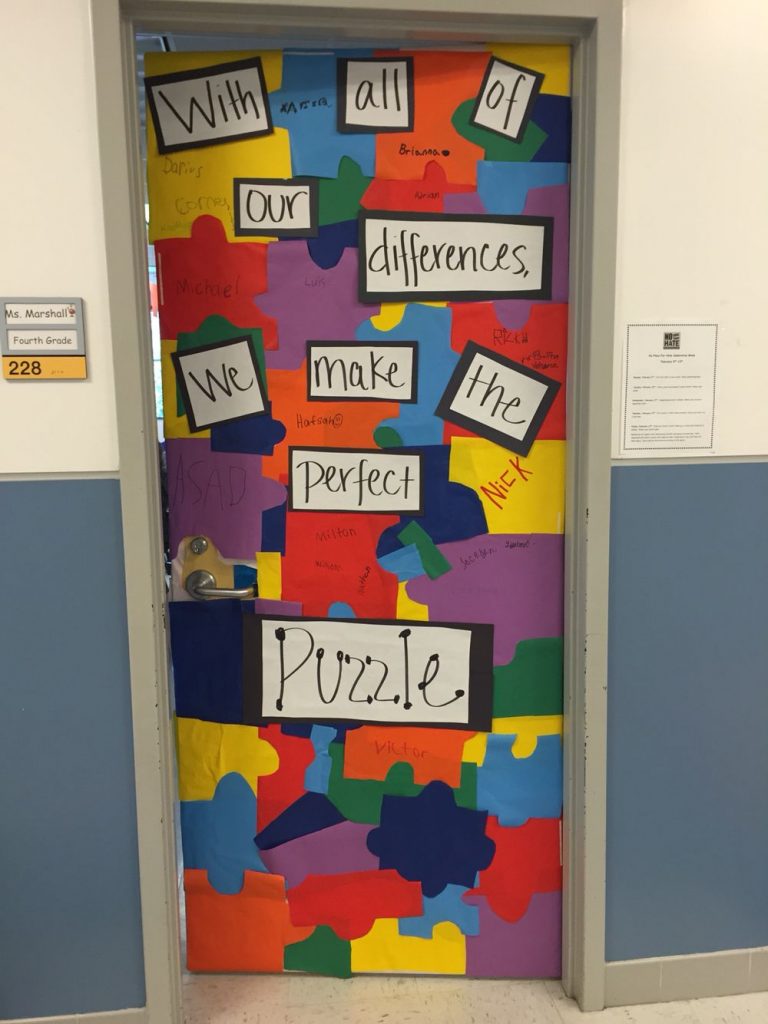 Design a door that looks like a puzzle! Use an intriguing backdrop with interlocking pieces to symbolize the unity and analogy of subjects. Attach mini paper puzzle pieces, an open book, a pencil, magnifying glass, and light bulb cutouts representing the "lightbulb moment" of wisdom.
Now that we've explored the educational and interactive door decorations, let's take a look at classroom door decorating ideas based on seasons and holiday themes.
10 'Seasons-and-Holiday-Themed' Door Decoration Ideas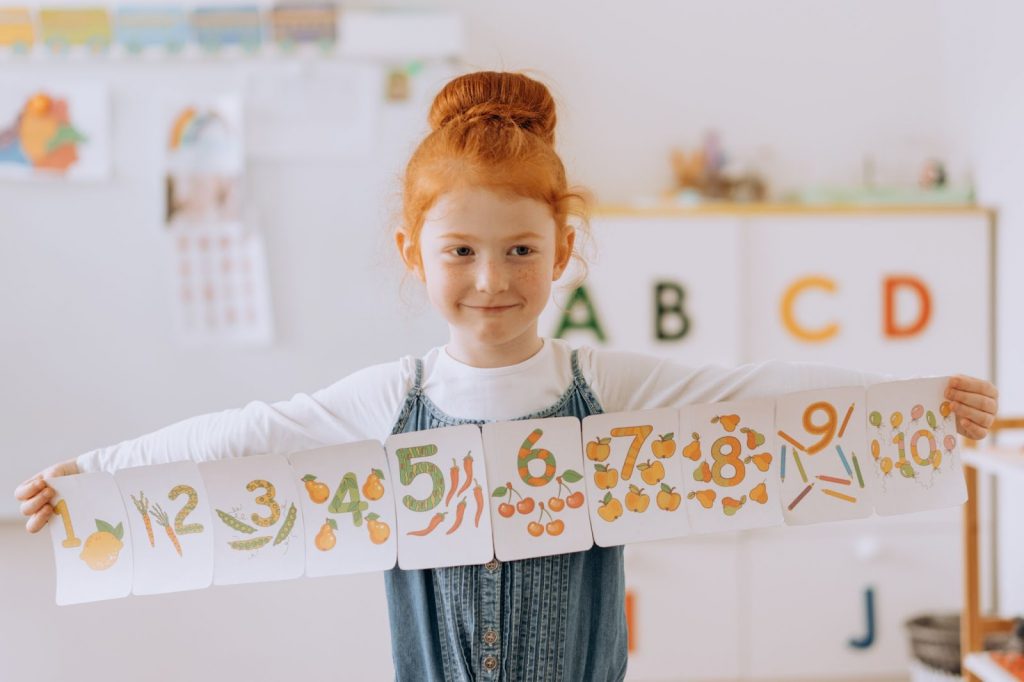 Seasons-and-holiday-themed door decorations add a touch of festivity and joy to the classroom environment. They create a welcoming atmosphere and provide opportunities for students to learn about different holidays and cultural traditions. Below are a few delightful seasons and holiday-themed easy classroom door decoration ideas:
31. 'New Year Reflection' Door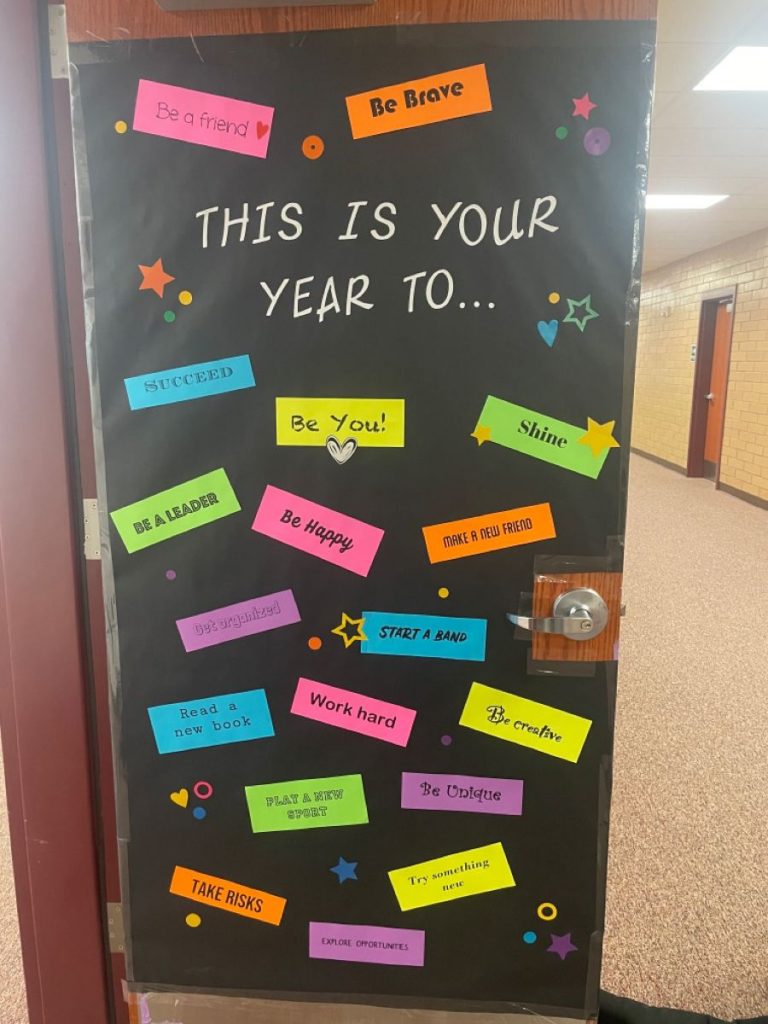 Source: @katiewoliver
Design a captivating New Year Reflection door decoration that sets the tone for a fresh start representing renewal and transformation as well as symbolizes self-reflection and personal growth. Create a space on the door where students can write or draw their resolutions for the year. You can also use a large clock face to symbolize the countdown to the new year.
32. 'International Day of Education' Door
This simple door decoration for school showcases the significance of global learning and promotes unity and understanding among students. Celebrate the importance of education and cultural diversity with the students. Attach paper flags representing various countries along the door frame, three-dimensional paper, or an inflatable globe at the center of the door to describe the global nature of education.
33. 'International Women's Day' Door
Design an empowering International Women's Day door that honors the achievements and contributions of women from all over the world. Include quotes from influential women leaders, activists, and trailblazers. Create a collage of newspaper clippings, magazine articles, images, portraits, or silhouettes of notable women from different fields, such as science, literature, sports, politics, and the arts.
34. 'Valentine's Day' Door
Create a warm, inviting Valentine's Day door with heartwarming quotes about friendship, love, and kindness that set a positive tone and spread love, compassion, and companionship throughout the classroom. Add cutouts of Valentine's Day-related vocabulary words, such as "love," "kindness," or "affection." You can also include a colorful garland of paper hearts in various sizes and shades, hanging them along the door frame along with heart-shaped sticky notes with kind messages or compliments written by students for their peers.
35. 'Spring Blooms' Door
Capture the essence of springtime's renewal and growth by transforming the door into a canvas that celebrates the beauty of blooming flowers. Add various shapes and sizes of colorful flowers with paper butterflies and bees fluttering around. Add snippets of spring-themed poetry or haikus to encourage curiosity and learning.
36. Easter Door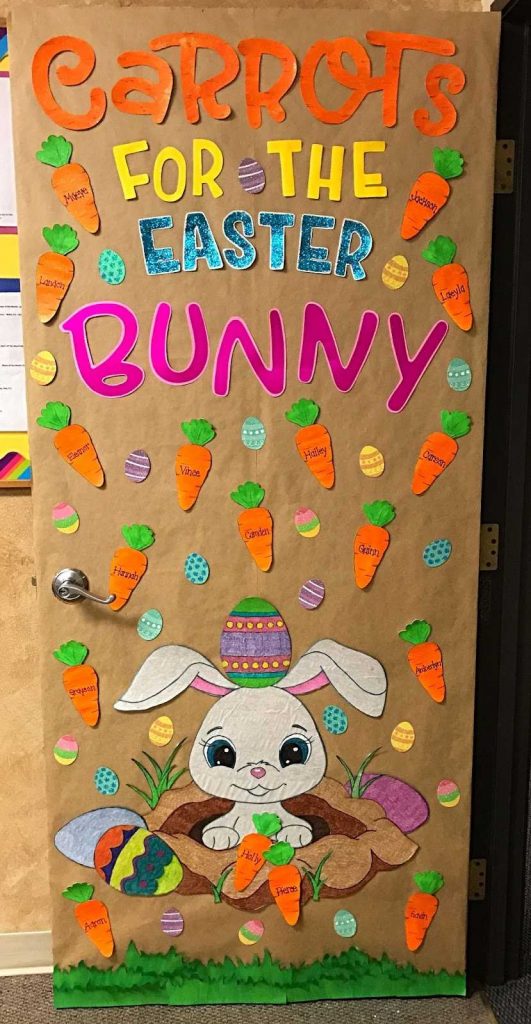 Source: @rox8931
Welcome the spirit of the season into your classroom by celebrating the joy and renewal of spring with an alluring Easter decoration! Use soft, soothing pastel color palettes with the Easter bunny as the centerpiece. Add an array of paper or fabric flowers in different sizes and colors, along with Easter eggs and butterflies. Use paper cutouts of phrases like "Happy Easter."
37. 'Halloween Spooky Storyland' Door
Let your students step into the eerie magic of Halloween with a fascinating door decoration that invokes the spirit of this witchy holiday. Use a spooky backdrop with black, grey, and dark purple tones. Add paper cutouts of bats, witches, black cats, spiders, cobwebs, skeletons, etc.
38. 'Thanksgiving' Door
Capture the essence of gratitude and the warmth of Thanksgiving in your door decoration. Design a door that celebrates the spirit of togetherness and appreciation, with a backdrop featuring an abundant harvest scene, showcasing ripe pumpkins, golden corn, and colorful leaves. Create a wreath using paper, and add symbols like dreamcatchers, feathers, and tribal patterns to honor the history of Thanksgiving.
Related Reading: Fun & Unique Thanksgiving Crafts For Your Kids
39. 'Cultural Festivities' Door
Design your classroom door with a backdrop that represents different cultures and celebrations.. Add a colorful collage of images, symbols, and landmarks. Cover the classroom door with paper lanterns, origami figures, or garlands featuring traditional patterns to celebrate cultural diversity and worldwide festivities.
40. 'Winter Wonderland' Door
Add cutouts of snowflakes, snowmen, penguins, polar bears, and steaming mugs. Design the classroom door with a backdrop that leads the students into an imaginative and magical winter wonderland.
Let's now look into a few super-creative and budget-friendly door decoration ideas.
10 Creative and Budget-Friendly Themes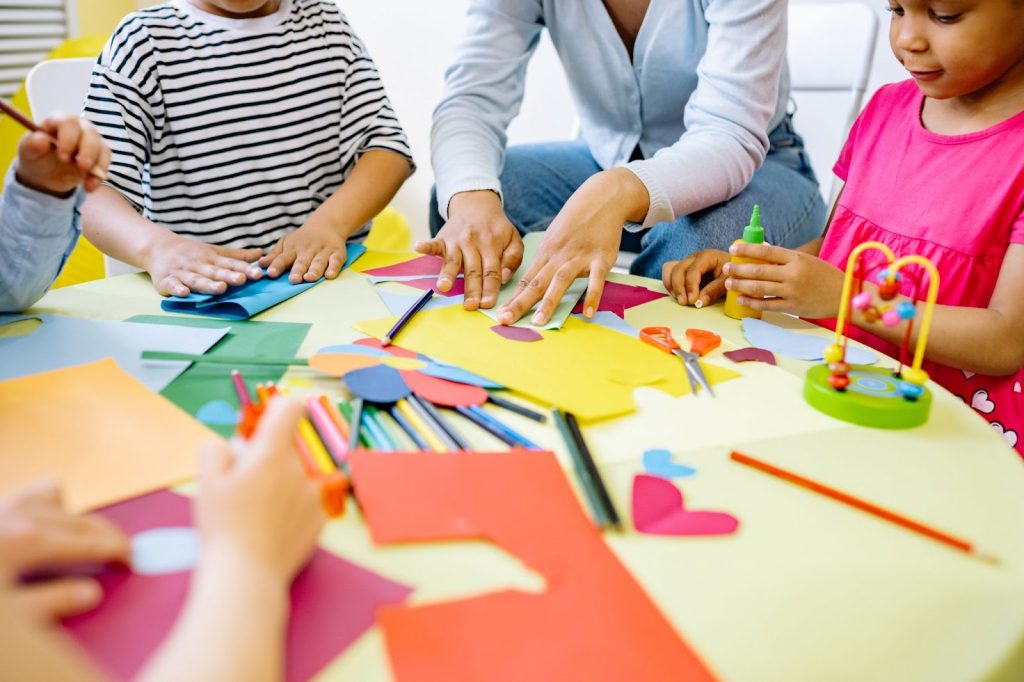 Decorating classroom doors doesn't have to be expensive. You can create stunning door decorations on a budget with a little creativity and resourcefulness. The following are a few DIY and budget-friendly ideas for simple door decoration for school.
41. 'Wildlife Safari' Door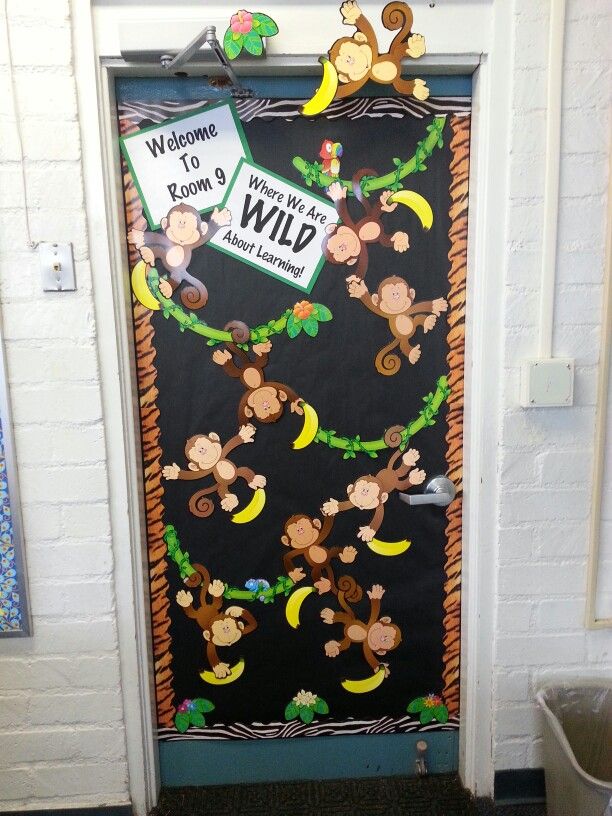 Source: @smarquez73181
Bring the jungle to your classroom door with a wildlife-themed backdrop. Add mini paper trees and foliage cutouts, and animal cutouts, such as lions, elephants, giraffes, or zebras, to different areas of the door.
42. 'Bookworm Paradise' Door
Decorate a door with a warm backdrop and cozy colors that resembles the comfort of a reading nook. Create a bookshelf scene with oversized books showcasing a love for reading and literature. Add paper reading nooks, reading glasses, and bookworm cutouts with the power of storytelling, knowledge, and endless adventures.
43. 'Emoji Mania' Door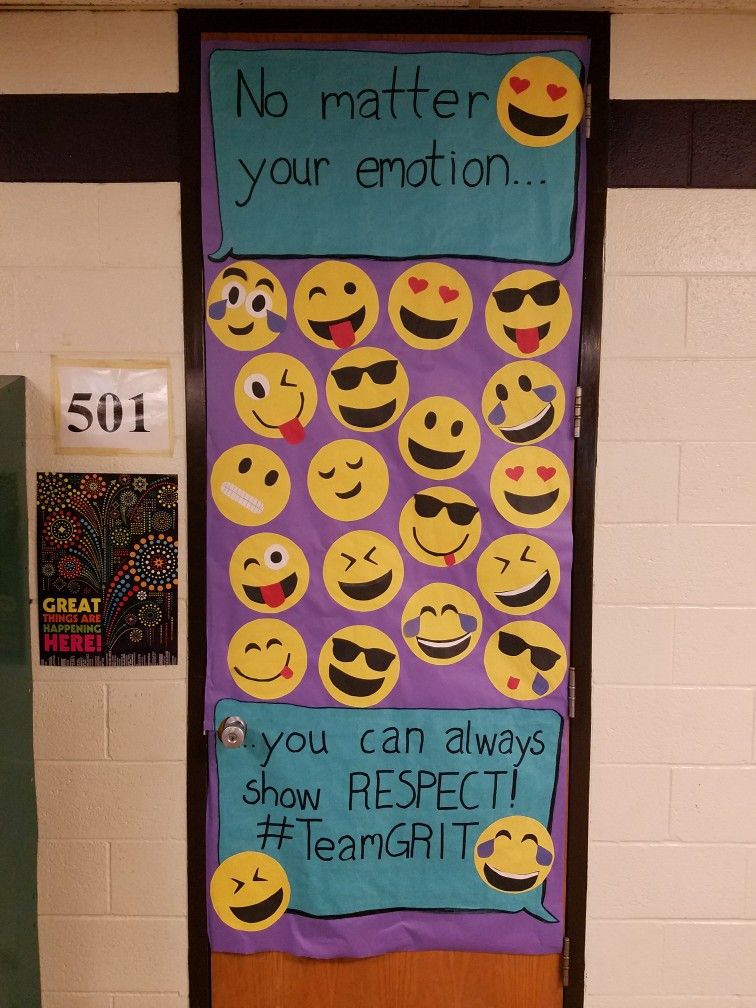 Design a door with playful emojis all over it. Bring smiles to your students' faces with doors that express different emotions and moods, such as happiness, excitement, curiosity, and anger, just as they do. Use construction paper, paint, and colorful wrapping paper. Let your creative mind take over!
44. 'Duct Tape Color Block Patterns' Door
Transform your classroom entrance into a vibrant, visually appealing space with duct tape to create geometric color block patterns that instantly catch the eye. Select a palette of duct tape colors and make different arrangements and designs to form diagonal lines or even mix thick and thin blocks.
45. 'Colorful Tassel Tapestry' Door
Transform your classroom door with colorful yarn or string for creating tassels that bring texture and movement to the decoration. Include thematic tassels related to subjects or topics taught in the classroom, for example, math symbols, science images, or literary motifs.
46. 'Chalkboard' Door
This door is a fantastic way to add an interactive and dynamic element to your classroom decor. Use chalk or markers to create designs, messages, and drawings on the chalkboard surface. To add a touch of creativity, consider framing the chalkboard area with colorful borders or decorations.
47. 'Paper Chain Rainbow' Door
Start by selecting the colors of each segment of the rainbow. Traditionally, the colors are arranged in red, orange, yellow, green, blue, and purple. Create a rainbow shape, add small cloud decorations, and write a welcoming message. It is a simple idea which is also budget-friendly and provides an opportunity for collaborative creativity.
Related Reading: 7 Colors of the Rainbow and Their Meanings
48. 'Superhero Headquarters' Door
Unleash the superhero in each student with a superhero-themed door. Design the door with mini paper superheroes and their logos like Superman's shield or Batman's – Bat-Insignia, also known as the Bat-Symbol, capes, and mask cutouts that symbolize heroism. Stick words like "POW!" and "BAM!" to showcase expressions.
49. 'Upcycled Materials' Door
Collect upcycled materials from newspapers, magazines, cardboard, and fabric scraps. Add text to show students the concept of upcycling and its benefits. It gives an interactive and educational aspect to the door.
50. 'Alphabet' Door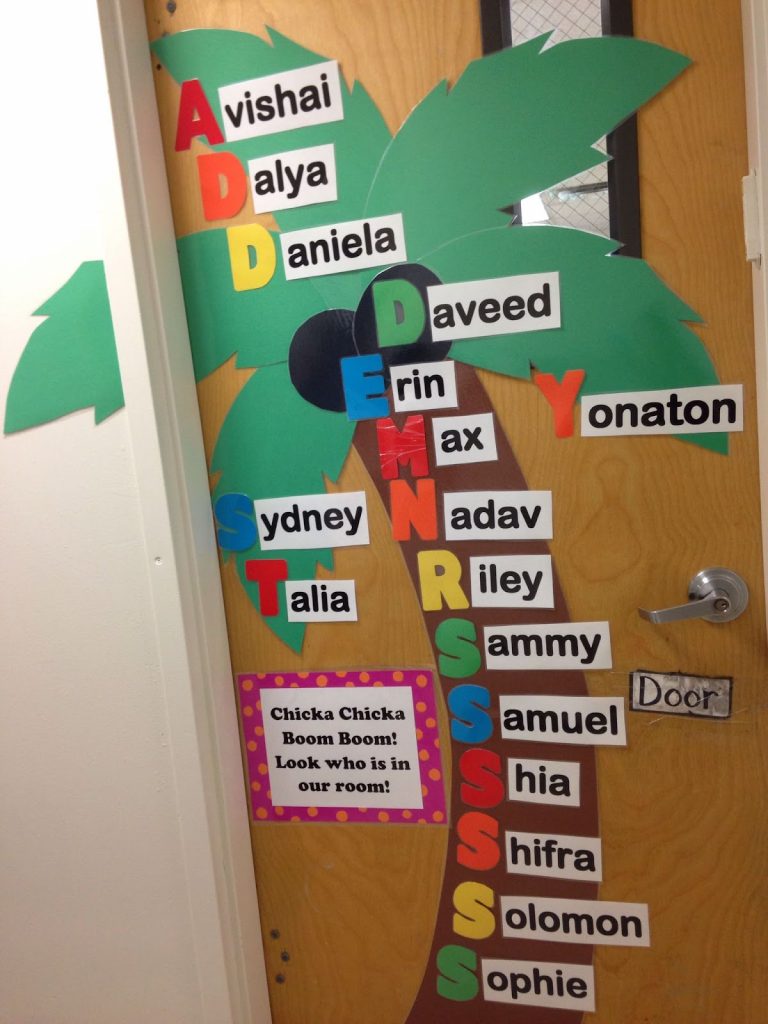 Take your students into a captivating world of letters and language that sparks their curiosity and passion for learning. Cut out large alphabet letters from colorful construction paper or cardstock that encourages them to discover hidden words, share their favorite words, or even challenge them to create sentences using the letters.
Related Reading: Best Bulletin Board Ideas to Make Your Classroom Look Attractive
Conclusion
As teachers and parents, when the students first come back to school, it's on us to create a welcoming environment for them to blend in and get comfortable. With the power of creativity, we can encourage students to express themselves and feel accepted.
We know that the devil is in the details, and classroom door decorations are no exception. Once you decide upon a theme, we have to devise ways such that decorating the door can become an interactive activity for students and the learning experience you intend to impart through it is suitably executed. Let's make this school year truly unforgettable!
Frequently Asked Questions (FAQs)
Do colorful door decorations in schools affect students' concentration in class?
Yes. Depending on design, purpose, and individual preferences, colorful door decorations in schools can potentially impact the concentration of the students. For example, a classroom that is heavily decorated can overwhelm students with too much visual information, hindering their memory and ability to focus.
Should school door decorations be changed frequently?
Changing classroom door designs can enhance student's creativity and excitement to learn something new. It fosters a productive learning environment by making kids concentrate better.
What Safety Precautions Should You Consider for School Door Decorations?
When decorating school doors, it's crucial to take into account safety measures. For example, it should be done using non-flammable and non-toxic materials, ensuring that decorations do not obstruct exits or fire alarms.